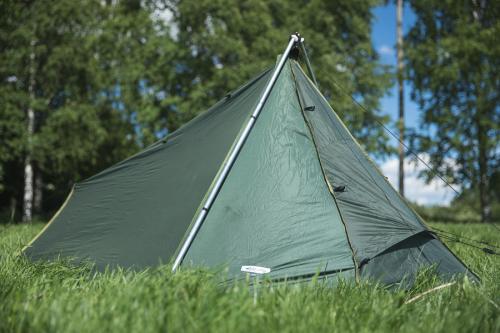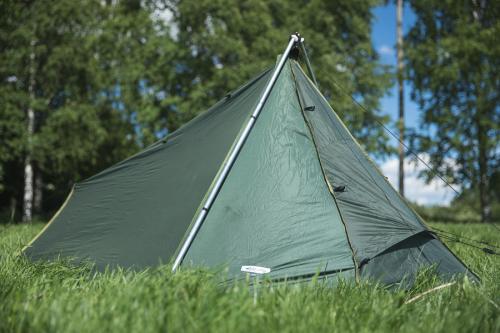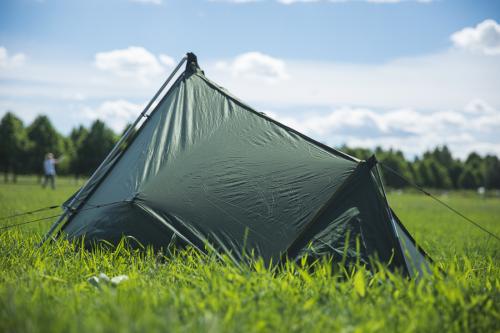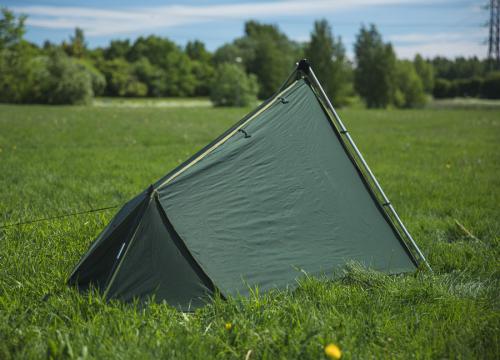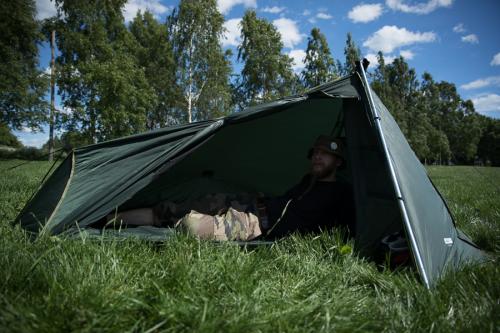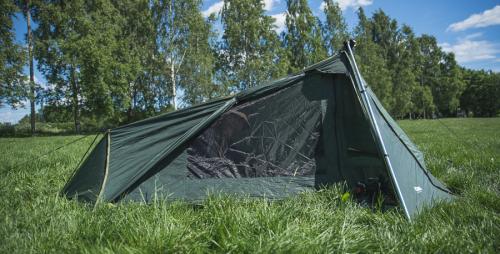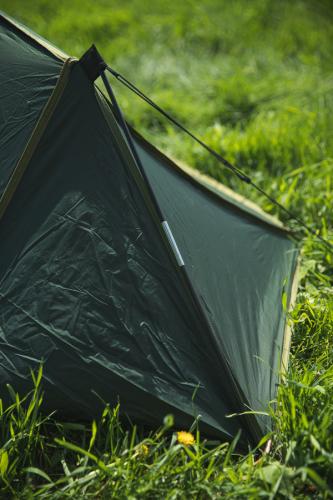 Short pole at the foot end is included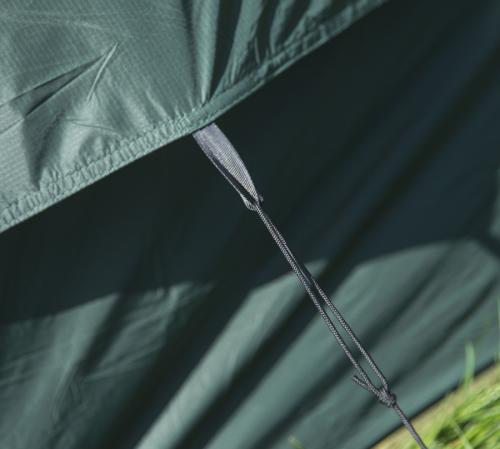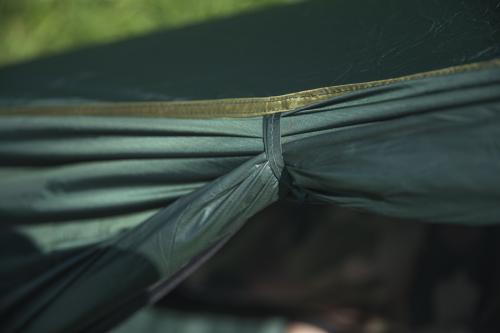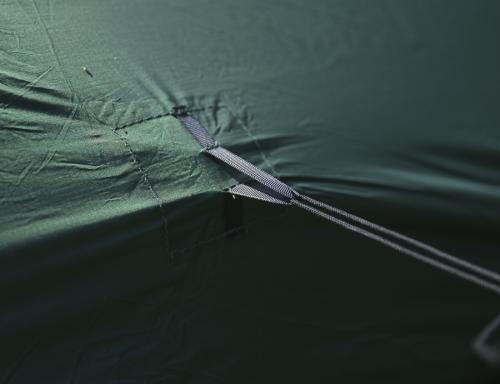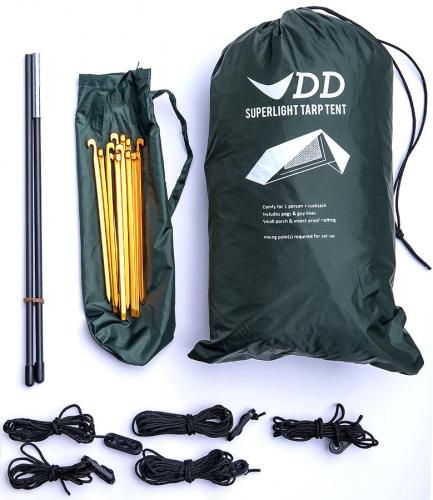 12 pegs, 2 long and 4 shorter guylines included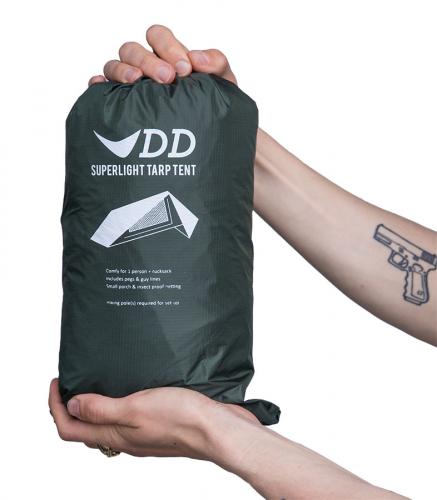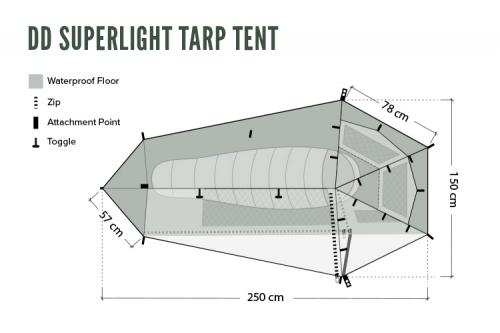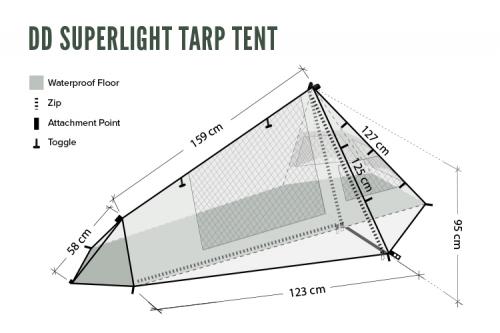 DD Hammocks
DD Hammocks SuperLight Tarp Tent
Price 164.99 USD
excluding sales tax
If you think tents are too heavy, here's one that you will barely notice in your rucksack! At well below two pounds (incl. accessories) it's the lightest tent with a groundsheet in our selection!
We don't know when this product will be restocked. Request restock notification and we will email you as soon as this product is available.
This product has used and returned variations. Used are washed and unbroken. Heavily used are also washed but might be missing buttons, have tears, main zipper can be broken etc. Read more about Kierto.
Trouble with the metric system? Try our converter: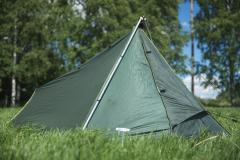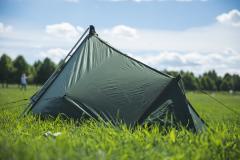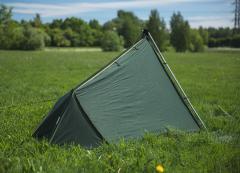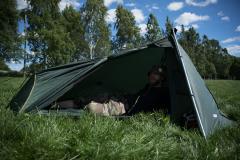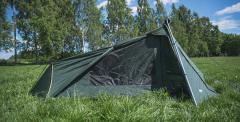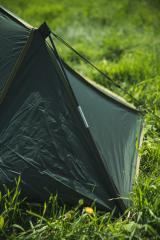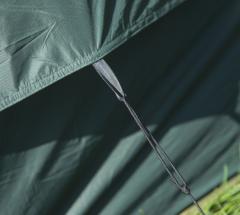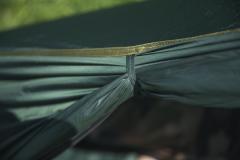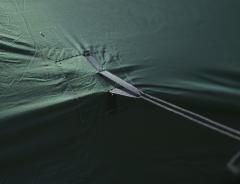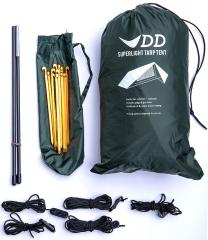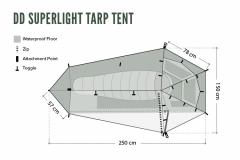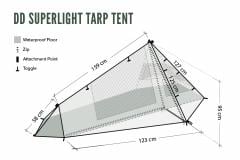 If you think tents are too heavy, here's one that you will barely notice in your rucksack! At well below two pounds (incl. accessories) it's the lightest tent with a groundsheet in our selection!
The Superlight Tarp Tent is a frame-free single-skin tent, which means there is no inner tent or poles and weight has been reduced to incredibly low figures as a result. The tent still has a separate bug net and waterproof groundsheet, so comfort and functionality isn't sacrificed all that much.
The tent is pitched by pegging the tent to the ground and then using a light spreader pole (included) to prop up the foot end and two 135 cm / 53" hiking poles (not included) for the taller side. This kind of dual-use of hiking poles is a smart way to reduce weight. From there it's just a matter of using guy lines to increase the space inside, open vents, and secure the tent. Optional guy-out points can be used to secure the tent in stronger winds.
Room for one person and gear, the layout has a separate space for muddy boots so keeping the interior clean is possible.
Single skin tents, in general, don't handle condensation as well as double-walled models, but this model has generous vents and no seams run horizontally on the fabric, which would cause condensed water to stop and drop.
Material and care
The fabric is single-layered SuperLight ripstop nylon with a waterproof PU coating and taped seams. Any washing should be done in lukewarm water by hand with mild detergents.
Repeated folding seams could weaken the fabric over time, so the manufacturer recommends just stuffing the tent in its bag. We like this approach because it's also easier to do.
Product specs
L: 250 cm / 98.5", W: 150 cm / 59", H: 95 cm / 37.5"
Packed size: 31 x 13 x 12 cm / (12" x 5" x 4.5")
Weight: 710 g / 25 oz. (excl. pegs & guylines)
Waterproof: 3000 mm (PU coated w. taped seams)
Tent
Small foot-end pole
12 pcs SuperLight pegs
4 guylines (1 m / 3' 3" each)
2 guylines (2 m / 6' 7" each)
Small stuff sack for accessories
Stuff sack to pack/store the whole thing
Kierto Circular Economy
Return this product used but clean and unbroken, and you'll receive half of the product's original price as Varusteleka credits. Service is available only in Finland. Only Registered users can make Kierto returns. See more information about Kierto.
Made by DD Hammocks
Founded in 2005, the British DD Hammocks supplies proper quality hammocks, tarps, and other related stuff. Along with the common joe, campers, hikers, etc., a large customer base is in the British military. If it's good enough for war zones, it should do well in civilian life too.
All products: DD Hammocks
Recommendations
Loading products...
Reviews
You have already submitted a review. You can edit your text by clicking on it. You can filter the reviews by clicking on the elements of the summary.
Log in and write a review. You can filter the reviews by clicking on the elements of the summary.
Remove filter
Suomi
(4)
English
(4)
I would recommend for a friend
Tony E.

27.06.2018

Verified purchase
Ensimmäisenä yönä taivaalta satoi vaakasuoraan eikä vesi silti tullut teltasta läpi. Ainoastaan muutama pisara oli tiivistynyt teltan sisäpuolelle.

Ps. Omasta teltastani puuttui yhdestä nurkasta lenksu, mutta se ei vaikuttanut teltan toimivuuteen.
5
0
I would recommend for a friend
Juho M.

10.07.2019

Verified purchase
I would recommend for a friend
Jani K.

20.09.2019

Verified purchase
Mukana ei tullut kasausohjeita, mutta pienen hämmästelyn jälkeen homma pelitti. En ehkä kuitenkaan jättäisi ekaa rakennuskertaa pimeään ja sateiseen syysmetsään. Hyvin nukuttu reissussa. Kosteutta tiivistyy sisälle aika reilusti - pitää katsoa miten tuuletusta saisi paremmaksi.
5
0
I would recommend for a friend
Manu

27.06.2020

Verified purchase
Melko halvaksi teltaksi hyvin toimiva ja kevyt. Pystyttämisessä kikkana on jättää uloin vetoketju auki aina, kun ei sada vaakatasoon tai tuuli käy sisään verkko-ovesta siten, että teltan kestävyys on koetuksella tai alkaa tulla vilu sisällä. Ovikappaleen saa kiiloilla viritettyä vähän tarppimaisesti enemmän auki jolloin alaosaan jää 10-15cm tuuletusrako samoin kuin vetoketjun kohdalle. Tuohon väliin mahtui jo 70l rinkka sateelta suojaan kyljellään. Kaatosateessa voi toki joutua vetämään ketjun kiinni ja kärsiä kondensiovesistä.

Yli 185cm pitkillä voi jalkopää käydä ahtaaksi. Ja mitä paksumpi makuualusta, sitä vähemmän tilaa jaloille on ylöspäin lyhyemmilläkin ihmisillä.
4
0
I would not recommend to a friend
Jason D.

14.04.2021

Verified purchase
Just received this tent and did a quick setup on the grass outside. So far things are not looking good.

Biggest functional issue is one of the pockets the hiking poles are meant to be slotted in to was sewn in in the same direction as the one on the other side, so it has to be twisted around. this does not seem like it will be stable and my suspicion is that pole will fall out if a breeze picked up. I suspect this is a defect and not designed this way but DD's documentation is incredibly poor. The instruction manual is text only with no photographs illustrating how it should be laid out and the setup video is shot from a fair distance back.

From a design perspective the zipper is actually two piece, not a single zippered door but one down, one across so the zipper can only be closed in the bottom corner. Not necessarily a problem but an odd design choice. The pockets the poles are meant to fit in to aren't particularly large either and they don't cup the handle in a way that feels firm. Overall the design feels unnecessarily weak even for an ultralight. A couple small tweaks (and some QC) would make this excellent but it feels like they just couldn't be bothered.

At this point I'm not sure whether to bother warrantying it or just modify it. I'm going to send an email to DD and see what they have to say, will update this review if I hear anything back from them.

EDIT: DD got back to me promptly and confirmed the manufacturing defect. I have decided to correct the issue myself rather than Warrantying. I'm assuming Varusteleka would provide their usual excellent service but that's a lot of shipping for a 2 inch seam.
7
2
I would recommend for a friend
Traci B.

04.06.2021

Verified purchase
I really like this tent. Lightweight and roomy. I purchased some tent pole repair kits to make collapsible poles since I don't carry walking poles; works perfectly.

I have yet to try it out other than back yard. I will return for the last star and to update my review when I test it real world.
1
0
I would recommend for a friend
Daud B.

31.10.2021

Verified purchase
Purchased this tent in Summer but didn't find the time to overnight with it. Finally took it on a short overnight hike in the southern Finnish fall in October. Set up the tent in the rain at night with a head torch. Thankfully the Finnish forest has 4G, watched the set-up video because I had forgotten how it went. Because it was single layer, i woke up with a lot of condensation. Ventilation is not sufficient to clear moisture. I used a thicker sleeping pad, so the footbox of my sleeping bag was quite close to the foot walls. The footbox of my sleeping bag was wet. Cannot recommend this tent for moist or wet weather, or to use for more than one night in that kind of weather. Looking forward to the summer or dryer weather! Hopefully can update the review after the summer!
4
0
I would recommend for a friend
Christopher B.

13.02.2022

Verified purchase
This tarp tent is very resourceful, packs tightly, super light and very roomy for a one person taro tent. Awesome to use the walking canes or wooden sticks.
2
0