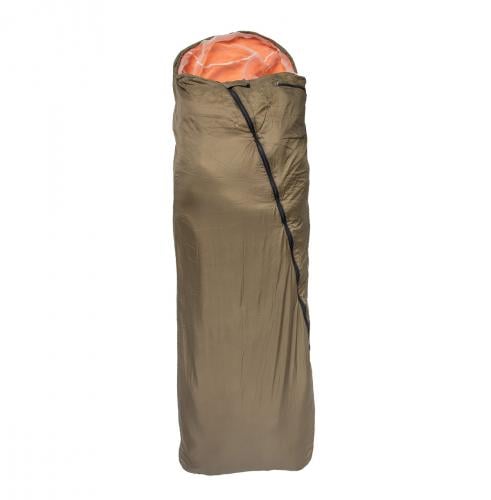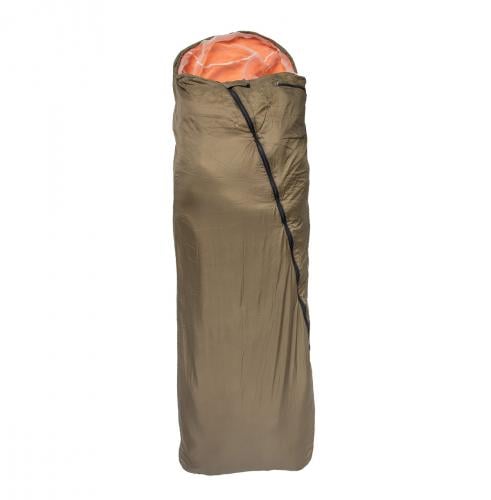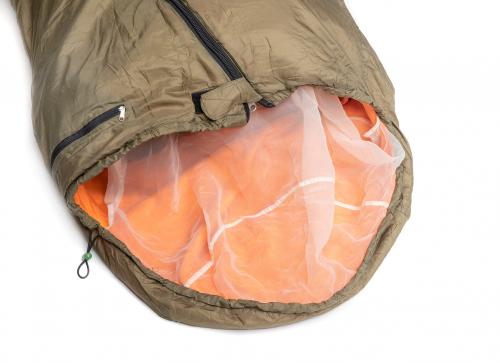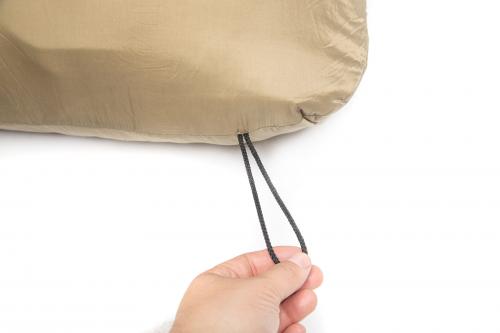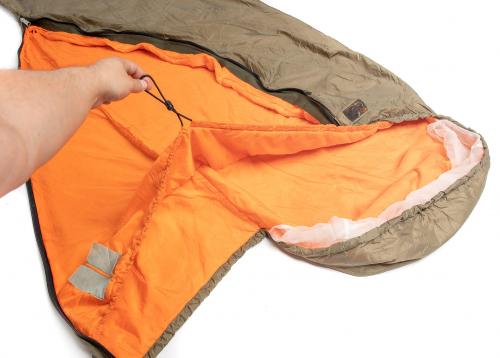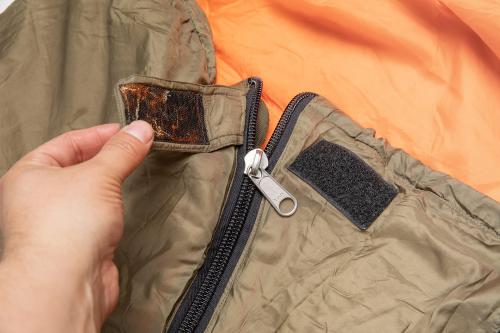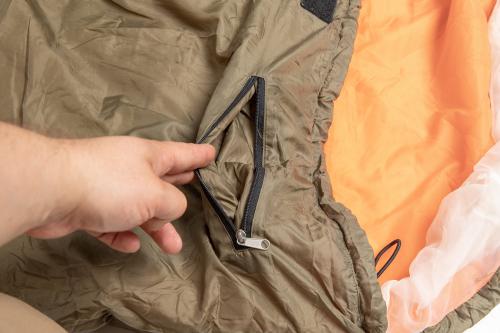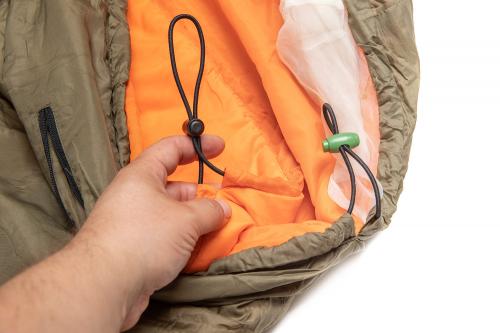 Show all: Czech Republic
Czech Summer Sleeping Bag, Surplus
Price 34.99 USD
excluding sales tax
Too often surplus sleeping bags are poorly insulated, heavy, and smell like someone died in there. Makes you wonder what would lead to such events but I digress. However, these Czech sleeping bags are a completely different story: actually a viable alternative to a new bag. How so? Let's find out!
In stock 130 pcs. Sold 14 pcs in the last two weeks.
Trouble with the metric system? Try our converter: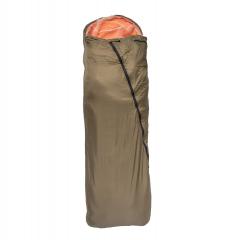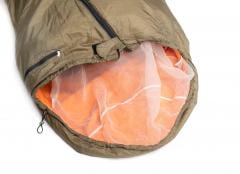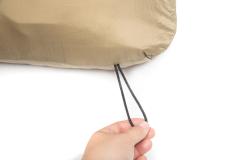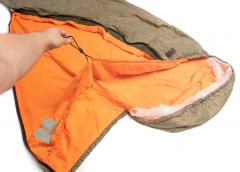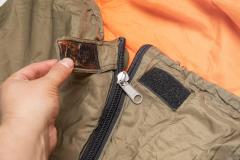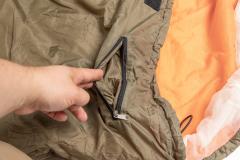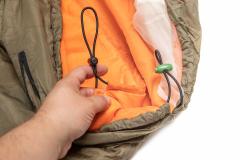 Too often surplus sleeping bags are poorly insulated, heavy, and smell like someone died in there. Makes you wonder what would lead to such events but I digress. However, these Czech sleeping bags are a completely different story: actually a viable alternative to a new bag. How so? Let's find out!
Lightweight sleeping bag for the summer
Sized for small to medium persons
Integrated mosquito net
An oversized bag increases heat losses and the volume of air your body has to warm up. This bag is comfortable for a regular-height and medium-sized person (about 188 cm / 6' 2" tall with a 102 cm / 40" chest) who doesn't toss around too much. The mfg. label says up to 195 cm but we disagree.
Modern features with a couple of tricks
The archetypal summer sleeping bag has been virtually unchanged for 3-4 decades and this sleeping bag doesn't differ too much from the norm. The slanted zipper, small personal effects pocket, and hanging loops in the bottom are features you don't see every day.
The slanted non-locking YKK zipper is a well-thought-out feature that allows you to grab the puller with the opposite hand, open it across the top, and finish at the arm's side for maximum reach in one motion.
Ordinary features include an insulating thermal collar at the shoulders, a tightening drawcord for heat retention or ventilation, and an integrated mosquito net. The end of the net is free without hook-and-loops or zippers, and would appear to just tuck inside the bag.
This bag can be layered with the Czech winter bag on the inside to extend the temperature range.
Specifications
Total length
220 cm
87"
Width at the shoulders
80 cm
31.5"
Packed size (non-compressed)
35 x 17 x 12 cm
14" x 6.5" x 4.75"
Weight
1.2 kg
2.6 lbs
Insulation
Thinsulate
Comfort limit
10°C
50°F
Extreme limit
5°C
41°F
The bag can be machine-washed with a delicate cycle.
Czech army surplus
These are used but perfectly serviceable: not heavy and stinky like surplus bags often are, but more like something you might buy used from a boy scout. There are some signs of use so you might want to wash these before using, but it's not mandatory. The occasional buckle on a compression sack may be busted or repaired.
Whether you wash the bag or not, we recommend using a sleeping bag liner to extend the service life of your sleeping bag.
Recommendations
Loading products...
Reviews
You have already submitted a review. You can edit your text by clicking on it.
Log in and write a review.
Remove filter
Suomi
(3)
English
(2)
I would recommend for a friend
Arttu H.

06.07.2021 (Edited 15.07.2021)
Ihan hyvä ja riittävän tilava makuupussi näin kesäkeleille.
Kätevä pikkutasku ja ylijäämäksi siistissä kunnossa.
Tilaamassani makuupussissa ei ollut tuosta hyttysverkosta jäljellä muuta kuin muutama pieni pätkä verkon lankaa, leikattu siis jossain vaiheessa pois. Eli tätä tilatessa ei kannata luottaa siihen että hyttysverkkoa olisi.
1
0
I would recommend for a friend
Mika K.

03.08.2021 (Edited 26.08.2021)
Tilasin kaksi kesäpussia. Ajattelin toisen kotiin ja toisen mökille, mutta toisen laitoin kuitenkin takaisin. Molemmissa oli hyttysverkot paikallaan. Molempien säilytyspussien sisäpuolen muovikalvo / pinnoite oli melkein kokonaan riekaleina (tämä ei tosin omaa käyttöä haittaa, mutta säilytyspussin vedenpitävyys on varmaan aika huono ilman tuota kalvoa). Jos nyt oikein muistan, niin 2003 tai 2006 vuoden leima oli toisessa pussissa, eli sen ikäisistä yksilöistä kyse.

Huomiona, että näissä ei tosiaan ole sitä "perusylijäämän" hajua vaan aika hajuttomat pussit kyseessä. Herkkänenäisenä haistan vain pienen tunkkaisuuden, joka lähtee varmasti täysin pesussa ja kuivaus/tuuletuksella.

Palauttamani pussi oli kauttaaltaan tahmaisen tuntuinen, ja jotain ainetta pussia pyöritellessä jäi käsiinkin. En tiedä mitä ainetta siihen on ruiskutettu tai kaatunut päälle. Pussi oli kuitenkin näöltään siisti ja ehjä kaikinpuolin. Olisi varmaan pesussa saanu käyttökuntoon, mutta en tällä kertaa ruvennut kokeilemaan.

Toinen sitten oli melkein kuin pakasta vedetyn siisti sekä puhdas ja tähän olen tyytyväinen. Tämän säilytyspussi oli kuitenkin samalla tavalla tahmaisen tuntuinen, mutta itse pussi sitten puhtaanoloinen. Minulla pituutta 183cm ja 95kg painoa. Pussi on sopivan kokoinen ja jaloistakin sen verran väljähkö, että mahtuu vähän pyörimäänkin paremmin ja jalkojen asentoa vaihtelemaan riippumatossa makaillessa. Vaikuttaa laadukkaalle makuupussille, joka varmasti kestää pitkään. Vetoketju jämäkän oloinen ja ompeleet tuntuvat kestäviltä. Mukavan ilmavan tuntuinen (en ole tosin muita makuupusseja paljoa käyttänyt). Väri myös plussaa (puolison sanojen mukaan "kivan retrovihreä").

Mahtuu myös tosiaan hyvin tsekkiläisen talvimakuupussin päälle. Jää tosin nähtäväksi, että onko tuplapussin käytölle ollenkaan tarvetta omissa makuupussiyöpymisissä.

Ainoa miinus on tuon säilytyspussin muovikalvon lisäksi on, että vetoketjussa ei ole kahta lukkoa (saisi jalkopäästä avattua tuuletusta varten, sama tässä kesäpussissa kuin tsekkiläisessä talvipussissakin).

Pesun kautta käyttöön ->
1
0
I would recommend for a friend
Mike B.

08.08.2021 (Edited 17.08.2021)
Slept 4 nights in one of these in Finland in July 2021 courtesy of Varusteleka. Excellent summer bag - spacious (I'm 180cm/76kg) particularly at the foot end cos it's rectangular and not mummy shaped. I didn't need to use the bug net cos the unusally warm weather had thankfully killed off most of the little sods, but I'm sure I'd have been glad for it if it had been cool, rainy and miserable. It was certainly perfectly warm enough for summer, and I'm a cold sleeper (I usually subtract at least one point from any season rating and wear a sweater!).

I'll be buying one for myself with my next order, cos I'm not at all convinced by the almost twice as expensive Chinesium duck down summer bag I've been using until now in Switzerland.
3
0
I would recommend for a friend
Fedor S.

04.10.2021
I used it only in one-day campings, not overnight yet (nights getting colder now))), but I like it. It`s really almost like new, clean and solid. Mine came in a beautifull mil-tec compression bag, and in folded condition takes two times less space, than my old summer sleeping bag. I asked my coldsleeping girls to taste Czech about it`s warm and comfort capabilities - sleeping bag passed it successfully. Well, this is really good stuff in excelent condition! The only minor thing that I ordered it in the very end of summer season. But it would interesting to taste it in uncomfortable regime too ;-)
0
0
I would recommend for a friend
Jon L.

14.12.2021
Ei haise, eikä vesi tuntunut menevän läpi, mutta en kuitenkaan suosittele aivan vesilammikossakaan nukkumaan. Mukana tuleva kompressiopussi on melko pieni jos haluaa hifistellä suosittelen hankkimaan isomman kompressiopussin johon voi sujauttaa makuupussin nopeammin.

Kesämakuupussina on ohuempi, mutta itse hankin sisälle jonkinlaista täytettä jotta tätäkään makuupussia ei tarvitse koskaan pestä kun voin sisäpussin pestä sen sijaan. Myöskään teltassa nukkuessa ei tullut ainakaan kylmä mutta toisaalta nukuinkin alusasu päällä.
0
0