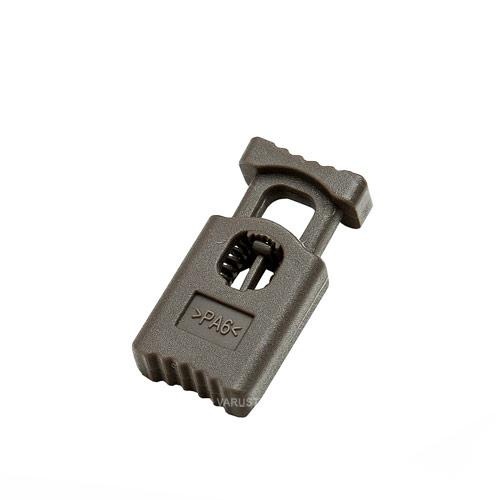 Cord Lock
Price 0.99 USD excluding VAT
Flat Rate Shipping to USA $9.99
100 % recommends
Sold 247 pcs in the last two weeks
Loading products...
Trouble with the metric system? Try our converter: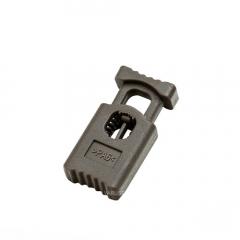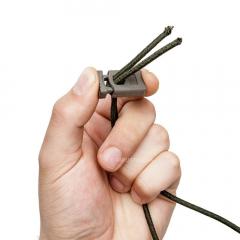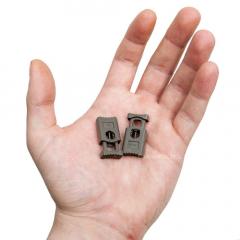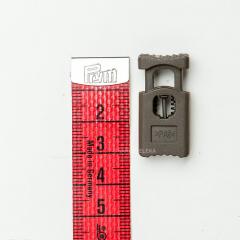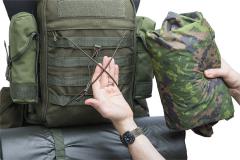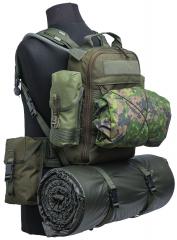 A very high-quality MILSPEC polymer cord lock, these same ones are used on Finnish army M05 vests, pouches and backpacks. Incredibly strong and reliable.
Dimensions approx. 30 x 15 x 5 mm (1.2" x 0.6" x 0.2"), cord hole diameter 6 mm (15/64"). Made from PA6, extremely resistant to shocks and freezing temperatures. The springs are strong, the lock offers over 30 lbs of resistance without bottoming out!
Reviews
You have already submitted a review. You can edit your text by clicking on it.
Log in and write a review.
Remove filter
Suomi
(12)
English
(7)
I would recommend for a friend
Harri K.

13.11.2016 (Edited 18.11.2016)
- normaalikäytössä ikuinen, vaatii jonkinlaiset näppivoimat
- pitää sanan mukaisesti säätönsä
9
0
I would recommend for a friend
Tommi H.

25.02.2017
I would recommend for a friend
Vili K.

10.03.2017
Korvasin tällaisella Mil-Tecin Hollowfiber-makuupussin kompressiopussin tosi huonosti pitävän narulukon. Lopputulos oli sen verran hyvä, että oon sen jälkeen korvannut näillä aika monta huonoa narulukkoa. Eipä oo elämänlaatu ollut enää ainakaan narulukkojen pitävyydestä kiinni.
5
0
I would recommend for a friend
Kimmo S.

10.08.2017
Olin pohdiskellut, miksei m05 drybagiin ja verkkopussiin oltu jaksettu laittaa tällaista pikkuista klipsutinta. Ihme kitsastelua euron takia. No, minäpä sitten hankin tällaisia muutaman kipaleen ja aloin laittamaan yhtä yksikseni drybagin nartsoihin kiinni. Vähänpä tiesin siinä vaiheessa, mutta puolustuksena on sanottava, että olin nuori ja tarvitsin narulukkoa.

Täytyy sanoa että tässä klipsissä on sisällä infernaalinen jousivakio ja tuhannen auringon raivo. 'Hammastukset' puolestaan pureutuvat ihoon ja aina epämieluisiin muistoihin asti. Kun sormet lipsuvat väärässä kohtaa kesken urakan, voi melkein nähdä, kuinka narulukko hymyilee ivallisesti. Lopulta nartsat olivat läpi ja pystyin kokeilemaan lukon normaalia operointia nyt jo punaisina hehkuvilla sormillani. Ei jäänyt epäilystäkään, etteikö lukko pysyisi paikallaan, sen verran jämäkästi se puristi naruja. Tämän jälkeen jouduin vielä kokemaan saman ilon verkkopussin kanssa, mutta ainakin jatkossa pussukat pysyvät tiukasti säpissä.

En minäkään haluaisi euron hyödyn takia kiinnitellä näitä työkseni, joten selvisi sekin asia tässä ohessa.
10
0
I would recommend for a friend
Denis S.

21.10.2017
Very strong, needed for many projects or simply for replacing the cord locks in jackets or bags. You can rely on those.
eg: I use them inside my British Smock, my M65 to adjust the waist, to close my tent bag...
4
0
I would recommend for a friend
Henrik S.

10.12.2017
Great stuff, very sturdy.
5
0
I would recommend for a friend
Kevin T.

21.12.2017
Really strong spring, will work on gutted paracord or smaller doubled up. Excellent quality. Not for those who have no grip strength... these lock up!
4
0
I would recommend for a friend
Markus K.

06.02.2018
Laitoin näitä pariin takkiin, joiden hupun naruissa ei ollut minkäänlaista lukitusta. Ei muuten enää hupun kiristys löysty itsestään.
2
0
I would recommend for a friend
David F.

14.02.2018 (Edited 28.03.2018)
These are perfectly made and incredibly strong. They also work great with the bungee cord offered here. I tethered one in cordage and pulled to see if it was strong enough, it is. You probably could break one, but it would have to be intentional. Whoever made these was probably German. This was purchased to tether a few light things to my pack, I think you could secure 100 pounds easily with this stuff. Overbuilt and durable, just how I like it! Buy at least 5. UPDATE: bought ten more to have around and use for draw strings on jackets! Excellent!
1
0
I would recommend for a friend
lasse l.

18.05.2018
I would recommend for a friend
J-P M.

24.05.2018 (Edited 24.05.2018)
No joo. Vähän hymistelin noille "infernaalisille jousivakioille" mutta ei helvetti, tämähän on aika hurja vekotin. Testasin tieteellisin menetelmin, eli 15kg käsipainolla niin että toinen puoli oli pöydällä ja toinen narulukon päällä, eikä nappi mennyt ihan pohjaan asti. Suosittelen pyyhkimään kädet kuivaksi rasvasta/öljystä ennenkuin rupeaa näiden kanssa kikkailemaan, muuten voi tulla pipi. En ihmettelisi jos nämä purevat jonkun kuralaatuisemman narun poikki.
6
0
I would recommend for a friend
Jani V.

07.06.2018
Ostakaa kenkiin, shortsien narujen lukoksi tms. Ehdottomasti!!
1
0
I would recommend for a friend
Aapo A.

09.07.2018
On kyllä perkeleellinen pito. Täytyy oikeasti painaa voimalla että aukeaa ja pito on todella kova! Mihin ikinä tälläistä tarvitsee, niin suosittelen! Voi hyvin paskoa jonkun heikon narun :D!
1
0
I would recommend for a friend
Ignacio N.

24.08.2018 (Edited 06.09.2018)
Very relaiable, strong and nice to use. Great stuff.
1
0
I would recommend for a friend
Alex R.

16.02.2019
Don't buy these! You'll quickly realize how shitty every other cord lock on every other piece of equipment is, and you'll start replacing them all. Seriously, stay away from these.
2
0
I would recommend for a friend
Topi S.

28.02.2019
Erittäin jämäkältä vaikuttava konstruktio! Vaatii todellakin gorillan puristusvoimat tai sit ruuvipuristimen. Askartelin-paskartelin parista narulukosta + paracordista Haixeihin pikanauhat ja ai että nyt on sellaiset nyörit että kestävät minkä vain apokalyptisen tapahtuman.
2
0
I would recommend for a friend
Niko N.

07.03.2019
Erittäin hyvä pikkukilke. Ei lähde purkautumaan ni ei millään.. xD Ostin ensimmäiset vanhoihin maihareihini noin neljä vuotta sitten ja narut joutunu uusimaan parikin kertaa niihin mutta edelleen nämä itse puristimet on kuin uudet (ainakin puristusvoimaltaan) hiemanhan niihinkin on tullut jo ajanpatinaa mutta jousi on tehty varmaankin jostain Vibraniumista tai jostain muusta Mithrillin tyylisestä metallista.. Koska se ei vaan väsy ei niin millään...

Täydellisyyttä hipovaa teknologiaa.
0
0
I would recommend for a friend
Sami K.

23.04.2019
Suhtaudun näihin vähän kaksijakoisesti - yhtäältä nämä ovat aivan loistavia ja toisaalta vähän huonoja. Puristusvoima näissä on aika massiivinen, joten lukko ei todellakaan liu'u mihinkään kun sen on kerran oikeaan kohtaan säätänyt - mutta samalla se puristusvoima on sitä luokkaa, että se syö nyörejä, etenkin elastisia.
0
0
I would recommend for a friend
James S.

17.07.2019
These have two very strong springs, the strongest cord locks I've ever owned! The colour is a very dark almost grey green, these would make a great replacement on the Bergen liners. I like the flat design. Weighs nothing. Buy more than you need so you will have extra on hand. I've never seen these in Canada.
0
0