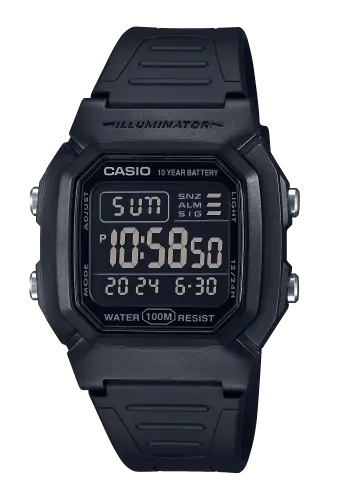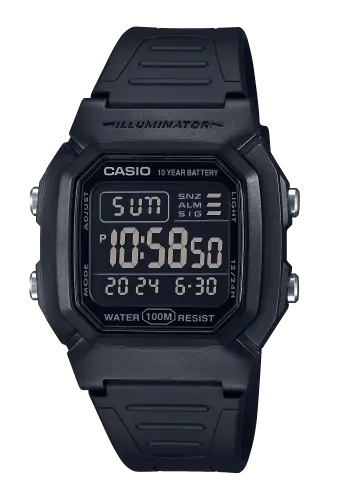 Casio
Casio W-800H-1BVES
Price 41.99 USD
excluding sales tax
The Casio W-800H is fairly resistant to varying environments, displays dual time, and is also lightweight with a 10-year battery life. Oh, and it's not terribly expensive.
We don't know when this product will be restocked. Request restock notification and we will email you as soon as this product is available.
Trouble with the metric system? Try our converter:
The Casio W-800H is fairly resistant to varying environments, displays dual time, and is also lightweight with a 10-year battery life. Oh, and it's not terribly expensive.
The W-800 is a wee bit larger compared to the base models, and it has a world/dual time and 100 meters of water resistance, more than enough for snorkeling. This model doesn't allow setting a countdown timer by default, but there are instructions out there to mod the circuit board in a very simple fashion to activate it. At your own risk, of course.
The suffix 1BVES means the color code (1 means Black, B means a blacked out negative display), and VES for Export / European version. The various regions are most often just packaged a bit differently, and the manual language varies.
Technical Specs
Casio wristwatches have so much in common that finding the right one for you may be difficult. Here are some simple facts:
Width: 36.8 mm
Height: 44.2 mm
Thickness: 13.4 mm
Weight: 37 g
Battery / Life: CR2025 / 10 years
Water Resistance: 10 BAR / 100 m
Made in China
Module: 3240
Features
These are features that may require clarification and may not be found on all models:
World Time
This model has no automation and allows you to set a secondary time down to the minutes.
Stopwatch
Stopwatch with 1/100th precision up to 24 hours. Displays elapsed time and can be toggled for split times and 1st and 2nd places.
The split time in Casio watches means freezing the elapsed time on the screen while the stopwatch keeps running in the background. E.G. if you run 1:36 laps with a steady pace, your first split time will be 1:36, the second one 3:12, then 4:48, and so on.
Multi Alarm Clock / Hourly Signals
You can set hourly time signals on or off, and the watch has a multitude of alarms: daily alarm, daily alarm for one month, alarm at a specified date, and a monthly alarm. You can set the chosen alarm to snooze if you like.
Calendar to the year 2099
You don't have to check the date setting of this watch each month: leap years, Februaries, and Biblical events are covered for a very long time – automagically.
Backlight
This watch has one green LED for viewing in the dark but it's better than usual: there's a light guide panel to distribute it more evenly across the display. The Afterglow is fixed at 1.5 seconds. Higher-end models of today have something they call the Super Illuminati but this one is just fine.
Made by Casio
The first invention by Tadao Kashio was the yubiwa pipe: a ring that allows you to smoke a cigarette hands-free and all the way to the end. Tobacco was expensive in war-torn Japan (because WWII), and people had their hands full of work, so this was exactly what the market wanted. With the profits from the pipe, Kashio could fund the development of Casio's first electro-mechanical calculator.
High intelligence and flair for business combined with this sort of diligence could not have led to anything but the success Casio has achieved. The company has been the first mover too many times to mention. Let's skip the list this time.
Being the first mover has not sacrificed quality: many people still use Casio wristwatches they bought 40 years ago, and they have gained the trust of NASA, numerous special (and non-special) forces, law enforcement, paramedics, and so on. Another long list. The TL;DR is that all of these are damn good, pick any one you like!
All products: Casio
Recommendations
Loading products...
Reviews
You have already submitted a review. You can edit your text by clicking on it.
Log in and write a review.