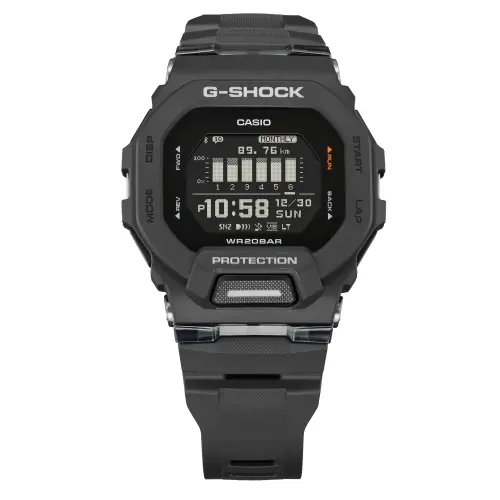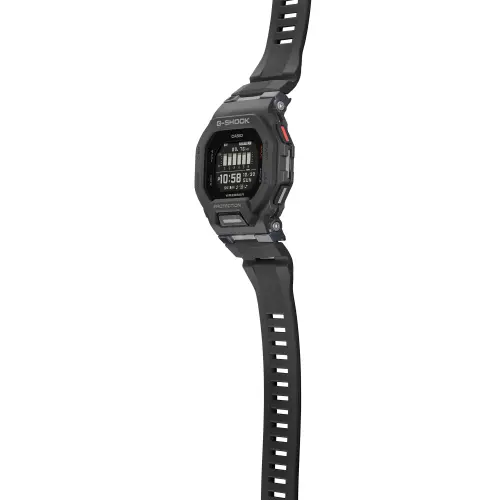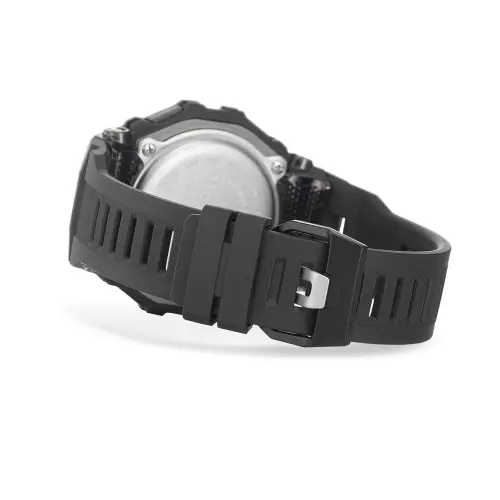 Casio
Casio G-Shock GBD-200-1ER
Price 169.99 USD
excluding sales tax
G-Squad is Casio's sporty line of G-Shocks and has digital (GBD) and Digital/Analog (GBA) models. These watches have a step counter, Bluetooth connection, and training functions, but unlike common smart watches, these can take a beating, and the battery lasts for years.
We don't know when this product will be restocked. Request restock notification and we will email you as soon as this product is available.
Trouble with the metric system? Try our converter: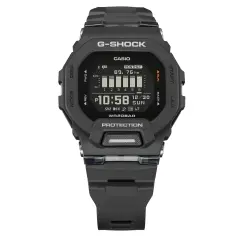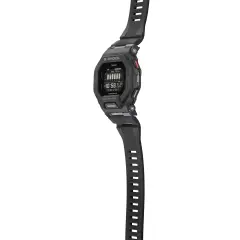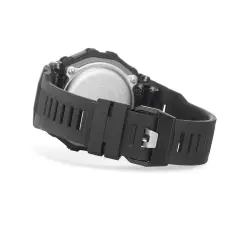 G-Squad is Casio's sporty line of G-Shocks and has digital (GBD) and Digital/Analog (GBA) models. These watches have a step counter, Bluetooth connection, and training functions, but unlike common smart watches, these can take a beating, and the battery lasts for years.
The GBD-200 is the thinnest and lightest G-Squad and isn't bulky compared to any G-Shock watch. The soft urethane strap and a 5 mm hole spacing (closer than normal) on this Square ensure a comfortable fit. The product pictures often show off the training mode display, which may look a bit cluttered but rest assured, the regular timekeeping mode is clear and shows the time with large numbers.
The less common features of this model include vibrating alerts, Memory in Pixel display, and a stopwatch that measures up to 100 hours. The GBD-200 is made in Thailand. If these appeal to you, comparison between models just got easier.
The suffix 1ER means the color code (Black) and European version. The various regions are most often just packaged a bit differently, and the manual language varies.
Technical Specs
Casio wristwatches have so much in common that finding the right one for you may be difficult. Here are some simple facts:
Width: 45.9 mm
Height: 49.4 mm
Thickness: 15.0 mm
Weight: 58 g
Battery / Life: CR2032 / 2 years
Water Resistance: 20 BAR / 200 m
Made in Thailand
Module: 3506
Features
These are features that may require clarification and may not be found on all models:
Memory in Pixel LCD
Negative or "reverse" displays make ordinary LCD segment displays difficult to read but the Memory in Pixel technology changes this. The watch face is easier to read from different angles and the resolution is higher. If you usually shy away from negative displays, consider again in this case.
Mineral Glass
Actual glass with heat treatment to prevent scratches. All G-Shocks have at least a mineral glass; the more expensive ones have a sapphire layer on top of it.
World Time
You can choose from over 300 cities to set a secondary time, and you can display the time for two locations at the same time. Automatic daylight saving can be toggled. (On a side note, we should all stop that nonsense.)
Interval Countdown Timer
This isn't your usual egg timer: you can set up to five different times and repeat them in various orders for 1–20 times. E.g. you can program 10 minutes of jogging, 4 minutes of sprinting, 10 minutes of jogging again, and then 4 minutes of running. The timers can be set with 1-second increments up to 60 minutes.
Stopwatch
The stopwatches are often limited to 24 hours, but this one goes to a hundred. The accuracy is reduced to full seconds. Measures elapsed time and offers split time functionality.
Alarm Clock / Hourly Signals
You can set four daily alarms with or without snoozing and hourly time signals on/off.
Calendar to the year 2099
You don't have to check the date setting of this watch each month: leap years, Februaries, and Biblical events are covered for a very long time – automagically.
Backlight
Proper Super Illuminati backlight with a blue tone. You can make it automatic (usually unnecessary), and the Afterglow can be set to 1.5 or 3 seconds. The backlight button is easily accessible on the front.
Vibrating Alert
You can make the watch beep and or vibrate the alerts. This is rather useful when you are in hush-hush situations but also if the environment is so loud that you wouldn't hear the alert.
Step Counter and Training Data
Use the G-Shock Move application to use the watch as a training tool to measure and log your activity and goals.
Bluetooth Connection
Pairing the watch with a smartphone ensures the watch keeps exact time automatically. You can also opt to get notifications for messages, phone calls, and so on. The door swings both ways: using the Phone Finder allows to make your phone ring – even when silenced – in case you have trouble finding it.
Made by Casio
The first invention by Tadao Kashio was the yubiwa pipe: a ring that allows you to smoke a cigarette hands-free and all the way to the end. Tobacco was expensive in war-torn Japan (because WWII), and people had their hands full of work, so this was exactly what the market wanted. With the profits from the pipe, Kashio could fund the development of Casio's first electro-mechanical calculator.
High intelligence and flair for business combined with this sort of diligence could not have led to anything but the success Casio has achieved. The company has been the first mover too many times to mention. Let's skip the list this time.
Being the first mover has not sacrificed quality: many people still use Casio wristwatches they bought 40 years ago, and they have gained the trust of NASA, numerous special (and non-special) forces, law enforcement, paramedics, and so on. Another long list. The TL;DR is that all of these are damn good, pick any one you like!
All products: Casio
Recommendations
Loading products...
Reviews
You have already submitted a review. You can edit your text by clicking on it.
Log in and write a review.
Remove filter
I would recommend for a friend
Waltteri J.

27.12.2022
Ihan näppärä jos ei halua turhaa tilpehööriä. Viestitoimintojen yms. käyttö aluksi kömpelöä ja askelmäärän seuranta välillä epämääräistä, mutta tää kestää isältä pojalle eikä patteriakaan oo tarvinut vaihtaa vielä vuoteen.

Niin juu ja toi "Phone Finder" toimii vaan jos olet muistanut laittaa puhelimen median äänenvoimakkuuden päälle.

Älä osta jos odotat tän pärjäävän ominaisuuksillaan markkinoiden muille äly- tai urheilukelloille.
0
1