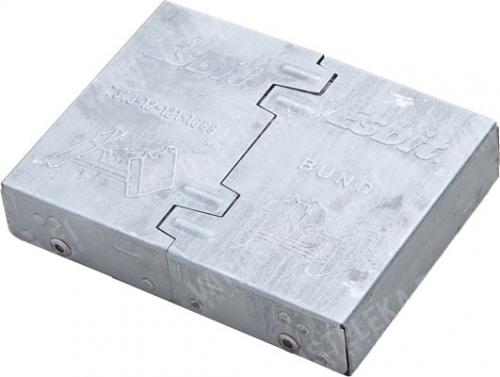 BW Esbit Field Stove, surplus
Price 3.99 USD excluding VAT
Flat Rate Shipping to USA $9.99
100 % recommends
Sold 56 pcs in the last two weeks
In stock 36 pcs. Also available in our walk-in store.
Trouble with the metric system? Try our converter: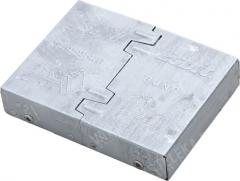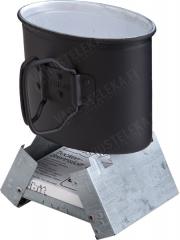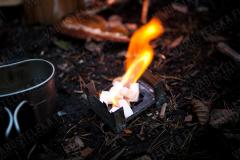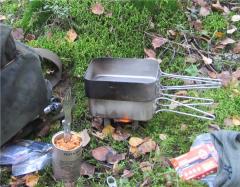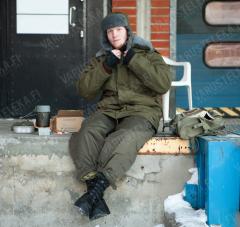 Invented in the 30's, almost immediately adopted by the German army, and still in use today. This little contraption will take care of nearly any field cooking needs, just throw in some fuel tablets and let it burn. German engineering at its best!
The Esbit-kocher is basically an ingenious foldable field stove. Fold the stove open (or halfway open), put in a few fuel tablets (not included), light 'em up, and watch your food get hot.
The official Esbit fuel package fits neatly inside the stove for easy storage. The quantity of tablets needed for different cooking needs varies greatly, and we can't really give and "hard data" on this matter. What we can do though is offer some advice based on our empiric tests. We have been able to get 0,5 l of water to boil with 2-3 tablets and warm a 350g tin of food with 1-2 tablets. Of course, all this depends on the overall temperature, winds etc. The tablets do burn for a surprisingly long time.
If you are not into fuel tablets, the stove can also be used with any natural materials, like twigs and all that. Just pile them up and light it up. Alternatively, you can use one tablet and place the sticks on top of it. This way you should have a decent fire in no time.
Weight 40 g. Measurements 9,5 x 7,5 x 2 cm.
Condition
Some used, some unissued, all in serviceable condition.
Product reviews of the Esbit field stove
The Esbit cooker, combined with the British-model mess box, is an awesome thing. Thanks to its shape it is easy to pack, and there are no extra bells and whistles. The cooker, another pack of fuel, spork, matches, and even coffee and cocoa all fit easily within the mess kit. During my time in the Finnish army, I left the Trangia at the barracks and did all of my cooking with the aforementioned combo. As a veteran user of the Esbit, I had all of my rations ready while other were still heating up their stoves. In the right conditions it is a very fast and easy-to-use system.


Stefan


Simple and efficient. Warming water for cooking is easy and requires just a few tablets per half litre. Boiling water is quite demanding and, in strong winds, could prove to be impossible. So much heat escapes that proper cooking requires a good location and a lot of fuel tablets. It's not very useful for making lake water drinkable, but cooking and warming drinkable water is easy.


Akseli
Recommendations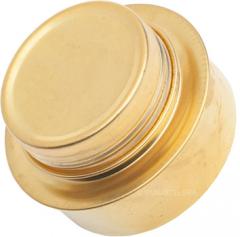 Mil-Tec Alcohol Stove, Brass
7.99 USD
Viewed together.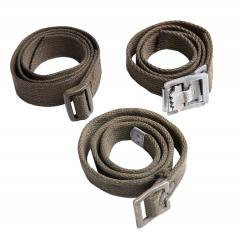 BW general purpose strap, surplus
2.99 USD
Viewed together.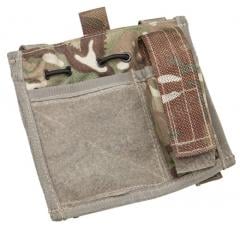 British Osprey Admin pouch, MTP, surplus
9.99 USD
Viewed together.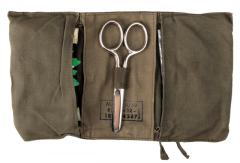 BW personal sewing kit, surplus
3.99 USD
Sometimes purchased with.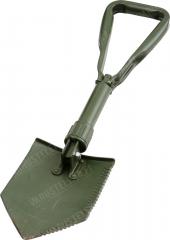 BW Tri-folding e-tool, with carrier, surplus
23.99 USD
Viewed together.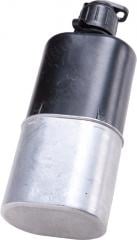 Swiss M84 canteen with metal cup, surplus
9.99 USD
Sometimes purchased with.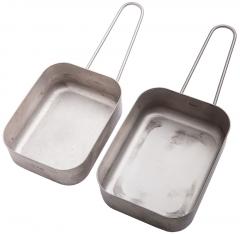 Dutch mess tin, stainless steel, surplus
18.99 USD
Sometimes purchased with.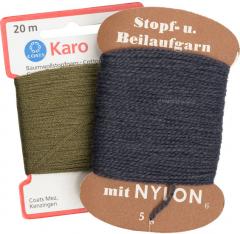 BW darning thread, 20 m, surplus
0.99 USD
Sometimes purchased with.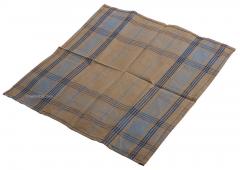 Dutch handkerchief, surplus
0.99 USD
Sometimes purchased with.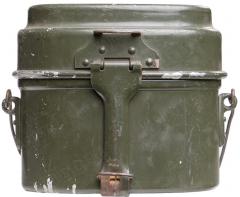 Hungarian mess kit, surplus
9.99 USD
Sometimes purchased with.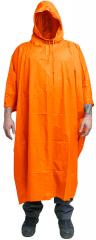 Särmä Rain Poncho
18.99 USD
Might be of interest.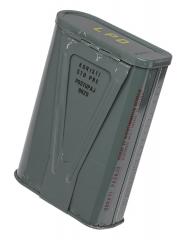 Croatian decontamination box, surplus
6.99 USD
Might be of interest.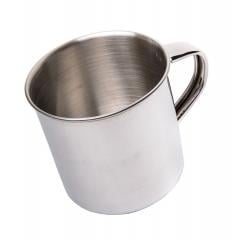 Mil-Tec steel mug, 300 ml
4.99 USD
Might be of interest. Temporarily out of stock.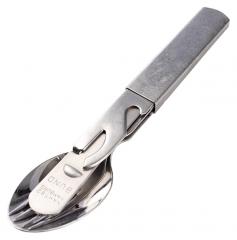 BW field cutlery set, surplus
9.99 USD
Buy also. Temporarily out of stock.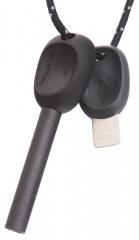 Light My Fire FireSteel Bio Army
16.99 USD
Buy also.
Reviews
You have already submitted a review. You can edit your text by clicking on it.
Log in and write a review.
Remove filter
Suomi
(6)
English
(9)
I would recommend for a friend
Abrahim R.

28.12.2016 (Edited 03.05.2017)
Paired this with a Czech mess kit and was pleasantly surprised to find that it fit into the inner pot perfectly. Heated a half liter of water warm enough for tea and a freeze dried dinner using one pack of US Army trioxane. Great air flow to keep a fire going hot, sturdy, and very no bullshit. Just toss it into your cart even if you have another cook system, it's a good Plan B.
4
1
I would recommend for a friend
Anssi K.

16.01.2017
Kätevä ja kevyt keitin vaikka varalle tai miksipä ei vaikka pääkeittimeksi "ultralight" hommiin. Oma kappaleeni oli nähnyt käyttöä todella reilusti ja iästäkin kertoo tuotteen pohjassa ollut leima: Made in W. Germany. Mutkilla olleen keittimen sai kuitenkin melko helposti vasaran ja alasimen kanssa taas suoraksi ja hienosäätämällä käsin taivuttamalla sai keittimen jalat jo lukittumaan paikalleen tyydyttävän napsahduksen kera. Tuotekuvissa näkyvä kunto saattaa hämätä (en tiedä onko muut kappaleet paremmassa hapessa), mutta hintasekseen erinomainen peli. Suosittelen ainakin varakeittimeksi, sillä ei paljoa paina tai vie tilaa repussa tai rinkassa.
5
0
I would recommend for a friend
juha s.

08.03.2017
Ihastuin heti ekalla kerralla, aivan maanmainio pikkukeitin. Tsekkipakin kaverina pääsevät autoon vartomaan sitä päivää kun maailma loppuu tai matka katkeaa kesken. Tai alkaa tehdä mieli teetä liian kaukana huoltoasemista.
1
0
I would recommend for a friend
Christopher K.

29.03.2017
A windscreen helps efficiency. I used a coke can ( pour that crap out and have a beer) to cut two rectangles that fit the open space when fully opened. Bend the bottom edge into a L and you're all set. They easilly store inside with fuel cubes.
8
0
I would recommend for a friend
banaani o.

26.04.2017
Omani ei ainakaan ole millään tavalla ole vinossa tai ruosteessa. Talvella ja märällä kelillä käytän polttoainetabuja. Kuivalla kelillä taasen kuivia risuja.
7
1
I would recommend for a friend
William W.

13.08.2017
Best field stove there is.
4
1
I would recommend for a friend
Dan T.

23.10.2017
An absolutely fantastic little stove. I have had one since 1957. They are the epitome of functional and reliable design.
3
0
I would recommend for a friend
David F.

16.03.2018
Mine came obviously used, but perfectly serviceable with lots of life left. Just a cool gadget to have, especially for the money.
0
0
I would recommend for a friend
Mason P.

07.04.2018
So compact and lightweight you can take it as a backup or great in a 72hr bag, worth its weight in gold!
0
0
I would recommend for a friend
James V.

08.04.2018
Shipped to me covered with some crud and a small part of a fuel tab in it. Cleaned up somewhat, some black bits are still stuck to the bottom but still usable
0
0
I would recommend for a friend
Carolyn W.

11.07.2018
Mine came all scuzzy and tarnished, slightly dented out of shape. With a little elbow grease, steel wool and a few hour soak in CLR cleaner, this baby came out sparkly. I discovered to my excitement that my stove was made in West Germany and made me feel connected to history a little bit! I used a ball peen hammer to bang the dent back out and this stove is ready for another 30 years of service!
0
0
I would recommend for a friend
Rasmus R.

10.10.2018
Tuote oli sisältä noessa eli selvästi ollut käytössä, täysin ehjä ja lommoton kuitenkin.. Parit nokipannukahvit tällä keittäneenä, suosittelen.
0
0
I would recommend for a friend
Mikko S.

03.06.2019
Erittäin hyvä ja yksinkertainen kenttäkeitin. Esbit-palat palavat korkealla lämpötilalla, joten tällä saa veden nopeasti kiehumaan. Itse käytän tätä alumiinisen pakin kanssa metsäretkillä. Sama keitin on ollut jo monta vuotta käytössä, eikä tämä mene oikein miksikään yksinkertaisen rakenteen ansiosta. Tässä kyllä saa rahalle vastinetta. En itse ole yrittänyt käyttää mitään muuta polttoaineena, kuin virallisia esbit-paloja.
0
0
I would recommend for a friend
Jonathan K.

12.06.2019
There are more useful cooking systems out there that will boil a pot quicker, but not for this price/weight ratio. This serves as a great little addition to any pack. Simple and durable, easy to pack. Mine even came with an old box of fuel tablets with 2 tabs in it! It was dirty when it arrived but what do you expect, it's going to be filthy after one use. I recommend putting some tinfoil inside it you can fold up as a wind guard for the sides, as well as to keep the inside cleaner.
0
0
I would recommend for a friend
Harri K.

27.10.2019
Polttoainetablettien saatavuus on nykyisin aika heikkoa. Ne voi korvata Sinolin geelipolttoaineella, jota poltetaan esim tyhjässä tomaattisosepurkissa. Geeli ei tosin pala yhtä kuumalla liekillä kuin Esbitin tabletit.
0
0