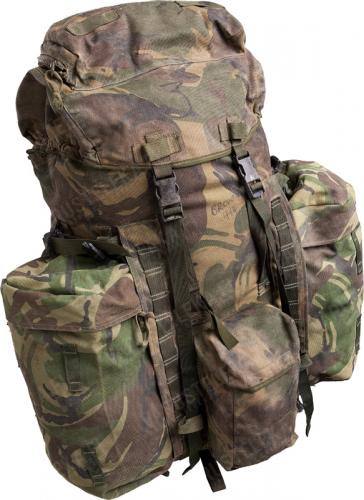 British PLCE rucksack, DPM, surplus, with frame
Price 64.99 USD excluding VAT
Flat Rate Shipping to USA $9.99
88 % recommends
Sold 15 pcs in the last two weeks
Loading products...
Trouble with the metric system? Try our converter: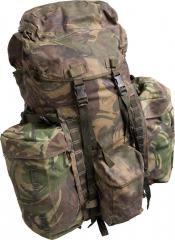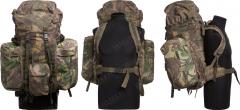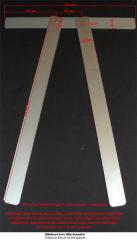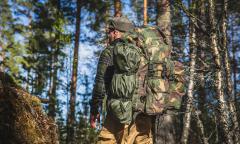 British design at its best. The PLCE ruck is a giant leap forward from the old Pattern 58 Large pack and the GS rucksack. Total capacity up to 110 litres, this is among the best mass-produced army rucksacks ever.
After the Falklands war the British army were convinced they needed a large rucksack, which - unlike anything issued at that time - would be ergonomic to carry over long distances. The civilian manufacturer Berghaus had provided rucksacks for special forces in the Falklands and these were the starting point to develop a "Regular Squaddie" version, which would become the PLCE rucksack.
The rucksack has volume to spare, but it's also well designed for use and carry. It has received compliments even from the end-users, who commonly complain about everything you can imagine and even if you can't.
One large 90 litre main compartment.
The main pack can be compressed using straps on the sides, a nice feature when you don't need to stuff it completely full.
Wide, well padded, adjustable waist and shoulder straps.
A detachable aluminium support frame.
A pouch on the top of the flap.
A small outer pocket on the lower back.
Two detachable 10 litre side pouches, can be combined to form a day pack. These will almost always be something else than original British army stuff, and might not work with PLCE yoke.
Size info
Separate models are made for those with longer or shorter backs, and because we're nice and careful people we have sorted them in the warehouse. Here's a short size guide:
160-173 cm: Short
174 cm or more: Long
However, it's really not that finicky; for example a 180 cm tall man can easily use Short too. Of course if you are very tall, it's best to forget that and go for Long. If you are planning on using webbing kit with the rucksack, take Short.
Used British army surplus
Used but in serviceable condition. The camo pattern is faded and these are not washed. Take a mild detergent, brush and elbow grease to it if you want to. The rucksacks are likely to have small fixes, names or initials marked with a sharpie and so on.
Important historical facts
British 20th century kit development in a nutshell:
In the first decade Mills Woven Cartridge Belt Company of London created the Pattern 1908 Large Pack, and Field Marshal Douglas Haig saw that it was "Adequately satisfactory."
In the third decade Mills created the Pattern 1937 Large Pack, and Sir Winston Churchill saw that it was "Proper hard wearing kit!"
In the fourth decade Mills created the Pattern 1944 webbing, and all saw that it was "Inferior to the Patt. '37 in durability."
In the fifth decade the Army Ordnance Research Group in collaboration with the Devil himself summoned the Pattern 58 Large Pack from the underworld, and all who saw it said: "The Army seem to have taken leave of their senses."
In the eighth decade Margaret Thatcher said "Bollocks!" and issued her boys bound for the Falklands with shiny new Berghaus bergens, and the moustached gentlemen saw that these were "Fackin' nails!"
Reviews
You have already submitted a review. You can edit your text by clicking on it.
Log in and write a review.
Remove filter
Suomi
(9)
English
(9)
Pietari J.

26.05.2016 (Edited 31.05.2016)
I would recommend for a friend
Heikki E.

01.07.2016 (Edited 06.07.2016)
Hyvä rinkka, kunhan säätää oikein ja tilaa rintaremmin tähän ;)

Ulkopuolella saisi olla enemmän taskuja mutta toimii anyway.

Läpän alle saa näppärästi pikkurepun/juomarepun

Hinta/laatusuhde 5/5
6
0
I would recommend for a friend
ari l.

19.07.2016 (Edited 26.07.2016)
Erinomainen tuote, kunhan laittaa rintaremmin.
Auttanu lisään päivämatkaa jotain 50%
10
0
I would not recommend to a friend
Robert M.

10.01.2017 (Edited 20.01.2017)
Unfortunately the rucksack was not up to standard but after communication with Oku I received a full refund which shows a professional and efficient approach to problems. In consequence I would increase my overall star rating and recommend to a friend.
8
18
I would recommend for a friend
Ville K.

29.01.2017
kyseistä rinkkaa jokusen tuhannen kilometriä kiikuttaen pyöräillen / Kävellen joskus jopa hölkäten istuu ainakin omaan selkään kun isä äitiin konsanaan. Hinta Laatusuhteeltaan parhaita reppuja / rinkkoja mitä itte oon kantanut 5/5
7
1
I would recommend for a friend
Anonyymi k.

30.03.2017 (Edited 29.08.2017)
Erinomainen tuote! Täysin ehjä yksilö, pottumaassa oli turvallaan pyöritty tämän kanssa. Sivutaskutkin olivat ihka aidot. Rintaremmin lisäsin heti tuotteen saatuani. 180 senttinen ei voi seikkailla hyvin shortin kanssa, koska lantiovyö jää väkisin liian korkealle.
5
1
I would recommend for a friend
Henri S.

26.06.2017
Tämä rinkka on hinta-/laatusuhteeltaan parasta A-luokkaa. Ensinnäkin se vetää ihan käsittämättömän paljon tavaraa ja on vieläpä mukava kantaa. Muutaman euron rintaremmi tosin kannattaa ehdottomasti asentaa. Itse olen oppinut arvostamaan päälokeron lisäksi löytyviä muita tilavia taskuja todella paljon. Sivutaskut ovat todella suuret ja niihin on hyvä pakata kaikki sellainen mihin tarvitsee päästä helposti käsiksi. Varsinkin teltassa tai muissa ahtaissa tiloissa operoitaessa (operaattorimaisesti tietenkin) osaa arvostaa sitä ettei tarvitse tonkia päälokerosta sitä puhdasta sukkaparia. Päällysläpässä ja selkäpuolen alaosassa sijaitsevissa taskuissa puolestaan säilöö näppärästi vaikka fikkarit, kompassit sekä tulukset. Kiristyshihnat ovat älyttömän pitkät, joten niihin saa ongelmitta kiinnitettyä makuupussit, makuaalustat sekä väsähtäneet toverit.

Kaikin puolin kyseessä on kestävä kantolaite jossa tavarat saa pidettyä näppärästi järjestyksessä ja jota on miellyttävä roudata selässään.
12
0
I would recommend for a friend
Risto P.

28.06.2017
Tämän otan kun kamat ei mahdu BW rinkkaan, jonka otan kun kamat ei mahdu BW jääkärireppuun. Viimeksi jätin sivutaskut pois ja silti sain mahtumaan varusteet+muonat kahden viikon kesävaellukselle. Tämä tarvitsee sen rintaremmin. Omassa yksilössä on tussattuja nimiä, yksi sivukiristysremmin solki rikki ja vaihdetut sivutaskut; ei vaikuta käyttöön mitään. Loistava hinta-laatusuhde.
8
0
I would recommend for a friend
Laila L.

15.09.2017
Käytän tätä matkalaukkuna.
(Käsimatkatavarana brittiläinen radioreppu josta tähän sopivat sivutaskut. Laitan sivutaskut radioreppuun mikäli tarvitsen tosi ison päivärepun reissussa. Kätevää.)
Rinkkaa on mielyttävä kantaa ja siihen mahtuu paljon tavaraa. Tämän bongaa heti lentokentän laukkuhihnalta.
5
0
I would recommend for a friend
Mark H.

06.10.2017
Came as expected, quick and well packaged. As the description states, the camo is a bit faded, it has that 'surplus' smell, the inner lining for waterproofing has been torn away a little, some small personal mods have been made to adjust the webbing of the sternum strap as well as a couple of extra webbing pieces added for one purpose or another. Soldiers name and reg. no. are written on the back also, I quite like this as it has some form of history to it. Some slight fraying to the inner seams on the lid outer pocket, but nothing too serious.

It's a used and abused pack, been thrown around and served its duties, and it clearly has years of life left in it still. Don't buy if you're looking for a fresh, brand new, never used modern pack. It's old, but that's about it. Just in need of some TLC.

I wanted to try and explain clearly what condition mine came in as there were not many descriptions of how the pack looked when other customers recieved it.
5
0
I would recommend for a friend
Sami K.

21.11.2017
Hinta/laatu-suhde ihan kohdallaan, mutta toisin kuin nähtävästi monien mielestä, minusta tästä kyllä huomaa, että tämä on tehty ihmisille, joilla ei ole varaa valittaa (siis sotilaille). Kantosysteemi ei vain tunnu mitenkään mukavalta, vaan olkahihnat painavat vaikka tähän lisäisikin rintaremmin ja lantiovyöstä loppuu tällaiselle hoikalle miehelle säätövara kesken. Lisäksi selkäpehmusteissa ei ole mitään hengittävyyttä, joten selkä kastuu hiestä. Suosittelen silti ihmisille, jotka eivät vain välitä (tai ovat sen verran eri muotoisia, että kantosysteemi toimii).
8
0
I would not recommend to a friend
Max S.

06.06.2018
I am around 1.73 high and bought the short back modell after I got the recommandation for that via E-Mail. This was indeed a huge mistake because when i were it correctly the waist belt is waaay to high and so on my upper stomach. I suggest you should even if you are small, take the long back modell. The second Problem is that it came with a defect Zipper on the sidebag so it is impossible to put in on the pack, this makes the whole thing pretty useless.
4
4
I would recommend for a friend
Michael F.

10.11.2018
Big pack ! The pack I received was in good condition , no rips or tears , all strapping and side pouches were attached. A couple of the smaller non-essential plastic buckles were broken but no big deal. Overall a good condition , large capacity pack for a very decent price. Shipping cost and times were very good too. Varusteleka for the Win !!
1
0
I would recommend for a friend
Daniel E.

27.11.2018
Exactly as described. The side pockets were original issue. A large and durable pack. It has been used, so read the description of the product.
2
0
I would recommend for a friend
Steven F.

17.12.2018
Simple, high quality, rugged rucksack to last a lifetime of hard use. I ordered the short model which is intended to ride above a battle belt or lbe system. For that purpose it is excellent however the hip belt straps do wrap much higher than the hips. The rocket packs and main pack were extremely faded and look different from each other.
2
0
I would recommend for a friend
Victor R.

12.06.2019
The product came used, of course, but it was mostly the camo that faded away, otherwise it was in a very good shape. The frame was broken and the parts werent fixed to each other though, but i can fix that. The side pouches were brand-new, wich is always nice. Overall I am very satisfied, especially if you consider the price.
0
0
I would recommend for a friend
Ernst W.

03.08.2019
You have to get the Long version if you are average height (180) and plan to use the backpack on its own. Otherwise very nice, the only thing i miss a horizontal partition in the main compartment.
0
0
I would recommend for a friend
Walter R.

03.12.2019 (Edited 03.12.2019)
I recieved exactly what I expected, a grade 2 military bag. Most of the webbing had been ripped off and repaired very well. The rocket pouches were aftermarket so no yoke for me which is ok. The rubberized coating is intact and in good condition. Having never used British gear I'm a little surprised how snug to the back the bag is so it will be a bit sweaty on trips. Being an internal frame bag its not bad at all as long as you realize that's what it is.
0
0