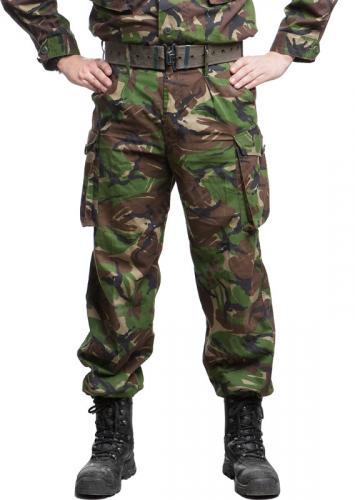 British CS95 cargo pants, DPM, surplus
Price 27.99 USD excluding VAT
Flat Rate Shipping to USA $9.99
96 % recommends
Sold 11 pcs in the last two weeks
Loading products...
Trouble with the metric system? Try our converter: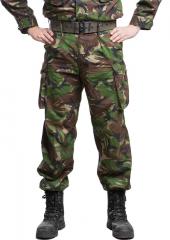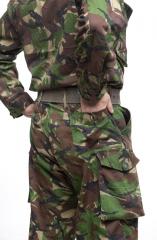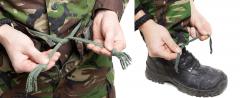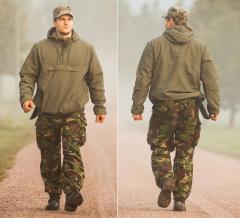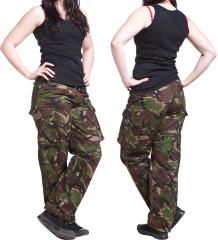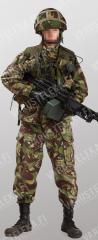 British Army S95 combat trousers in DPM. The best field trousers ever, no doubt about it.
Zipper fly
One button-closure back pocket
Two cargo pockets with button closure flaps. The flaps fold down so that when closed, nothing can fall out. Very clever design!
Very wide belt loops - these fit even a combat belt
Button closure tightening tabs and a soft rope-like internal belt. Order your correct size and there is no need for a belt at all
Tightening cords at the pant ends
Lightweight - comfortable and fast-drying
Exceptionally good cut
Really, one can't emphatize enough the cut and material of these trousers. The cut allows for true freedom of movement and correctly sized, the trousers stay up without belts or braces. The superb cut and lightness makes these the most comfortable trousers ever. The lightweight fabric also breathes well and dries fast. With good longjohns, these are excellent for winter use too.
Sizing
As opposed to usual trousers, the first measurement is inseam, then waist circumference.
Genuine army surplus
In used, but serviceable condition.
Reviews
You have already submitted a review. You can edit your text by clicking on it.
Log in and write a review.
Remove filter
Suomi
(12)
English
(14)
I would recommend for a friend
Jaakko M.

27.07.2016 (Edited 28.07.2016)
Uskomattomat superhousut. En ymmärrä miten tässä on saatu materiaalit niin kohdilleen, että housut eivät kesällä hiosta (nytkin jalassa), puntit saa helposti käärityksi shortseiksi, syksyllä ei tuuli puhalla läpi ja talvella alle mahtuu kunnolla välihousuja.

Mukavat jalassa, mahtuu liikkumaan, isot taskut isoilla napeilla, ei mitään ärsyttävän rasahtelevaa velcroa missään.

Edes vyötä ei tarvitse, senkun solmii vyötärönauhan sisällä olevan narun!

Lisäksi tuntuvat kestävän, sillä nämä jalassa on ryömitty niin kaupungissa kuin metsässäkin jo monta vuotta. Pieksee saksalaiset vastineensa jokaisella alueella.
15
2
I would recommend for a friend
Anonyymi k.

27.03.2017 (Edited 27.03.2017)
Vau. Ehdotonta länsiarmeijoiden aatelia. Menee venäläisen anglija pukuni kanssa metsävarusteideni kärkeen. Näissä on housuja vähintään kunnes maha kasvaa ulos. Sen jälkeenkin menee vielä vetoketju auki 2 vuotta!
3
0
I would recommend for a friend
Janne K.

10.05.2017
Todella hyvät ja mukavat housut metsästys- ja kalastuskäyttöön. Ainoana miinuksena kipinöidenkestävyys, joka ei ole kovin hyvä. Monta reikää tuli syksyisenä yönä räiskyvän nuotion ääressä.
0
0
I would recommend for a friend
Kirsi S.

13.06.2017
Eilen sain lähetyksen, heti päälle ja metsään. Ei voi olla mukavempia housuja! Kangas on jämäkkää, mutta pehmeää. Housut on keveät ja miellyttävät päällä. Koko oli juuri oikea (162cm/ nainen, tilasin koon 75/84). Ei hiostanut vaikka aurinko porotti yli kahtaakymppiä. Malli on hyvä, sopivan väljä, jotta alle mahtuu syksyllä välikerrosta. En uskonut tähän hintaan saavani näin hyviä housuja. Ei voi kuin suositella! Puolikas piste arviosta pois vain siksi, että en tiedä vielä materiaalin kulutuksen kestävyyttä.
3
0
I would recommend for a friend
Jalkajousi J.

23.06.2017
Parhaimmat kesäkelien maastohousut mitä oon pitänyt!
Menee hyvin talvellakin, vaatii vaan välipyysat alle!
3
1
I would recommend for a friend
Henri S.

11.07.2017
Todella mukavat ja kestävät. Istuvat hyvin, napit ovat toimivat ja hiljaiset. Lisäksi kuvio toimiii hyvin Suomen metsissä. Hinta-laatusuhteen ykkönen!
2
0
I would recommend for a friend
Juha-Matti P.

15.07.2017
Erinomainen hinta/laatu -suhde näissäkin. Suosittelen!
2
0
I would recommend for a friend
Thomas L.

24.08.2017 (Edited 24.08.2017)
Brand new! Very happy customer. I just love these for hiking and sitting by the campfire. But it was very hard to find the correct size. For me, my waist circumference minus 5-8 cm was the best (-5 for loose fit, -8 for a good fit, not too tight but possible to wear the trousers without a belt). Thank you Varusteleka for your generous return policy. And when you finally find the correct size, don't expect to have the same size in the newer PCS model.
4
0
I would not recommend to a friend
Tomi K.

04.09.2017
Paino sanalla "kevyestä ja ilmavasta kankaasta" - vaikka koko oli minulle liian pieni, tuntui kuin jalassani olisi ollut haaremihousut. Hyvin vaikea uskoa että kangas olisi erityisen kestävää, sen kestävämpää kuin muutkaan yhtä ohuet kankaat. Tai vaikka kangas ei kuluisikaan puhki niin epäilen ainakin että polvien kohdalle venyy pussit jos näitä käyttää paljon työhousuina.

Kun BW-Flecktarn -housuissa pärjää talvellakin, etenkin jos jalassa on pitkät kalsarit, niin näitä en käyttäisi alle +10 asteen keleillä. Kesähousut. Tai kotihousut oleskeluun verkkarien sijaan.

Taskut ei ole reisitaskuhousuksi erityisen isot.

Paras ominaisuus on monipuoliset säätömahdollisuudet (lahkeen suut, vyötärö sivuilta ja keskeltä edestä) ja maastokuvion tyylikkys jopa flecktarniin nähden.

Oma vyötärö 82 (ohuimmalta kohdalta, mutta 84-85 siltä kohdalta miltä nämä housut laitetaan kiinni), tilasin housut joissa vyötärö on 80 ja aivan liian pienet - nappi oli pakko jättää auki ja vetskari meni kiinni vain 60%. Ehkä 85-vyötäröllä juuri ja juuri saisin napin kiinni, mutta säätömahdollisuudet jäisivät käyttämättä, koska niillä voi vaan kiristää, ei höllentää. Käytin tilatessani mallina Flecktarn-housujani joissa vyötärön koko on merkitty 85-90 (oletin että tarkoittaa verkkokaupan kokoa 85), ja joiden kanssa pitää käyttää vyötä etteivät tipu polviin. Oletin että yhtä kokoa pienempi koko riittäisi. Väärin oletettu. Kilpailevan yrityksen sivuilta löysin (kun lähetykseni jo oli matkalla) tiedon ettei missään nimessä kannata tilata pienempää kokoa kuin mitä on vyötärö.

Suosittelen housuja naisille haaremihousujen sijaan. Miehille suosittelen 10e halvempia (näissä ko'oissa) BW Flecktarn -housuja, koska niissä laatu on parempi (machompi kangas ja taskut) ja hintakin siis 40% edullisempi. Naisten housuna 4- tähteä, miestenhousuna 2- tähteä, keskiarvo noin 2,5 tähteä.
4
27
I would recommend for a friend
Olli T.

09.09.2017
Nyt kun näillä on kolmisen vuotta lähes päivittäisessä käytössä kulkenut, voisi olla aika arvostelulle. Nämä housuthan ovat kyllä ehdottomasti parhaat arkivermeet mitä löytyy, jos kuvio silmää miellyttää.

Kangas:
Kangas on todella kevyttä ja ohutta, ei tule kesällä liian kuuma, kuivuvat nopeasti ja ovat todella mukavat päällä. Itse olen arkikäytössä talvetkin pistellyt näillä ja metsään talvella eksyessäni välikerrosta vaan alle laittanut, mikä on kyllä pakkaskeleillä tarpeen. Kangas on todella vahvaa keveyteensä nähden, ei juurikaan näe että on oikeasti minulla aina ja kaikkialla jalassa. Polvissa todella vähäistä kulumaa ja ilmeisesti kipinä nuotiosta on reiteen tehnyt häviävän pienen reiän, jota ei siis löydä jos ei tiedä missä se on.

Leikkaus/ominaisuudet:
Itse tykkään kovasti siitä, että ovat mukavan väljät vaikka taskuissa olisikin tavaraa. Ja sitä tavaraa reisitaskuihin meneekin melko paljon. Vyötäröremmi ja lahkeensuun särmärit ovat kätevät, särmärit tosin välillä vähän tiellä, mutta ovat onneksi helppo sulloa saappaan sisään.

Hintaansa nähden ehdottomasti mahtava ostos, suosittelen.
2
0
I would recommend for a friend
Matthieu N.

13.09.2017 (Edited 13.09.2017)
Bought a pair of these three years ago and they've been holding really well so far in casual and regular use. Colors and stitching are still in great shape; then again those I got looked brand spanking new. As for the pants themselves they're just neat; the cut it is very confortable (no size issue for me) and the fabric surprisingly light, wich you might feel a little bit if you live in a chilly and windy area and lack the good sense to wear longjohns under these. Also don't get too creative with the internal rope-like belt when you don't use it to prevent any accidental snagging, especially if you wear those in combination with the dutch commando underwear : you don't want your eggs and sausage to go bubble and squeak.
2
0
I would recommend for a friend
Håkan B.

27.09.2017
They came brand new and are really comfortable!
3
0
I would recommend for a friend
Mattias A.

17.10.2017
I like this fieldpants! Good for hunting, hiking or everyday-use.
1
0
I would recommend for a friend
Perttu T.

22.10.2017
Unelmabyysat kesää varten, kevyt kangas ei kuumota liikaa ja lahkeet helppo kääriä. Mulla on kahdet näitä ja toisista tein shortsit ja ylijäämä kankaasta tein reisitaskujen viereen etureiteen molemmille puolille molempiin housuihin kännykkätaskut. https://www.instagram.com/p/BUT7AK0DC2w/
4
0
I would recommend for a friend
Alexander R.

28.11.2017
Exactly as it says, these are the most comfortable trousers ever. Mine fit perfectly, no need for a belt. Pockets are a good size and well-placed, the buttons are large and easy to manipulate even with gloves, they're extremely light and don't restrict movement at all. Better than my issue DPCU kecks, and I thought those were pretty good! May as well not be wearing any trousers for how comfy these are!
5
0
I would recommend for a friend
Tyler G.

12.01.2018 (Edited 21.01.2018)
Effective camouflage, unless you wear these in public, in which case it will be impossible to blend in.

They are so good that I had to buy many pairs of them. The fit is superb. They are so comfortable. They fit a little baggy, and would even be great for yoga.

Honestly, I could sleep in these things.
The cargo pockets are smartly designed to keep out dirt and keep small loose items in. It has a waist belt which is a cool sort of rope, which works in a pinch, if the cargo pockets are empty. If you have stuff in the pockets you would want a belt. These pants have a high waist so the rope belt will dig into your hips if the pockets contain heavy items.

I also make a lot of use of the ankle ropes when it is hot outside, to make the pants shorter.

The material is strong, very durable, and thin. They are summer pants where I live. Absolutely no way you could wear these in Canadian winters unless you have very good long underwear, and even then it's a stretch.
4
0
I would recommend for a friend
Sakari S.

15.01.2018
Eikös näiden pitänyt olla käytettyjä? Minulle tuli tehtaan pussissa uudet housut.
Hyvät ja siistit pöksyt, muotikaupoissa on melkein samanlaisella kuviolla tehtyjä halpiksia joten kehtanee käyttää kylilläkin.

Otin vyötäröltä melko tyköistuvan mallin mutta ei kiristä muualta, omistan melko paksut reidet.

4. kuva on hyvä, näyttää justiinsa tuolta jalassa.
2
0
I would recommend for a friend
Terry H.

19.04.2018
Fantastic deal we're brand new! Very pleased. Fast shipping 6 days to Newfoundland canada
0
0
I would recommend for a friend
Ladislav S.

06.06.2018
Perfect fit, immense cut and material, by far the most comfortable trousers I own. Came unissued wrapped in plastics.
0
0
I would recommend for a friend
Ladislav S.

06.06.2018
Perfect fit, immense cut and material, by far the most comfortable trousers I own. Came unissued wrapped in plastics.
2
0
I would recommend for a friend
Sean W.

21.06.2018
Brand new in factory plastic. Just read the above reviews, these pants are great!
0
0
I would recommend for a friend
collin c.

27.10.2018
I would recommend for a friend
Calvin C.

07.11.2018 (Edited 08.11.2018)
I bought these trousers for autumn/winter hiking to wear in place of jeans. The listed sizes are spot-on (I usually wear size 28 jeans, so 75 cm fits my waist without a belt) and there's a little bit of water repellency on the fabric. A quick look at the fabric (no fading) and the finish on the buttons suggest that my pair was barely used at all.
0
0
I would recommend for a friend
Nathan H.

28.03.2019
Very pleased with these British Army CS95 DPM trousers so far! Came neatly folded and wrapped in plastic with official looking barcoded inventory sticker. Appears to be unissued trousers originally "intended for training purposes only". Manufactured by Cooneen Watts & Stone Ltd according to the inventory sticker. Tried these on immediately after I received my parcel in the mail (which by the way, arrived in Western Canada 1 week after they were shipped). My first impressions: unbelievably comfortable, fit perfectly, colours are crisp, and the pocket design is clever. For a price as reasonable as 36.99 CAD, you can't go wrong. These were part of my first order and I could not be more impressed. Thank you Varusteleka!
1
0
I would recommend for a friend
Ben P.

03.08.2019
The pair I received was not surplus, it was un-issued and not even taken out of it's original plastic bag. Not complaining though.
1
0
I would recommend for a friend
Niko K.

01.11.2019
Todella mukavat housut, niin mukavat että piti tilata toiset, kun ensimmäiset jäi sisäkäyttöön.
0
0
I would recommend for a friend
William L.

15.01.2020
These are the most comfortable army surplus trousers ever. Fine example that men can design something great for men.
0
0