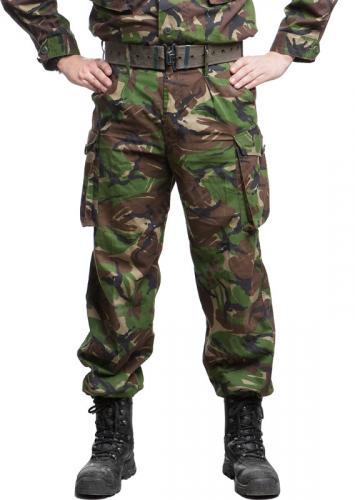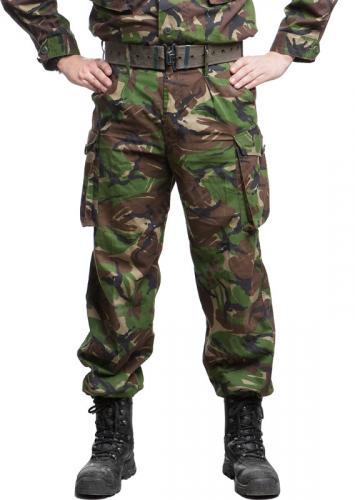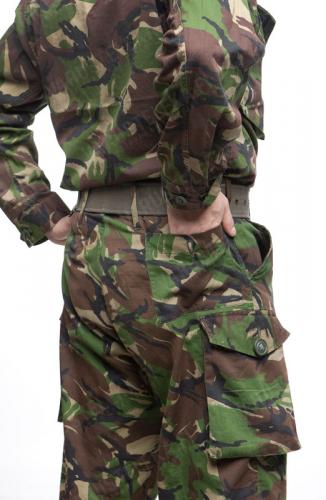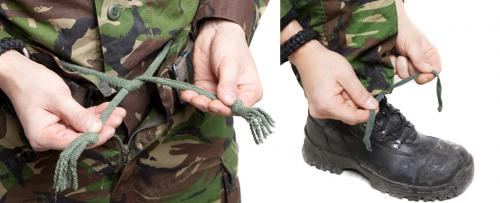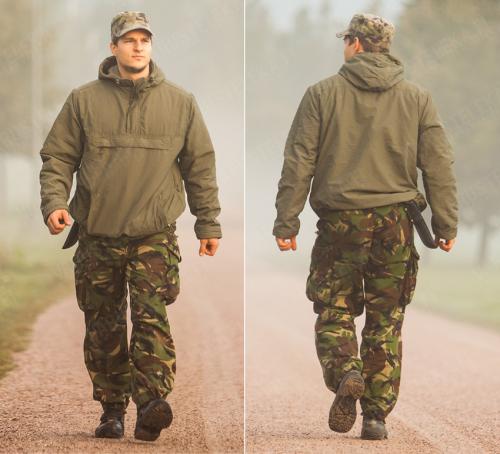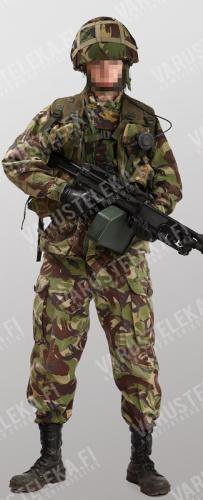 Great Britain
British CS95 cargo pants, DPM, surplus
Price 29.99 USD
excluding sales tax
British Army S95 combat trousers in DPM. The best field trousers ever, no doubt about it.
Loading products...
Trouble with the metric system? Try our converter: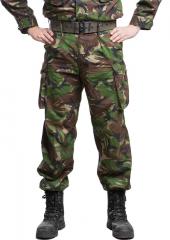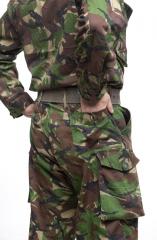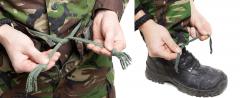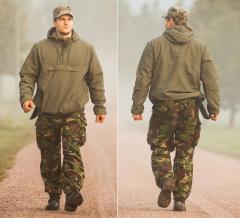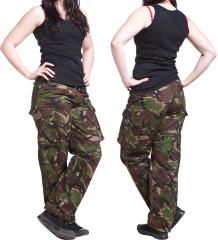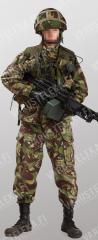 British Army S95 combat trousers in DPM. The best field trousers ever, no doubt about it.
Zipper fly
One button-closure back pocket
Two cargo pockets with button closure flaps. The flaps fold down so that when closed, nothing can fall out. Very clever design!
Very wide belt loops - these fit even a combat belt
Button closure tightening tabs and a soft rope-like internal belt. Order your correct size and there is no need for a belt at all
Tightening cords at the pant ends
Lightweight - comfortable and fast-drying
Exceptionally good cut
Really, one can't emphatize enough the cut and material of these trousers. The cut allows for true freedom of movement and correctly sized, the trousers stay up without belts or braces. The superb cut and lightness makes these the most comfortable trousers ever. The lightweight fabric also breathes well and dries fast. With good longjohns, these are excellent for winter use too.
Sizing
Sizes are measured first at inseam, followed by waist circumference.
Genuine army surplus
In used, but serviceable condition.
Kierto Circular Economy
Return this product used but clean and unbroken, and you'll receive half of the product's original price as Varusteleka credits. Service is available only in Finland. Only Registered users can make Kierto returns. See more information about Kierto.
All products: Great Britain
Recommendations
Loading products...
Reviews
You have already submitted a review. You can edit your text by clicking on it. You can filter the reviews by clicking on the elements of the summary.
Log in and write a review. You can filter the reviews by clicking on the elements of the summary.
Remove filter
Suomi
(13)
English
(20)
I would recommend for a friend
Jaakko M.

27.07.2016

Verified purchase
Uskomattomat superhousut. En ymmärrä miten tässä on saatu materiaalit niin kohdilleen, että housut eivät kesällä hiosta (nytkin jalassa), puntit saa helposti käärityksi shortseiksi, syksyllä ei tuuli puhalla läpi ja talvella alle mahtuu kunnolla välihousuja.

Mukavat jalassa, mahtuu liikkumaan, isot taskut isoilla napeilla, ei mitään ärsyttävän rasahtelevaa velcroa missään.

Edes vyötä ei tarvitse, senkun solmii vyötärönauhan sisällä olevan narun!

Lisäksi tuntuvat kestävän, sillä nämä jalassa on ryömitty niin kaupungissa kuin metsässäkin jo monta vuotta. Pieksee saksalaiset vastineensa jokaisella alueella.
16
2
I would recommend for a friend
Anonyymi k.

27.03.2017

Verified purchase
Vau. Ehdotonta länsiarmeijoiden aatelia. Menee venäläisen anglija pukuni kanssa metsävarusteideni kärkeen. Näissä on housuja vähintään kunnes maha kasvaa ulos. Sen jälkeenkin menee vielä vetoketju auki 2 vuotta!
3
0
I would recommend for a friend
Janne K.

10.05.2017

Verified purchase
Todella hyvät ja mukavat housut metsästys- ja kalastuskäyttöön. Ainoana miinuksena kipinöidenkestävyys, joka ei ole kovin hyvä. Monta reikää tuli syksyisenä yönä räiskyvän nuotion ääressä.
0
0
I would recommend for a friend
Kirsi S.

13.06.2017

⚠ Unverified purchase
Eilen sain lähetyksen, heti päälle ja metsään. Ei voi olla mukavempia housuja! Kangas on jämäkkää, mutta pehmeää. Housut on keveät ja miellyttävät päällä. Koko oli juuri oikea (162cm/ nainen, tilasin koon 75/84). Ei hiostanut vaikka aurinko porotti yli kahtaakymppiä. Malli on hyvä, sopivan väljä, jotta alle mahtuu syksyllä välikerrosta. En uskonut tähän hintaan saavani näin hyviä housuja. Ei voi kuin suositella! Puolikas piste arviosta pois vain siksi, että en tiedä vielä materiaalin kulutuksen kestävyyttä.
3
1
I would recommend for a friend
Jalkajousi J.

23.06.2017

Verified purchase
Parhaimmat kesäkelien maastohousut mitä oon pitänyt!
Menee hyvin talvellakin, vaatii vaan välipyysat alle!
4
1
I would recommend for a friend
Henri S.

11.07.2017

Verified purchase
Todella mukavat ja kestävät. Istuvat hyvin, napit ovat toimivat ja hiljaiset. Lisäksi kuvio toimiii hyvin Suomen metsissä. Hinta-laatusuhteen ykkönen!
2
0
I would recommend for a friend
Juha-Matti P.

15.07.2017

Verified purchase
Erinomainen hinta/laatu -suhde näissäkin. Suosittelen!
2
0
I would recommend for a friend
Thomas L.

24.08.2017

Verified purchase
Brand new! Very happy customer. I just love these for hiking and sitting by the campfire. But it was very hard to find the correct size. For me, my waist circumference minus 5-8 cm was the best (-5 for loose fit, -8 for a good fit, not too tight but possible to wear the trousers without a belt). Thank you Varusteleka for your generous return policy. And when you finally find the correct size, don't expect to have the same size in the newer PCS model.
8
0
I would not recommend to a friend
Tomi K.

04.09.2017

Verified purchase
Paino sanalla "kevyestä ja ilmavasta kankaasta" - vaikka koko oli minulle liian pieni, tuntui kuin jalassani olisi ollut haaremihousut. Hyvin vaikea uskoa että kangas olisi erityisen kestävää, sen kestävämpää kuin muutkaan yhtä ohuet kankaat. Tai vaikka kangas ei kuluisikaan puhki niin epäilen ainakin että polvien kohdalle venyy pussit jos näitä käyttää paljon työhousuina.

Kun BW-Flecktarn -housuissa pärjää talvellakin, etenkin jos jalassa on pitkät kalsarit, niin näitä en käyttäisi alle +10 asteen keleillä. Kesähousut. Tai kotihousut oleskeluun verkkarien sijaan.

Taskut ei ole reisitaskuhousuksi erityisen isot.

Paras ominaisuus on monipuoliset säätömahdollisuudet (lahkeen suut, vyötärö sivuilta ja keskeltä edestä) ja maastokuvion tyylikkys jopa flecktarniin nähden.

Oma vyötärö 82 (ohuimmalta kohdalta, mutta 84-85 siltä kohdalta miltä nämä housut laitetaan kiinni), tilasin housut joissa vyötärö on 80 ja aivan liian pienet - nappi oli pakko jättää auki ja vetskari meni kiinni vain 60%. Ehkä 85-vyötäröllä juuri ja juuri saisin napin kiinni, mutta säätömahdollisuudet jäisivät käyttämättä, koska niillä voi vaan kiristää, ei höllentää. Käytin tilatessani mallina Flecktarn-housujani joissa vyötärön koko on merkitty 85-90 (oletin että tarkoittaa verkkokaupan kokoa 85), ja joiden kanssa pitää käyttää vyötä etteivät tipu polviin. Oletin että yhtä kokoa pienempi koko riittäisi. Väärin oletettu. Kilpailevan yrityksen sivuilta löysin (kun lähetykseni jo oli matkalla) tiedon ettei missään nimessä kannata tilata pienempää kokoa kuin mitä on vyötärö.

Suosittelen housuja naisille haaremihousujen sijaan. Miehille suosittelen 10e halvempia (näissä ko'oissa) BW Flecktarn -housuja, koska niissä laatu on parempi (machompi kangas ja taskut) ja hintakin siis 40% edullisempi. Naisten housuna 4- tähteä, miestenhousuna 2- tähteä, keskiarvo noin 2,5 tähteä.
4
37