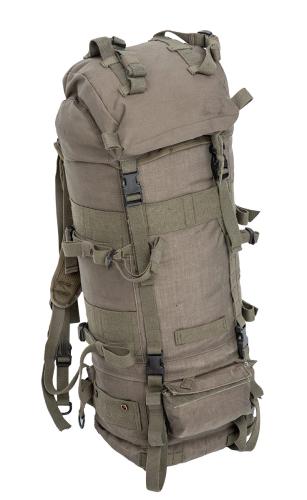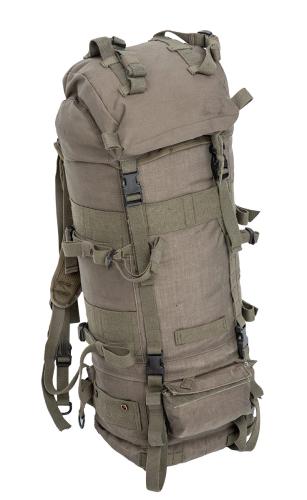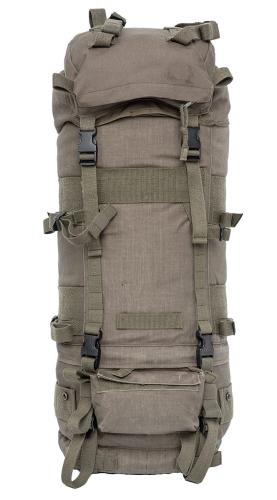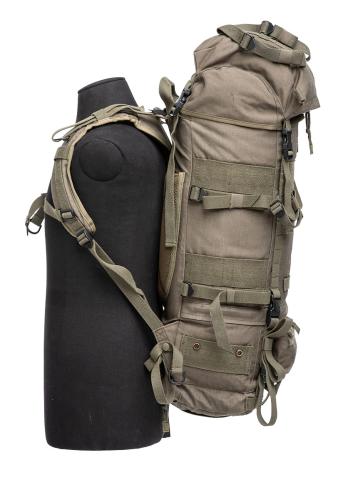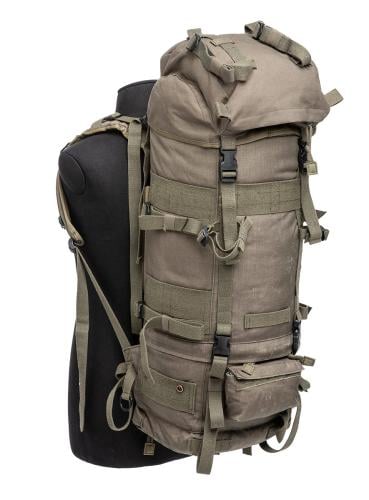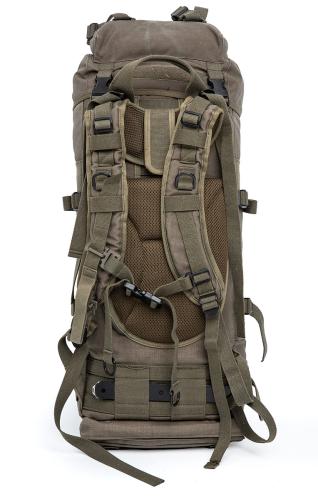 The hip belt of the system is the Austrian battle belt with a quick release. The hip belt is not included.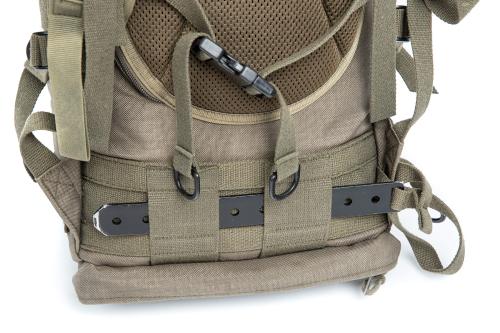 The hip belt mounting point is probably compatible with many other belts. The aluminum flat is not always included.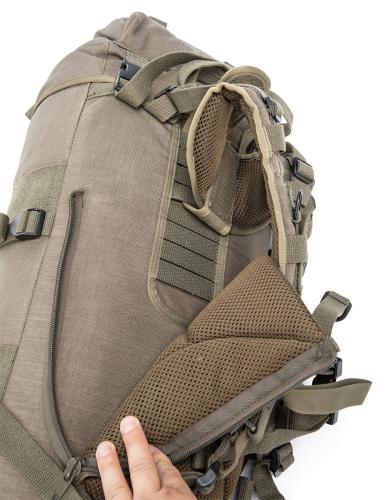 Adjustable to various back lengths.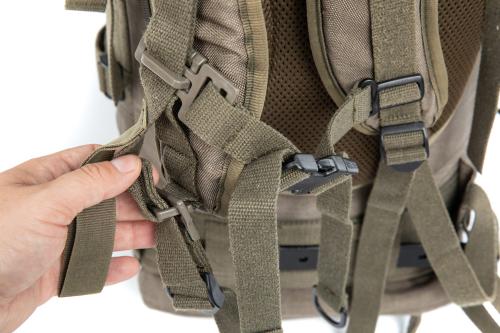 Pulling one loop releases the right shoulder strap as well as the sternum strap.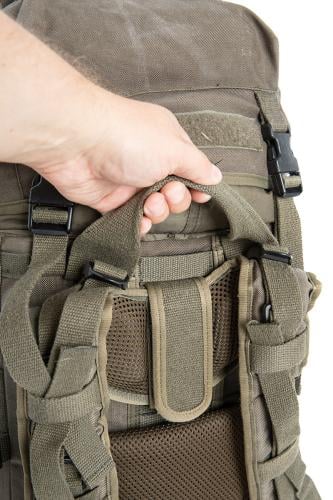 Sturdy heaving handle and the name tag logically next to it.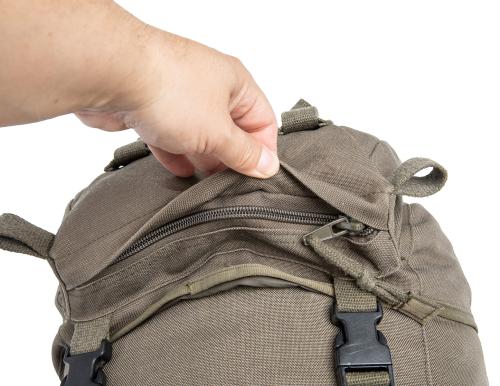 External pouch on the lid.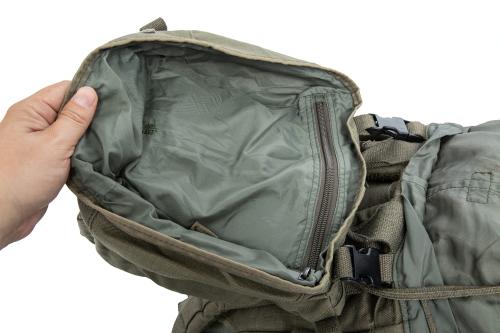 Large bag-like pouch under the lid.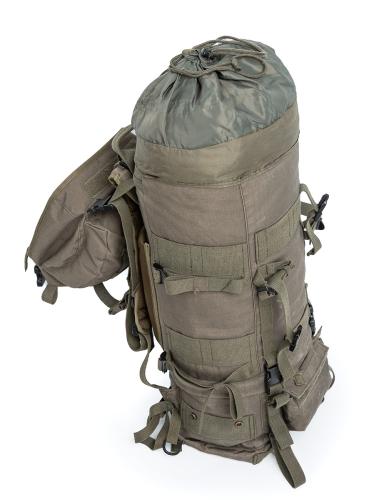 Lots of space for overpacking.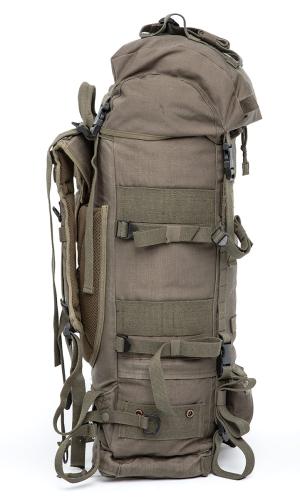 The sides have attachment points for additional pouches and the compression straps are long enough to tie down external cargo.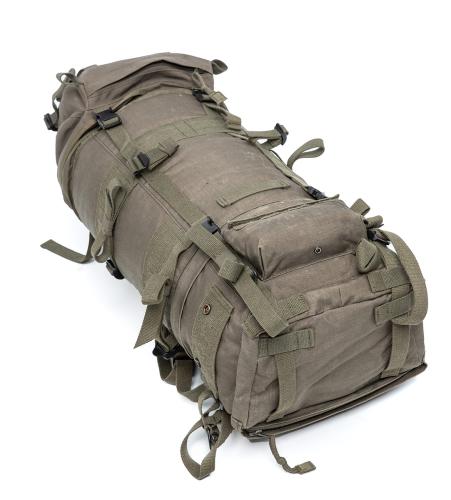 One more pair of utility straps in the bottom.
The bottom has yet another pouch, much like the lid pouch.
Austria
Austrian Bundesheer KAZ 03 Rucksack, Surplus
Price 59.99 USD
excluding sales tax
Here's a rather modern military rucksack that's designed to integrate with combat gear. Come up with a hip belt of your own, and you can turn this into a damn high-quality and low-priced companion for your outdoor adventures.
Restocks 2 weeks from now. Request restock notification and we will email you as soon as this product is available.
Trouble with the metric system? Try our converter: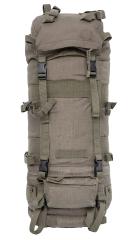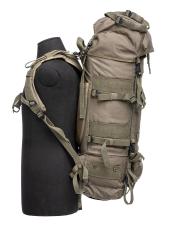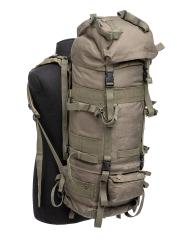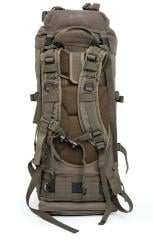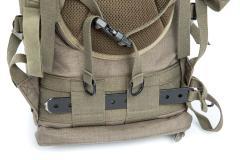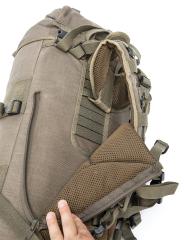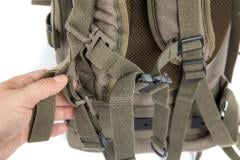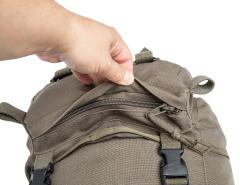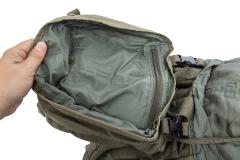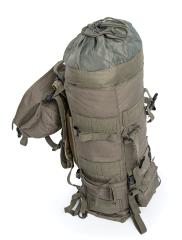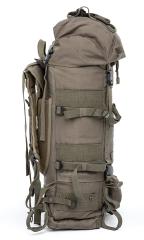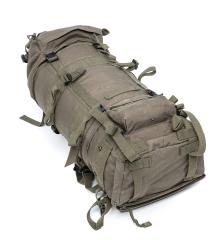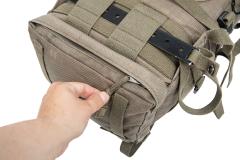 Here's a rather modern military rucksack that's designed to integrate with combat gear. Come up with a hip belt of your own, and you can turn this into a damn high-quality and low-priced companion for your outdoor adventures.
The Austrian KAZ 03 rucksack is anatomic; there's an internal frame consisting of three supports riveted to a horizontal one. The design is very narrow, something skiers appreciate.
The Austrian grunt has five levels of combat gear and packing. Pieces are switched or repurposed in various configurations. The rucksack is used at levels 3–5 and issued to ordinary infantry jaegers.
Combat belt
Combat belt and combat vest
Combat belt and backpack
Combat belt and rucksack
Deployment, like levels 3 or 4 but with a duffel bag.
Carrying system and separate hip belt
The ruck uses the combat belt as a hip belt and sadly it is not included. The attachment method is rather quick, there's a 30-mm aluminum flat on the rucksack and pulling it to the side would release the belt. You can probably use another hip belt and come up with a good attachment solution. The aluminum flat is not included with all rucksacks but it's easy to replace with something else.
The right shoulder strap also has a quick-release loop. Pulling it disconnects the sternum strap as well. Clever! By pulling on two loops, you can swing the ruck right off your back from the left shoulder while retaining the combat belt on you.
The shoulder straps can be adjusted for various back lengths with a simple system and about 2 cm / 0.8" increments.
Several pockets and compartments
Where do we even start? At the flap: as usual, the flap itself is a pocket and accessible from the outside. On the inside, there's a large pouch for things you want to keep securely inside the ruck but also easily accessible.
The main compartment is simple, perhaps for the better. The bottom is a diaphragm that closes with a drawcord to separate the top and bottom. You can access the lower compartment through an external zipper that has buckle backups.
On the outside, there's a bottom pocket as well as a small accessory pouch with a flap.
Modular in every direction
Each side and the back has attachment points for Austrian pouches but the system is fairly simple and attaching other stuff shouldn't be a problem at all. The compression straps allow attaching other things than the pouch to the side. They are not only for tightening the pack.
On the flap and below the bottom there are even more straps for stuff like a sleeping pad. The flap is removable and allows overpacking if necessary.
The webbing on the Bundesheer KAZ 03 gear is interesting: soft and matte like a cotton strap, but actually made of proper durable polymer, most likely polyester. The looks and comfort of these are far better than the shiny and coarse webbing typically used on military and outdoor gear. Other manufacturers should take a look at these.
Measurements and weight
Volume approx. 45 liters as-is, can be expanded with side pouches to 60–70 liters.
Width 34 cm; height 66 cm; thickness 22 cm. Weight: 2550 g.
Austrian surplus
Pretty modern stuff, you can actually use this even today and it won't be an exercise of The Suck where you remember the hard old days. All materials, stitching, zippers, and buckles are durable. These have been used, but are perfectly serviceable.
Kierto Circular Economy
Return this product used but clean and unbroken, and you'll receive half of the product's original price as Varusteleka credits. Service is available only in Finland. Only Registered users can make Kierto returns. See more information about Kierto.
All products: Austria
Recommendations
Loading products...
Reviews
You have already submitted a review. You can edit your text by clicking on it.
Log in and write a review.
Remove filter
I would recommend for a friend
Andrew C.

18.09.2022
A good rucksack, but one important things worth mentioning.

This rucksack is OLIVE DRAB. Google Kaz 03 and you will see other examples of how green it actually is. Whoever took the photo for Varusteleka, either it was edited too much and now looks tan/brown, or it was a faded example, and it should mention in the description that the color is olive drab, some may be faded. Either way, I was hoping for a tan rucksack. I have a green one.

Varusteleka is usually excellent about providing disclaimers about color, condition, etc...This was a little disappointing.

Outside of that, it is a fantastic rucksack. Surplus gear is always the way to go, for me. I wish they had included a note on how to use the right shoulder release strap...I can't get mine to work. I guess I'll search Youtube.
3
0
I would recommend for a friend
Liam O.

20.09.2022
Excellent rucksack, just waiting for a Kaz 03 belt to appear..

This link is instructive about the sack,

https://bushcraftuk.com/community/threads/austrian-kaz03-bundesheer-pack.126503/

Liam
2
0