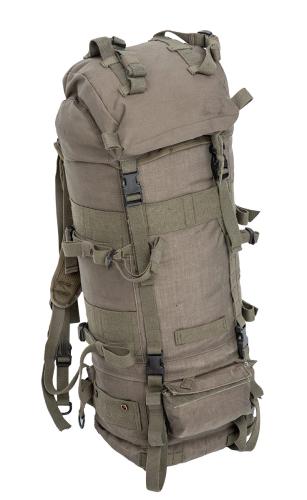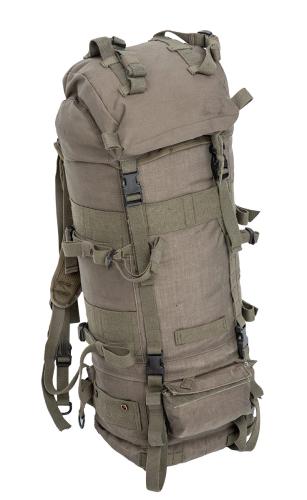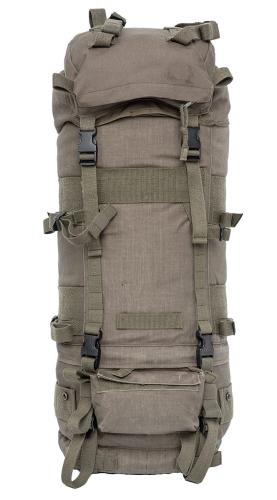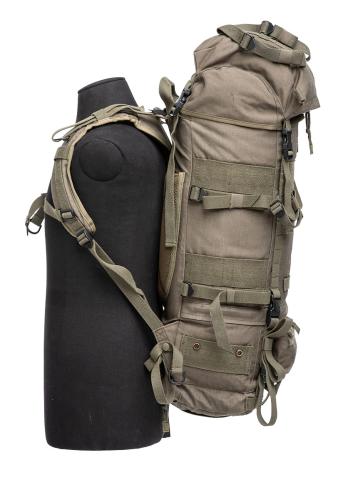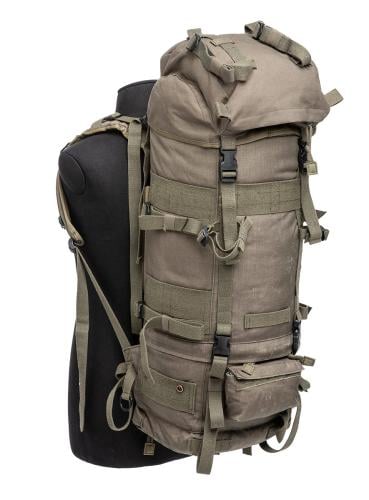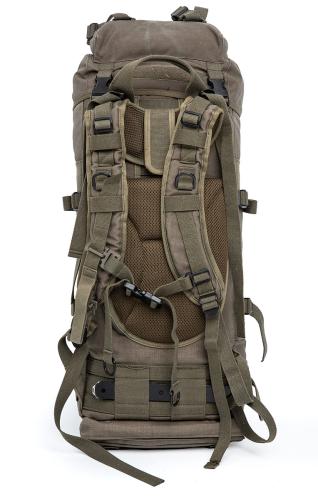 The hip belt of the system is the Austrian battle belt with a quick release. The hip belt is not included. Note! The latest batch is also missing the sternum straps.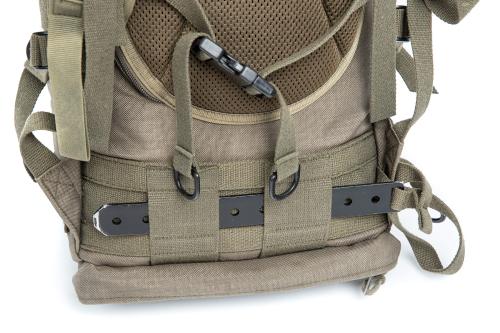 The hip belt mounting point is probably compatible with many other belts. The aluminum flat is not always included.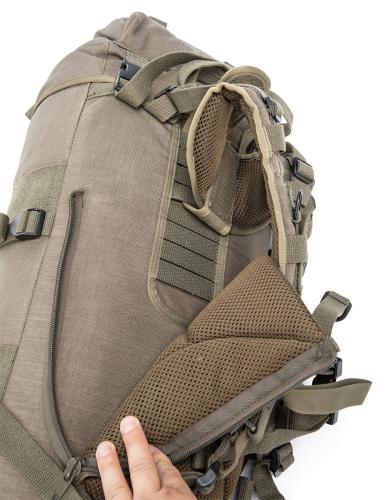 Adjustable to various back lengths.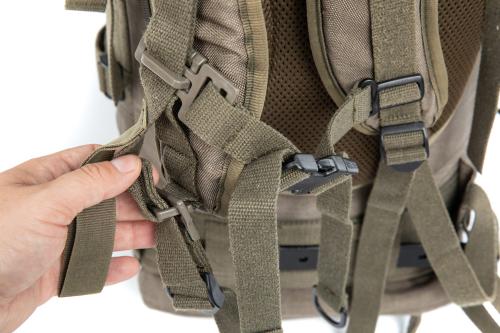 Pulling one loop releases the right shoulder strap as well as the sternum strap. Note! The latest batch is also missing the sternum straps.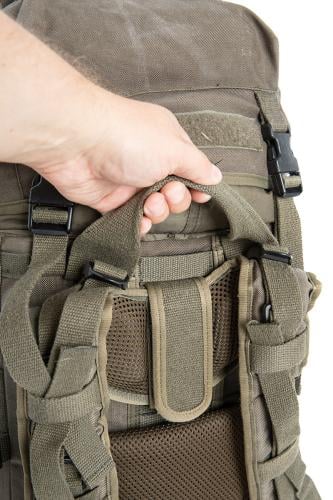 Sturdy heaving handle and the name tag logically next to it.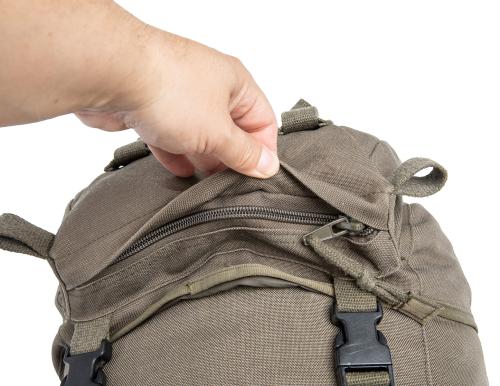 External pouch on the lid.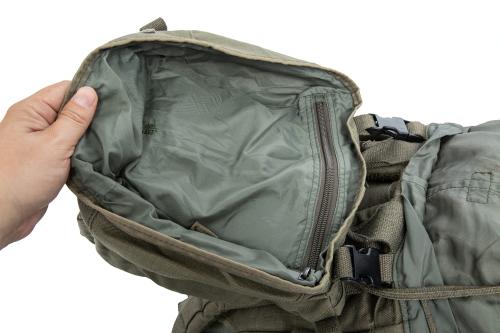 Large bag-like pouch under the lid.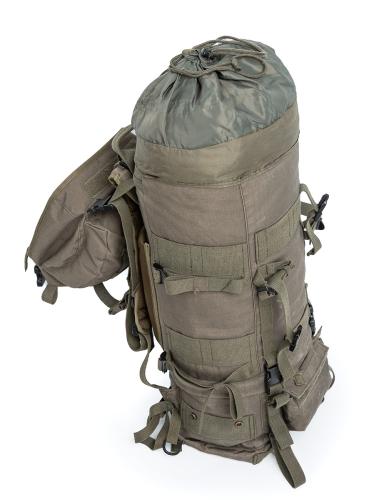 Lots of space for overpacking.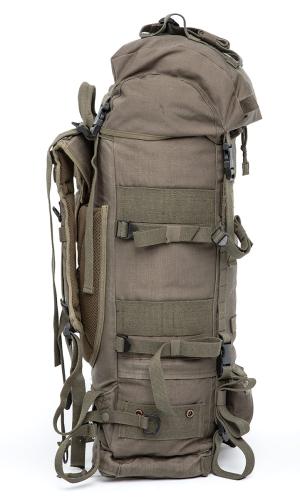 The sides have attachment points for additional pouches and the compression straps are long enough to tie down external cargo.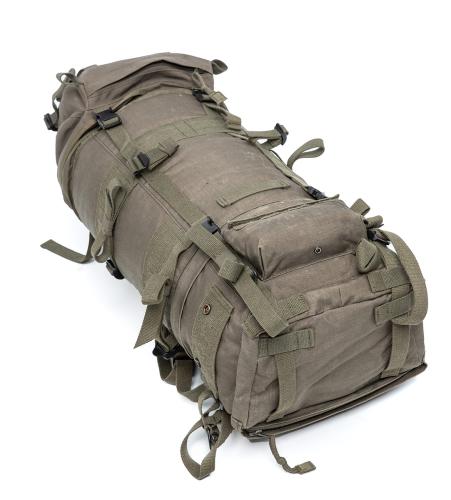 One more pair of utility straps in the bottom.
The bottom has yet another pouch, much like the lid pouch.
Austria
Austrian Bundesheer KAZ 03 Rucksack, Surplus
Price 69.99 USD
excluding sales tax
Here's a rather modern military rucksack that's designed to integrate with combat gear. Come up with a hip belt and sternum strap of your own, and you can turn this into a damn high-quality and low-priced companion for your outdoor adventures.
We don't know when this product will be restocked. With surplus the restock date is unknown due to sometimes poor availability. Request restock notification and we will email you as soon as this product is available.
Trouble with the metric system? Try our converter: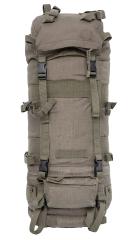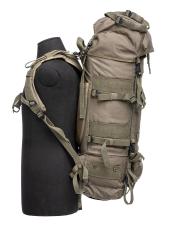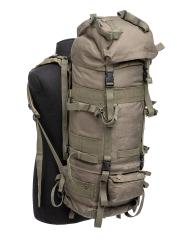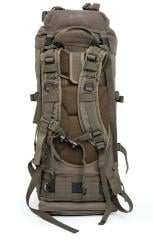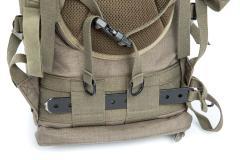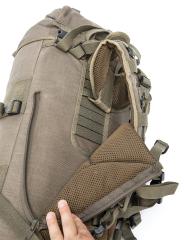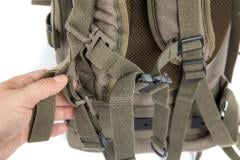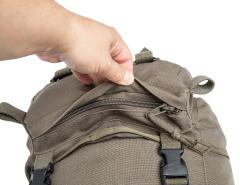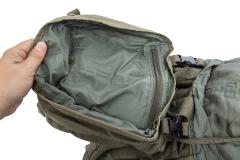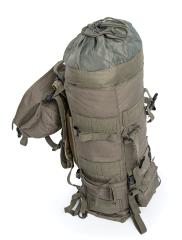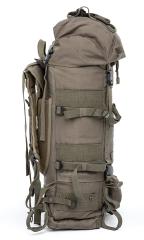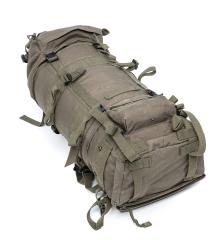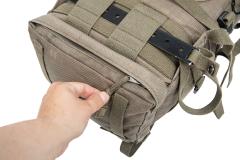 Here's a rather modern military rucksack that's designed to integrate with combat gear. Come up with a hip belt and sternum strap of your own, and you can turn this into a damn high-quality and low-priced companion for your outdoor adventures.
The Austrian KAZ 03 rucksack is anatomic; there's an internal frame consisting of three supports riveted to a horizontal one. The design is very narrow, something skiers appreciate.
The Austrian grunt has five levels of combat gear and packing. Pieces are switched or repurposed in various configurations. The rucksack is used at levels 3–5 and issued to ordinary infantry jaegers.
Combat belt
Combat belt and combat vest
Combat belt and backpack
Combat belt and rucksack
Deployment, like levels 3 or 4 but with a duffel bag.
Carrying system and separate hip belt
The ruck uses the combat belt as a hip belt and sadly it is not included. The attachment method is rather quick, there's a 30-mm aluminum flat on the rucksack and pulling it to the side would release the belt. You can probably use another hip belt and come up with a good attachment solution. The aluminum flat is not included with all rucksacks but it's easy to replace with something else.
The right shoulder strap also has a quick-release loop. Pulling it disconnects the sternum strap as well. Clever! By pulling on two loops, you can swing the ruck right off your back from the left shoulder while retaining the combat belt on you. Note! The latest batch is also missing the sternum straps.
The shoulder straps can be adjusted for various back lengths with a simple system and about 2 cm / 0.8" increments.
Several pockets and compartments
Where do we even start? At the flap: as usual, the flap itself is a pocket and accessible from the outside. On the inside, there's a large pouch for things you want to keep securely inside the ruck but also easily accessible.
The main compartment is simple, perhaps for the better. The bottom is a diaphragm that closes with a drawcord to separate the top and bottom. You can access the lower compartment through an external zipper that has buckle backups.
On the outside, there's a bottom pocket as well as a small accessory pouch with a flap.
Modular in every direction
Each side and the back has attachment points for Austrian pouches but the system is fairly simple and attaching other stuff shouldn't be a problem at all. The compression straps allow attaching other things than the pouch to the side. They are not only for tightening the pack.
On the flap and below the bottom there are even more straps for stuff like a sleeping pad. The flap is removable and allows overpacking if necessary.
The webbing on the Bundesheer KAZ 03 gear is interesting: soft and matte like a cotton strap, but actually made of proper durable polymer, most likely polyester. The looks and comfort of these are far better than the shiny and coarse webbing typically used on military and outdoor gear. Other manufacturers should take a look at these.
Measurements and weight
Volume approx. 45 liters as-is, can be expanded with side pouches to 60–70 liters.
Width 34 cm; height 66 cm; thickness 22 cm. Weight: 2550 g.
Condition
Pretty modern stuff, you can actually use this even today and it won't be an exercise of The Suck where you remember the hard old days. All materials, stitching, zippers, and buckles are durable. These have been used, but are perfectly serviceable.
Kierto Circular Economy
Return this product used but clean and unbroken, and you'll receive half of the product's original price as Varusteleka credits. Service is available only in Finland. Only Registered users can make Kierto returns. See more information about Kierto.
Austrian surplus
Functional, neutral, clean. That's what the Austrian Bundesheer gear is made of. Our Austrian surplus revolves mostly around the Anzug 75 and Anzug 03 clothing systems, but who knows, maybe the "Tarnanzug Neu" will make it's appearance if the Austrians decide to clear the stocks in the future. Get your OD gear while the stocks last.
After the Second World War the Austrian soldier looked like a weird mixture of Allies and Germans; the M1 style helmet and general profile really tried to bring that NATO vibe up, but a lot of the gear and even the dotted camouflage pattern looked surprisingly much like WW2 German issue. In the 70s they took a major leap towards NATO with the introduction of the all-green Anzug 75 clothing and equipment system closely inspired by the American equivalents, finally letting go of the "old stuff". The Anzug 03 brought the game up to date with some changes in effort to modernize the whole thing. Now the Bundesheer is again moving over to camouflage.
All products: Austria
Recommendations
Loading products...
Reviews
You have already submitted a review. You can edit your text by clicking on it. You can filter the reviews by clicking on the elements of the summary.
Log in and write a review. You can filter the reviews by clicking on the elements of the summary.
Remove filter
Suomi
(2)
English
(4)
I would recommend for a friend
Andrew C.

18.09.2022

Verified purchase
A good rucksack, but one important things worth mentioning.

This rucksack is OLIVE DRAB. Google Kaz 03 and you will see other examples of how green it actually is. Whoever took the photo for Varusteleka, either it was edited too much and now looks tan/brown, or it was a faded example, and it should mention in the description that the color is olive drab, some may be faded. Either way, I was hoping for a tan rucksack. I have a green one.

Varusteleka is usually excellent about providing disclaimers about color, condition, etc...This was a little disappointing.

Outside of that, it is a fantastic rucksack. Surplus gear is always the way to go, for me. I wish they had included a note on how to use the right shoulder release strap...I can't get mine to work. I guess I'll search Youtube.
10
1
I would recommend for a friend
Liam O.

20.09.2022

Verified purchase
Excellent rucksack, just waiting for a Kaz 03 belt to appear..

This link is instructive about the sack,

https://bushcraftuk.com/community/threads/austrian-kaz03-bundesheer-pack.126503/

Liam
6
1
I would recommend for a friend
Daniel S.

08.10.2022

Verified purchase
For the price this is awesome, came in clean and it had the aluminum flat piece. One buckle was broken so I had to replace it with the one from the sternum strap. The buckles seem proprietary and of an odd size so I don't think you'll be able to replace them with the same kind. Some tension locks are also a bit broken but still work, I should be able to replace them with a repair tension locks. One zipper wasn't locking the teeth but it was an easy repair. I love this thing and I want to get the side pouches for it!

I wish varusteleka had the belts to go with it! I did find an acceptable solution. Check the comments for my custom hip belt workaround.
2
1
I would recommend for a friend
Stacy S.

28.11.2022

Verified purchase
Almost perfect and comfortable. My version came with pine needles. Austrian backpack was not compatible with BW belt or BW sleeping mattress in case Austria goes to war against Germany sometimes. I appreciate that the top comes off. It is modern and I have so far used to carrying food from grocery store on bicycle.
0
1
I would recommend for a friend
Jussi N.

17.12.2022

Verified purchase
Vallan pätevä ja näppärä pikkurinkka vuorokauden käpistelyn ja koelenkityksen perusteella. Oma yksilö on hyvinkin siistikuntoinen ja kaikki osat ehjiä. Ainoa puuttuva osa oli lumilukon kiristysnyöri, mutta tuo nyt on helppo lisätä. Toivottavasti jossain vaiheessa ilmaantuisi myös noita yhteensopivia lantiovöitä myyntiin. Painoltaan vertautuu Fjällravenin vastaavan kokoluokan rinkkoihin. Nopealla kokeilulla tähän saa sivukompressiohihnoilla myös Berghaus Atlaksen 10l sivutaskut kiinni samaan tapaan kuin Munro-päiväreppuun, jolloin tilavuus hyppää jo 65 litraan. Päivittelen arvostelua kokemusten karttuessa. Edit: Ei tästä sitten kumminkaan mun pitempi aikaista reissukaveria tullu. Toiseen samana tuotteena ostettuun yksilöön verratessa tuli todettua että omastani noita kiinnityshihnoja oli rapsittu surutta poikki, ja huppu oli napattu saman sarjan päivärepusta. Isoin syy palautukseen oli kuitenkin lopulta se ettei noita yhteensopivia lantiovöitä löytynyt mistään. Joka tapauksessa toimiva kampe yleiseen roudailuun.
0
0
I would recommend for a friend
Gligor A.

11.09.2023

Verified purchase
Note: combined with a "Belgian rucksack belt" on which I sewed webbing (loops) to make it compatible with the attachment system of this one. For 5 euros + 1h of sewing time it works wonderfully.

The rucksack is good. A bit on the heavy side, but it's rugged. You will probably not find original belt and pouches, which depending on your needs might be a deal-breaker.In my case I used a belgian belt and plan to sew pouches myself if the need arises. So far it hasn't.

Anyway, you get two main compartments. The bottom one is "optional", ie. inside is piece of material you can tighten to create two spaces. If configured as such, the smaller one is accessible via the horizontal zipper on the front (note - it's tight so suitable for less needed items). There is a velcro pocket on the front suitable for a phone/wallet/keys anyway. Also the big zippered compartment on the bottom is good for gloves/cap etc. The "brain" has two compartments - top and bottom - with plenty of space. Can be overfilled as demonstrated in the promo pictures. Outside straps for shovel/axe/similar tool with a "handle". Also a bigger one suitable for a bottle on the front (outside). And the usual side/bottom straps (ex. for a sleeping mat/bag). Material is cordura like - canvas and plastic liner on the inside. Don't know how it behaves with water. Has an aluminum frame. Mine came with sternum straps and the alu belt piece. Very comfortable as advertised.

3 things came broken:
- 1x shoulder strap-backpack plastic connector piece broken (easy repair)
- 1x webbing strap torn towards the end (irrelevant)
- the belt quick detach pull-plastic piece broke (irrelevant)

Maybe soft negatives for you:
- 2.9 kg with the belt
- no compartment for a water bladder

I researched a bit but found nothing conclusive on how the Austrians carry water, but for me bottles worked.

Overall for the price it's great. But see what else is currently available on Varusteleka and decide accordingly.
0
0