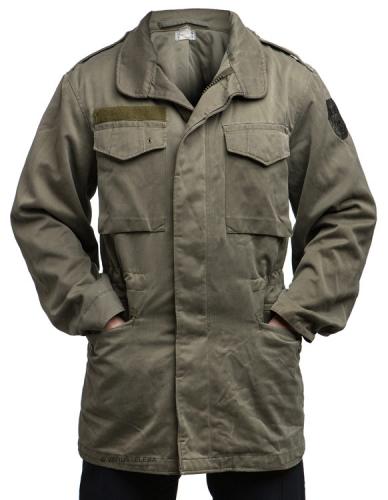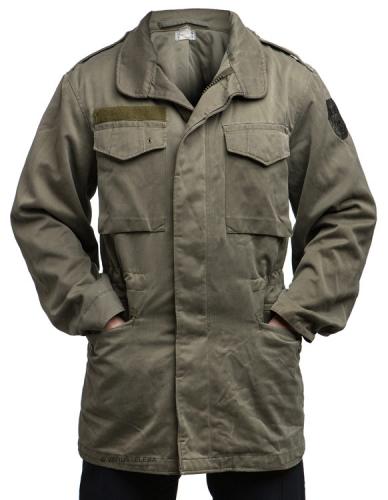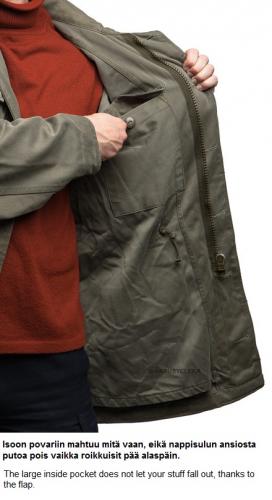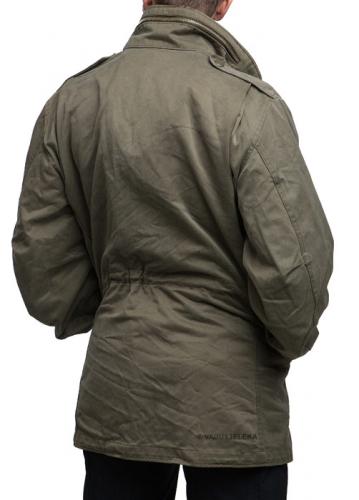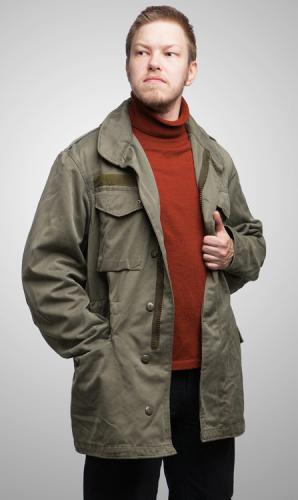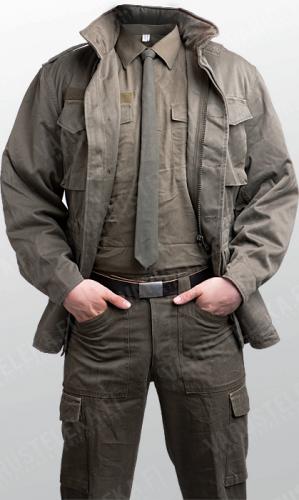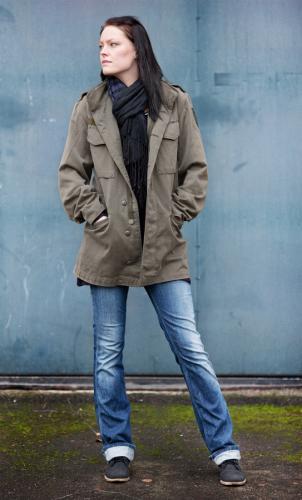 Good for women too, just remember: men's sizes!
Austria
Austrian Anzug 75 Field Jacket, Olive Drab, Surplus
Price 34.99 USD
excluding sales tax
The Austrian version of the legendary US M65 Field Jacket. We think it's just as good if not better, but the color is a bit more grayish, as usual for Austrian surplus.
Loading products...
Trouble with the metric system? Try our converter: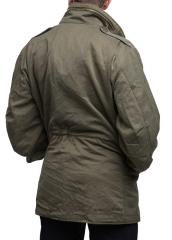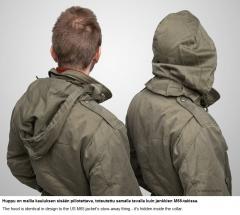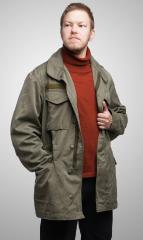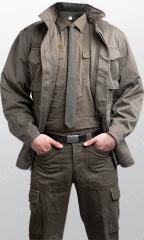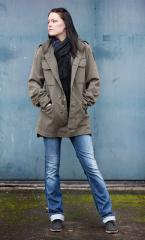 The Austrian version of the legendary US M65 Field Jacket. We think it's just as good if not better, but the color is a bit more grayish, as usual for Austrian surplus.
Altough Austria is a fairly neutral country, its military gear has been NATO-compatible for some time. This jacket is a good example as it is almost an exact copy of the original US M65 jacket. Not very long ago, it was still issued in Austria, at least to some extent.
Traditional and practical military jacket
The Anzug 75 Field Jacket is a stout, half-length military jacket. The cut is roomy, as it should be in this kind of overgarments. The hem and waist have drawcord adjustments and the cuffs have buttoned tabs to improve the fit and increase ventilation or protection as necessary.
The front has a sturdy metal zipper closure with a storm flap and buttons. The collar is upright and offers good protection for the neck, it can also be closed at the front with a hook and loop tab. A minimalistic hood is hidden inside the collar and the shoulders have traditional epaulet tabs.
Four roomy pockets are in the front: two on the chest and two below the waist. The pocket flaps are secured with a button, this feature is also found on the fifth hidden pocket in the chest. All buttons (except the shoulder tabs) are covered against snagging when closed.
The jacket is windproof and brushed to make it silent. There is also a degree of water resistance but don't think it's a rain jacket, just some protection against the occasional shower. On the inside, you'll find a liner fabric without padding. The idea is to add layers underneath this shell jacket as required by your activity level and weather conditions.
Size info
The sizing follows the military norm of considering many body types with regards to user height and chest size. The cut is roomy so the recommended size allows a good amount of layering. If you want a more slim fit for summer use, a smaller size may be an option.
All the presented numbers are suggested user measurements, not of the garment itself!
The jackets are labeled with the Austrian system, which is fairly simple actually, but presented in a funny way. We converted them to more common sizes so that a "96-100 III-IV" is Medium Regular, where Regular means an average-height user.
Size Conversion Table
| | | | | |
| --- | --- | --- | --- | --- |
| Width / Length | Short | Regular | Long | X-Long |
| X-Small | 80-84 I-II | 80-84 III-IV | 80-84 V-VI | 80-84 VII-VIII |
| Small | 88-92 I-II | 88-92 III-IV | 88-92 V-VI | 88-92 VII-VIII |
| Medium | 96-100 I-II | 96-100 III-IV | 96-100 V-VI | 96-100 VII-VIII |
| Large | 104-108 I-II | 104-108 III-IV | 104-108 V-VI | 104-108 VII-VIII |
| X-Large | 112-116 I-II | 112-116 III-IV | 112-116 V-VI | 112-116 VII-VIII |
| 2X-Large | 120-124 I-II | 120-124 III-IV | 120-124 V-VI | 120-124 VII-VIII |
| 3X-Large | 128-132 I-II | 128-132 III-IV | 128-132 V-VI | 128-132 VII-VIII |
Availability of special sizes
The range of sizes is very large and people with less common proportions may get lucky with these. Understand, that the average height and width are still the most common sizes we get. So anything is possible but we make no promises.
We strongly advise requesting an e-mail notification in case your size is out of stock. It may be a bit of a long shot but certainly improves your odds!
Material
The fabric is 65% polyester and 35% cotton. The color is olive drab and it varies depending on the manufacturing batch and level of previous use. The jackets are specified to be NIR-compliant so the user will not shine like a beacon when observed with night vision equipment but no guarantees of this can be given for used items.
Condition
The jackets are in good condition, despite being used. Some may have fading or minor repairs made to them - they are extremely well made, if at all noticeable. The chest usually has a name tag base, and the sleeves may have patches attached or signs of having carried a patch before.
Kierto Circular Economy
Return this product used but clean and unbroken, and you'll receive half of the product's original price as Varusteleka credits. Service is available only in Finland. Only Registered users can make Kierto returns. See more information about Kierto.
Austrian surplus
Functional, neutral, clean. That's what the Austrian Bundesheer gear is made of. Our Austrian surplus revolves mostly around the Anzug 75 and Anzug 03 clothing systems, but who knows, maybe the "Tarnanzug Neu" will make it's appearance if the Austrians decide to clear the stocks in the future. Get your OD gear while the stocks last.
After the Second World War the Austrian soldier looked like a weird mixture of Allies and Germans; the M1 style helmet and general profile really tried to bring that NATO vibe up, but a lot of the gear and even the dotted camouflage pattern looked surprisingly much like WW2 German issue. In the 70s they took a major leap towards NATO with the introduction of the all-green Anzug 75 clothing and equipment system closely inspired by the American equivalents, finally letting go of the "old stuff". The Anzug 03 brought the game up to date with some changes in effort to modernize the whole thing. Now the Bundesheer is again moving over to camouflage.
All products: Austria
Recommendations
Loading products...
Reviews
You have already submitted a review. You can edit your text by clicking on it. You can filter the reviews by clicking on the elements of the summary.
Log in and write a review. You can filter the reviews by clicking on the elements of the summary.
Remove filter
Suomi
(9)
English
(17)
I would recommend for a friend
Valtteri A.

21.06.2016

Verified purchase
Yllättävän lämmin ja elementtejä vastustava takki ollakseen näinkin hengittävä pseudovuorineen. Tällä pärjää toki syksyn ja kevään, mutta pitkälti myös ainakin Eteläsuomalaisen talven läpi. Pari nappia aika löyhään kiinni omassa yksilössä, eipä mokomien takaisin ompelu tosin kovin iso vaiva ole.
5
1
I would recommend for a friend
Göran G.

09.12.2020

Verified purchase
Got this jacket from another place and I love it! Note however that this is a very heavy and thick 3 season jacket the completely opposite way, too warm for even Swedish summer months. I bought it thinking it would be a nice simpler German parka and it turned out to be way more extreme so this is now my #1 3 seasons winter/shit jacket, the german parka is my #1 4 seasons medium shit jacket. The Austrian Anzug 03 Field Jacket seems to be the somewhat similar lighter version of this, don't have it yet but it is a must buy for me after trying this one...

I would give it 5 stars instead of 4,5 if the hood wasn't attached to some weird stretchy nylon fabric instead of directly to the collar. Guess it was made like that to make it easy to cut off. No biggie though. Easily fixable with a sewing machine.
3
1
I would recommend for a friend
Erik L.

09.12.2020

Verified purchase
I totally agree with the former review: a sturdy winter jacket that is comfortable, stylish and practical despite being a bit bulky. I normally wear a large and have two jackets, one in 96-100 and one in 104-108, with the former being a spring/autumn jacket. Last week they sold the Austrian Kaz03 windstopper fleece which I also happen to have. Like the M65 these are generously sized. Using Varusteleka terms one could say that I combine a medium fleece with a large jacket and together they form a very competent winter layering system (with merino or Brynje netting as the base layer.) A noteable difference when compared to its American cousin is the double-layer construction, making it both windproof and easy to ventilate.

Overall, I think that Austrian surplus garments seem like the likely result of an alternate scenario where Fjällräven would provide clothing for the US Army, making them a real bargain.

Regarding the oversized hood: I tore it off, attached some fur and an adjustment cord copied from the British smock to make it more manageable/packable, before re-attaching it with a sewing machine.
7
1
I would recommend for a friend
lasse l.

13.12.2020

Verified purchase
I would recommend for a friend
Julius H.

16.12.2020

Verified purchase
Tosi mukava ja hyvännäköinen rotsi melkein mihin vaan käyttöön. Sopivan väljä että mahtuu kledjua alle. Kangas vaikuttaa erittäin kestävältä ja tällä varmaan pärjää aika kylmässäkin. Hihansuusta puuttui yksi nappi, siitä toi puolikas tähti pois.
1
2
I would recommend for a friend
Martin H.

17.12.2020

Verified purchase
Product looks like new
4
0
I would recommend for a friend
Kelly S.

28.01.2021

Verified purchase
I bought this jacket from another source, last year, in a size 104-108 III-IV (Large Regular). I missed the old surplus M-65 I had years ago and wanted something similar to it. This does the trick, although it doesn't have the interior buttons to accommodate a liner.

I am 6'2 (188cm) and 190 lbs (86kg), and the sleeve length is right on, with the sleeves stopping just below the wrist bone when I stand with my arms at my side. There is a LOT of extra room in there, and I could have probably gone with gone with a medium and still had room to layer. Go a size down if you aren't bulky in build and want something good for a more fitted appearance over fewer layers.

The jacket was brand new and is solidly constructed. It blocks wind well enough but won't be sufficient for near-freezing temperatures on its own, but if you layer up under it, it will work well.

It also has an interior pocket that buttons and is big enough to carry a large wallet. The feature comes in handy for things you need to reach in a hurry and need to keep separate from other items.
2
1
I would recommend for a friend
Jaakko V.

21.02.2021

Verified purchase
Erittäin pätevä takki joka kestää hyvin kuritusta on helppo korjata näyttää tyylikkäältä ja kaikenlisäksi on yllättävän lämmin jopa Pohjosen talvissa. 6/5 suosittelen.
4
1
I would recommend for a friend
ismo l.

16.03.2021

Verified purchase
Halvalla huippurotsi.varmasti kestää.villapaita alle niin pärjää pakkasellakin. Miellyttävä päällä.kannatti ostaa
4
1