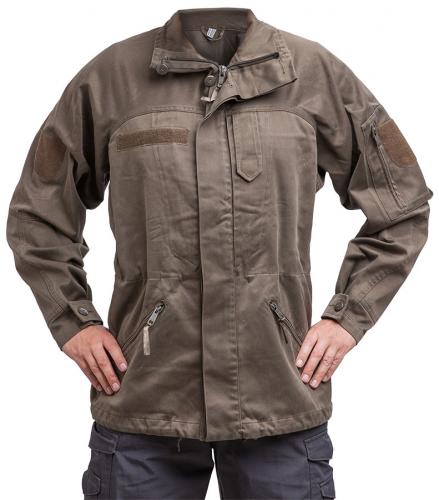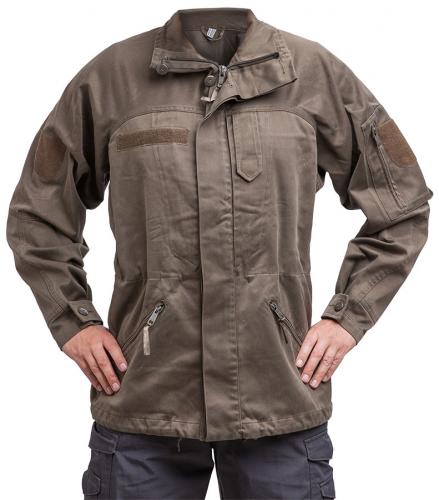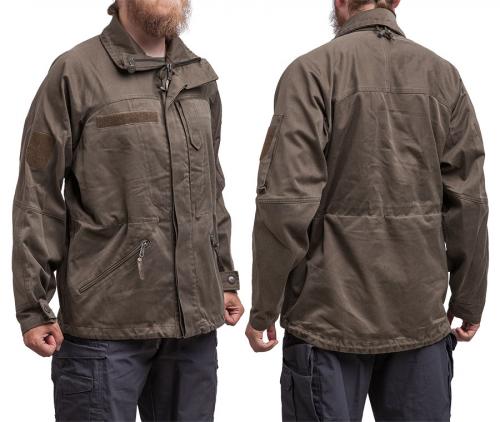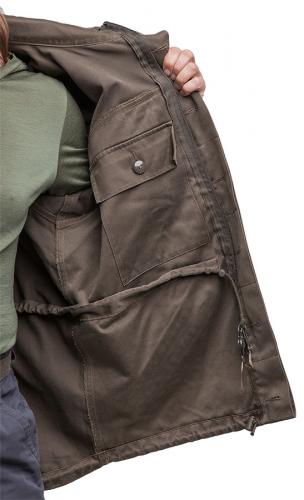 A view inside. The jacket is unlined, but made of thick fabric.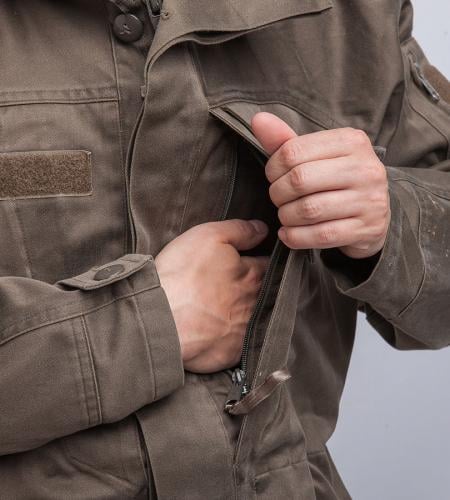 Zippered pockets on the chest.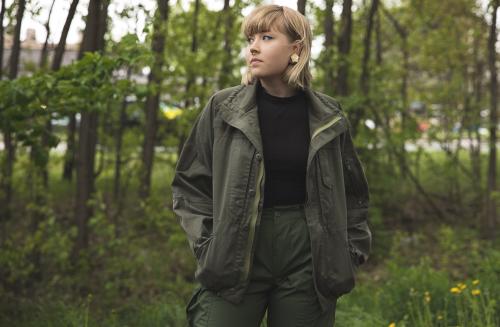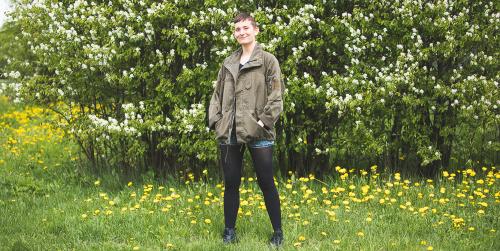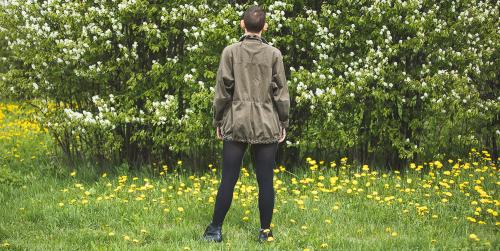 Austria
Austrian Anzug 03 Field Jacket, Surplus
Price 27.99 USD
excluding sales tax
Austrian field jacket, the model of 2003 - these are almost vintage by now! Probably inspired by the US Army ECWCS Gore-Tex jacket, but made of tough cotton/polyester blend. The colour is olive drab of the typical Bundesheer shade.
Loading products...
Trouble with the metric system? Try our converter: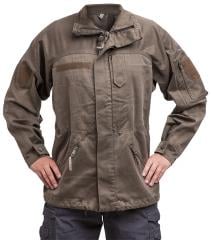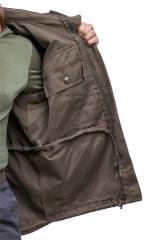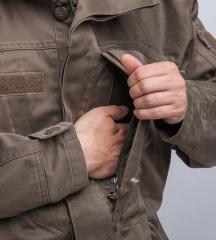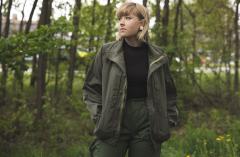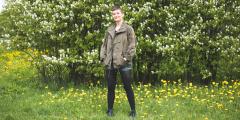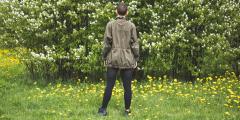 Austrian field jacket, the model of 2003 - these are almost vintage by now! Probably inspired by the US Army ECWCS Gore-Tex jacket, but made of tough cotton/polyester blend. The colour is olive drab of the typical Bundesheer shade.
A modern military jacket
Thick polycotton blend
Roomy cut!
This Austrian field jacket resembles the US ECWCS parka cut-wise, most notably it's a poly-cotton blend and has no hood. Zipper closure secured with buttons. The hem is fairly short for a field jacket, but it looks better in urban use. The collar offers good protection when raised and tightened, but can be worn loose and folded too.
The front has four pockets with zipper closure, the top ones are hidden behind folds of fabric. A flat pocket is found on the left sleeve and hidden inside pockets on both sides. Drawstring adjustments are found at the hem and waist, though they might have been removed by the previous user. The channels are still there so a piece of string can be used to fix it, in case you miss the feature.
Size info
First the easy size, then the user's recommended height and chest circumference. These run a tad large to fit clothes underneath, so do not oversize. If you intend to use this as a casual jacket, picking a notch slimmer size than the measurements say would do just fine.
Our model in the main picture has a 96 cm / 38"chest, but the jacket worn is Small Regular (171-179 / 84-92 cm) / (5' 7" - 5' 11" / 33" - 36") and fits much better.
The Austrian size system is explained in detail on our Austrian jacket size chart page. If you are already familiar with Austrian sizing and want to know how we came up with the easy sizes, below is our logic as a chart. All possible sizes in the chart are not manufactured of course.
| | | | | |
| --- | --- | --- | --- | --- |
| Width / Height | Short | Regular | Long | X-Long |
| X-Small | 80-84 I-II | 80-84 III-IV | 80-84 V-VI | 80-84 VII-VIII |
| Small | 88-92 I-II | 88-92 III-IV | 88-92 V-VI | 88-92 VII-VIII |
| Medium | 96-100 I-II | 96-100 III-IV | 96-100 V-VI | 96-100 VII-VIII |
| Large | 104-108 I-II | 104-108 III-IV | 104-108 V-VI | 104-108 VII-VIII |
| X-Large | 112-116 I-II | 112-116 III-IV | 112-116 V-VI | 112-116 VII-VIII |
| 2X-Large | 120-124 I-II | 120-124 III-IV | 120-124 V-VI | 120-124 VII-VIII |
| 3X-Large | 128-132 I-II | 128-132 III-IV | 128-132 V-VI | 128-132 VII-VIII |
Austrian surplus
In used but serviceable condition. Some tie strings or an occasional button might be missing at worst.
Kierto Circular Economy
Return this product used but clean and unbroken, and you'll receive half of the product's original price as Varusteleka credits. Service is available only in Finland. Only Registered users can make Kierto returns. See more information about Kierto.
Austrian surplus
Functional, neutral, clean. That's what the Austrian Bundesheer gear is made of. Our Austrian surplus revolves mostly around the Anzug 75 and Anzug 03 clothing systems, but who knows, maybe the "Tarnanzug Neu" will make it's appearance if the Austrians decide to clear the stocks in the future. Get your OD gear while the stocks last.
After the Second World War the Austrian soldier looked like a weird mixture of Allies and Germans; the M1 style helmet and general profile really tried to bring that NATO vibe up, but a lot of the gear and even the dotted camouflage pattern looked surprisingly much like WW2 German issue. In the 70s they took a major leap towards NATO with the introduction of the all-green Anzug 75 clothing and equipment system closely inspired by the American equivalents, finally letting go of the "old stuff". The Anzug 03 brought the game up to date with some changes in effort to modernize the whole thing. Now the Bundesheer is again moving over to camouflage.
All products: Austria
Recommendations
Loading products...
Reviews
You have already submitted a review. You can edit your text by clicking on it. You can filter the reviews by clicking on the elements of the summary.
Log in and write a review. You can filter the reviews by clicking on the elements of the summary.
Remove filter
Suomi
(16)
English
(20)
I would recommend for a friend
Perttu T.

08.01.2017

Verified purchase
Erittäin mukava rotsi hyvillä taskuilla, rintataskut on isot, helmataskuihin voi mahduttaa myös hyvän määrän tavaraa. Lähes vedenpitävä jos suihkuttelee tai käsittelee aineilla. Oma koko olisi ollut aivan liian leveä olisi mahtunut kaksi meikäläistä ja välivaatteet, joten otin kokoa vai kahta kapeamman ja silti mahtuu kerroksia alle. Hihat ei valitettavasti riitä 180-190 koossa mun apina käsille vaikka olen vain 175 pitkä, muuten täyttä timanttia.
6
1
I would recommend for a friend
Marc-Andre K.

28.02.2017

Verified purchase
Very good quality garment, as can be expected from Austrian military clothing. The 85% Cotton / 15% Poly jacket I have is very comfortable; the material is much more comfortable to the touch compared to other Cotton/Poly parka/jackets I own.

It's even more comfortable to the touch, than my 1993 German Flecktarn Parka which is also 85% Cotton/15% Poly.. but..

I feel I HAVE to describe the only downfall to this jacket; to put the reader in perspective; I am 177cm high and skinny chest of 92cm. I got the smallest jacket (160-170 / 88-92) because I wanted a slightly more fitted/short jacket. The sleeves are perfect. the height of the jacket is perfect, it reaches just above my bum. with the drawstrings across the waist/hips, it fits extremely well. But the armpits region is HUGE, really HUGE. There is so much slack, there is a weird amount of material that just hangs behind my arms. I have small arms too, which doesn't help.

I am also a pretty fortunate owner of an Austrian Dachstein Wool sweater. And I almost believe that this jacket is the PERFECT companion for that sweater; while wearing the sweater, the armpits don't slack anymore. So this Jacket has just turned out to be the shell for the heavy duty Dachstein sweater.

Great buy! I recommend for big arms, I don't recommend for skinny arms like me.
21
0
I would recommend for a friend
Joni H.

13.03.2017

Verified purchase
Muuten ollut täydellinen takki, mutta taskun vetokejtun vedin murtui täysin jossain vaiheessa. Mahtuu 10kpl 0.33 "limpparitölkkejä" ja 0.5l "mehupulloja" 3kpl, joten oikein kätevä vaikka maanantaina kouluun/töihin takiksi. Toki kyllähän tällä kaupastakin saa kätevästi pienoiset ostokset kannettua mukanaan. Olen käyttänyt takkia ympäri vuoden arkikäytössä. Noin -25'C pakkasessa alkaa hieman olla vilpoinen paikalla ollessaan. Suosittelen lämpimästi!
4
1
I would recommend for a friend
Daniel K.

18.03.2017

Verified purchase
Detta är tydligen Bundesheeres tjänstejacka i vinterversion, men den har inget foder, vilket gör att den kan verka större än den är. Det vill säga att den är meningen att användas tillsammans t.ex. en tjockare tröja eller en Helly Hansen under som isolerande lager. Gör man det så är den inte så stor som storleksinformationen kan få en att tro. En fördel med detta är att det är lätt att anpassa efter kyla och väderlek, för när våren kommer så minskar man bara på isolerande mellanlager. För att justera ner storleken när våren kommer finns ett justeringsband i midjan.

Tyget i själva jackan är väldigt mjukt och skönt mot huden och håller vinden borta hyggligt väl, även om den inte är vindtät per se. Dock är tyget tillräckligt tätvävt för att det inte skall blåsa rakt igenom.
15
0
I would recommend for a friend
Timi K.

11.07.2017

Verified purchase
Kangas on TODELLA mukavantuntuista ja leikkaus takissa ainakin omaan makuun tosi cooli.
Ainut vaan, että kannattaa ottaa kokoa paria pienempi takki rinnanympärykseltään mihin olet tottunut, nämä ovat reiluja!
Näitähän saa vaikka värjättyä mustaksi jos vihreä ei nappaa, että älä nyt ainakaan värin takia jätä hankkimatta!
7
1
I would recommend for a friend
Seth B.

23.07.2017

Verified purchase
*UPSDATE AT BOTTOM*
Mine had ripped drawcords, a busted pocket zipper, a busted pocket zipper pull tab ( these have latchlocked zippers so it means the zipper is unuseable) and the main zipper is fraying at the bottom.

That said, no holes OR tears and is very structurally sound. Not bad at all AND repairable, but not perfect.

Your mileage may vary.

27/07/2017 UPDATE

Bought a second jacket in a size down - the overall fit is much improved and this second jacket is 100% intact. No rips, repairs, missing buttons or broken zippers.
You could end up with either a lemon or a unicorn and anything in between, but even the busted ones are worth the money because you can afford to fix them up at this price point.
6
2
I would recommend for a friend
Sakari S.

07.12.2017

Verified purchase
Kangas on paksuhkoa, eli passeli takki viileämmille keleille, kunnon vaatetta alle niin pärjännee pakkasellakin. Värjäys oli mielessä kun tätä tilasin mutta oma yksilöni on 65poly/35puuvillaa jotein ei tuohon varmaan paljoakaan tartu, lisäksi tässä väri on ihan oliivin vihreä kun minun monitorissa mallikuvan takit näyttävät harmaalta.

Käytän tätä ihan arkitakkina, täällä idässä aika moni kulkee metsävaatteissa, taskut on toimivat ja leikkaus tyylikäs, alle mahtuu lämmintä vaikka otin omaa kokoani pienemmän.
Velcrot raksin pois sekä katkaisin niskassa roikkuva nauhat, saamani yksilö on myös tosi kulunut, tähän hintaan en parempaa kyllä odottanutkaan.
1
2
I would recommend for a friend
joseph c.

01.02.2018

Verified purchase
A great jacket for the price, its unlined but that doesnt limit its use . I cycle to work and was after a jacket that was breathable in freezing temperatures . The sizes are generous, the high collar really protects your face. I use my jacket daily cycling to work in the Finnish winter its great on the bike , roomy in the arms and shoulders, drawstrings and pockets galore, used this jacket in -20c with just a fleece and t shirt and was nice and snug !
7
1
I would recommend for a friend
Sampo V.

20.03.2018

Verified purchase
Perushyvä takki kylmille keleille.
0
1