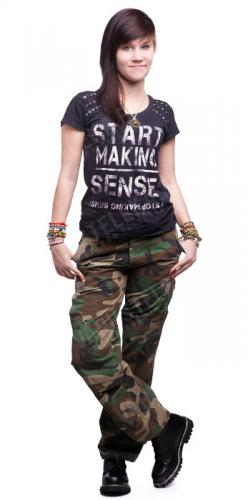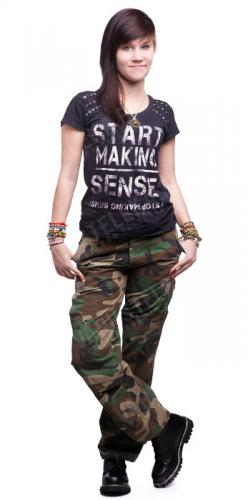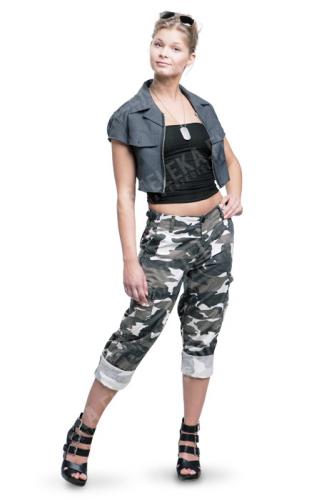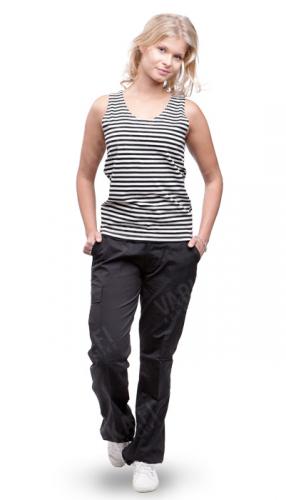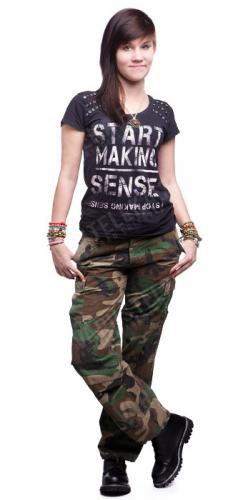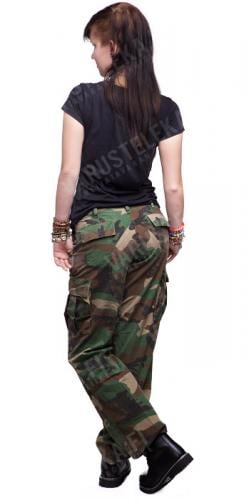 Women's BDU Cargo Pants, Ripstop
Price 41.99 USD
excluding VAT
The classic BDU pants in a slightly modified cut for women. These are snug-fitting with a low waist.
Loading products...
Trouble with the metric system? Try our converter: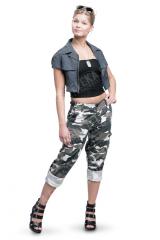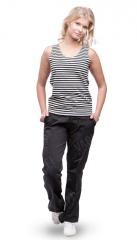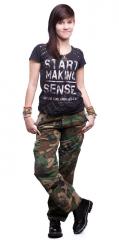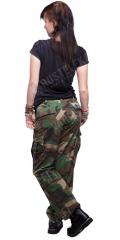 The classic BDU pants in a slightly modified cut for women. These are snug-fitting with a low waist.
The pants feature a button fly, about 40mm belt loops, reinforcing in the seat and knees, two big cargo pockets on the sides, two front pockets, and two back pockets. All pockets (except the front pockets) are closed with buttons, which are covered with flaps to prevent snagging.
Made of 100% cotton with ripstop reinforcing. These might shrink about 5% when washed.
Size info
Very important! The sizes bear no resemblance to normal BDU sizes! We have taken careful measurements and they are announced next to each size as Waist/Leg - Hip. The pants were measured flat on a table and the results multiplied by two - do the same to trousers you already own and compare, and you'll be sure to get the right size.
Made by Sturm (known brands Mil-Tec and Teesar).
Recommendations
Loading products...
Reviews
You have already submitted a review. You can edit your text by clicking on it.
Log in and write a review.
Remove filter
I would recommend for a friend
Sabela

23.09.2017 (Edited 23.09.2017)
Parhaat housut ikinä. Ostin ensin oliivinvihreät housut ja lopuks ostin yhen parin jokaisesta väristä (woodland, metro ja musta värit). Mukavat, hyvännäköiset (on muutama kertaa tullut kehuja ja kysymyksiä, että mistä oon ostanut ne) ja kestävät. Kaikille muille housuille, jotka oon omistanut tuli aina reikä samaan kohtaan, mutta nää on vielä hyvässä kunnossa kovan käytön jälkeen. Materiaali tuntuu mukavalta iholla.

Mulla ei oo ollut ongelmia koon kanssa. Ostin aina samankokoisia housuja (XS, joka vastaa 34 koon) ja hyvin on mahtunut, mutta jos oot kahden koon välillä, suosittelen ehkä isomman koon. Talvellakin saa niitä käyttää kun niiden alle mahtuu lämpimät sukkahousut.
2
0
I would recommend for a friend
M.M. A.

29.09.2017
Kaveri osti tällaiset, ja jo puolen vuoden käytön jälkeen väri on haalistunut tosi paljon. Musta ei pysy kauaa mustana.
1
6
I would recommend for a friend
Maria H.

04.10.2017 (Edited 04.10.2017)
Hyvä ensivaikutelma. Kangas on rentoa, mukavaa ja vaikuttaa kestävältä. Otin oliviinvihreät housut normikoossani 36/S, ja huomasin vasta jälkikäteen, että jotain mittojakin olisi pitänyt tarkistaa (hätänen). Oma koko sopi kuitenkin täydellisesti. Olivat just naftit lantiolta; ei tartte vyötä, mutta toisaalta ei tarvitse voimallakaan pusertaa nappeja kiinni. Vielä en ole näitä pessyt, joten toivotaan, etteivät kutistu pesussa liikaa. Makuasiana olisin tykännyt vähän leveämmistä pultuista, ihan vaan ulkonäön vuoksi. Reipas 4/5 näin alkuun!
1
0
I would recommend for a friend
Hanna R.

05.09.2018 (Edited 23.05.2019)
Muuten ok ja hyvännäköiset housut. Kangas mukavan tuntuista. Ainakin mun kropalle mitoitus ei ihan täysin sopinut. Normaalisti käytän M/L koon housuja. Näistä jouduin lopulta tilaamaan XL - koon joka oli nipin napin vyötäröltä ok. Omaan makuun vyötärö tuntui myös vähän turhan matalalta. Reisillä sitten olikin tilaa hyvin. Taitaa olla myös kehon mallista kiinni, miten istuu kenellekin. Mulle ei ihan täydellisesti. Yksi tähti istuvuudesta, muuten tosi hyvän oloiset housut.
3
1
I would recommend for a friend
Iina J.

06.05.2020
Tosi hyvät housut. Ensimmäisiä käytin vajaa 10 vuotta, kunnes kuluivat puhki. Napit näistä lähtee suht helposti irti, siitä miinus puoli tähteä. Normaalisti 38-kokoisena tämä M/38 oli hiukan nafti itselleni, tosin ainakin edellinen housupari antoi käytössä ajan myötä periksi ja rupesi istumaan paremmin.
1
0