Worldwide shipping!
Delivery to Sweden 59 SEK, the United States 9.99 USD, the United Kingdom 6.99 GBP, Canada 14.99 CAD and EU 7.45-9.30 EUR.
Now accepting
OK
W-SS Dot44 camouflage uniform, repro, surplus, 48
You get the jacket and the trousers, nothing more!
◀
▶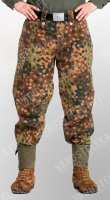 Price 68.99 USD. In stock 0 pcs.
Saatavana käytettynä!
Add to cart
Product added to cart. Click here to move to cart.
Add to wish list
Trouble with the metric system? Try our converter:
Early in 1944 the Waffen-SS developed a suprisingly modern field uniform - 100% (ersatz-) cotton and totally camouflaged. This is the whole uniform. Reproduction from STURM. These are from our rental wardrobe, and been worn just a few times. Size EU 48.
The Waffen-SS already had camouflaged oversmocks for most units even before the war. In 1944 however, a completely new uniform was developed. The cut was taken from the simplified and low boot compatible mid-war wool uniform ("M43"), and camouflage pattern was new. It consisted of brown and green elements (brown dominant) and was intended to be worn around the year. It was not reversible, unlike most of the previous models. The Germans, of course, did not give it a specific name, but collectors have called it Dot44, Peadot, Erbsentarn etc.
The trousers and jacket were intended to be used as a set, but often saw use mixed with other clothes, such as the "M43". There was, after all, a war going on.
The jacket is based on the simplified mid-war SS "M43" wool tunic, with four front pockets and button closure. The buttons are secured with metal "S" rings the Germans tended to use with cotton uniforms.
As with the mid-war "M43"-pants, the trousers have a high waist, button fly, large belt loops and buttons for suspenders, reinforcing in the seat, cloth laces in the leg ends to keep them from riding up. There are four pockets; one on each side, a back pocket and a small watch pocket in the front. The cut is well thought-out and the only thing making these a bit old-fashioned compared to modern trousers is the lack of large cargo pockets.
The fabric is 100% HBT (Herringbone twill) cotton. The outside is Dot44-patterned, backside light brown. Wash in 30 degrees. If you like to nitpick, there is one little gripe: the real uniforms had two shades of green, in these they are mixed as one.
New made reproduction of the wartime model. These have various little insignia sewn on them and used maybe once or twice with little signs of field use but in overall excellent condition.
Log in and write a review.