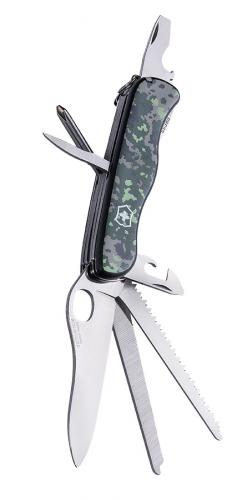 Victorinox M05 Locksmith folding knife
Price 64.99 USD excluding VAT
Trouble with the metric system? Try our converter: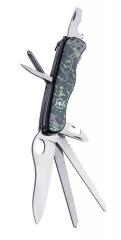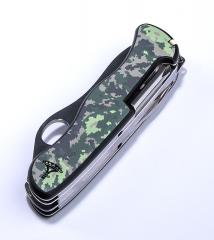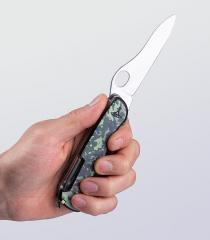 Victorinox doesn't need much introduction. This is their Locksmith model, but the twist here is the Finnish M05 camouflage pattern - only available from Varusteleka! The large size and a nice array of cutting options make this an allrounder and outdoor knife.
This solid block of a knife holds inside a nice amount of Swiss-made steel hardware and offers a long term companion for its owner. If you have no use for cork screws or cheese pickers or manicure kits, but would rather have use for more realistic tools, this is your pocket knife. Of course the effective camouflage pattern means you probably want to put a piece of day-glo orange cord on the keyring.
Tools - 14 functions
Large blade
Reamer, punch
Can opener
Screwdriver 3 mm
Bottle opener
Screwdriver 5 mm, lockable
Wire stripper
Wood saw
Metal saw
Metal file
Phillips screwdriver 1/2
Key ring
Toothpick
Tweezers
Locking blades, but cannot be operated with one hand only.
Dimensions and materials
Weight 163 grams
Length 111 mm
Height 21,5 mm
Handle polyamide
Metal parts stainless steel
Victorinox guarantee
Victorinox grants a lifetime warranty for their products. This means if the product fails in normal use, it will fall under warranty, no matter how long you've had it. This does not cover clear misuse and normal wear.
About the manufacturer
Victorinox has been around since 1884. A couple of years later they hit big with the classic officer's pocket knife. From here on in the reputation skyrocketed. Victorinox has held on to their Swissness in everything they do, which has been proven to be a smart decision.
Reviews
You have already submitted a review. You can edit your text by clicking on it.
Log in and write a review.
Remove filter
Suomi
(2)
English
(3)
I would recommend for a friend
Mikael V.

19.08.2018
Victorinoxin paras malli eränkävijälle, jossa ei ole yhtään ylimääräistä työkalua. "Kerroksia" lisäämällä kokoa ja painoa alkaisi olla hieman liikaa. Vanhanmallinen terän lukitus olisi tosin parempi (liukunappi kyljessä), sillä joissain tilanteissa lukitusvivut painavat sormiin ikävästi. Systeemi on kuitenkin varma ja kestävä. Maastokuvio on hauska juttu, mutta epäkäytännöllinen, eikä tarjoa kuin esteettistä iloa. Kirkas huomioväri on kahvoissa aina paras vaihtoehto kun liikkellä ollaan, vaikka ei kenties eniten silmää miellytäkään. Narujen tms lisääminen on ok jos haluaa aina tiellä olevan paskankerääjän. Yleisesti puhuen Victorinoxin laatu on tuntunut pysyvän hyvänä. Mitään hifistely-keräilykamaahan nämä eivät ole, vaan sopivasti kolhoja käyttötyökaluja. Hintataso vain alkaa olla kiivennyt niille rajoille, että viitsii ostaa vain tarpeeseen.
10
0
I would recommend for a friend
Tish T.

04.11.2018
This is a heavy knife but meets all reasonable needs in the field. The saw cuts small branches well, and the main blade arrives fairly sharp in the box. I have not used the metal saw yet. I usually carry a Swiss Army Victorinex Workchamp which has all of the same tools, and a few others, such as pliars. The Locksmith is a more useful knife in that it is much lighter, and has all of the essential tools needed for a week in the field. Although this website says it cannot be opened with one hand, it actually can be opened with one hand with a little practice. Overall, a very good all around field knife, but not really suitable for EDC due to its weight and size. I have just ordered the "Hiker" from the website, which I will use for EDC and lighter field use, such as weekend trips, fishing and morning or afternoon field-craft instruction sessions.
1
1
I would recommend for a friend
Nicholas B.

27.01.2019
This has quickly become my favorite pocket knife. It's a Victorinox, so you should pretty much know what you are getting to begin with, but the camo scales look great and the Locksmith toolset is one of the best in their 111mm line. It is true that four-layer 111mms are thick and relatively heavy, but I find a Locksmith to be right at the upper limit of what I can realistically get away with and I carry it almost every day.

The only complaint I have is that it is possible (with effort) to depress the main blade far enough to put the the last millimeter or so of its tip into slight contact the lip of the backspring at the tweezer/toothpick end of the scales, which obviously hurts the edge there. This appears to be an issue unique to Victorinox's one-handed main blades on 111s, as I have a Forester with a traditional nail-nick that doesn't do this. Almost a nonissue, given how easy these things are to sharpen and how tiny the hotspot is - just something to check for in case your knife gets dropped and hits the ground wrong. Guessing mine got jolted in shipment to the US, because it hasn't repeated since I fixed it.

Other than that, pretty much perfect!
0
0
I would recommend for a friend
Roope K.

28.04.2019 (Edited 25.10.2019)
Victorinoxin tuotteen ostamalla ei ikinä voi mennä mönkään, tämänhän todisti jo Ihmemies. Victorinox Locksmith on pätevä yleistyökalu ihmiselle jota ei kiinnosta Leathermanin hömppäpömppä pihdet ja turhat työkalut joita ei ikinä tule käytettyä. Linnkuveitsi jossa on muutama lisävaruste kuten pullonavaaja, pari erinlaista meisseliä ja saha on paras vaihtoehto normaali ihmiselle. Locksmith soveltuu eränkävijälle erityisen hyvin juuri siinä että siihen ei ole ahdettu mitään turhaa. Locksmith sisältää juuri ne yleisimmin tarvittavat työkalut joilla onnistuu purkkien ja purnukoiden aukominen, ruaanlaitto ja pienten oksien sahailu risukeittimeen sopivaksi. Mitä maastikuvioituun ulkopintaan tulee, niin itse koen olevani riittävän tarkka etten unohtele puukkoja sinne tänne vaan aina käytön jälkeen laitan takaisin omalle paikalleen, eli taskuun. Ja luohan se M05 kuviointi Tacticool elementtejä ja toimii keskustelun avaajana nuotiolla. Kaiken kaikkiaan 5/5 tuote, ei Sveitsistä mitään huonoa ole tähän mennessä tullut enkä usko, että tulee tulevaisuudessakaan. Osta pois kuleksimasta ja saat työkalun loppuelämäksi.
0
0
I would recommend for a friend
James M.

11.07.2019
Excellent tool .
0
0