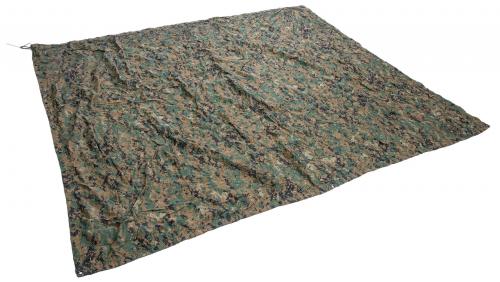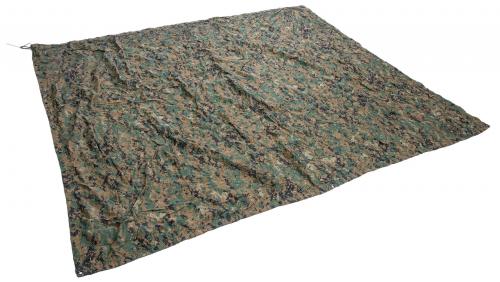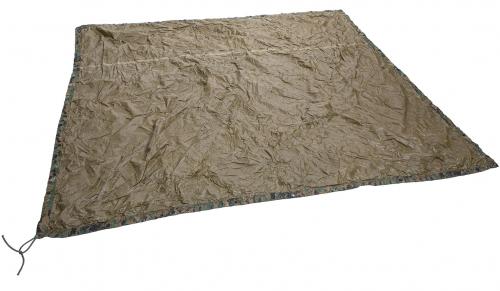 Coyote brown on the flipside. Or poop brown, depending on the perspective.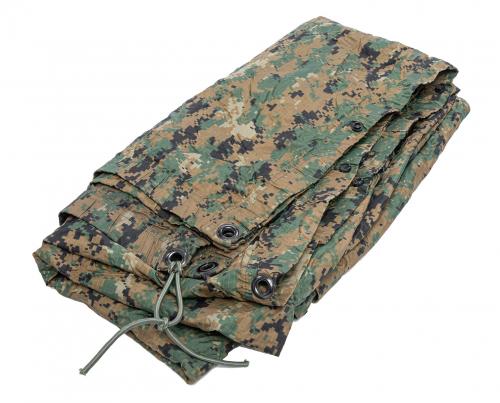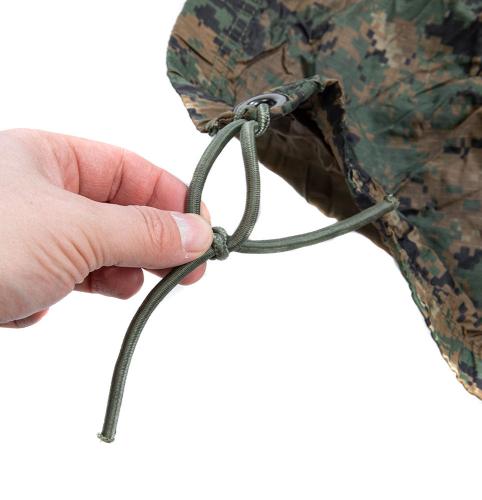 Cords might not be included.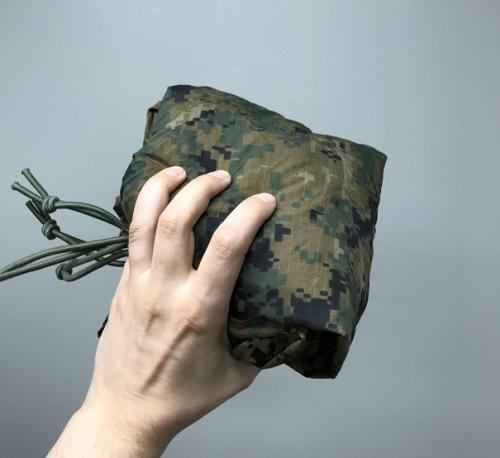 Packs small - you cna fit this in most little stuff sacks and webbing pouches.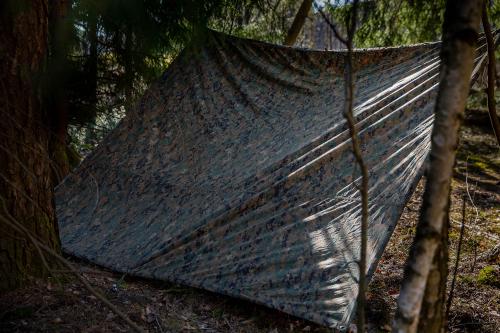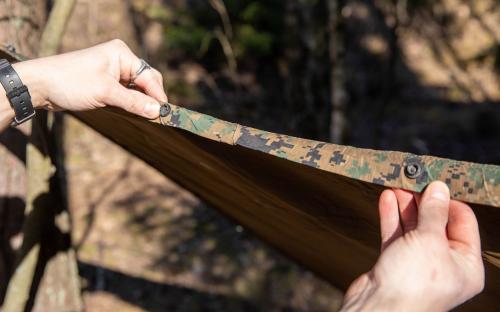 Although the snaps are plastic, they're tough as hell.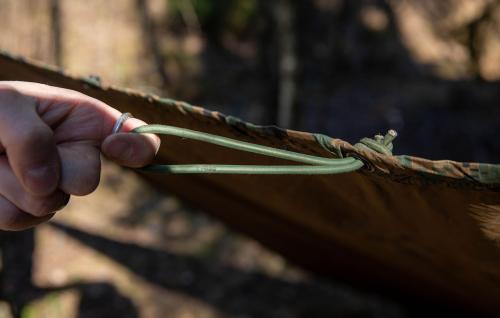 Cords might not be included.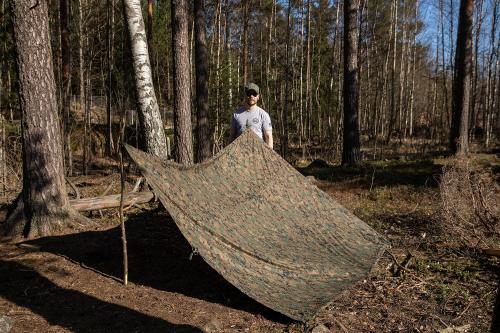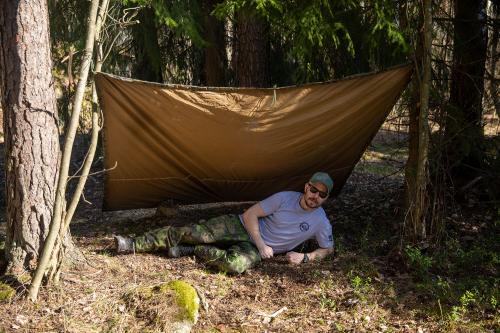 Just big enough for a single person.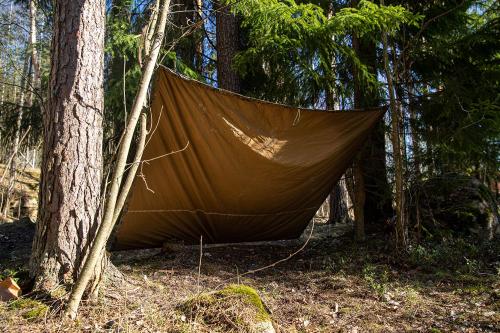 United States
USMC Tarp, MARPAT/Coyote, Surplus
Price 49.99 USD
excluding sales tax
A good old tarp, courtesy of the US Marine Corps. MARPAT camouflaged and reversible to Coyote Tan, made of strong Nylon, and can even be buttoned to other tarps or itself. Used, but serviceable.
Loading products...
Trouble with the metric system? Try our converter: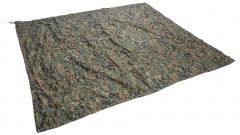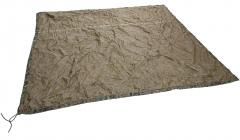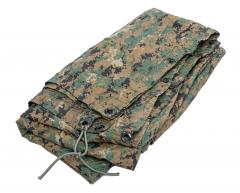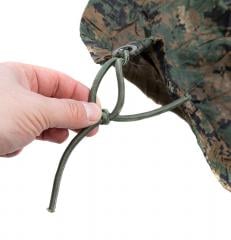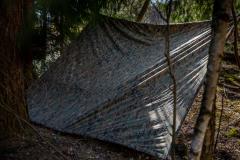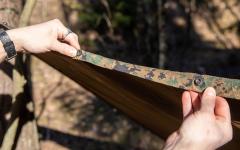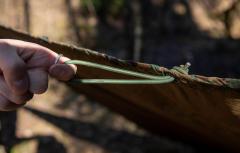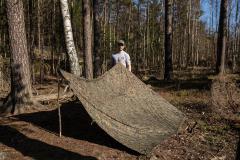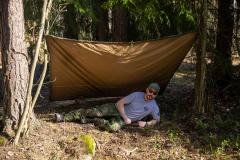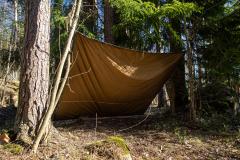 A good old tarp, courtesy of the US Marine Corps. MARPAT camouflaged and reversible to Coyote Tan, made of strong Nylon, and can even be buttoned to other tarps or itself. Used, but serviceable.
The USMC reversible tarp is a rectangular piece of waterproof ripstop-reinforced Nylon, with a total of 8 grommets on the edges for your field setup fantasies. On each side, there's also a row of plastic snap fasteners to attach more tarps, or just fold the one you have. You can build anything ranging from a two-person shelter to a hobo village out of these. Apparently "real" tents weren't the right thing for the Marines, so they just like the way it sucks under these tarps. However the center seam is off-center, so the tarp won't leak straight on the manly face of the resident.
Measures 200 x 220 cm (79" x 87"), weighs 950 grams (2 lb 1.5 oz).
Usage
Although ironically the modern USMC tarp is just a bit bigger than the old Soviet Plash-Palatka, you can make virtually anything out of it. A basic trick is to rig one or two corners to a tree and stake the rest to the ground, making a simple lean-to. By attaching two or more together you can make all kinds of tent-like accommodation solutions.
The tarp can also be snapped up to form a tube to work as a waterproof bivy cover for your sleeping bag. When you tie in a Woobie, you'll get a lightweight sleeping bag. By using creative ways with the snaps you can conjure up all kinds of rain capes and body bags or whatever, it's amazing. As with most American made gear, the snaps are super tight - to operate, you'll need fingers that have witnessed a thousand battles.
Used USMC stuff
These are used, but in serviceable condition. In the past we had to divide these into two grades, 1 and 2. These are all Grade 1. This means they might have minor holes or a broken snap fastener somewhere, in other words normal signs of use. Some of these were stuck to each other (in a perfectly heterosexual way) and we had to rip them apart. In the process the PU coating on the inside might have suffered a bit, potentially affecting water repellency. Well, that's USMC gear for you. Oh, and these also might have the traditional American surplus poly/nylon smell to them, which is not unlike the smell of an unwashed cock.
Kierto Circular Economy
Return this product used but clean and unbroken, and you'll receive half of the product's original price as Varusteleka credits. Service is available only in Finland. Only Registered users can make Kierto returns. See more information about Kierto.
All products: United States
Recommendations
Loading products...
Reviews
You have already submitted a review. You can edit your text by clicking on it. You can filter the reviews by clicking on the elements of the summary.
Log in and write a review. You can filter the reviews by clicking on the elements of the summary.
Remove filter
Suomi
(5)
English
(4)
I would recommend for a friend
Mika R.

22.05.2020

Verified purchase
Oma tuli tänään matkahuollolla eikä luvattuja nyrkinkokoisia reikiä ollut ainuttakaan.
Pieniä reikiä (nuppineulan pää) oli muutama jotka parsin umpeen ja sinetöin saksalaisella panssariteipillä.
Ei myöskään haise polttoöljylle tai homeelle. Haju tuo ennemmin mieleen karamellin makeutusaineen.
Maastokuvio ei myöskään ole haalistunut.
Nepparit kaikki ehjiä ja toimii.

Olenko saanut upseerin käyttämän yksilön vai mikä on, mutta erittäin tyytyväinen olen
3
0
I would recommend for a friend
Terho L.

28.05.2020

Verified purchase
Kombotin hankinnan Savotan naamiointiteipin kanssa, jota ei lopuksi metriä pidempää pätkää tarvinnut käyttää. Pahimmat patrioottisubstanssit ym. aivonesteet piti kuitenkin nyrkkipyykätä (kylmällä) pois ennen kuin rättiä kehtasi reppuun änkeä.

Vielä käsittelyaineella hifistelemällä lopputulos on yhtä vedenpitävä, uhrattavissa ja kasaan parsittavissa kuin yhdysvaltain merijalkaväen sotilas.
7
0
I would recommend for a friend
Juha V.

15.12.2020

Verified purchase
Hankin tuotteen maavaatteeksi suojaamaan ilmapatjaa ja makuupussia, kun kankaan napittaa kiinni sisälle mahtuu hyvin patja ja makuupussi joten taivasalla voi nukkua huonossakin säässä.
Omasta kankaasta puuttuu 2kpl nepparia ja pieni epeämä reunassa, mutta molemmat korjattavissa kotikonstein.
Tuoksu oli kyllä etova mutta pesin tuotteen pesukoneessa 30 asteen pesussu ja hyvä tuli.
Ostin särmä TST kuivasäkin 5l johon kangas mahtuu mukavasti aivan kuin olisi sille suunniteltu, suojaa kassissa sitten muita varusteita jos kangas on likainen/märkä. Painoa ei kerry liikaa ja menee pieneen tilaan.
1
0
I would recommend for a friend
Valtteri K.

24.04.2021

Verified purchase
Ihan ookoo tuote hintaisekseen, mutta koiranpaskan haju ei lähtenyt ensimmäisessä pesussa. Nyt on liotus menossa.
0
0
Varusteleka 27.07.2021
Jos haju ei ole vieläkään tuosta lähtenyt, niin kantsii laittaa asiasta viestiä osotteeseen [email protected]
I would recommend for a friend
Howard M.

28.05.2021

Verified purchase
The Grade 1 did not have any tears in it. However, it is riddled with small holes like from a shotgun. You can't see them till you hold it up to the sunlight. Should be easy enough to fix with sealer, one hole at a time. We were warned.
1
0
I would recommend for a friend
Joe S.

01.06.2021

Verified purchase
Ostin suoraan kaksi kappaletta ja toisessa oli yksi lyijykynän paksuinen reikä ja toisessa olikin nuppineulan kokoisia reikiä siellä täällä mutta ei haittaa menoa ku samaan tilaukseen otin paikkuutarroja 2 pakettia koska tiesi että kuitenkin tarvii. Haju oli kyllä melkonen "vapauden" tuoksuksi mutta kun pesi molemmat erikseen 30 asteessa käsinpesu ohjelmalla ni tuoksuu kuin uudelta. Kummassakaan ei ollut maastokuviointi haalistunut ja molemmisa oli kumilenksut mukana. Jos ymmärtää että voi paikkuu hommiin joutua niin vahva suositus
2
0
I would recommend for a friend
Pol D.

08.06.2021

Verified purchase
Mine smelled like a mix between dog shit and tobacco, was riddled with small pin-sized holes, and a couple of ' almost ' rips. gave it a hand wash, fixed the latter with tape and glue, and the first with Tent Sure. Haven't tested it out and about yet, but the smell is just the tobacco now...guess that'll keep the bugs away :)
It now resides in one of my panniers of my motorcycle ( why I bought one - to cam-up my ride when snoozing all stealthy... ). Did hate the fact that I didn't buy two, but the price is the reason why I didn't, also why I knocked of a star.
5
0
I would recommend for a friend
Dylan T.

29.07.2021

Verified purchase
Stinky (in a not unpleasant way) and a bit sticky (coyote tan side) and with lots of tiny holes- they would have probably caused a trickle to run down inside the tarp rather than a torrent to run through. The holes were partailly marked from some sort of inspection but many more discovered when pitched against the sunlight. Sealed with Gear Aid tape but disappointingly have not been rained on yet. Washed which helped the pungency to an extent and dusted with powder to reduce the stickiness- not sure how long that will last.

WARNING: the studs around the edges are vicious bastards (on an equal rating with Lego) with a misguided bare foot.
2
0