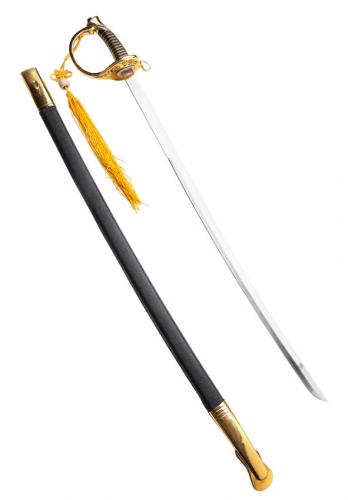 USMC M1859 parade saber, repro
Price 39.95 EUR 79.99 EUR including VAT
Trouble with the metric system? Try our converter: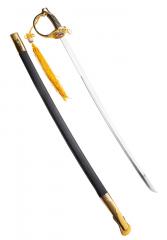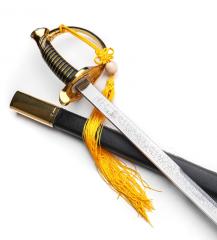 A copy of the USMC NCO parade sabre, model of year 1859. Like the real deal parade sabre, this isn't meant for any real swashbuckling use, only to look good and to be twirled around a bit. A surprisingly nice looking piece it is too.
Length with the sheath about a metre, weight 1,2 kg with the faux leather covered steel sheath. The blade is also not sharpened.
On the blade is the text "UNITED STATES MARINES" and a symbol that looks like the star of David - however this is not a Jewish conspiracy, the mark was probably used to tell the steel used is Damascus steel, which these - or incidentally the real parade sabres - are definitely not made of. A second bit of trivia is the fact that the M1859 NCO sabre is the oldest weapon still in use by the US armed forces.
Factory new, made by the German brand Mil-Tec, manufactured probably in either the Far East or India. As a third bit of trivia, one of the company who makes sabres approved for USMC use is an Indian one.
Warning! Before buying, please make sure that these are legal to import to your country! We take no responsibility if the customs officer confiscates your precious bayonet/knife/machete! These are perfectly legal in Finland and that is all we are interested in.
Note! We do not recommend engraving anything on these, as the chrome coating might peel off a bit.
These might also interest you
Flag of Slovenia, 150 x 90 cm
5.99 EUR
Often viewed together.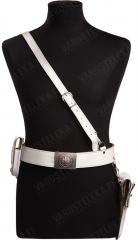 BW military police Sam Browne belt, white, surplus
15.99 EUR
Might be of interest.
Log in and write a review.