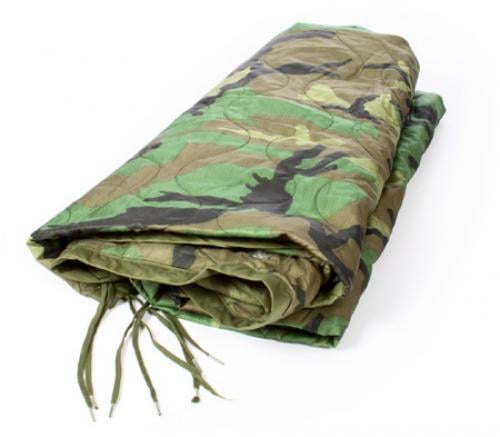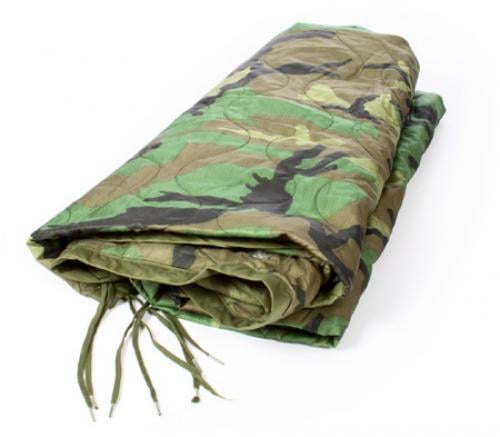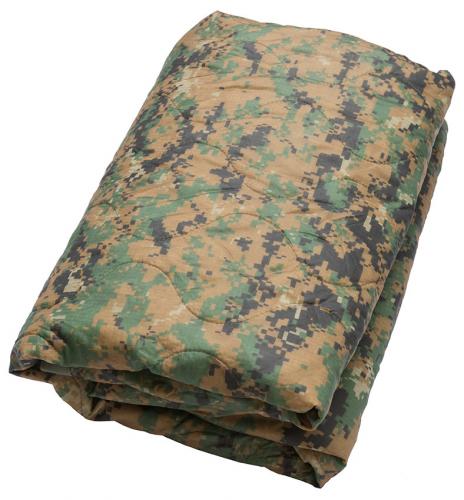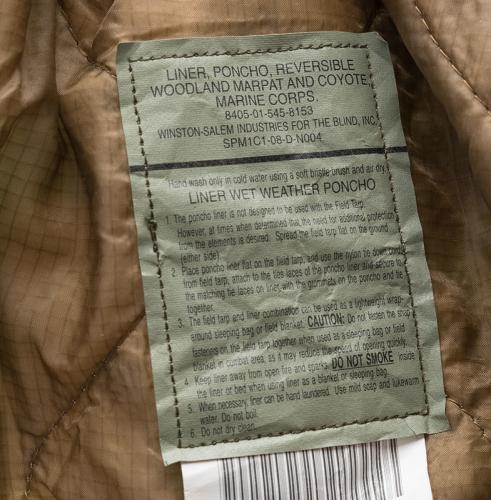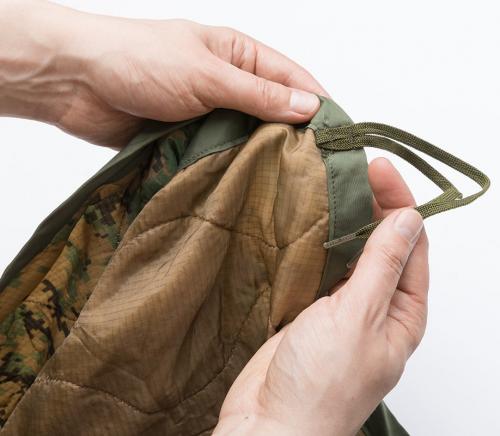 A close-up on one of the tie-down cords.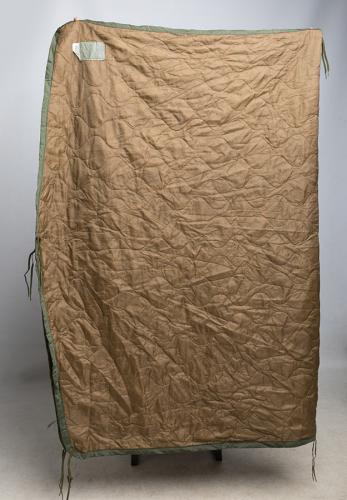 The Marpat model is single colour on the other side.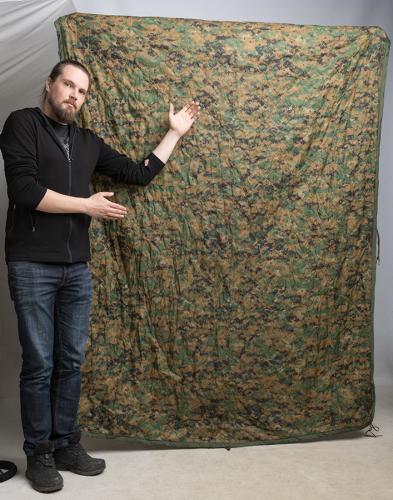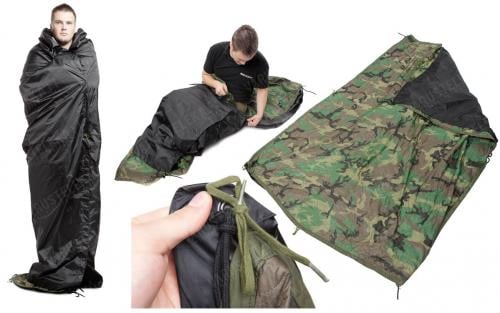 The Poncho Liner mates perfectly with a US Army Rain Poncho and becomes a light sleeping bag. Rain Poncho sold separately.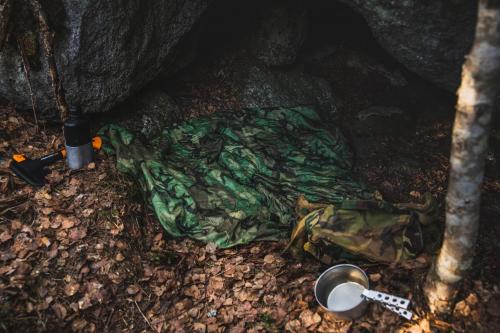 United States
US "Woobie" Poncho Liner, surplus
Price 29.99 USD
excluding sales tax
This here is called a Woobie, because: "Without one, you woobie cold!". A very nice light blanket that has more uses than you'd think.
Loading products...
Trouble with the metric system? Try our converter: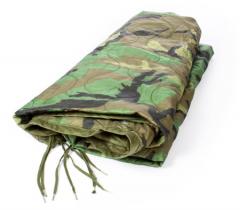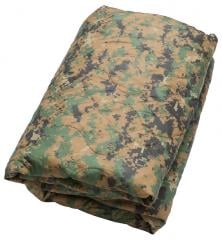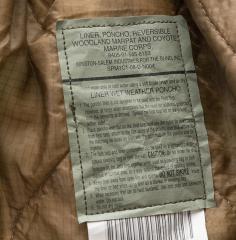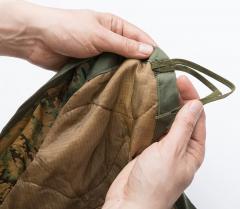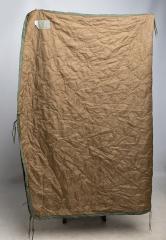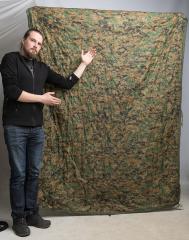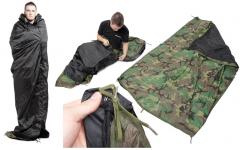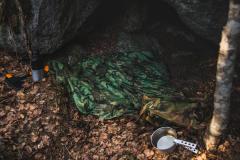 This here is called a Woobie, because: "Without one, you woobie cold!". A very nice light blanket that has more uses than you'd think.
Originally used in the Vietnam war, this lightweight poncho liner was meant as a replacement for the wool blanket. Compared to the blanket, this is a lot lighter, a bit warmer dries faster, and can be packed into a very small space.
If you want to read more praise and interesting bits of info, head over to Task & Purpose to read their educational and entertaining article.
Converts into a sleeping bag
After being introduced, the rain poncho + liner combination soon became the standard-issue sleeping gear for hot climates or general summer use. It's very simple to make a summer sleeping bag of the two:
Tie the liner to the grommets of the poncho
Snap the poncho sides together to make a tube
Get in and sleep
The US Army states that the lowest manageable temperature is about +10 °C, i.e. a proper Indian summer rating.
Technical specifications
The liner can be compressed to a size smaller than a football. Materials used are lightweight ripstop-nylon and polyester batting. Being as these are genuine army surplus, the materials, and overall quality is excellent.
Measurements: about 157 x 204 cm
Weight: 650 g
Genuine US surplus
Condition is used but serviceable. The Woodland ones are made in the '80s or later, Marpats are even more recent.
Kierto Circular Economy
Return this product used but clean and unbroken, and you'll receive half of the product's original price as Varusteleka credits. Service is available only in Finland. Only Registered users can make Kierto returns. See more information about Kierto.
All products: United States
Recommendations
Loading products...
Reviews
You have already submitted a review. You can edit your text by clicking on it.
Log in and write a review.
Remove filter
Suomi
(2)
English
(7)
I would recommend for a friend
Otto B.

19.05.2018 (Edited 01.06.2021)
I got the Marpat one. It is a lot thinner that I thought. There is practically no insulation. I can literally see through the liner. I have several civilian copies, and those are thicker and warmer than the real deal. I still like the surplus one, though, as it packs very small and doesn't weigh very much at all... and is in frickin' MARPAT!

Addendum, March 26th 2019: I got the woodland version as well. Hardly used, smells like perfume, good value for money. It's as thin as the MARPAT one.
2
0
I would recommend for a friend
Leonard P.

25.05.2018 (Edited 01.06.2021)
Just got mine. It really seems thin, that was no surprise to me, because I already had a poncho liner by the dutch army, which is just as thin. But regardless of the thickness, it holds incredibly warm! I think its because of the stuffing, because the blanket fills with air which gets warm and isolates you. I went for the marpat one, the condition is great! Wasn't expecting to get one that looks like new, no holes, no fading, looks like its never been used!
7
0
I would recommend for a friend
Juha H.

08.03.2019 (Edited 02.06.2021)
Woobie! Mainio varuste! Sain ilmeisesti hollantilaisella kuviolla aivan käyttämättömän. Käy varmasti kesällä makuupussinkorvikkeesta alustan kanssa. Talvella tuulensuojana oli erinomainen. Kotona torkkupeittona aivan ykkönen. Menee pieneen tilaan, eikä paljoa paina. Mukana tullut pussi on plussaa.
3
0
I would recommend for a friend
ritchie m.

30.04.2019 (Edited 05.06.2021)
Great item have the marpat and seems never to have been used.. It even smells good... Great service again from varusteleka A1.
4
0
I would recommend for a friend
Antti K.

01.05.2019 (Edited 05.06.2021)
Legendaarinen woobie osottautui oikein näppäräksi laitteeksi. Olen melko varma, että edellisellä omistajalla on ollut parikin kertaa hauskaa tämän kanssa, mutta pesun ja pienen rapsuttelun jälkeen täysin käyttökelpoinen oli.
0
1
I would recommend for a friend
Aaron F.

08.05.2019 (Edited 05.06.2021)
I'm a USMC Vet, and the one thing I had to have from my issued gear, was my poncho liner, aka woobie! I had my woodland one for 20 yrs, and it finally fell apart! I had to retire it! For as light as it is, it does a great job of insulating you! If you use it with the poncho, it makes an ok sleeping bag, but that hood can be a pain, if you don't put it on top of you! This one that I ordered, was damn near new! It was issued, because the tag was worn, but... whoever had it before, took excellent care of it! I love these things!
2
0
I would recommend for a friend
Nicklas L.

24.05.2019 (Edited 05.06.2021)
Some of the best money i have ever spent, you can use it as a lot of things but i mainly use it as a blanket during camping in the summertime. Tie it into a makeshift sleeping bag with the attached strings or just cover yourself with it and enjoy the supreme bliss of the woobie. Mine was in excellent condition with only a slight whiff of the previous owner.
0
0
I would recommend for a friend
Michael D.

25.05.2019 (Edited 05.06.2021)
Just received my Woodland liner. It was IMMACULATE! All the tie strings, no tears, no real wear. Just a few loose threads but you'll get that on anything. According to the SPO it was manufactured in '95. Couldn't be happier. Its the blanket version of the M65 liner and it is GLORIOUS!
0
0
I would recommend for a friend
David G.

02.07.2020 (Edited 06.06.2021)
Ordered the last woodland one that was in stock after stumbling on it scrolling through for something to bulk out my order to justify the postage to myself, that and it was the only genuine woodland one I'd come across that was a sensible price to go with my genuine woodland poncho. I was surprised by how thin it is.

Apart from a very small cigarette burn hole, some loose threads and maybe having been laundered too much (for a 2001 date it looks like its been around since the 80's) it feels like it should still be fairly warm and last for years to come yet. Dropped the half a star for the burn hole.
1
0