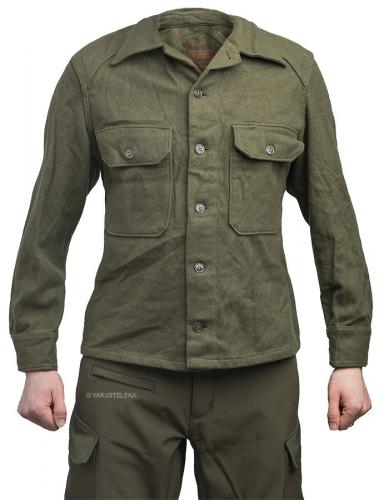 US M-1951 wool shirt, surplus
Price 22.99 USD excluding VAT
Flat Rate Shipping to USA $9.99
89 % recommends
Sold 72 pcs in the last two weeks
Loading products...
Trouble with the metric system? Try our converter: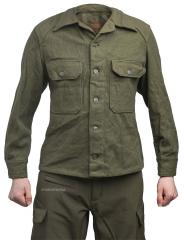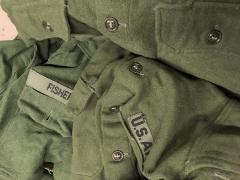 US M-1951 wool service shirts. Works well in field or town and doesn't look like a potato sack like modern fleece jackets! A thick, warm shirt or a light jacket, any which way you want to use it.
The classic Korean War style field shirt is just like most flannel shirts, but made of relatively thick wool, or wool & nylon blend (most are 80% wool and 20% nylon). Wash by hand in lukewarm water. Air dry only!
Size info
Sizes according to user's height and chest circumference. There are no different height sizes, all seem to be about a size Regular. Good for max 180 cm tall and shorter. Taller people will just have to make do with shorter sleeves. They can also be rolled up.
US army surplus
Used hard. Most have a few small holes in the fabric and other signs of use, like "US ARMY" patches.
Reviews
You have already submitted a review. You can edit your text by clicking on it.
Log in and write a review.
Remove filter
Suomi
(8)
English
(10)
I would recommend for a friend
Otto S.

09.02.2017
Tää on aika magee asia. Menee paidasta ihan pahimmilla pakkasilla sekä takista vielä kymmenen asteen pakkasellakin. Itse kun ostin tuote oli ihan uuden veronen eikä mitään reikiä tai hajua yms. mitä saattaa ylijäämässä olla ja värikin on minun silmään mielyttävä. Ja siis perkeleen lämminhä tää on.
11
0
I would recommend for a friend
Tero S.

16.03.2017
I would recommend for a friend
Henrik S.

17.03.2017
The shirt i got is in very good condition, No repairs, holes or stains or anything.
Looks great. It has a very rich, dark, olive darb color and a heavy wool fabric texture.
Thick wool and rather warm, more of a light jacket than a shirt in my oppinion.

On the downside it's a bit short and very hard to keep tucked in. Maybe is's not supposed to be tucked in at all.
Both the body length and the sleeves are short. I myself is 175 cm tall.
However after a good soak, I was able to strech the shirt a bit and gaind about 4 cm arm length and a bit on the body as well.
10
0
I would recommend for a friend
Ville L.

20.09.2017
Sanoisin, että tuote oli, jos ei uusi, niin ainakin käyttämätön. Merkintöjen mukaan olisi tehty ihan 50-luvulla. Varastossa on maannut ja vaatii vähän toimenpiteitä että saa rypyt pois, mutta eiköhän se siitä. Ei tämmöistä kangasta saa nykyään tähän hintaan, ykkösen tai kakkosen saanee laittaa eteen.

Vaihdatan pirtsakamman näköiset napit ni tästä saa iloisen syystakin. Toimii varmaan Suomen kesässäkin.
7
0
I would recommend for a friend
William J.

28.09.2017
Amazing, I'm between medium and large and these fit me like a glove, also perfect length sleeves. For those familiar with the American men's shirt sizing I'm a 15.5 34-35. Ordered 3, 1 was very good used with only 1 small moth hole and the other 2 are like new, one even coming with some shoulder insignia. Ordering 9 more so I'll be well stocked for winter. Will make a perfect midlayer to any winter casualware ensemble. 6 stars.
5
0
I would recommend for a friend
Jeroen H.

26.10.2017
Great stuff!
The one I have arrived in perfect condition.
Woulf you buy something like this from a fancy brand, you'll easily pay over €200.
3
0
I would recommend for a friend
Pyry P.

18.11.2017
Omassa lukee villan ja nylonin suhteeksi 90/10, toki tämä ei haittaa yhtään. Itsellä käytössä työtakkina viileämillä keleillä loppusyksystä/alkutalvesta, todella pätevä ja kestävä siihen(kin) hommaan
6
0
I would recommend for a friend
Greg W.

21.11.2017 (Edited 20.09.2019)
Both of mine came to me in fantastic shape, honestly better than the ones I was issued years ago. These are fantastic shirts , warm and comfortable. As far as Cold War gear it was probably my favorite garment , and honestly one of the few quality cold weather pieces we had back then. . They worked well in cold, wet, Northern Germany. They look nice for civi wear , they have a nice cut to them and the sleeves are long enough, good for me and my long gibbon arms.They fit under jackets nicely . They aren't really long, you will wear them not tucked in , like we did in the Army , as it was a field shirt . . I'm 5'10 40" chest 162 lbs . A medium fits me nice. Order a couple you won't be sorry. You will have to do some patch removal, or not.
8
0
I would recommend for a friend
Mark H.

24.01.2018
Absolutely blown away by this shirt.

I was nervous about how it would arrive and what repairs might be needed but there were none whatsoever!

No patches, no holes. Just pure quality.

Sleeves were a tad short, I'm 181cm, 94cm chest and the sleeves sit around 2cm from where I'd like them to be. They are right when they say they're suited to max 180cm. Obviously you can wear them if you are taller but you will need to roll up the sleeves.

Thick, warm wool, robust and heavy duty. Great for civvy use, and for out in the forest.

Going to have to buy more!
3
0
I would recommend for a friend
Mikko J.

07.02.2018
I would recommend for a friend
Charles P.

09.03.2018
A very nice shirt, it is comfortable and warm and it looks likely to be hard wearing.

I did have a bit of an issue on sizing, the first one was snug on me, and I have a chest an inch smaller that the supposed maximum size. Anyway, I decided that it was OK if slightly smaller than I would have liked and so bought 2 more (not from you, I found somewhere cheaper in the UK). The 2 new shirts were significantly bigger, despite all claiming to be medium.

All 3 had different labelling, the first just had a small tag with "M" at the collar, the other 2 had more conventional military labelling (one printed on in red, one stitched on in black on white).

I suggest you check your stock, and if there are any more with the "M" label consider marketing them as a different size.
3
0
I would recommend for a friend
Calvin C.

25.09.2018 (Edited 08.11.2018)
The small size fits well on my 88 cm chest (though the sleeves might be a bit big, like most military surplus outerwear; I have no idea how the model in the product images got his to fit like that). Luckily my shirt has no holes; only the traces of the nametag and U.S. Army label stitching. You'd probably want to wear a long-sleeve shirt under this, as it does get itchy.



You're likely going to get a wrinkled shirt. Iron with your iron set to "wool" with a cloth cover over the affected surfaces.
2
0
I would not recommend to a friend
Pekka K.

01.02.2019 (Edited 05.02.2019)
US M-1951 villakangaspaita, ylijäämä, Large (170-180 / 104-114 cm) tuli tilattua. Ei kokolappua , mutta on tosiaan koko lailla ahdas mediumkehon päälle laitettuna. Muutoin vain yksi paikkaus näkyy eikä taskuista löytynyt mitään ylläreitä.
Laitoin asiakaspalautuksena menemään takaisin .
3
2
I would not recommend to a friend
Niko T.

13.09.2019
Kutisi päällä niin perkeleesti, että oli pakko palauttaa. Muuten ihan käytännöllisen oloinen ja siisti paita. Hihat ja helma oli aika lyhyet.
3
1
I would recommend for a friend
Rune H.

04.10.2019 (Edited 04.10.2019)
Being a 6 ft/183 cm tall/94 cm chest Stick-Boy I expected this size Medium to have rather short sleeves, but maybe I just happen to have rather short arms myself. This fits me almost perfectly. And aside from a small repair on the upper left arm, it looks (and feels) almost new. Definitely worth the price, yessir!
1
0
I would recommend for a friend
Sami K.

12.10.2019
Tämä on aika loistava paita Suomen kolmeen vuodenaikaan. Mutta jonkin verran sattumanvaraisuutta näissä on - merkinnät voivat olla alunperinkin ihan mitä sattuu; itselle kerran osui M-kokona ostamani paita joka oli käytännössä XL Short ja olisi varmaan sopinut ruumiinmuodoltaan tynnyriä muistuttavan esiuntaupseerin päälle... Hyvällä tuurilla saat paidan, joka on suoraan varastosta tai käytetty vain vähän - vähän heikomalla tuurilla paidan, jota on vuosien varrella muokattu sen verran, että kokolappu on vain suuntaa antava. Jos sopiva kuitenkin löytyy, tämä on todella hyvä paita.
0
0
I would recommend for a friend
Jesse W.

12.10.2019
I actually have one of these. I purchased it on a USA used clothing site, and I paid a bit more actually than it is being sold for here. Alas.

That said, I am super happy with it. It is well worth what I paid. Mine is 90% wool and 10% nylon, so higher wool content than usual (not sure if that makes it older or what). It is definitely meant to be worn as an overshirt. I got the S size, and I typically wear an S in American stuff. Sometimes S is a little big for me. This is a little big, but, again, is made to be an overshirt. It is definitely not very boxy or potato sacky. For me personally, it fits well and isn't baggy. It's not tight either.

It's warm, sort of like a thin sweater, but warmer than a typical overshirt. I wouldn't say it's as warm as a jacket, however.

It is itchy! Wool is itchy, unless it's the fancy new Merino stuff. That's life. I wear it with long sleeve shirts for this reason, and even then, it itches my neck a little. It's not bad though.

One point of contention. I machine-washed mine (cold wash, normal cycle) with no issues; I also machine dried it on low. It's totally fine. The collar got really sort of supple rather than stiff, but other than that, it seems unchanged except for being cleaner and fluffier. I did not even notice any shrinkage, but maybe I forgot how it fit prior to washing. It's about perfect now.
1
0
I would recommend for a friend
Brendan B.

30.10.2019
unreal VALUE! only losing half a star because yes they are short! I am about 180cm, but the "ol ape index has an effect on proportion too.

shorter sleeves can be a benefit in some regards as your sleeves will never slip down into the jam sandwich you are making.

mine came in great condition! it's a simple useful design, will try to snag an XL next time as my chest is 114cm and the L is snug.
0
0