UF PRO Striker XT Combat Jacket, Pencott Greenzone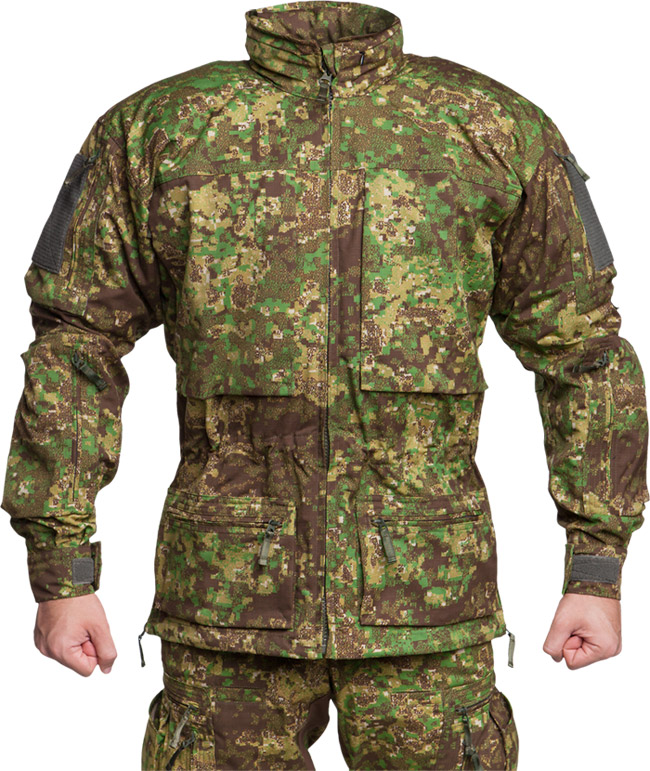 Trouble with the metric system? Try our converter:
These might also interest you
The modern, extremely functional Striker XT clothing series from UF PRO has gotten a very positive reception worldwide. This is basically "just" a combat jacket, but then again nothing like most old military issue jackets, the Striker XT is packed full of tons of clever details and functional elements, this is just about as good as a jacket can get!
A funny thing with the Striker XT Combat Jacket is that it actually looks quite "normal" on the outside, but underneath the simple exterior you can find a multitude of clever details that really make a difference.
One important thing that you want from your combat jacket is good pockets and the Striker XT delivers just that, and lots of it. Basically anywhere your hand reaches there is a pocket: two pockets on both sleeves, two large chest pockets, two smaller hem pockets and a large "poachers" pocket on the lower back. This multitude of pockets means you can keep your small gear sorted very neatly on your person, which in turn makes finding those little trinkets that much easier.
Another very important thing is a good, manouverable cut that offers free movement. The Striker XT has an anatomical but generous fit, totally unrestricted arm movement and elastics on the waist and hem making it comfortable to wear even when the going gets tough.
Cut
Functionally fitted, the cut of the arms offer totally unrestricted movement.
Full lenght zip-up front, high protective collar.
Two-way ventilation zippers extending from the hem to the armpits, you can basically split the jacket in two for extreme ventilation.
Velcro adjustable cuffs.
Elastic drawcords on the waist and hem.
A funtionally shaped hood with elastic drawcord adjustments. Can be folded and rolled up into the collar when not in use.
Double reinforced elbows with velcro access slits for inserting extra elbow pads.
UF PRO AirPac inserts in the shoulders. These make your life a little more enjoyable in many ways, read more here: The UF PRO Air Pac inserts.
Pockets
Two large chest pockets, accessible from both the front and the sides (great when wearing vests and body armour). Compartments for small items on the inside.
Two low hem pockets, the low construction means these are usually easily accessed even when wearing combat kit or a rucksacks hip belt.
Two zippered sleeve pockets on both sleeves.
Last but not least you have a large zippered "poachers pocket" on the back of the hem.
Hyde Definition: Pencott Greenzone camouflage
Hyde Definitions Pencott camouflage has gotten some very positive feedback all over the world, some even say it's the best stuff currently on the market! The Greenzone variant is excellent for spring, summer and early autumn use, it's vibrant greens and good contrast really blend in in lush forests and vegetation.
Materials
50/50 Nylon/Cotton with RipStop reinforcements, official Hyde Definition Pencott Greenzone fabric.
The zippers are quality stuff, made by OPTI and YKK.
Sizing
The size system is very user friendly, on top of the simple S, M, L etc. you can see the recommended user measurements in centimeters. The first number is your chest circumference and the other your arm length, from the base of the neck to the wrist. For example a size M is meant for people with a chest of 92-97 cm and an arm length of 72-80 cm. The sizes also grow longer as they grow wider.

The pictured model measures 173 cm in height, 102 cm around the chest and has an arm length of 72 cm. The jacket is a size M and the fit is snug, but perfectly wearable.
Made by UF PRO
UF PRO is a real rising star in the tactical garment industry, and one of the very few European companies in the business. From their homeland of Slovenia word has quickly spread all over the world of their high quality and innovative designs. The "thing" with UF PRO is their attention to detail and quality, this stuff is basically military grade and made for very heavy, rough use!
Perhaps the nicest thing for any European customers is the fact that being based in the EU means UF PRO stuff doesn't cost you an arm and a leg in import taxes that you'd pay for similar wares imported from the US. And when you're buying a +200,00 Euro piece of clothing that means some serious money saved!
Read more about them on their website at: www.ufpro.si
Log in and write a review.