The Marshal of Finland outfit
Price 23.99 USD 30.99 USD excluding VAT
Flat Rate Shipping to USA $9.99
Army surplus
Package includes:
Trouble with the metric system? Try our converter: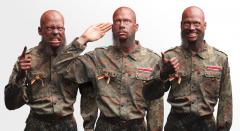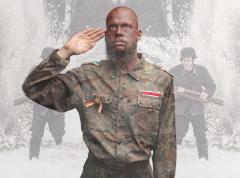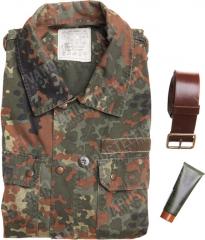 "Life is like a mountain, sometimes there's uphill, and sometimes there's downhill." This is a historically correct outfit from the original outfitters of the masterpiece "The Marshal of Finland". Now you too can dress up just like your hero, even on a low budget.
Attention: the badges in the photos are not included. Awards have to be EARNED! (Or make them yourself, we suggest colourful rags, safety pins, curtain hangers and bottle caps).
Ok listen up you foreign devils, in Finland we have this thing called Mannerheim, you could say he's to us what Ratko Mladic is to the Serbs, or something. Check it out on Wikipedia. So anyway, in 2012 the Finnish national television made a super small budget film called The Marshal of Finland, which tells the story of Mannerheim. To the absolute horror of the hordes of Finnish nationalistic fanatics the film was made in Kenya and the whole cast was black, black as the ace of spades. This led to some very fierce outbursts, mainly as comments on YouTube and angry letters to our newspapers. This must be one of the funniest things to happen in 2012. Check out the trailer here: The Marshal of Finland Trailer on YouTube.
Every time some big new movies are premiering people start calling us asking for Indiana Jones style shirts or Rambo pants, well now we're a step ahead of you all! But unlike Indian Jones and The Crystal Cockup the Kenyan national epic, The Marshal of Finland is actually a real film and doesn't cause internal bleeding and short circuiting of the brain. We know you'd be calling us "Have you got something like those Marshal of Finland camo suits?" so let's make this clear from the start: This here is The Very Same Outfit as used by the heroes in the film, we should know, it was us who equipped them!
Here in Finland we have first graders of any colour playing the Three Wise Men in Christmas plays and we all have seen films with nazis speaking like English gentlemen, that's alright, but when it comes to the Marshal of Finland you don't fool around! This spot-on impression is finished off with a tube of black or brown camo face paint, which will come in handy for most of our Scandinavian Telley Savalas Otieno fans. If you do something, do it properly or don't do it at all!
The outfit constists of a German Bundeswehr Flecktarn uniform, a Swiss leather belt and a tube of brown or black Kemex camo face paint. Just add a pair of boots, or don't if you want to go real traditional. All bits are also sold separately, but buying the full set you'll save a pretty penny, enough to get you that ticket to the movies!
The uniform and belt are in used, perfectly wearable condition, the face paint is of course totally unused.
Recommendations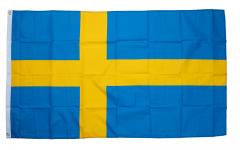 Some kind of a flag, 150 x 90 cm
5.99 USD
Often viewed together.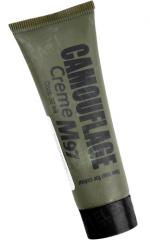 Kemex M/97 face paint
4.99 USD
Might be of interest.
Swiss leather belt, surplus
9.99 USD
Might be of interest.
Reviews
You have already submitted a review. You can edit your text by clicking on it.
Log in and write a review.
Army surplus
Military equipment is traditionally excellent stuff; it combines durability with very affordable prices. Army surplus finds its way to the civilian market in the following way: the armed forces of one country or other decides to get rid of big batches of perfectly serviceable gear due to cuts in military budgets, said gear becoming obsolete or redundant or some other similar reason. Some of this stuff then finds its way to our storehouse, sometimes directly, sometimes through a third party. Every once in a while we even get random batches of collectibles and rarities from obscure corners of the world.