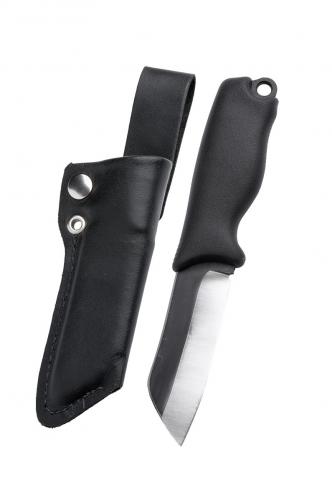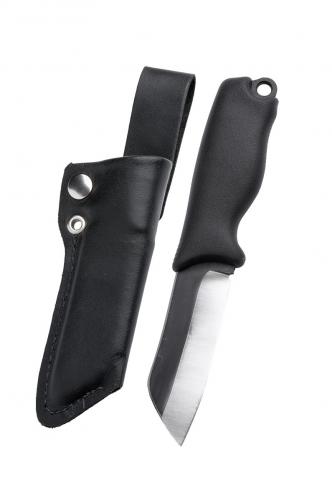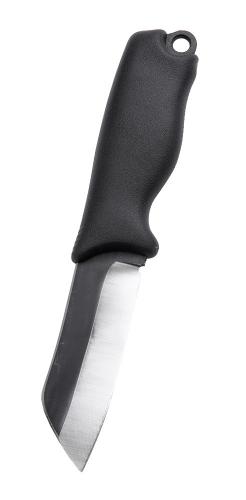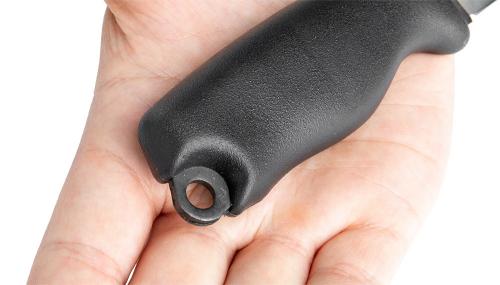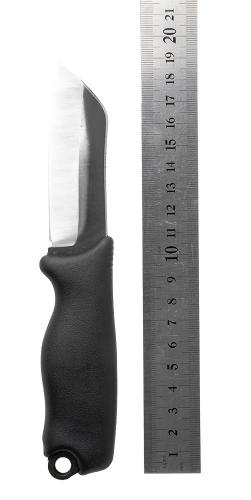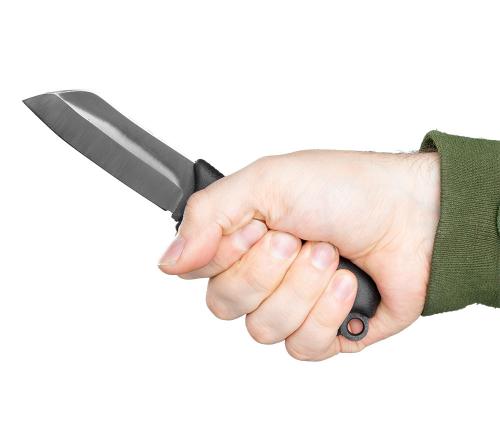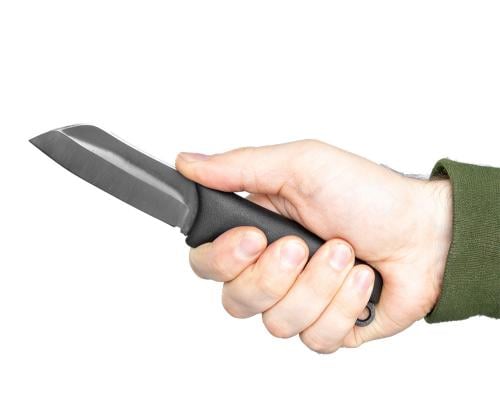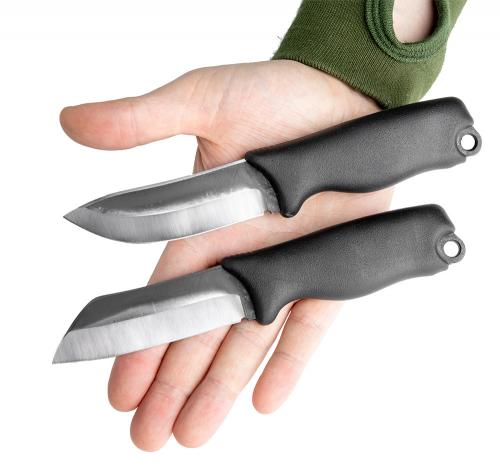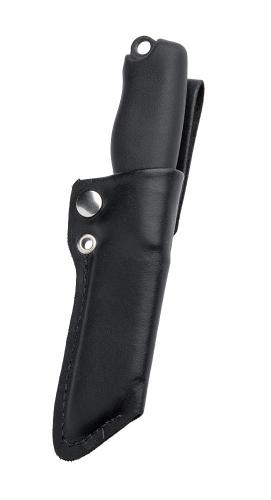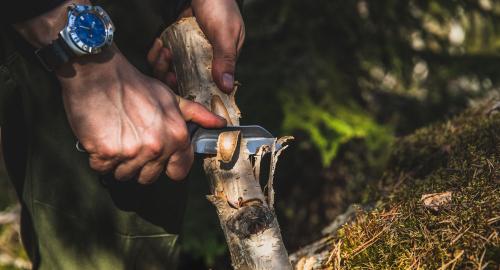 Terävä Skrama 80, Carbon Steel
Price 41.99 - 73.99 USD
excluding VAT
A very small and handy little general purpose knife with that sweet sheepsfoot blade profile. Easy to carry and great for all those small tasks that you come across most often.
Loading products...
Trouble with the metric system? Try our converter: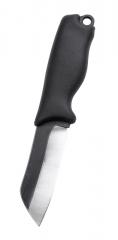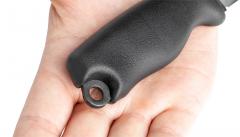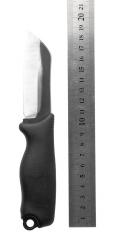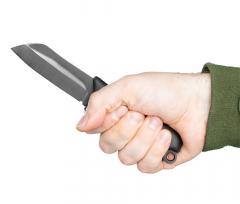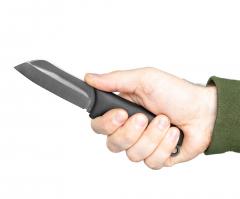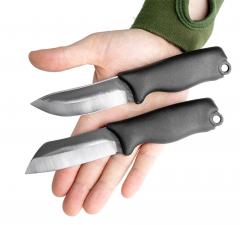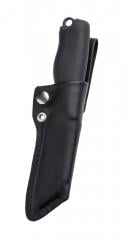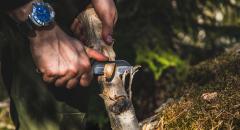 A very small and handy little general purpose knife with that sweet sheepsfoot blade profile. Easy to carry and great for all those small tasks that you come across most often.
General features
Very small size, easy to carry and handle. Great companion for a large chopper or axe.
Skrama-like sheepsfoot blade profile.
A notch at the root of the blade to ease sharpening over years of use and maintenance.
Spine ground and beveled to strike sparks from ferro rods.
Full tang with textured overmolded rubber grip.
Protruding bare tang head with lanyard hole.
Technical specs
Specs
Metric
Imperial
Weight
125 g
4.41 oz
Length
185 mm
7.28"
Blade length
80 mm
3.15"
Blade thickness
3,25 mm
0.128"
Edge angle
23°
Steel
80CrV2, 59 HRC
The steel and heat treatment
80CrV2 carbon steel is used in all our carbon steel knives. The thing is that it´s nothing special really, just really good tool steel that can take basically any beating and offers great edge retention.
The heat treatment we use leaves the surface of the steel softer than the inside. This actually functions a lot like fancy differential heat treatments making these knives very tough. As the surface is softer, any microscopic fractures or unevennesses in the steel will not cause problems like they would if the steel was hardened all the way through. The end result is virtually zero problems caused by material defects!
The heat treatment and softer surface is also why we have added the bevels to the spine, a simple polished spine was not enough for use with ferro rods but with these little bevels that bare the inner, harder steel we get a spine that strikes ferro rods real well!
Varusteleka Terävä
All Terävä knives are manufactured in Kauhava, Finland, by our partners at Laurin Metalli, Finlands leading knife blade manufacturer with roots going back to 1918. A Terävä blade is Finnish craftsmanship, pure and simple! And "Terävä", that's just Finnish for "sharp".
Recommendations
Loading products...
Reviews
You have already submitted a review. You can edit your text by clicking on it.
Log in and write a review.
Remove filter
Suomi
(4)
English
(14)
I would recommend for a friend
Johan R.

21.12.2018 (Edited 21.12.2018)
Yes, the mini Skrama is very comfortable in my medium size hand. The Terävä knives are all good and very utilitarian, they beg to be used in the field. This small one is a real gem and hang around my neck together with a firesteel. Lightweight and fun to use!
11
1
I would recommend for a friend
Antti B.

20.03.2019
Knife is exactly like promised. Mine arrived today and it already saw some action! Mini Skrama is surprisingly good at construction work. It went through gyproc wall sheets like they were butter. Definetly recommend for all kinds of work... Also thanks to Varusteleka for very fast delivery.
10
1
I would recommend for a friend
Tod W.

22.04.2019
So cute! So handy! So easy to sharpen! I've been carrying it every day for some weeks now, and I use it all the time. Love my Mini Skrama!
4
1
I would recommend for a friend
Jussi F.

28.06.2019 (Edited 05.02.2021)
Jos arvostaa pientä ja kevyttä puukkoa joka ei paina vaelluksella mukana kuten isot elokuvapuukot, niin erittäin hyvä valinta.

Ulkomuodoltaan nätti ja sievä muotoilu. Miellyttää silmää. Vaihtelua perinteisten puukkojen muotoiluun, mutta kumminkin säilyttäen käytännöllisen terän muodon. Kaikenlaiset kaarevuudet terässä vaikeuttaa teroittamista kuten kukripuukoissa. Tässä puukossa on vielä suorempi terälinja perinteisiin puukkoihin verrattuna, teroitus on mielekästä puuhastelua. Aavistuksen verran terä on kaareva joka esim. helpottaa leikkuulaudalla työskentelyä keittiössä.

Kahva on hyvän muotoinen ja hyvän tuntuinen. Ehkä aavistuksen kaipaisin kahvan muotoa pulleammaksi kämmeneen. Kuminen kahva on edistystä ja vaihtelua kotimaisissa puukoissa. Toki puinen petsattu kahva on silmiä miellyttävämpi ja myy paremmin, mutta esim. 5 vuotta lähes joka viikonloppuisessa eräilyssä puinen kahva alkaa näyttää jo melko kärsineelle vaikka kahvaa olisi öljytty ja hoidettu, terä voi olla silti vielä loisto kunnossa. Puukahvaista puukkoa olisi hyvä aina öljytä, muuten kahva imee kosteutta ja turpoaa, kuivuessa taas kutistuu ja näin halkeilee. Kumikahva ei ole arka kosteudelle.

Tuppi on todella hyvä, siro ja nätti. Kaikissa Terävä puukoissa taitaa olla nahka todella kuivaa uutena. Kun yrittää nahkarasvalla hoitaa nahkaa notkeammaksi ja vettä hylkivämmäksi, niin nahka ei meinaa alkuun imeä rasvaa kun se on niin kuiva koppura. Vähän sama ilmiö kuin kukkaruukun multa kuivuessa rutikuivaksi se ei meinaa enää imeä kosteutta. Kumminkin rasvattu tuppi alkaa pikkuhiljaa imeä rasvaa kun pitää rasvattuna pidemmän aikaa.

Käytännöllisen kokoinen, jos puukko olisi vielä pienempi, se alkaisi vaikuttaa negatiivisesti käytännöllisyyteen. Sievä ja nätti pieni puukko. Näyttäisi myös naisen kädessä nätille.
1
0
I would recommend for a friend
David B.

13.07.2019 (Edited 13.07.2019)
This is my "go to" knife on a daily basis. The 80CrV2 steel is superb and holds a wickedly sharp edge. Small sized knife but the edge is just the right size for almost all tasks. It is easy to sharpen with appropriate stones and diamond sticks.

I have been with New Mexico Search and Rescue for 29 years in one of the roughest areas in North America, the Gila Wilderness, and have gone through many knives. This knife is a keeper!

I also have the big Daddy of this knife, the full sized Skrama and keep it my rescue vehicle. The Skrama knives of all sizes are fine tools and are made for and by people who understand real wilderness conditions.
6
1
I would recommend for a friend
Mikko K.

20.08.2019
Ihan hitsin hyvä ja käteen istuva puukko. Terottaminen verrattain helppoa terän muodon ansiosta, kahvasta ei löydy mitään vikaa, Laatua materiaaliltaan sekin, samoin mun mielestä erittäin hienon simppeli tuppi. Neppari tiukka, pitää keklun visusti tallessa. Kehaistaan nyt vielä niin, että jos tästä parempi puukko jostain löytyy, olisi se kiva nähdä ja kokeilla.
3
1
I would recommend for a friend
Thomas R.

10.01.2020
Small knife that does a great job and is very sharp out of the box.
Greetings from Germany.
2
1
I would recommend for a friend
John E.

18.02.2020
I ordered the Jääkäripuukko 110 and got sent this by mistake, however i have decided to keep it, it is an excellent knife, well made and simple and fits my hand well.
3
1
I would recommend for a friend
Boris F.

25.03.2020
I own 4 puuokkos and love them all. I'm glad you do not accept toilet paper as payment yet. I'm very attached to mine. Because, as you know, the most important thing to do before you die from Coronavirus, is to wipe your ass...
3
2