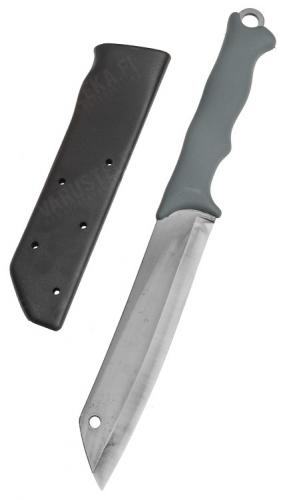 Terävä Skrama 240, stainless steel
Price 68.99 USD excluding VAT
Trouble with the metric system? Try our converter: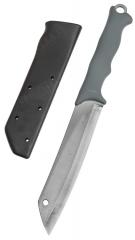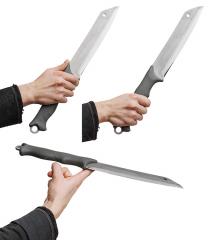 The stainless steel version of the Skrama, designed for those who work under constantly wet and humid conditions. The Skrama is a versatile heavy-duty bush knife - a tool that builds shelters, chops firewood and even carves feather sticks! If you're taking just one knife into the bush the Skrama is a viable option. This is naturally no axe, nor a precision tool for extremely meticulous work, but something in between and a solid and dependable companion above all.
Restock when? No idea. We are currently focusing on the carbon steel Skrama and trying to keep up with the demand. We will be making more stainless ones in the future, but exactly when this will happen is at the moment totally impossible to say.
Skrama - as in Scramasax or Seax, a short, single edged sword popular in the Middle Ages. Much like the Scandinavian Leuku it doubles up as a tool and weapon. A fine name is always nice and the best ones are those with some history behind them - our 21st century Skrama would surely meet the demands of any Saxon man from "ye good olde days".
Total length: 430 mm
Total length: 16.9"
Weight: 490 g (knife only).
Weight: 17.30 oz (knife only).
Blade: length 240 mm, width 46 mm, thickness 4 mm.
Blade: length 9.4", width 1.8", thickness 0.16".
Edge: 34° for chopping, 25° at the base for finer work.
Steel: 4110 (X55CrMo14), 57 HRC. Equivalent to Sandviks 12C27.
Grip: Moulded rubber, rough texture for a good grip.
Blade
The blade is slightly curved, with a hole in the tip for hanging. The back of the blade is flat, no saw teeth or whatnot, perfect to beat a piece of wood against when cleaving another. Full tang construction, ends with the bare head of the tang sticking out, with a hole for a wrist strap. The blade may have some small rust stains on the base of the handle due to the manufacturing process. These are harmless, and easy to remove.
The blade is sharpened to two different angles. Near the grip a 5 cm portion has an angle of 25° for whittling and fine work. The rest of the blade has an edge of 34°, which has proven to be excellent for this type of chopping blade.
The blade is sharpened to two different angles. Near the grip a 2" portion has an angle of 25° for whittling and fine work. The rest of the blade has an edge of 34°, which has proven to be excellent for this type of chopping blade.
Since people keep asking: the hole in the blade is there for practical production purposes only - it is used to straighten the blades after tempering and during the grinding and sharpening process. Of course you can come up with your own uses for it too, but most importantly it is there for a purpose, not for decoration!
Stainless steel
This version of the Skrama was made for all those who work on the water or in humid environments where you simply cannot keep your blade from getting wet.
Stainless is not "better" than carbon steel. Most people find stainless harder to sharpen and often a bit more prone to deformation in comparison to carbon steel. When you really, really need the added benefits of stainless steel this is the knife for you, otherwise we heartily recommend the standard carbon steel Skrama.
Rubber grip
The handle is designed for a "one-and-a-half" hand grip. The back end gives a good, solid grip for tough chopping action, giving the blows more power, as a bush knife this is what the Skrama is designed for. The upper third of the grip is shaped to give you a good feel for detailed work, such as making firestarters. This is however not a miniature model makers scalpel and not intended as one, but as any self respecting Finnish blade it can be used to carve a proper wooden cock, "Leirikyrpä" as it's known in Finnish military lingo. The knife is rather well balanced, so the heavy blade doesn't cause problems when whittling.
Plastic liner
This Skrama comes with a simple plastic sheath, which is just what you need if you intend to carry the Skrama in your rucksack or anywhere else other than on your belt, as it has no belt loop what so ever. The tip has a hole to let out water and the wide opening makes insertion easy. The knife locks gently inside the sheath, the fit is good and the blade doesn't rattle or bang about inside. A thumb-knob to press against with your thumb assists in controlled unsheathing, a very small detail but it really makes a difference!
Varusteleka Terävä
All Terävä knives are manufactured in Kauhava, Finland, by our partners at Laurin Metalli, Finlands leading knife blade manufacturer with roots going back to 1918. A Terävä blade is Finnish craftsmanship, pure and simple! And "Terävä", that's just Finnish for "sharp".
Reviews
You have already submitted a review. You can edit your text by clicking on it.
Log in and write a review.
Remove filter
Suomi
(3)
English
(5)
Sami K.

29.05.2016 (Edited 31.05.2016)
Varmaan paras teräase jonka olen koskaan omistanut. Käy kirveestä ja vesurista sekä hienovaraisempiinkin hommiin. Vuolemiseen ja leivän voiteluun löytyy ehkä parempiakin vaihtoehtoja, mutta jos eräillessä on mukana vain yksi veitsi, niin se on tämä. Rosteriterä on näin merellisessä ympäristössä liikkuvalle huoleton ratkaisu ja kirkkaan punaisella kahvalla varustetun mallin löytää helposti jos sen on sattunut paiskaamaan kaseikkoon tai jos se pyörii jossain veneen pohjalla.
4
0
I would not recommend to a friend
Michael D.

26.10.2016 (Edited 25.10.2018)
I have the carbon as well as the stainless steel versions of this knife. The carbon steel Skrama is fantastic and I have zero complaints. The stainless steel version however chipped and rolled on the first outing of moderate use. I am highly disappointed in this knife. I was planning for it to be a mainstay in my kit, but alas it was not meant to be. It has sense been relegated to the closet.
11
13
I would recommend for a friend
Jerome F.

23.02.2017
I first bought the carbon version, then this one, provided with the new dual angles sharpening and the leather sheath. Still have both after many times of use on batonning, or splitting. Sturdy and still sharp.
5
1
I would recommend for a friend
Janne M.

06.06.2017
Kovassa käytössä ollut ja toimii. Saaristossa liikun ja merivettä on saanut, ruoste ongelmaa ei ole tullut.
1
0
I would recommend for a friend
Erkki H.

27.10.2017
Tämmöinen punakahvaisena on mukana veneessä. Toimii mainiosti. Sen verran pystyy puuta pilkkomaan ettei kirvestä tarvita. Ja isommastakin kalasta saa hengen pois...
1
0
I would recommend for a friend
Raimund S.

25.04.2018
Cool and solid knives, made to work with them.
Special kind of heavy metal look;)
I will order more if the stainless one is in the shop.
4
1
I would recommend for a friend
Boris V.

27.05.2018 (Edited 27.05.2018)
Great tool
2
1
I would recommend for a friend
Roland R.

25.07.2018
very good knife. my new favorite toy.
2
1