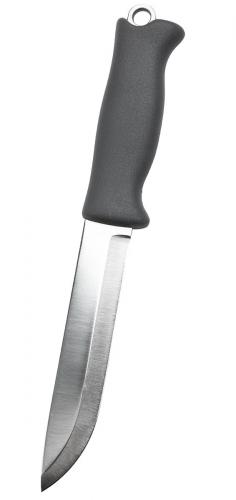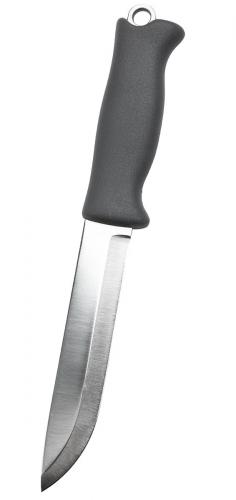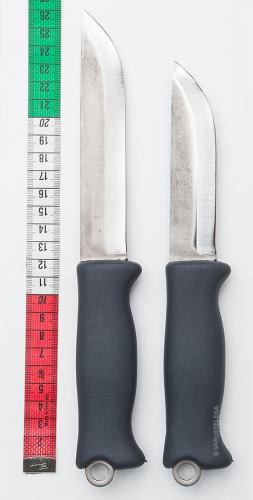 Terävä Jääkäripuukko 140, Stainless Steel
Price 52.99 - 86.99 USD
excluding sales tax
Jääkäripuukko 140 might be a bit "clumsier" than Jääkäripuukko 110. On the other hand, the long blade makes it a bit better at chopping through saplings and firewood.
Loading products...
Trouble with the metric system? Try our converter: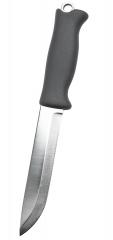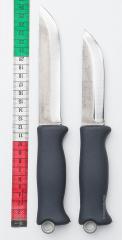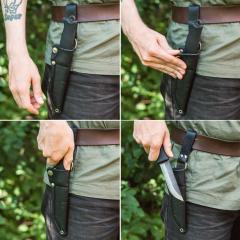 Jääkäripuukko 140 might be a bit "clumsier" than Jääkäripuukko 110. On the other hand, the long blade makes it a bit better at chopping through saplings and firewood.
Traditional Finnish puukko-shaped blade with a slight drop point. The Jääkäripuukko is not designed to sit on a shelf for decoration, this is an honest tool made for hard work. Stainless version. We found an older batch from a stash everyone had forgotten. Folks have been asking for these so here you go for a while. Once these are gone, it'll be some time before more are available.
General features
Medium size general-purpose utility knife, a solid choice for most situations.
Traditional puukko-shaped blade with a drop point.
High scandi-style grind with secondary microbevel.
Full/stick hybrid tang with textured overmolded rubber grip.
Protruding bare tang head with lanyard hole.
Technical specs
Specs
Metric
Imperial
Weight (knife only)
180 g
6.4 oz
Total length
270 mm
10.6"
Blade length
140 mm
5.5"
Blade thickness
4 mm
0.16"
Edge angle
23°
Steel
4110 (X55CrMo14), 57 HRC
Blade
Traditional and proven functional Finnish puukko profile. The thickness of 4 mm / 0.16" makes this a bit more robust than most old-timey traditional Finnish puukkos. The profile is a Scandi grind with a tiny secondary bevel, currently the most commonly used style in Finnish puukkos.
The strong blade can take a beating, you can use the Jääkäri for batoning without a problem, just don´t hit your fingers, unless yours are strong like steel.
Stainless steel
The stainless version of the Jääkäripuukko was made to meet the needs of maritime users and others who work under such conditions that you simply cannot keep your blade from getting wet.
Stainless steel is not "better" than carbon steel, there's a trade-off to it. Most stainless steels don't have the edge retention and ease of sharpening of carbon steels. Carbon steel is pretty much the best choice for most users, but when you really need the benefits of stainless steel, this is the knife for you.
Contrary to what the name would have you think, it is entirely possible for stainless steel to rust. So do take care of this knife as well!
Grip
The over-molded rubber grip is modestly shaped, you won't find those crazy finger groove things on Terävä knives. There's a small finger guard on the front, a little belly in the middle, and a knob at the back to keep your hand from slipping and also facilitate a Leuku-style chopping grip.
The tang runs all the way through the grip and comes out the back, forming a ring for lanyards and such. It's strong enough for hitting as well.
Leather sheath
The sturdy dangler leather sheath is built with a roomy plastic liner, traditional Finnish sheath construction style. The liner is roomy enough for water and crud to run through it and out the hole at the end. Around the mouth of the sheath, the leather is folded double forming a strong and stiff wide band, this band is closed tightly around the grip using a press stud. When you pull out the knife the edge runs nicely between the two leather sides, not cutting it up as is a common downside of the traditional "sock" style puukko sheaths. Even without closing the press stud, the sheath retains enough tension to keep the puukko in place, so around camp, you don´t need to be opening and closing the sheath all the time, just remember to snap it shut when you're on the move!
Do not force the knife out of the sheath without opening the press stud! Although this can be done it is not good for the press stud in the long run and may damage it. Just open the snap before pulling out the knife.
It's best to oil the snap fastener once in a while to prevent it from becoming stiff and nasty.
Sustainable leather
The leather of Terävä sheaths comes from Pelo Leather, a family-owned Central Ostrobothnian tannery founded in 1897. In addition to producing top-quality sheath and Nappa leathers with a minimized waste of materials and emissions, they are respectful towards the source of the raw materials: the animals as well as the nature in which they live.
Pelo Leather uses elk and yak hides provided by hunters and nomads, and only cowhides that are a side-product of the milk and meat industries. The cowhides come from local abattoirs that have standards for ensuring the wellbeing of the animals. No animals are reared for the purpose of producing these leathers.
Their business quarter is 25 years and a lot of effort is put into the processes and logistics of the business, to provide a cleaner environment for future generations. We tip our hats at them and are proud to have their leather in our sheaths!
Varusteleka Terävä
All Terävä knives are manufactured in Kauhava, Finland, by our partners at Laurin Metalli, Finlands leading knife blade manufacturer with roots going back to 1918. A Terävä blade is Finnish craftsmanship, pure and simple! And "Terävä", that's just Finnish for "sharp".
Recommendations
Loading products...
Reviews
You have already submitted a review. You can edit your text by clicking on it.
Log in and write a review.
Remove filter
Suomi
(1)
English
(16)
I would recommend for a friend
Cristian L.

20.09.2016 (Edited 18.11.2016)
A piece of art. A tough knife for hard work. Highly recommended.

P.S. Per acquirenti italiani : Fatevi spedire il pachetto in forma anonima. Fa gola alla SDA Italiana ....
17
0
I would recommend for a friend
SERAFIM S.

27.01.2017 (Edited 31.05.2021)
I would recommend for a friend
David J.

16.02.2017 (Edited 31.05.2021)
One of the best if not the best knife i have ever owned, this includes Mora, Gerber, Cold Steel, Benchmade, SOG, But this really is a knife that can hold it's own agains any knife I have ever used.

This is what I have been missing in my belt for all these years.

thank's Varusteleka
38
0
I would recommend for a friend
Garry D.

01.05.2017 (Edited 31.05.2021)
Very impressed with the rugged quality and design of this knife. Came sharp and after a few moments stropping it was shaving sharp. Great to see a quality knife at such a reasonable price. Great people to deal with, rapid delivery to Scotland.
15
0
I would recommend for a friend
Peter S.

19.07.2017 (Edited 31.05.2021)
I would recommend for a friend
Dan T.

09.08.2017 (Edited 31.05.2021)
It does the job. What more could you want?
23
0
I would recommend for a friend
Ralph F.

17.10.2017 (Edited 31.05.2021)
Awesome Knife! Solid and heavy, Razor sharp. Superfast Delivery to the U.S. Bullet proof Bushcraft knife!! You Can't find a knife like this anywhere else.
10
1
I would recommend for a friend
Walter M.

24.10.2017 (Edited 31.05.2021)
simply put it's the BEST bar none!!!!!!!
5
0
I would recommend for a friend
David W.

25.10.2017 (Edited 31.05.2021)
Jolly fine knife. Back is good for use with a firesteel and for making 'firefluff' (you know those tiny fluffy scrapings from the corner of the tinder stick) when you need to get a fire going and you have no other fire starter. This has the utility of the best bushcraft knives, with the added abilities of a military knife. Soldierproof construction means it can take all the punishment you can give it. Well done Stefan M.
8
0
Kierto Circular Economy
Return this product used but clean and unbroken, and you'll receive half of the product's original price as Varusteleka credits. Service is available only in Finland. Only Registered users can make Kierto returns. See more information about Kierto.