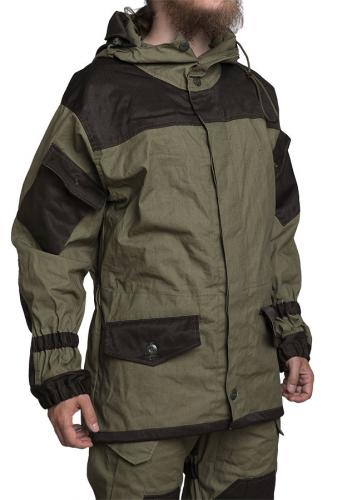 Tactic-9 Gorka mountain suit jacket, brown
Price 45.99 USD 64.99 USD excluding VAT
Flat Rate Shipping to USA $9.99
100 % recommends
Sold 1 pcs in the last two weeks
Loading products...
Trouble with the metric system? Try our converter: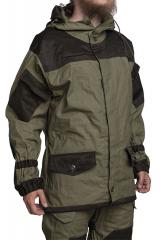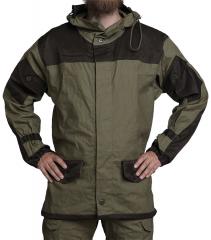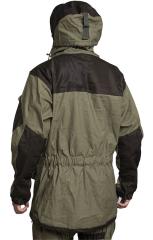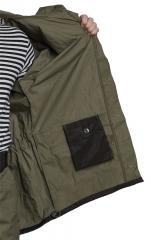 The loose fitting Gorkas are a commonly used by Russia's more elite fighting units. These are not made for the parade grounds, but developed to be purely practical. We sell the trousers and jackets separately. Here's the jacket. These Tactic-9 made brown Gorkas are made of a bit lighter fabric than most others, resulting in a very summery feel.
Hugely popular in Russia among all kinds of outdoor types, not just military, the Gorka should serve those well who are looking a simple, robust garment for field use.
Roomy cut for unrestrained movement & extra clothing.
Materials used are cotton, nylon and a mix of both.
Buttons up at the front, a storm flap on the inside offers extra protection when needed.
Pockets, wrists and elbows are reinforced with an extra layer of a hard wearing nylon blend.
Elastics on the sides and wrists.
Five pockets, two on the hem, two on the sleeves and one inside pocket.
Roomy hood with well adjustable tightening cords.
All in all there isn't a thing you couldn't repair if you own buttons, a needle and thread!
Materials
The Gorka is made from a base layer of cotton, in the style of the old Plash Palatka rain capes. The Gorka is water repellent to some extent when new, but not a straightforward rubbery rain suit, thus it breathes well. Still, do not treat this as a waterproof garment - it isn't one. The Tactic-9 Gorka is not as windproof as many others thanks to the slightly less densely woven fabric, but does breathe better, making it more appropriate for warm weather use.
All hard wearing areas are reinforced with a strong polycotton blend, either ripstop reinforced or not, this varies from one pair to the other.
Not lined in any way, which makes the suit wearable both in the summer and winter. It's recommended to wear appropriate layered clothing or a field uniform underneath.
Sizing
First the traditional Russian size, then the same converted to centimetres - recommended height and chest circumference. The cut is generous both length and widthwise, so don't sweat it when picking sizes. A size 50 (Medium) person should do well with anything from 48 to 52.
Our model is 175 cm tall with a chest circumference of 98 cm and wears size 48-4 (176 / 96) garment. There's plenty of room for warm stuff underneath.
All Russian made
These are made by the Russian company Tactic-9, the same manufacturer who does all the Jagel camo stuff we sold. These are made in Russia.
Availability
Availability is a bit unpredictable - we can't give any estimates of restock. Likewise, no idea about the sizes we get. What we do know is that the amounts are small.
Reviews
You have already submitted a review. You can edit your text by clicking on it.
Log in and write a review.
Remove filter
Suomi
(3)
English
(5)
I would recommend for a friend
Paul E.

17.08.2017
Nice lightweight Gorka jacket. Picked the 50-3 size - fits over a fleece and smock combo (UK 170-104 size) without binding, and not overly baggy when worn by itself.
It has good front pockets, but the sleeve pockets sit on the bicep more than the side of the arm and can interfere with simple arm motion when reasonably filled (wallet, cellphone).
4
0
I would recommend for a friend
Robert Z.

14.11.2017 (Edited 19.02.2018)
Looks good and is "old clothes" comfortable. But, buy this a bit bigger than you need because it is made of light canvas and will shrink when washed, even if you use cool water. Mine is now a little too tight when a fleece is worn under it.
Now that I have used this a short time I have had 4 out of the 8 front buttons come off or unravel. I will need to redo all of them or risk loosing them.
1
0
I would recommend for a friend
Petr (.

19.11.2017
Good. Tough material. Good looking.
3
0
I would recommend for a friend
Geoff P.

02.12.2017
I'm 6'2, 13 stone. Went for the 56/6 and it's a little bit large on me.
As a kid in Scotland I remember having something a bit like this, which I'd wear when out on the hills or in the woods. Simple and sturdy and surprisingly weatherproof, I reasoned that there must be a good reason for jackets like this to still exist.
I use this jacket for nature photography, and wanted one slightly large so I could tuck my camera inside. As an added advantage, the longer sleeves accommodate my hands meaning I use fingerless gloves so I'm always ready to take a pic (done at -2 Celsius).
In terms of performance: this is not sold as waterproof so I wanted to test its abilities in a range of weather. So, 5 degrees and 20mph wind, slight shower: no problem. It keeps everything off (worn with t-shirt and fleece hoody). At -2, fairly calm but with a sea-breeze, worn with t-shirt, fleece hoody and loft jacket, absolutely toasty. At +2, driving rain blown straight off the North Sea at 20+mph, worn with t-shirt, hoody and soft-shell jacket, the gorka did a great job. Having tucked my camera inside the jacket I hung around on the beach collecting fossils in some pretty foul weather. Even when wet the wind didn't impact me at all, and between the gorka and soft-shell my core layers were bone dry.
For my use this is a brilliant bit of kit. Crawling about, walking, using the longer back (because of the size I got) as a bum warmer to sit on cold rocks. I intend to add a bit of velcro between the buttons for quicker access, mainly for my camera. I'd never consider doing that with a £200 jacket, and that's another beauty of the gorka.
7
0
I would recommend for a friend
Juha L.

05.01.2018
Oikein näppärä takki joka suojaa ohuudestaan huolimatta viileältä tuulelta ja sateelta, kunhan alla on sopiva kerrasto. Sopii niin kylmille kuin lämpimillekkin keleille. Ainoa haittapuoli on heikosti ommellut napit, joten kannattaa varautua ostamaan varanapit sekä lankaa; itseltä kaksi irronnut normaalikäytössä.
6
0
I would recommend for a friend
Mikko R.

07.06.2018
Oikein mukava nuttu, vaikka ei mikään supervaate olekaan. Taskuja saisi toki olla enemmän nykyaikana. Kokotaulukko pitää kutinsa.
5
0
I would recommend for a friend
Pekka K.

10.10.2018 (Edited 08.02.2019)
Valmistajan mukaan kangas on sekoitekangasta ja tyypiltään Rip-stopia joten siitä kankaan ilmavuus johtuu.


" Rip-Stop weighing 240/260 grams / meter square. 57% hb 43% p / e .; Mixed weighing 210/220 grams / meter square. 35% hb 65% polyethylene"


Käyttöön se ei juuri vaikuta , mutta on harhaanjohtavaa antaa ymmärtää tuotekuvauksessa tämän olevan puuvilla-telttakangasta kun se ei ole.


Itse takki on muuten varsin mukava kuoritakki. Napit on syytä kiinnittää tukevammin kuin tehtaan jäljiltä ovat.



edit: nyt napit on kiinnitetty kunnolla paikalleen ja käyttö voi alkaa kuten housujenkin. Bongasin takin helmasta mainion kirsityssäädön jolla helman lerpatusta on helppo minimoida . Kaiki napit olivat siis koneommeltuja ja irtoavat varmasti tehtaan jäljiltä.
11
0
I would recommend for a friend
Aaron F.

17.04.2019
Just received mine yesterday. It's not heavy, and you can layer underneath! Just wish you had the pants for this!
0
0