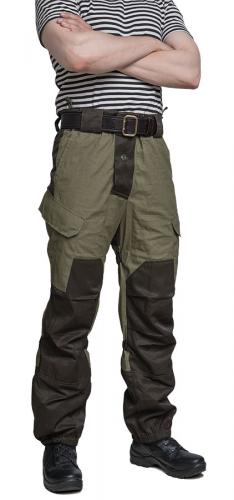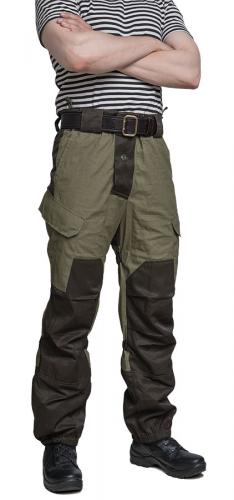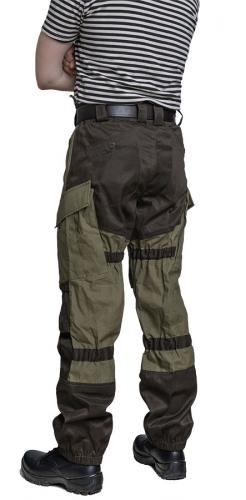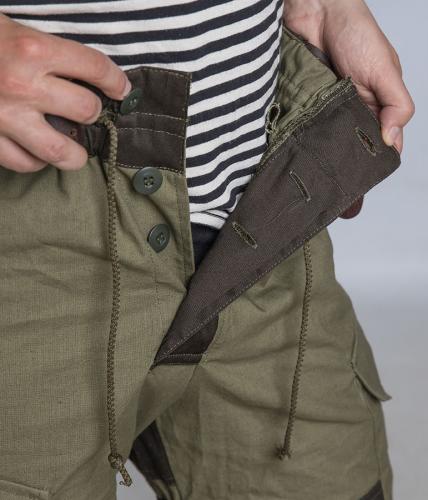 Just cords and buttons on the fly.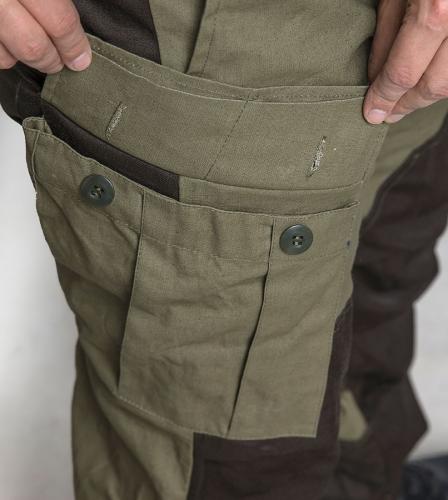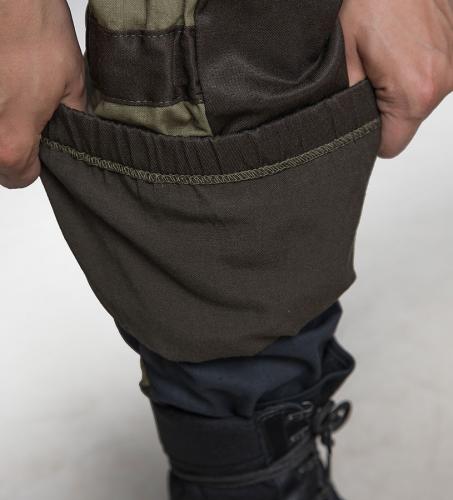 Snow lock feature on the leg.
Tactic-9
Tactic-9 Gorka field trousers, brown
Price 44.99 USD 59.99 USD
excluding sales tax
The loose-fitting Gorkas are commonly used by Russia's more elite fighting units. These are not made for the parade grounds but developed to be purely practical. We sell jackets and trousers separately, here are the trousers. These Tactic-9 made brown Gorkas are made of a bit lighter fabric than most others, resulting in a very summery feel.
Loading products...
Trouble with the metric system? Try our converter: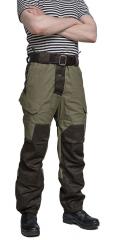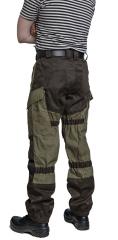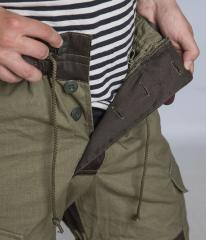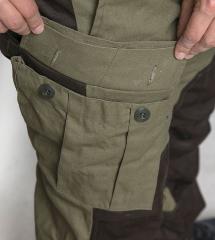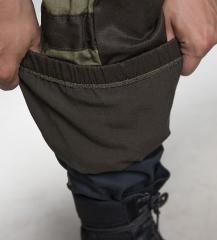 The loose-fitting Gorkas are commonly used by Russia's more elite fighting units. These are not made for the parade grounds but developed to be purely practical. We sell jackets and trousers separately, here are the trousers. These Tactic-9 made brown Gorkas are made of a bit lighter fabric than most others, resulting in a very summery feel.
Gorka trousers are probably among the best field trousers we've seen, and especially fit for people who like simple, durable stuff. These are very popular in Russia among all kinds of outdoor-types besides the military, and for a reason!
Features
Roomy cut for unrestrained movement.
Button fly, large belt loops, and suspender loops for M-1950 style suspenders (suspenders not included).
Reinforced knees, seat and shins.
Elastics on the waist and around the calves.
Two large cargo pockets, two back pockets, and a normal slash pocket on the sides. A notable feature is the loss-proof cargo pocket closure system where the pockets fold in a way that closes the mouth completely.
All in all there isn't a thing you couldn't repair if you own buttons, a needle, and thread!
Materials
The Gorka is made from a base layer of cotton, in the style of the old Plash Palatka rain capes. The Gorka is water repellent to some extent when new, but not a straightforward rubbery rain suit, thus it breathes well. Still, do not treat this as a waterproof garment - it isn't one. The Tactic-9 Gorka is not as windproof as many others thanks to the slightly less densely woven fabric, but does breathe better, making it more appropriate for warm weather use.
All hard-wearing areas are reinforced with a strong polycotton blend, either ripstop reinforced or not, this varies from one pair to the other. Machine washing at 40 degrees is fine, please note that the base color fades a bit over time, just like memories of better times.
Not lined in any way, which makes the suit wearable both in the summer and winter. It's recommended to wear appropriate layered clothing or a field uniform underneath.
Sizing
First the traditional Russian size, then the same converted to centimeters - first height, then waist circumference. It's not the end of the world if you pick a size larger than you'd normally wear. Likewise, if you're a few cm off from the recommended height to any direction, don't worry, it'll fit.
Our model is 175 cm tall with a waist circumference of 84 cm and wears a size 48-4 (176 / 84) garment. There's enough room for a nice thick pair of long johns underneath.
All Russian made
These are made by the Russian company Tactic-9, the same manufacturer who does all the Jagel camo stuff we sold. These are made in Russia.
Availability
Availability is a bit unpredictable - we can't give any estimates of a restock. Likewise, no idea about the sizes we get. What we do know is that the amounts are small.
All products: Tactic-9
Recommendations
Loading products...
Reviews
You have already submitted a review. You can edit your text by clicking on it.
Log in and write a review.
Remove filter
Suomi
(3)
English
(2)
I would recommend for a friend
Paul E.

01.09.2017 (Edited 31.05.2021)
Picked up a pair of these trousers, along with the matching jacket. These would make excellent hiking or outdoor activity trousers when more than just a pair of jeans is needed. The pockets are all good sized, the double layers are great, and the elastic/tie waist reduces the need for a belt. I expect these would work well enough in winter, even without layering underneath.
2
0
I would recommend for a friend
Mikko R.

07.06.2018 (Edited 01.06.2021)
Todella mukavat housut. Vyötärö ei ole ylettömän korkea, mikä on vain bonusta. Leikkaus on sen verran hyvä, että vaikka vähän alempana pitäisi vyötä, ei nivuset tipahda reisien puoleen väliin, ja siten rajoita liikkuvuutta.
3
0
I would recommend for a friend
Anon

03.10.2018 (Edited 01.06.2021)
Tänään saapuivat housut jotka ensin seikkailivat viikon Varustelekan hyllyjen välissä , sen jälkeen tuli kantasian lasku ja tämän jälkeen lähtivät Matkahuollon kyydissä matkaan, hurahtivat ohitse ja kävivät Rovaniemellä kääntymässä ennen Etelä-Suomen lääniin toimitustaan. Reisitaskut ovat tilavat. Paracord-vyö sopii hyvin koska on puolet kapoisempi kuin vyölenkkeihin tarkoitettu vyö. Kiristysnaru vyötäröllä on kätevä kun käyttää Gorka-henkseleitä.
Sisälahje auttaa pitämään punkit pois kesäaikana.Materiaali on ilmavaa sekoitekangasta.
Tilasin kuitenkin lisäksi takin napeilla , niin vakuuttavalle tuntuu housujenkin toiminta. Eipä tuule läpi näillä lämpötiloilla , itse asiassa , housuja ei oikeastaan noteeraa mitenkään kun ne jalassaan liikkuu.

Ulkolämpötila + 6 astetta , pohjoistuuli ja alla bokserit - ei tullut kylmä eikä kuuma . Oma kokovalintani oli 52-03 ja tosiaan parhaimmin sopivat housut mitä jalkaani olen tähän mennessä kiskonut : 173 cm , 68 kg.

Reisitaskuista voi ottaa tavaraa ulos vaikka napit olisivat kiinni - tämä on joko hyvä tahi huono asia.
Housujenkin napit on nyt uudelleenkiinnitetty käyttöä varten . Samalla saapuivat Venäjältä SPOSN - Gorkahenkselit ( 15 € kuluineen) ja kohtuullisen hyvin asettuvat näihinkin housuihin: henkselien alalenkki housun lenkin läpi ja kiinnitys henkselien nappiin ja tämän jälkeen henkselien ylälenkin kiinnitys samaan nappiin . Varma kiinnitys.
Odottelen Venäjältä saapuvaksi nyt BARS Gorka-4 asua ( 83 € kuluineen) , niin on hyvä vertailla näitä asuja keskenään. Edit: saapui ja tullimaksuineen hinnaksi muodostui 101 €.
20
0
I would recommend for a friend
Clement C.

19.11.2018 (Edited 02.06.2021)
Got myself this Gorka trousers, and man it rocks! It's been more than 6 month from my purchase, and I used it quite a lot for both mountain hiking and running. It's a simple looking pant. One might say it's too plain especially compared to modern tacticool stuff, but don't be fooled.
The cotton breaths well and it is windproof as well, I've never felt too hot during summer. The darker parts are reinforced with some kind of "velvety" textured polycontton, thus it adds a second layer making it more resistant and prevents dew and plants from sticking to the fabric. The rubber strings are doing a good job at keeping the pant fit to the leg but aren't too tight either. In term of comfort its arguably the best pant I've ever had.
Just keep in mind these are not suited for harsh conditions (heavy rain or below -5°C temperatures).

EDIT: After one year of good use, I'm still satisfied with it. Just one IMPORTANT thing though, as descriptions says, the color tends to fade quite easily, thus I would recommand 30°c washing rather than 40°c.
2
0
I would recommend for a friend
Janne M.

21.11.2018 (Edited 02.06.2021)
Oikein kelpo pöksyt ovat toistaiseksi olleet. Kangas on kestävää ja reisitaskut sopivat. Plussaa myös siitä, ettei tässä ole vetskareita tai muita vaikeasti maastossa korjattavia osia ja siitä etteivät pöksyt suuremmin kahise

Vaikka kyseessä ovatkin taktiset kevytgorkat, ovat housut toimineet myös -2 asteessa kun vain alle on laittanut merinokalsarit ja collegepöksyt. Kylmemmillä ilmoilla pistäisin alle hieman lämpimämpää tai vaihtaisin kevytgorkat paksumpiin housuihin.

Sateen pitävyyttä kuvailisin puolestaan seuraavasti: Tein päivän metsäkanalinnunpyyntireissun marraskuisessa Lapissa näillä pöksyillä. Aluskasvillisuus oli märkää. Muutaman tunnin päästä alkoi kosteus tuntua kevytgorkien lahkeiden läpi. Pöksyt kuitenkin kuivuivat näppärästi nuotiolla lyhyen taukoilun aikana. Eli toimivat siis märemmissäkin oloissa, kunhan muistat taukoilla notskin lämmössä muutaman tunnin välein. Toinen vaihtoehto onkin sitten kyllästää pöksyt tai vaihtaa ne enemmän vettähylkivämpiin. Tällöin tosin hengittävyyskin kärsii. Sama pätee myös tuulenpitävyyteen: Pikkupakkasilla pyöräillessä on tuhdimmat tai kyllästetymmät housut tarpeen. Kesällä nämä kevytgorkat ovat varmasti elementissään, mutta toimivat pienellä varauksella myös muissa olosuhteissa.
4
0