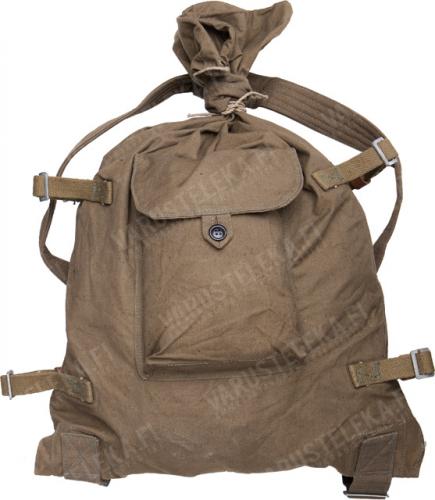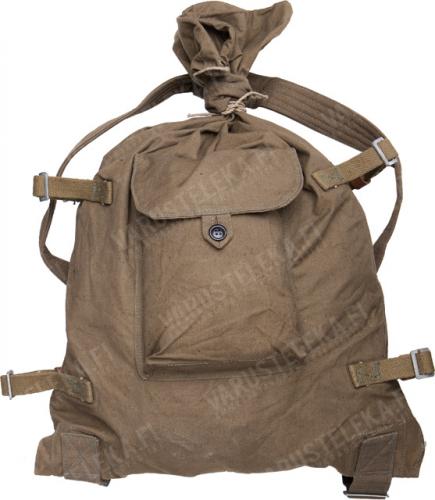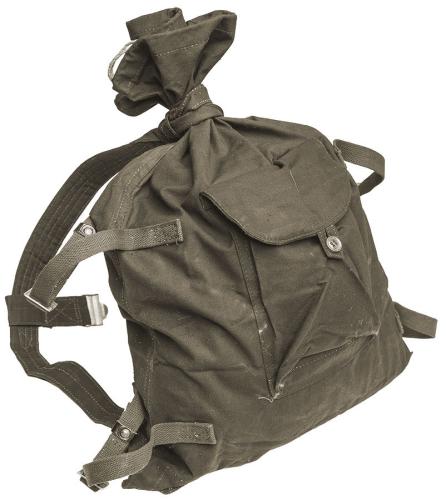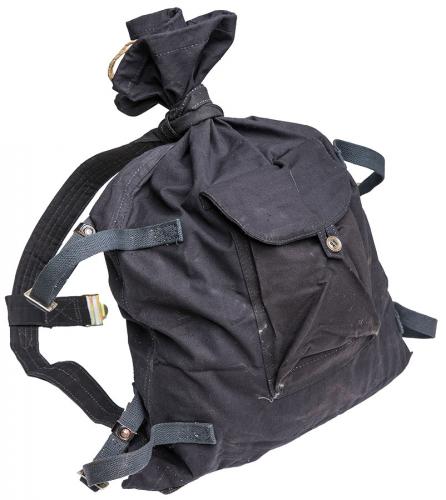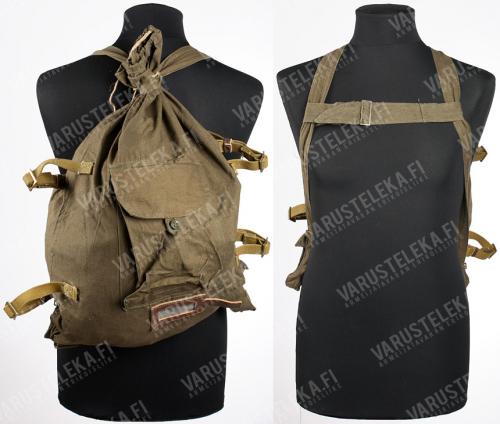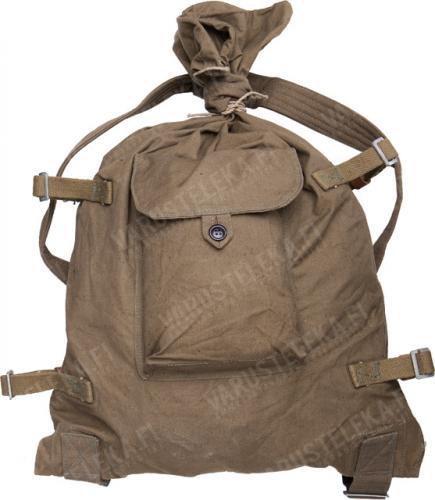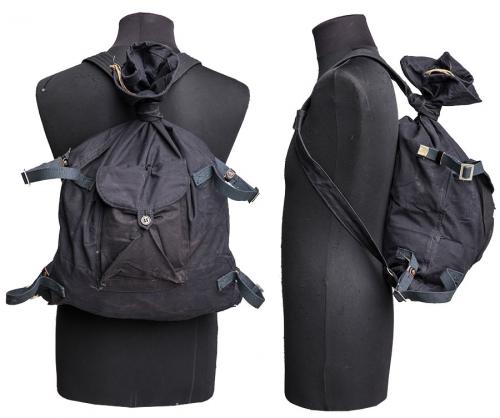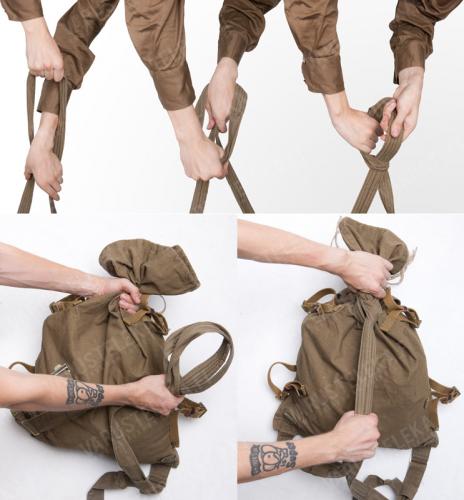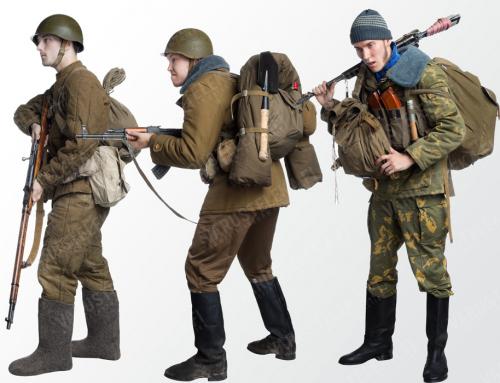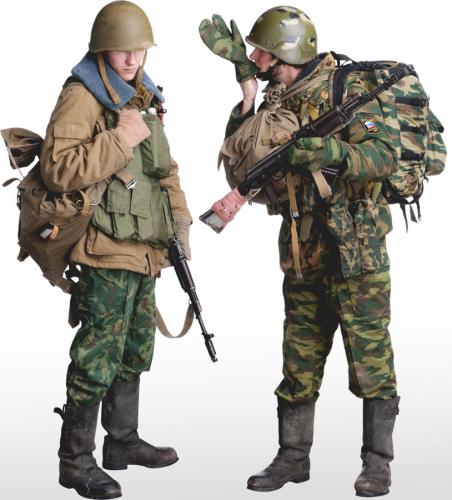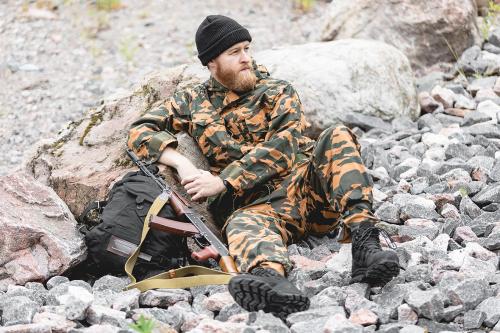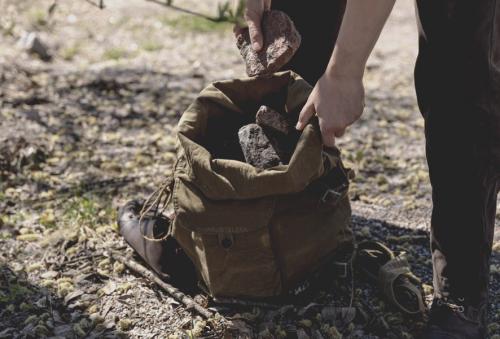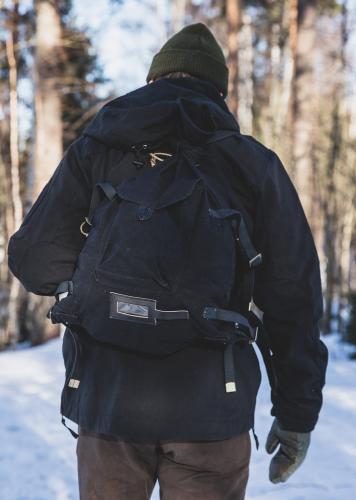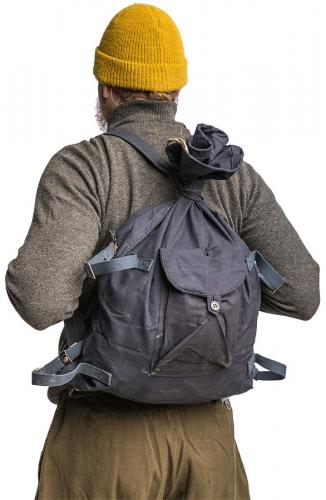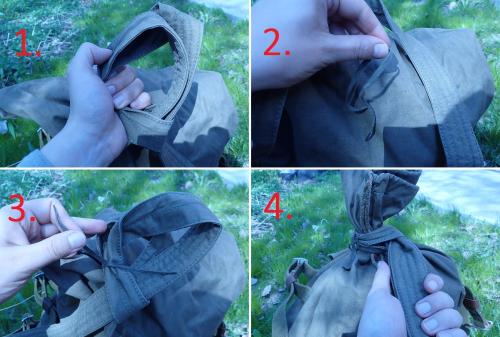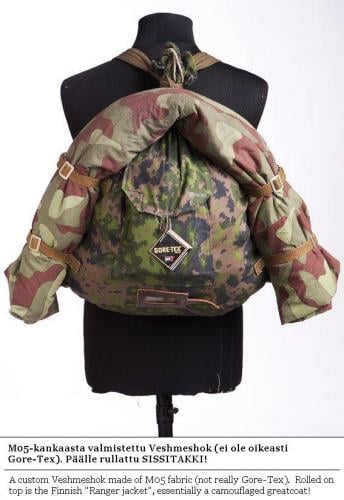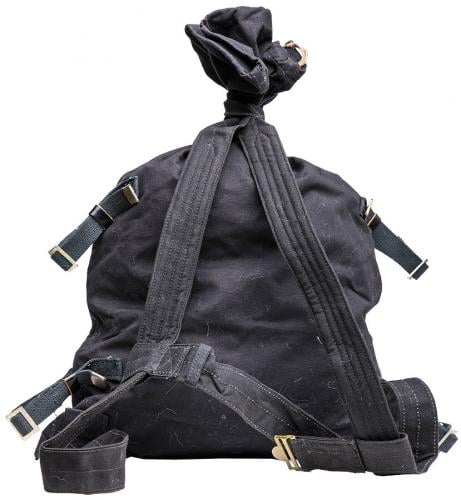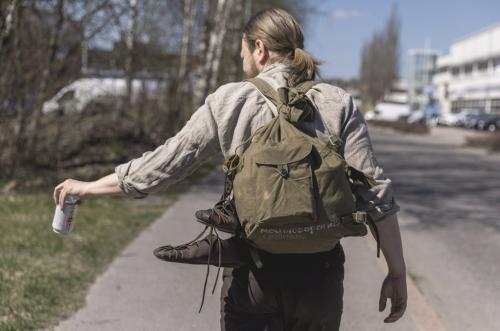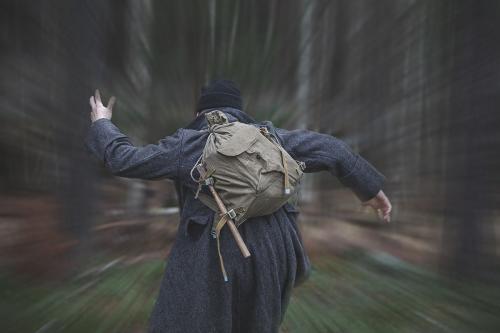 Soviet Union and Russia
Soviet Veshmeshok rucksack, surplus
Price 29.99 USD
excluding sales tax
Pretty as a hatful of kittens, the Soviet "Veshmeshok" rucksack is quite likely the best carrying sack in recent history. The black version is the hallowed and feared navy model!
Loading products...
Trouble with the metric system? Try our converter: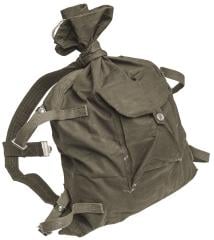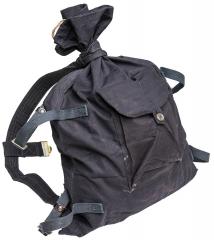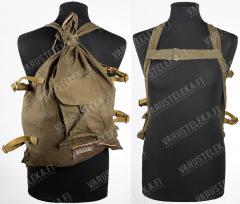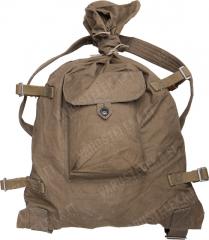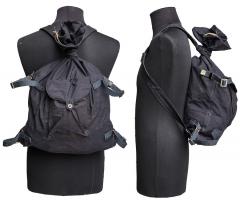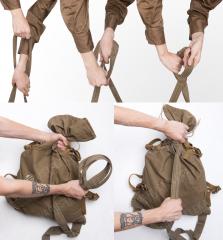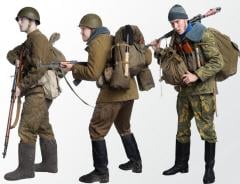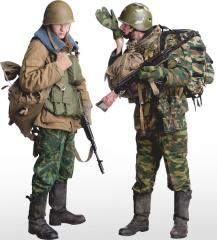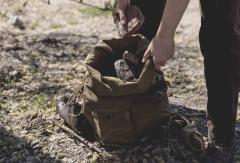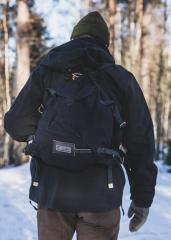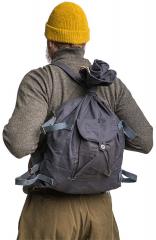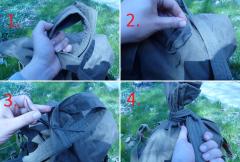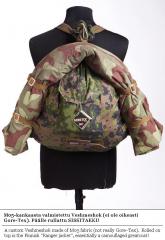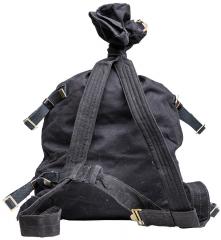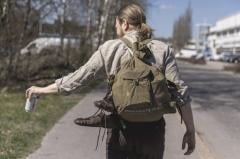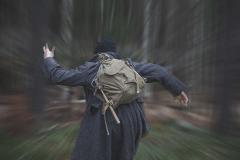 Pretty as a hatful of kittens, the Soviet "Veshmeshok" rucksack is quite likely the best carrying sack in recent history. The black version is the hallowed and feared navy model!
The same kind of sacks were probably used during the Napoleonic wars. However, at some point during or after WW2, these were modernized with four side straps for blankets/shelter halves/greatcoats. Even today it sees action in the modern Russian army. These were still made in the 90s, and if you're lucky, you'll get one of these recently manufactured pieces of ancient history. The dates on the sacks we get range mostly from the 50s to the 80s. No, we will not rummage through the wares for the date of your choice.
The Veshmeshok is a very simple, very rough, and very durable potato-sack type carrying solution. The material is treated to resist water and quite often actually does. The sack is closed with a tie-string and its own shoulder straps. This system prevents pick-pockets from going through the contents when you're wearing it. Amazing!
These rucksacks have one external pouch, straps for attaching a greatcoat or blanket roll, and a name tag holder. Most WWII models were made without these, so remove all excess stuff for that extra special "fighting the fascists"-feeling. Do note that you'll leave holes where the stitching was any stronger.
Old military surplus
These are mostly in used condition, but nevertheless fit for purpose for a long time to come.
Kierto Circular Economy
Return this product used but clean and unbroken, and you'll receive half of the product's original price as Varusteleka credits. Service is available only in Finland. Only Registered users can make Kierto returns. See more information about Kierto.
Remove Russia
Our old product descriptions include ironic praise of our eastern neighbor and it used to be good fun. Does it piss you off? We understand and agree. However, we won't whitewash the old product descriptions. Instead, we have decided to stop buying Russian products. We sell what we have in stock and that's it.
All products: Soviet Union and Russia
Recommendations
Loading products...
Reviews
You have already submitted a review. You can edit your text by clicking on it.
Log in and write a review.
Remove filter
Suomi
(12)
English
(36)
I would recommend for a friend
Erik A.

09.04.2020 (Edited 06.06.2021)
Got mine today. Its simplicity and no bullshit functions makes this a great Rucksack/bag. The tying tecnique is easy to learn and a really nice feature. I would definitely recommend it.
Erik
0
0
I would recommend for a friend
Stevan Z.

13.04.2020 (Edited 06.06.2021)
The stitching is poorly done, the seams are not aligned, the metal has partially rusted and the whole thing stinks of old sweat, musky storage and general negligence. However this bag does the job and does it well. It's easily fixable as it is a very simple design and will take a beating before breaking apart. Spasiba tovarisch !
0
0
I would recommend for a friend
Henry W.

27.05.2020 (Edited 06.06.2021)
It's absolutely exactly what I wanted. It's in great condition, but it's not totally spotless, you can tell it's definitely aged. It's probably seen some shit. But, more importantly, it isn't actually damaged anywhere and is in perfect condition to use as a little backpack or travel bag, or a mini bugout bag. I'm very happy I bought it and I fully plan on putting it to good use!
0
0
I would recommend for a friend
Chris W.

05.11.2020 (Edited 26.01.2022)
I can carry a week's worth of shopping for me and my girlfriend in the main compartment, a tin of Schoka-Kola in the small compartment, and a Kalashnikov, a camping stove, a flask of black coffee and another Veshmeshok on the outer straps. It will last longer than me. A surprising amount of leather in the construction, too. Highly recommended.
Update: still kicking with no visible wear after more than a year of medium-hard use.
0
0
I would recommend for a friend
Jeroen V.

11.03.2021 (Edited 24.06.2021)
Great bag, looks indestructible! But then I washed it because of the smell.....now it's white and gray and moldy looking instead of the pitch black and new condition I got it in. So because of my own stupidity it now is a slightly less looking bag. Hopefully I can fix this. Rinsig the washer and trying again without any detergent (I used nikwax tech wash btw as suggested somewhere in the comments).
0
0
I would recommend for a friend
Vikke-Eemeli P.

11.05.2022
Kunto toisella pussilla hyvä ja toisella kohtalainen, pari reikää mitkä voi parsia kasaan. Haju vähän kuin ladan peräluukussa mutta lähtenee pesussa tai jollain muulla käsittelyllä.
1
1
I would recommend for a friend
Karri K.

06.06.2016 (Edited 07.06.2016)
Hinta/Laatusuhde 11/10. Ollut käytössä jo pitkän aikaa päivittäin, enkä vielläkään luopuisi. Kevyt, tilava ja kulutusta kestävä. Hyvä reppu !
15
4
I would recommend for a friend
Antti M.

31.10.2016 (Edited 29.11.2016)
Ei tämä varsinaisesti säteile semmoista mukavuuden vaikutelmaa ympärilleen, mutta tälle on ihan oikeasti paikka maailmassa. Puolikiloinen päiväreppu, jonka saa rullattua vaikka reisitaskuun sopivaksi jos tarvis vaatii. Ehanaa! Pakkaamisessa joutuu käyttämään järkeä enemmän kuin jonkun topatun ja luontaisesti ergonomistillisen mukavuuslaitoksen kanssa, mutta ei siihen kuole. Pikku harjoittelulla ja säätämisellä tästä saa naurettavan mukavan kantolaitteen. Siis oikeasti.

Omani sain vuosia sitten silloiselta anopiltani ilmaiseksi. Oli ilmeisesti ottanut tuotekuvauksen vähän liian tosissaan, eikä sitten enää tykännytkään. Hassuna ja ah, niin venäläisenä yksityiskohtana omassani on ommeltu ulkotasku väärälle puolelle reppua. Muuta tästä ei aiheudu kuin se, että rintaremmin solki on ja pysyy nurin päin niin kauan kun en jaksa ratkoa & ommella asiaan muutosta. En arvellut jaksaa jatkossakaan.

Jos tiedät mitä olet ostamassa, suosittelen. Omaani en anna pois ikinä enkä usko saavani sitä rikkikään niin että jään itse ehjäksi.
14
3
I would recommend for a friend
Joshua O.

06.11.2016 (Edited 29.11.2016)
Its amazing how much you can fit inside and outside of this rucksack and how comfortable it will remain, excellent kit considering the price and age, it should last another lifetime. That and it looks cool af
17
3