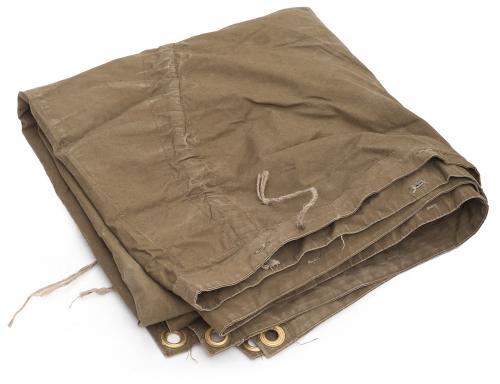 Soviet Plash-palatka, rain cape/shelter half, surplus
Price 27.99 USD excluding VAT
Flat Rate Shipping to USA $9.99
100 % recommends
Sold 15 pcs in the last two weeks
In stock 41 pcs. Also available in our walk-in store.
Choose accessories:
Trouble with the metric system? Try our converter: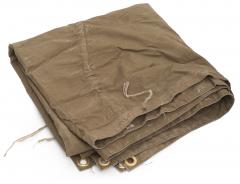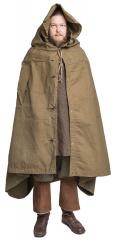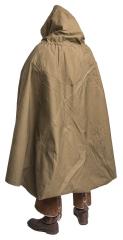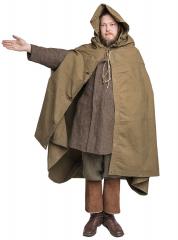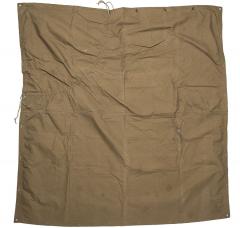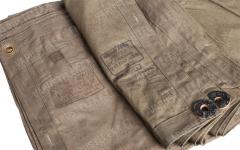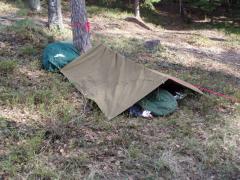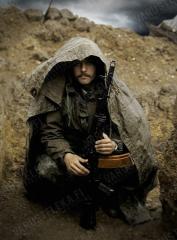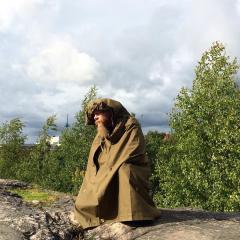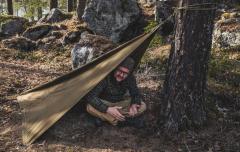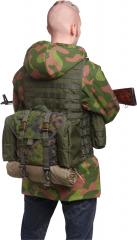 A truly versatile piece of kit. Like most shelter halves used by armies worldwide, the Soviet model bends to a multitude of uses. There are better alternatives on the market, but the Soviet Plash is still the best with its ancient magical aura.
Oh no! The Russian army will be destroying every Plash and Veshmeshok in inventory. We can only hope some enterprising individuals will smuggle these out in the market as much as possible. The prices have been on the rise for some time no, and we'll be hell bent on keeping these in stock as long as possible, no matter te cost. The time to get one for relatively low price is right about now.
This age old design can be used as a groundsheet, shelter half, rain/camouflage cape, stretchers, or a top layer for sleeping bag/blanket - you can even make a sort of a raft from these. In almost every use it's just a tad too small on its own, part of the rugged charm!
There are a few variations of these, one with leather reinforced corner holes, one with brass grommets. Both work just as well, we do not differentiate.
Material
Made from very tightly woven and impregnated cotton, measurements 180 x 180 cm, weight about 1,3 kg. If you wash it, the colour will fade and the water repellency (if present anymore) will suffer.
When you have wandered the realm long enough to wear the water repellent treatment down, you can use fabric wax to reproof it!
Russian army surplus
Most are in totally unissued condition, but since some are used we simply label these all as "used army surplus". Still, even the unissued ones might well be a bit dusty after decades of storage and some have other signs of storage, like slight fading here or there from the sun.
Some of these had a piece of hemp rope hidden inside. As Plashes arrive in our warehouse, we sort out the ropes and will sell them separately for those in need.
Recommendations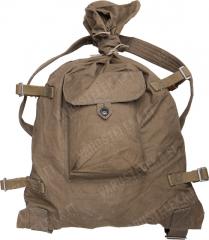 Soviet Veshmeshok rucksack, surplus
27.99 USD
Sometimes purchased with.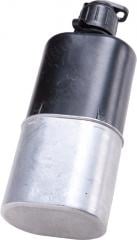 Swiss M84 canteen with metal cup, surplus
9.99 USD
Viewed together.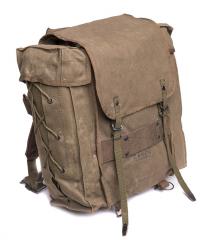 Italian daypack, surplus
32.99 USD
Viewed together.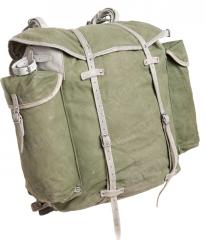 Norwegian rucksack, with steel frame, surplus
36.99 USD
Viewed together.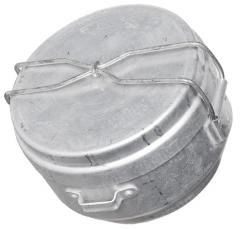 Czechoslovakian mess tin, aluminum, surplus
9.99 USD
Viewed together.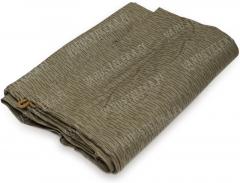 NVA shelter half, Strichtarn, surplus
27.99 USD
Sometimes purchased with.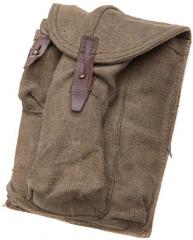 Soviet AK-47 magazine pouch, surplus
7.99 USD
Sometimes purchased with.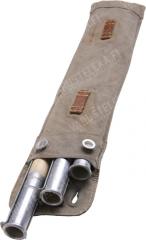 Swiss shelter half accessory set, old model, surplus
5.99 USD
Sometimes purchased with.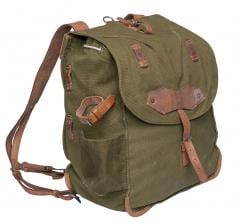 Romanian retro pack, surplus
45.99 USD
Sometimes purchased with.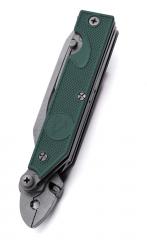 Russian Ratnik 6E6 multitool, Digiflora/green, surplus
110.99 USD
Might be of interest. Temporarily out of stock.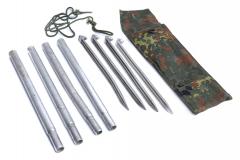 BW Tent Peg and Pole Set, Flecktarn, surplus
6.99 USD
Might be of interest.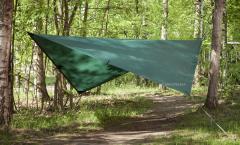 Särmä Erakko Tarp, 2.5 x 2.5 m
34.99 USD
Similar product.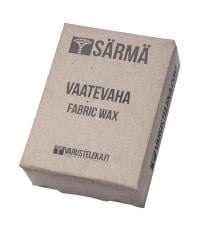 Särmä Fabric Wax
9.99 USD
Buy also.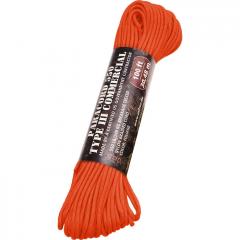 Paracord, 15 m
9.99 USD
Might be of interest.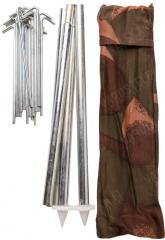 Hungarian tent accessory set, surplus
7.99 USD
Might be of interest. Temporarily out of stock.
Reviews
You have already submitted a review. You can edit your text by clicking on it.
Log in and write a review.
Remove filter
Suomi
(7)
English
(21)
I would recommend for a friend
Jari H.

29.08.2016 (Edited 11.12.2016)
Ostin enimmäkseen koristeeksi koska ajattelin et jos haluaa olla ruski niin se viedään sitten loppuun asti, yllätyin.

Tuli yöllä kuulasotiessa aika kylmät kelit yllättäen, ja tästä tulikin täydellinen mukana kulkeva peitto ja piti kaiken epämukavan irti muusta sotasetistä, ei päästä vettäkään läpi. Mokoman pakkaaminen ja mukana rahtaaminen on joskus hyvin ikävää Vesmeshok repun lenkeissä, mutta silloin kun silloin kun sitä tarvitsee niin korvaakin kaikki ikävät hetket, plussana tyylikäs. Toimivuuden näkee kopioiden määrästä.

"Kangas" on tuhoutumatonta, mutta napit ja narut ei, joten kannattaa solmia jokaisen narun päähän joku pallo hidastamaan purkaantumista, tai saatat joutua vetämään omat pieniin "kauluksen" koloihin.

Leka yllätti (kuten usein ennenkin) ja laatikkoon oli tungettu lytätty kasa kurjahkoa kommunistinarua joka oli ilmeisesti säilötty kuivissa oljissa (ja pienissä puulastuissa???), joten kokemuksesta suosittelen pysymään kaukana matoista ja vastaavista innostuksissa repiessäsi laatikkoa auki.
6
0
I would recommend for a friend
Riku K.

30.08.2016 (Edited 01.09.2016)
En voi sanoa kuin, että Saatana!

Välittömästi yksi siisteimmistä asioista minkä omistan.
En oikeastaan ymmärrä miksi en tätä aiemmin tajunnut ostaa. Hintakaan ei kelpaa selitykseksi...

Helposti rullaa vaikka repun ulkopuolelle hihnoilla kii. Ja jos nyt roudaaminen ahdistaa ihan hirveästi niin kannattaa varmaan ottaa lääke...
8
0
I would recommend for a friend
Nyt L.

29.09.2016 (Edited 29.11.2016)
Kaksi VSR-kuvioista omistan, toinen nyt väliverhona eteiseeni ettei myrskytuuli puhalla läpi kämppäni. Näitä on olemassa kolmea eri kokoa ja nämä täällä myytävät edustavat sitä pienintä mallia . Kulmareikien määrä sen paljastaa. Näihin saa napitettua kiini myös DDR- telttakankaan ja käyvät laajennusosiksi unkarilaiseen taisteluparintelttaan, ymmärtääkseni. Näiisä itsessään on aika kämäisesti kiinnitysnappeja/muovihärpäkkeitä .
22
0
I would recommend for a friend
Muri S.

21.10.2016 (Edited 29.11.2016)
Satelliittiyhteys toimii Plash-Palatkassa paljon paremmin kuin noissa saksan vastaavissa telttakankaissa ja uniriepunakin on Plash-Palatka voittamaton :-)
5
1
I would recommend for a friend
mobi

06.11.2016 (Edited 12.06.2017)
Excellent bit of kit, will last for a lifetime and is easily maintained, as its made of impregnated cotton its easily reproofed and/or waxed for weather resistance. It is also easily repaired with buttons or patches able to be sewn on. Excellent, very multifunctional and extremely tough bit of kit.
17
1
I would recommend for a friend
Andrea B.

19.02.2017
Even though I haven't used it in the field, I can see why it's so popular: good fabric, easy to store (folded/rolled), lots of different uses, all at a reasonable price. Mine came without two buttons (a common thing with surplus stuff and easy to fix) and a footprint on the back (removed with a wet sponge). Finding the owner's name tag still attached was priceless and its value increased massively for me. The pleasure of buying surplus equipment.
10
0
I would recommend for a friend
david g.

12.05.2017
I would recommend for a friend
Koen W.

22.06.2017
As if God intented it to be this way, a short but rather intense rain shower moved past my house just hours after my plash palatka arrived. So of course I immediately tested it out in my backyard.
It blocked the rain wonderfully, I could hear it hit the plash palatka like I was sitting in a very expensive tent. I even got visited by a bird who was looking for worms, he didn't even seem to notice I was there.

If I had to list a downside I would say it's a bit heavy. But only menly men who don't care about a little weight shop here right?
25
0
I would recommend for a friend
Matthew H.

01.07.2017
Spot on piece of kit, mine came and shows zero signs of use what so ever. I've done a bit of reading up and if the reenactor's information is correct the Plash Palatka I received dates from the Second World War! Apparently post war models have brass grommets and metal buttons (like the NVA equivalent) where as the one I have has the wooden toggles and sewn leather grommets. If it's truly that old there's no wonder it stank so bad of old warehouse. Thankfully that washed straight out and I've been left with a very cool piece of history.
9
1
I would recommend for a friend
Vesa S.

12.07.2017
Great piece of camping gear or just Soviet memorabilia, definitely won't break even if you use it for what it was supposed to be used for! Probably one of my favourite items to come out from the Soviet Union.
2
0
I would recommend for a friend
Ignacio N.

16.09.2017
Amazing piece of equipment. Quite waterproof, extremely tough and enough for a survival shelther. Damn, I spent so much in fancy tarps and fjellduk and this is the one I always carry with me when I have to care for the minimum. Even in pouring rain it will protect you as a poncho. It will become finally wet but, don´t ask me how, you will not. And come on, for this price you don´t have to worry about the fragile-super-cool-light-weak-material tarps around the market.
11
0
I would recommend for a friend
Richard G.

30.09.2017
An excellent piece of history, post WW2 manufacture, but identical to ones used in WW2.
That charming Soviet crude sturdiness.
3
0
I would recommend for a friend
Nelson S.

19.10.2017
Very good product! Mine was almost new!! It came with wooden toggles and sewn leather grommets, old school!
5
1
I would recommend for a friend
Hampus L.

26.03.2018
Just received mine as my first order from Varusteleka. Exactly as described and shown in the pictures. Gave off a helluva smell, like sticking your nose into an abandoned 100 years old root cellar, but that's to be expected. Sturdy Soviet quality, will probably last longer than I.

Only drawback is it's weight. Haven't tested it in the field yet, but it'll probably become quite heavy to carry with you after a while. But that could also be seen as a boon I suppose, as weight often magically translate to warmth somehow.
2
0
I would recommend for a friend
Michael N.

31.03.2018
The one I received is unissued,I can see why these are so popular.Get one while they have them in stock because they sell out quick.a great piece of military surplus.Excellent service as always when you buy from Varusteleka! 5 stars!
2
0
I would recommend for a friend
Christopher K.

18.04.2018
Leather grommet versions are circa 70s. V customer and YouTuber Lars @ Survival Russia has excellent vids showing proper lacing of two together and fitting out as a cape. I gave one with a wool blanket to a emotionally ill and homeless young woman in our recent rains and cold weather. She survived while another
died of exposure. She is now in a care facility and refuses to be parted from it. This is one of those humble items you throw in a vehicle or kit and find a thousand uses for.
34
0
I would recommend for a friend
Jean-François G.

09.03.2019
Vraiment bien, en très bon état vu l'âge. Une belle pièce de collection.
0
0
I would recommend for a friend
Ian N.

13.04.2019
Leave it to the Russians to design an item that is as useful as it is indestructible. I mainly use mine as a tarp for covering the ground or for shelter when hiking in crappy weather, but the poncho option makes this bit of kit exponentially useful. During a particularly nasty snowstorm I had to rescue a family member in an emergency with their car stuck in a ditch, and I wore this to protect myself from the wind and snow. It worked surprisingly well for that purpose. I probably looked like a crazy hermit wearing it out in town, but looks don't matter when it comes to functionality, and when it comes down to it, I would bet my life on this poncho, as I'm sure many Russian soldiers also did.
1
0
I would recommend for a friend
RAMOND T.

15.04.2019
Received a brand new one, never issued.
Leather grommets and wooden toggle buttons.
Russian stamp in a corner is perfectly readable.
Immediatly tested against cold wind : perfectly windproof.
Very nice piece of kit.
2
0
I would recommend for a friend
Henri L.

Varusteleka employee

26.04.2019
Plash Palatka ei virtuaalinäkymässä vaikuta kovin ihmeelliseltä, mutta kun sen saa kätösiinsä, avautuvat tämän ajattoman keksinnön nerokkuus ja salat.

Idän ihme on hallittavan painoinen, juuri sopivan niukan kokoinen, pitää tuulta, pitää vettä, ei välitä kipinöistä, kestää myös väärinkäyttöä ja on helppo korjata jos jotain menee vikaan. Toimii sade- ja lämpöviittana, istuinalustana, varusteiden suojana, laavuna, näkösuojana tai lisälämmikkeenä makuupussille tai huovalle. Herra yksin (ja internet) tietää mitä kaikkea muuta tällä voi tehdä. Jostain syystä Plash on myös helppo taitella nätiksi paketiksi - esimerkiksi niin, että sen sisälle rullataan tavaraa.
0
0
I would recommend for a friend
Andrew G.

26.04.2019
First impressions: I got one with leather grommets. I like this idea more than brass, though they likely work just as well. Solid OD green, just like the Veshmeshok I've got. Material feels the same. Tough. A little heavy by backpacker standards, but I'll take the extra weight for being bulletproof. Looking forward to putting this thing through it's paces. Easily worth the cost of entry.
1
0
I would recommend for a friend
Paul K.

24.06.2019
Finally! A tarp that can actually fold into a piece of rain gear! This is the original, often imitated, never quite duplicated Plash-palatka. It is ugly, sturdy, and it works! The only thing I would like is, (apparently) the part that was discarded the most. The pole. This actually came issued with a shelter half pole, a stake and a rope. The one thing I would like to complete my kit.
0
0
I would recommend for a friend
Bjørn-Eirik T.

02.07.2019
An absolute wonder item here, love it,i did was it to get the wearehose smell out,and then a coat of Fjallraven wax and it.
0
0
I would recommend for a friend
Mark W.

07.07.2019
The plash I received was in perfect, new, and never issued condition. It has very clear, stamped markings in Russian script. The grommets are black leather, and it has black wood toggles. I couldn't have asked for a better shelter tarp! Mine is for my collection, but I wouldn't hesitate to use this in the field. Love it!
0
0
I would recommend for a friend
Lila p.

28.09.2019
Good, durable. Mine has the leather grommets. Despite mine being pretty old, the previous owner has 'updated' it by re-sewing holes, fitting new, oversized toggles, and generally fucking it up a bit. It works, I went camping under it, but I wasn't happy about that. You win some, you lose some. Good when folden into thirds and rolled. If not for the shitty modifications, 5 stars.
0
0
I would recommend for a friend
Tomas B.

14.10.2019
In RF and Ukraine they sell them for 3-7€
0
0
I would recommend for a friend
John D.

29.11.2019
I have a number of different military surplus shelter halves and or quarters. I swich back and forth between my Polish lavvus and my Soviet plask palatkas. The French lizard stripe shelter quarters and my USGI pup tents stay in the bottom of the closet.
But this review is about the plash palatka.
Pros
It is very sturdy. Two put together will make a decent shelter. Ive seen a video of using 3, I only have 2 currently. It rolls up nice for storage on the top of my lk35 pack or on my veshmoshock. The natural fabric is campfire spark friendly compared to manmade tarps. As a poncho, it is great to keep out the wind. Makes a great impromptu hunting blind. Water resistant. Even my older used one is still resistant. No worries about snags or small tears cause a simple sewing kit will do for repairs. Its canvas, very light weight canvas! I have used one as a bivvy bag lined with my poncho liner and a wool blanket.
Cons.
Its small. Not really large enough using a single plash, 2 is better. Weight, needing 2 for a decent leanto makes it heavy. The warehouse smell- but a week in the sun and wind helps. All the cool pics of them being carried across ones torso in a long tube... not American friendly, too uh, tight. Wait, thats my con not the tarp's.
0
0
I would recommend for a friend
Johannes L.

26.01.2020
Monikäyttöinen esine tässä hieman käyttötarkoituksia: voit käyttää tätä bw flecktarn teltan lattiana, tosi huonona bivipussina, makuupussina ja makuualustana (ei oo hirveen mukava)
0
0