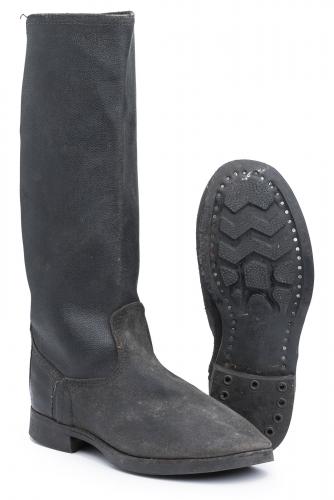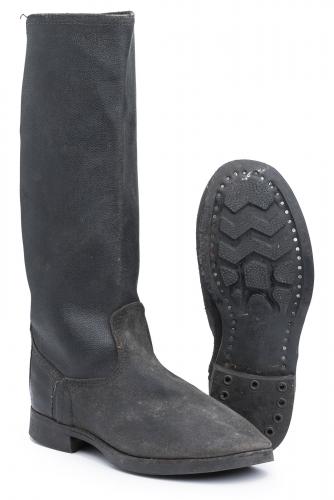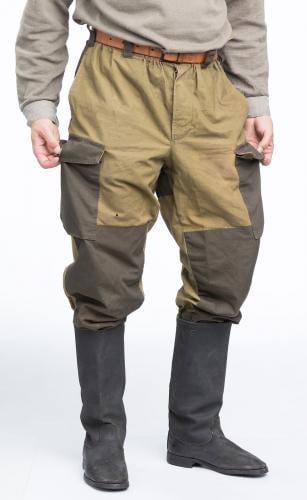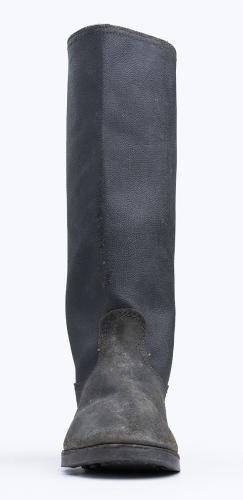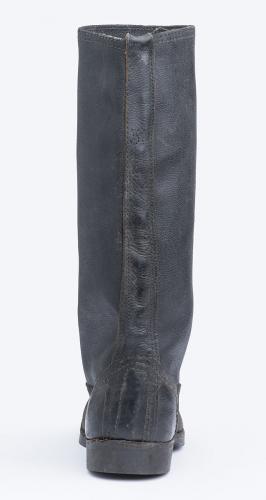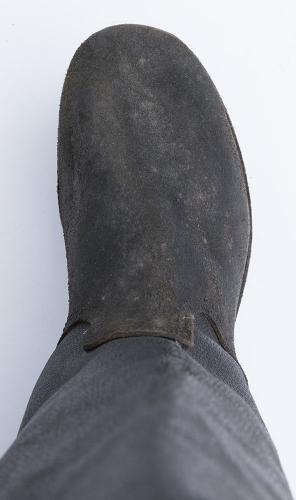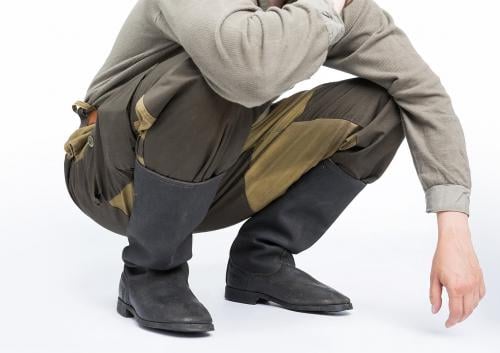 The boots are well fit for squatting.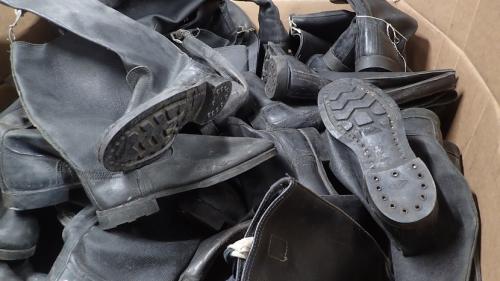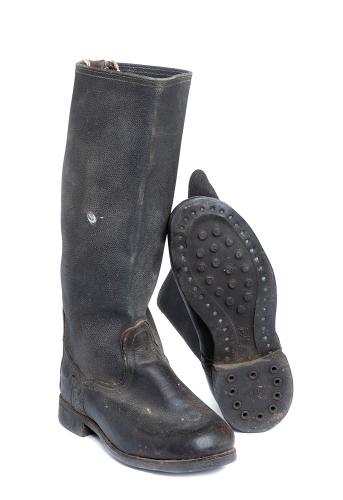 We got a couple of WW2 style dimple soled boots too.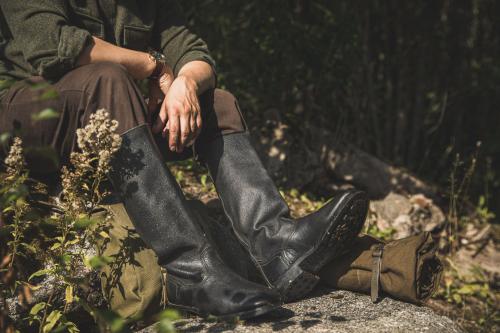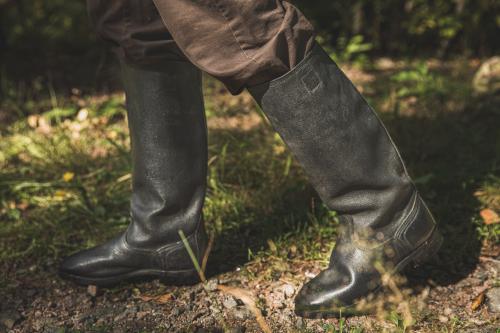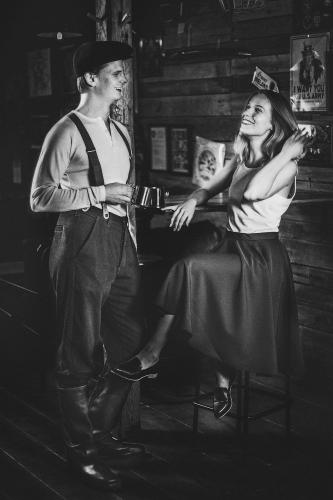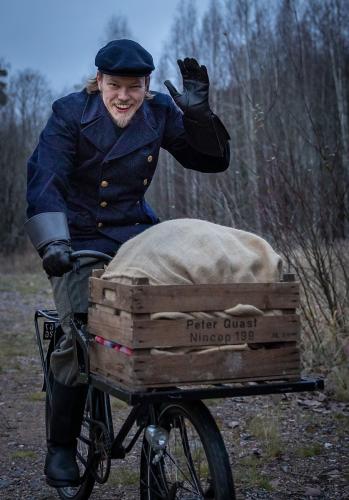 Soviet Union and Russia
Soviet Kirza boots, surplus
Price 49.99 USD
excluding sales tax
A one-off lot of Soviet enlisted men's Kirza boots called Sapogi! The crudeness makes these rather charming, but the boots are no joke.
Loading products...
Trouble with the metric system? Try our converter: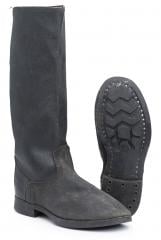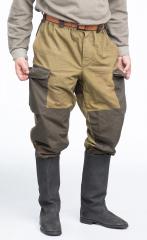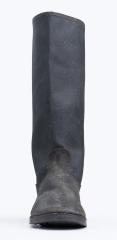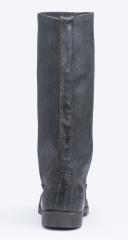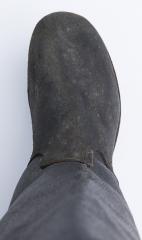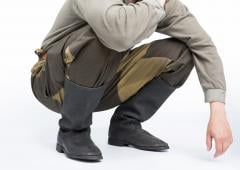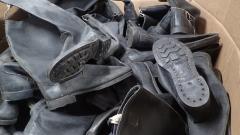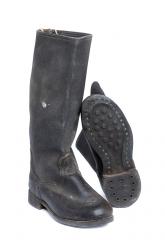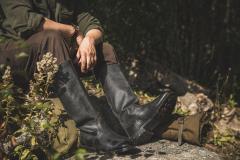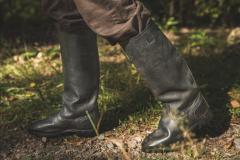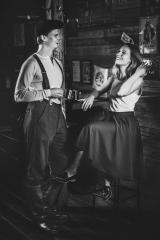 A one-off lot of Soviet enlisted men's Kirza boots called Sapogi! The crudeness makes these rather charming, but the boots are no joke.
Oh joy! We got another lot of these, found from some guy's garage or something.
While the model was taken into use during World War 2, they wore these officially up to the 90's and unofficially even beyond. We heard the Mongolians are keen on Soviet surplus boots these days, who knows if they're planning a reunion tour across Europe or something.
Half vegan, half Russian
The outsole is rubber, which is nailed on leather midsoles. The lower is made of surprisingly good quality, thick unlined leather and the shaft comprises of Kirza with a leather support strip on the back. Kirza (or some call it Kersey) leather was one of the most important developments during the war, saving hundreds of Roubles when they made soldiers' boots. The inventor, a chemist named Plotnikov, was given a truck ton of roubles and the hallowed Stalin State Prize medal for his efforts, a ticket for NOT (likely) being transported to Siberia. Kirza leather is still made today. It looks very much like the real thing and keeps water out pretty well.
The shaft height and circumference are size-dependent, but these are not at all humble in appearance, as they reach almost to the knee. The shaft can also be flipped over at the point of your choice to make it shorter - this is what many Soviet soldiers seemed to do in warzones.
We got a couple with the WW2 type dimple sole. These boots are sold separately. The boots haven't been made during the war, they are later produced.
Size info
Sizes in the Soviet system, which is first the recommended foot length in millimeters, then EU/French size. These are designed to be used with footwraps, so if you wear socks, wear thicker ones.
The last is sorta human-shaped, but not excessively wide.
Here's a little chart with comparable US and UK sizes.
| Russian/EU size | US size | UK size |
| --- | --- | --- |
| 240 (38) | US 6.0 | UK 5.0 |
| 247 (39) | US 7.0 | UK 6.0 |
| 255 (40) | US 8.0 | UK 7.0 |
| 262 (41) | US 9.0 | UK 8.0 |
| 270 (42) | US 9.5 | UK 8.5 |
| 277 (43) | US 10.5 | UK 9.5 |
| 285 (44) | US 11.5 | UK 10.5 |
| 292 (45) | US 12.5 | UK 11.5 |
| 300 (46) | US 13.5 | UK 12.5 |
Care
Care for your boots and they might care for you! Clean the boots with a moist rag and/or a brush. Apply grease and polish to the leather. Kirza does not need to be treated.
Condition
Although there are some slightly used pairs, usually these are in unworn shape, however, A) old and B) of Soviet manufacture. A means they might be a bit stiff and dirty on the surface, B means they are cobbled together with some hearty dosage of vodka. So these might not be too pretty, but they are pretty strong.
The story
So, how did this stuff find its way in Finland? Well, when the Soviet Union collapsed, the former satellite states gained their independence. There was a huge leftover stock of Soviet stuff still in the old army bases because the Russians left in a hurry or didn't just care to take their shit with them. Most are gone, but these leftover stocks are still occasionally unearthed, like these Kirza boots dug out from some garage in Estonia or Lithuania (both countries used to be unwilling parts of the Sovietosphere). That's how secure the availability is in the future.
Remove Russia
Our old product descriptions include ironic praise of our eastern neighbor and it used to be good fun. Does it piss you off? We understand and agree. However, we won't whitewash the old product descriptions. Instead, we have decided to stop buying Russian products. We sell what we have in stock and that's it.
All products: Soviet Union and Russia
Recommendations
Loading products...
Reviews
You have already submitted a review. You can edit your text by clicking on it. You can filter the reviews by clicking on the elements of the summary.
Log in and write a review. You can filter the reviews by clicking on the elements of the summary.
Remove filter
Suomi
(2)
English
(9)
I would recommend for a friend
Hiroki A.

07.09.2019

Verified purchase
I'm a UK size 8, I got the 262 size, and these boots fit snugly with a pair of thin socks with army-issue arctic ones over it,which is nice. They are crude, but incredibly tough in construction. Good thickness for the temperate weather in England.

I'm going to replace the insoles as the ones that came with it make a popping noise as I walk, but no dramas; they're perfectly usable as is.

The best bit? Considering that Hunter wellies made in China cost ~£100, these boots are an absolute steal. They do the job better, look better and have the blessings of uncle Joe.
7
0
I would recommend for a friend
Albin K.

11.09.2019

Verified purchase
Bought a pair of these some time ago and I must say that I love them. Crude, tough boots and the leather quality is surprisingly good. Really good boots actually, I use mine for all sorts of outdoorsy stuff. Hunting, working etc.
These boots don't shape themselves with time to fit your feet, they reshape your feet to fit the boot. For the greater good of the industrial proletariat of the world I suppose.

When you have used the for some time you will kind of feel like marching to Berlin and back, maybe even to the hills of Manchuria.

The nails in the soles though.. you definetly will need a pair of extra soles in them otherwise the boots will carve new holes in your feet.

..and they smell like an old soviet warehouse. Big time.
20
0
I would recommend for a friend
JC M.

10.10.2019

Verified purchase
Just recieved a pair of 41/262 boots and I am an American size 8.5. They are very narrow and much smaller than expected. Based on my research they should have fit but thats on me, just know that these run a lot smaller than the Finnish army jackboots. A pair of 41 Finnish army jackboots fits perfect with tons of room for socks with the Russians go one size larger! Ive already oiled mine so cant send them back so dont make my mistake!
Edit: According to all other size charts Russian 41 should be a size 9 equivalent to a European 42 so Im not sure whats going on but the chart listed here is out to lunch. I have also been told that these boots come in multiple widths so I am wondering if I was simply sent a narrow? Any information would be a blessing.
Edit: my boots are indeed marked y, narrow. A C would denote medium and W is wide. Be aware that these boots come in different widths!
7
0
I would not recommend to a friend
Erik M.

11.12.2019

Verified purchase
They're nice boots, but the sizing is way off. I generally wear a 42 or 43. Ordered both, the 42's were too narrow and the 43's had my heels slipping with every step (even with my thicker wool socks). The heel area is very stiff and a blister hellzone, even after trying to soften them up for a few days.
If I could eventually find these in the perfect size, then they would be worth it.
3
1
I would recommend for a friend
Juuso K.

09.08.2021

Verified purchase
Mikäli et tiedä mitä suunnitelmatalous tarkoittaa käytännössä, niin suosittelen ostamaan ja ihastumaan. Sukkien käyttö näiden saappaiden kanssa on moraalitonta, joten käytäthän vain jalkarättejä.
0
0
I would not recommend to a friend
Alex M.

12.08.2021

Verified purchase
The pictures are of the Cold War era sapogis, but I received the post-cold war m94 style with straps and buckles
2
0
I would recommend for a friend
Albin S.

27.09.2021

Verified purchase
I was worried about width when I waited for these to arrive. Luckily I received a pair of regular width, marked "C". After some cleaning and lubrication I tried them on and they fit like a glove! Yes, they do smell like they've been dragged through Siberia behind a horse, but I've found a good solution that makes your partner more likely to allow you to keep such things inside the house; spray the inside and outside with Glade (or something like it) and it'll settle in an amount of days!

Also; the soles that come with them, or at least some pairs, do look to be made of fiberboard and are hard as rocks. They are not fiberboard, but leather, and can be treated just like any other part of the shoe. Give it enough leather balm and it will soften up quickly.

I had to wash the boots twice though. Whatever shoe polish they used back then in the soviet union gives off a lot of blue coloring. I just put them in the bathtub, brushed them with leather soap and sprayed them off. They're still as black as before, but they don't give my hands a blue tint anymore.

Like another reviewer said, mine do slip at the heel, but boots with no laces are supposed to have lift until they're broken in. Rather unintuitively, contrary to lace up boots, with laceless boots you'll get chafing if the heel sits too snuggly at the heel. As long as your foot sits in place and doesn't move forwards and backwards in the shoe itself you should be fine. How much your heel should lift is mostly up to what you're able to tolerate. As the boot softens it will stop happening.

Edit: I've been walking in these a couple of times now on different surfaces. I took my first longer walk on asphalt which I kind of regretted since the boots weren't worn in at all. The shape of the sole has meant that the insole was shaped like a little mound and that made keeping your balance pretty difficult. Since then I've walked around in them some more, and they've evened out a lot since.

The whole sole is very hard, and with time it softens up a bit and the heel lift I talked about does decrease as this happens. I would say that if you feel like the boot is still hurting your foot after walking some miles you might have the wrong fit.

Don't pack too many socks in there. Instinct tells a person who wears lace up boots that it needs to fit tightly everywhere (especially the heel) but some slipping is better than none. I'd say the cowboy boot scene has the best documentation about boot fit out there.

Conclusion: Good boots, good price, smell like a wet bog and a museum at the same time, hard to wear at first but easy to break in, with the wrong fit you'll like them but with the right fit you'll love them. Buy a pair when they're available if you want high jackboots. Buy a pair if you want a pair of boots that look like potatoes when they're off, and look nice when they're on.
2
0
I would recommend for a friend
Pablo G.

28.09.2021

Verified purchase
Very nice and tough pair of boots. I ordered a size 40 (my real size) and they fits well. perfect for reenactment sessions and rainy days!
0
0
I would recommend for a friend
Henri L.

Varusteleka employee

18.11.2021

Verified purchase
On sitä paskempiakin saappaita nähty, tosin en muista milloin. Hienointahan näissä on se käden jälki, josta paistaa valtava kiinnostus lopettaa jo duunit ja mennä kittaamaan votkua; kahta täysin samanlaista saapasta et löydä! Tunge sisälle hyvät pohjalliset ja pue sopiva määrä tavaraa jalkateriesi ympärille, olivat ne sitten villasukkia tai jalkarättejä.

Kun perustoimenpiteet, eli puhdistus, rasvaus ja pohjallisten kehittäminen on hoidettu, alkaa sisäänajaminen. Nämä ovat "uutena" helvetin jäykät sillä niitä on varastoitu vuosikymmeniä, mutta saappaat pehmenevät käytössä ihan huomaamatta. Jalkaterän osion nahka on muuten yllättävän laadukasta ja se imee itseensä hoitoaineet loistavasti. Kirza-nahkaista vartta voi yrittää ehkä huoltaa silikonilla, mutta pääasiassahan sille ei tarvitse tehdä mitään, kait.

Joissain ovat kantakupit painuneet varastoituna sumppuun. Tämä tekee sen, että ne hiertävät sivuilta ikävästi. Vanha kikka on asettaa joku tarpeeksi leveä asia pystyyn saappaan sisälle muotoilemaan kantakuppia hieman suoremmaksi.
1
4