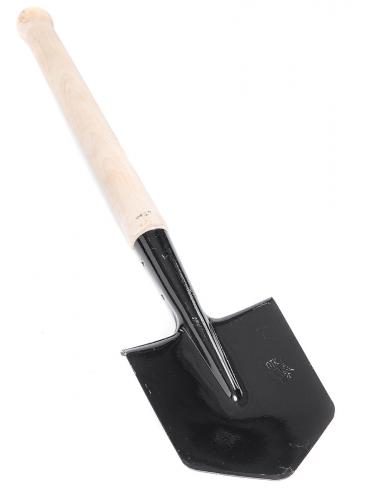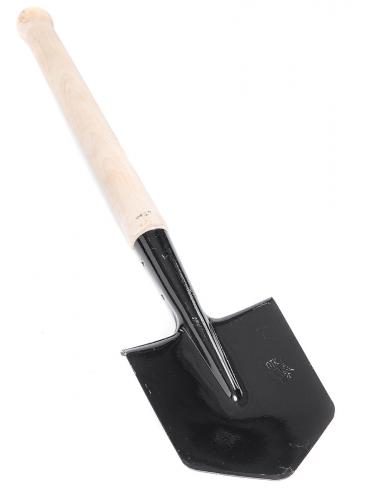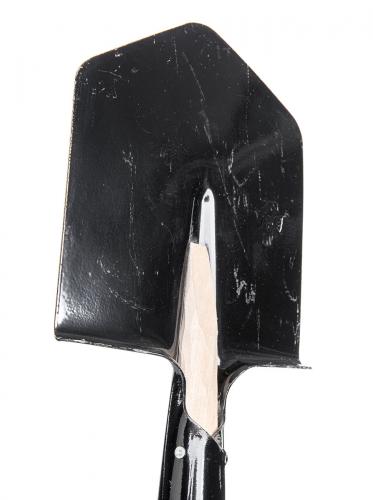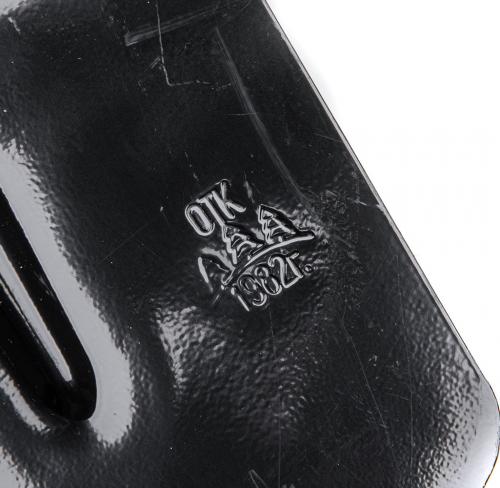 The important OTK apporval stamps are there. Looks like 80's manufacture.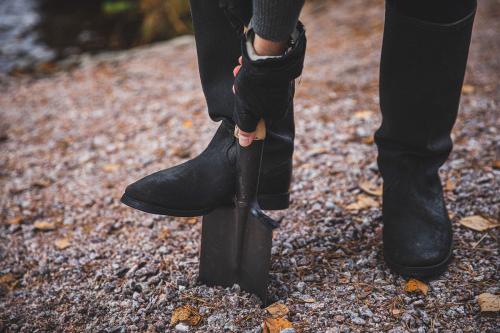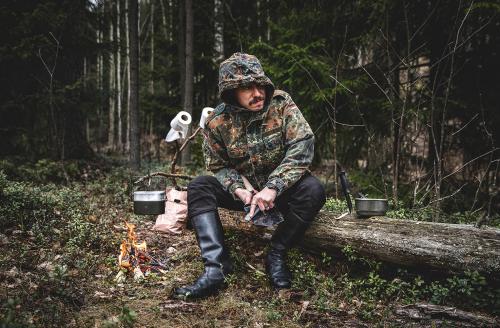 Soviet Union and Russia
Soviet Field Spade, Surplus, Unissued
Price 24.99 USD
excluding sales tax
Genuine Soviet army field spades! Even Soviet Union did not manage to ruin a simple shovel, so these are near indestructible but still easy to repair if necessary.
This product is unlikely to be restocked and will be hidden from our website once it's out of stock.
Discontinued product.
Trouble with the metric system? Try our converter: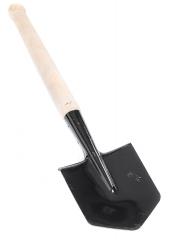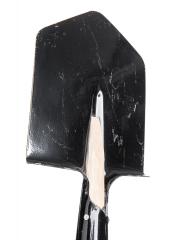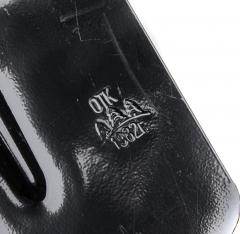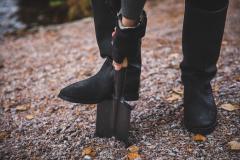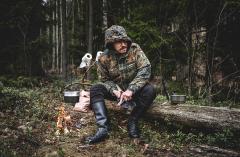 Genuine Soviet army field spades! Even Soviet Union did not manage to ruin a simple shovel, so these are near indestructible but still easy to repair if necessary.
Length just a tad over 60 cm (24,4"), weight about one kilogram (about 2,2 lbs). Constructed in a simple manner: the thick wooden shaft is just stuffed into its slot and fastened with some screws. In the very unlikely case of the shaft breaking, open the screws, pull the broken bit out, carve a new shaft, stick it in and clamp it back on.
We've seen crappier spades definitely, and these have that historical look to them. Combine that with the relatively low collectible value (at least now) and you have a versatile, usable piece for re-enacting too.
This is essentially the same article as Cold Steel's "Spetsnaz" shovel, but the real deal Soviet item. Also, these of course aren't sharpened for your throwing showoffs. Of course nothing's stopping you from sharpening it.
Genuine army surplus
Curiously these are unissued. Either they have been found from some old Soviet base in Europe, or someone went through a lot of trouble to get them out of Russia.
Availability: Now we got some. Tomorrow we may have none.
Kierto Circular Economy
Return this product used but clean and unbroken, and you'll receive half of the product's original price as Varusteleka credits. Service is available only in Finland. Only Registered users can make Kierto returns. See more information about Kierto.
Remove Russia
Our old product descriptions include ironic praise of our eastern neighbor and it used to be good fun. Does it piss you off? We understand and agree. However, we won't whitewash the old product descriptions. Instead, we have decided to stop buying Russian products. We sell what we have in stock and that's it.
All products: Soviet Union and Russia
Recommendations
Loading products...
Reviews
You have already submitted a review. You can edit your text by clicking on it.
Log in and write a review.
Remove filter
I would recommend for a friend
Adam G.

02.05.2020 (Edited 06.06.2021)
Looks to be original shovel heads on a new-made but crude and unfinished handle. Not sure of the material. Almost looks like pine, but don't quote me on that. Longer than the originals. Couldn't say if the paint on the blade is original or not. Will need a fair bit of sharpening before it's of any use, but that's normal for these. Mine had only one screw rather than two - seems like a defect in production. The second hole is there but it's in the wrong place, overlapping where the socket forms. Is cheap. Go for it.
3
1
I would recommend for a friend
Erik S.

06.07.2020 (Edited 06.06.2021)
the original is called MPL-50, that is "small infantry shovel", with the length of 50 cm.
the length was exactly calculated for its purpose: digging in under fire, either in lying position or on your knees.

this one seems to be 10 cm longer, maybe someone thought that people have grown larger since WW-2. longer handle is maybe why they got surplussed. after using one for a while I bought a second one as well, and I feel I am still one short. kids just love how I can whack it into a wood stump even without sharpening, and it stays there upright.

it is an awesome tool, and the mark on the metal is that of the real thing.
you can keep one in each car you own, to dig it out, or to stand your ground in road rage. folding NATO spades are not nearly as good tools, they have multiple weak points, and the compactness is the only thing going for them.

collectibility... depends, metal is genuine at least, and this is what counts. you could just adjust the handle, and no-one will know it from 100% correct item. there are fakes out there with right dimensions but wrong metal, and you don't want them.
2
1
I would recommend for a friend
Bryan M.

11.07.2020 (Edited 06.06.2021)
Turns out Slavic steel isn't just an awesome name for a metal band, but it also makes for great tools. This spade has been abused thoroughly in my garden all spring and summer and hasn't shown any signs of wear despite my best efforts. For a 1982 production it's in mint condition and has been outstanding for tight spaces and in raised beds. It's also a great tool for kids to use in the garden. My young kids love digging for creatures and "helping out" by digging up everything I just planted. In the winter it's going to go in my car with the Swiss pick axe for emergencies.
1
1
I would not recommend to a friend
Göran G.

27.07.2020 (Edited 06.06.2021)
The handle is almost certainly not original, it is both longer and thicker than it should be (mine was 62cm which is nice but it is uncomfortably thick). There is nothing wrong with the shaft material though, certainly not pine or some other inappropriate wood type. Basically if you got some sandpaper and some linseed oil you could eventually end up with a really awesome shovel. However the one I got had a very slightly crooked socket hole so I didn't get that perfect beautiful Soviet shovel that I wanted. I would have given this 5 stars if everything was original and in perfect condition.

Edit: I Googled a bit and it seems that this item might be faked sometimes. However it is hard to find good info about that stuff so it could be just a rumour. But yeah if you want the real stuff then you shouldn't buy this anyways since the handle is not original. Wish someone would have told me this before buying...
If you just want a small shovel and happen to get a good one: 5 stars
If you want good looking genuine Soviet milsurp : Don't buy this
3
1