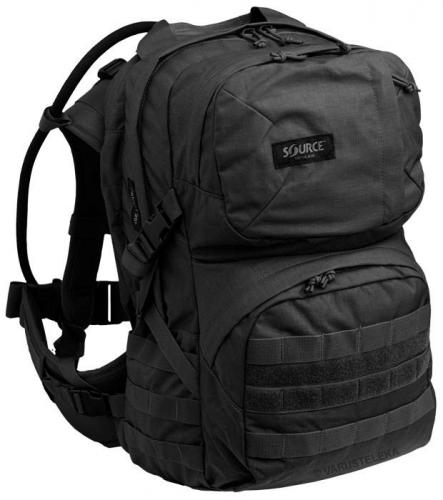 Source Patrol 35L
Price 129.95 EUR 184.99 EUR including VAT
Trouble with the metric system? Try our converter: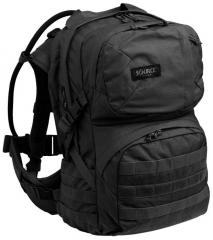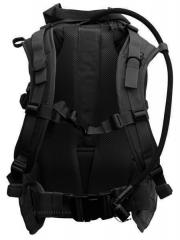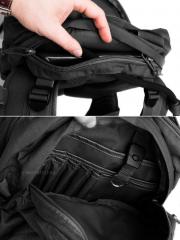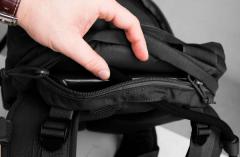 If you want something that's going to last through a war, you'll have to pay a little extra. This is a very high quality hydration-integrated small rucksack with a 38 litre overall capacity, of which 3 litres are reserved for the WLPS hydration bladder which is included.
This thing is pretty much bullshit-free. Well designed, well constructed, there's nothing bad to say about this. This here is the "bog standard" 35 l model, suitable for most one-day affairs. Depending on how much crap you want to carry around, this would also make for a decent pack when travelling abroad. If you really need to carry more stuff, you can always attach a couple of utility pouches to the MOLLE -panels.
Size about 50 x 35 x 30 cm, total volume 35 l.
Weight 1840 g.
Four compartments - one for the bladder (fits two, if necessary), one big main compartment and two smaller outer compartments. All compartments open with double puller zippers.
Well designed shoulder straps and waist belt. Correctly adjusted, this pack is a delight to carry.
The shoulder straps have an adjustable chest strap and loops and bits to hang things from.
PALS webbing on the back and on the waist belt for extra stuff.
Two tightening straps with quick release buckles on each side. These double as attachment straps.
Loops on the bottom for equipment straps.
Back and shoulder straps are padded with air circulation channels.
Inside there is a metal bar in its own pocket which acts as sort of a frame. It can be removed if necessary.
The bladder compartment obviously has a hole for the tube and the shoulder straps both have the same attachment points, so the tube can be either on the right or on the left side.
Velcro on the front for attaching funny insignia.
WLPS hydration bladder
3 litre capacity
Source has a lot of fancy tradermarkedTM systems that we do not care to list - what it means is that there is practically no bacteria growth inside the bladder or the tube, water will always taste fresh and there is no need to clean the thing if you use only water.
The tube is 94 cm long and has a Storm valve. The valve is at a right angle, which makes it easier to drink and requires less tube length. The valve is not a bite one - you pull the endpiece away from the body and water flows, you push it inside and the water flow stops. The valve can be locked and comes with a cap.
The bladder is very easy to fill - you just open it completely from the top. The lack of any traditional cap means there's one less part to break.
The tube has an insulating textile cover which is very durable, blocks UV radiation and makes the tube match the colours of the rest of the pack.
Made by Source
Source is one of the leading makers of hydration systems on the worldwide market, their gear are used by militaries and law enforcement units all around the globe. High quality and absolutely reliable, this stuff is made for real use!
These might also interest you
Reviews
0
0.5-1
1.5-2
2.5-3
3.5-4
4.5-5
Score distribution
5

/

5
I would recommend for a friend
Juho S.

25.05.2017
Taskuja on riittävästi ja tosiaan noiden pals lenkkien kanssa saa vaikka mitä lisäiltyä jos pidemmälle retkelle lähtee.. ehkä noihin sivun kiristysremmeihinkin saa jotain pysymään.


Olkaimet on mukavan jämäkät vähän niinkuin Fjällrävenin Kajka rinkassa.. Näissä on kyllä jotku muovilirvat sisällä
Repun materiaali on tosi mukavan, mutta kestävän tuntuista ja luulisin, että taitaa olla jossain määrin vedenpitävääkin.. Tää ei oo niin sellaista jäykkää ja tönkköä kangasta, kuten Savotan Rajajääkärissä. Pohjassa on selkäpehmusteiden välissä pieni reikä. ehkä veden poisvalumista varten tai sit virhe ompelussa

Vaihteeksi myös ilman läppää ja pelkällä vetoketjulla suljettava tuntuu helpommalta päivittäisessä käytössä. Käytän reppua siis joka päivä, mutta harvemmin käyn metsäreissuilla ja repun ei tarhitse näyttää liian sotilaalliselta. Tää käy vähän monenlaiseen käyttöön.

Mukana tuleva juomarakko on hyvä asia, mutta mieltä lämmitti myös se, että juomarakkotaskuun saa helposti tungettua 13 tuumaisen Macin ja vieläpä suojapussukassa. Nyt edellinen läppäritaskullinen Burtonin Tinder Pack reppu jää tarpeettomaksi ja uskon vahvasti, että suoriudun tämän repun kanssa kaikesta vastaantulevasta kunnialla..

Paha miinusjuttu, et kojootinvärisessä noi selkätoppaukset ja olkaimien sisäpuolet on tietyssä valossa ihmeen vihreän sävyiset.. Ainoa juttu minkä takia aloin miettiin palauttamista, koska se ei tule noista tuotekuvista millään tavalla esille. Ja googlettamalla kaikki vastaavat näyttää ruskealta

Joo ja sit tosiaan toi irroitettava vyötäröremmi on ihan ykkösjuttu.. se auttaa siviilikäytössä karsiin sitä sotilaallisuutta pois ja tilanteen iskiessä päälle vyötäröjutun takaisin laittamalla voi tällä varmaan kantaa vaikka oman anoppinsa turvaan jos vaan kyydissä pysyy.

Samaan hyvähyvä luokkaan kuuluu mun mielestä myös se poisvedettävä tukiranka. Jossain tilanteessa voi olla hyvä saada kokoa lytättyä pienemmäksi, esim. lentokoneen käsimatkatavaraksi meno vois olla se syy. Muuten tää reppu voi olla tilanteesta riippuen iso tai pieni. Tyhjänä kauppakassina ei näytä liian isolta ja remmeilläkin saa kiristettyä. Sit kuitenkin tänne saa älyttömästi tavaraa mahtuun sisään.

Kaikki laadukkaat osat ja ratkaisut saa aikaan hyvää mieltä kun tätä tutkii. Ja on mukava lukea sisälapusta "Made in Israel" ainaisen Chinatekstin sijaan..
1
1
Report abuse
Please report this product review if for example:
Review is wildly obscene or completely irrelevant.
Reviewer has not actually used the product he is reviewing.
If you strongly disagree with this review, please press "I disagree" button above.
Thank you!
Cancel
3

/

5
I would recommend for a friend
Anonymous customer

23.09.2017
Harva reppu on herättänyt niin ristiriitaisia tunteita minussa kuin tämä Sourcen 35L Patrol reppu.
Teen työtä, jossa matkustetaan paljon, eikä aina hotelleihin. Vaadin repultani paljon ja olen ehdottomasti toiminnallisuuden sekä kannettavuuden arvostaja. Minulla on ollut tämä aktiivisessa kenttäkäytössä nyt 2 vuotta.

Sourcen reppu on yksi parhaista repuista selässä. Käytän reppua aika usein juuri ilman lantiovyötä. Vaikka reppu tällöin 'lörpsähtää' roikkumaan kuin ekaluokkalaisella, on se silti mukava selässä. Kantohihnat ovat kyllä aivan toppen luokkaa ja selkäpuolen pehmusteet sekä ranka antavat paljon hyvää. Lantionvyön pehmusteet saisi olla oikeasti pehmentävät. Pelkän t-paidan päällä, tai luoja auttakoon, teknisen paidan joka on huokoisempi, tulee itselläni ainakin hieman hiertymää. Irrotettava tukiranka on plussaa, jos esim. turvatarkastuksessa pitää esittää, että ei, se ei ole mikään puukko. Tämä myös etuna, jos reppu pitää saada väliaikaisesti 'rytättyä' pieneen tilaan.

Juomarakko on loistava ja perus Sourcen laatua. Itselläni jo kolmas näiden rakko. Tuo lattea malli on varsin luksusta. Erityisesti city-selviytymisessä toimii juomarakon paikka asiapapereille ja läppärille loistavana taskuna.

Sitten tämän repun ehdottomiin miinuksiin eli taskuihin. Etutaskuissa plussaa on niiden jumalaton vetoisuus. Alimmaiseen etutaskuun saa ängettyä vaikka ja mitä hyödyllistä ja turhaa. Sama ylemmän taskun kohdalla. Alempi tasku saisi kuitenkin avautua hieman enemmän.

Koska repun etuosassa ei ole mitään ryhtiä lisäävää ja kangas itsessään on aika pehmeää, aiheuttaa suuren etutaskut tavaroineen sen, että repun alimmaisesta etutaskusta on yksi p*rkle kaivaa mitään tavaraa ulos, varsinkin jos ylätasku rötköttää sopivasti sen päällä. Ylätasku on helppo ja käyttökelpoinen, jos nyt on pakannut täysin liikaa rojua täyteen, niin siitä syytän vain itseäni.

Suurin perse on kuitenkin repun yksi ja ainoa suuri 'päätasku'. Tasku on koko repun pituinen, mutta itse syvyyttä / ulottuvuutta taskussa ei juurikaan ole. Hieman enemmän tavaraa pakattuna etu- ja päätaskuun muodostuu repusta kohtalainen pallo. Tämän lisäksi päätasku ei aukea alas asti, joten alimmaisien tavaroiden kaivaminen tarkoittaa melkein aina repun tyhjentämistä. Koska repussa ei ole varsinaisesti koteloita ryhditetty, niin tavaroiden pelkkä kaivaminen aiheuttaa repun muodon täydellistä romahtamista ja siellä sitten on rojut päällekkäin ja solmussa. Tämä taas johtaa siihen, että repusta ei vaan löydä mitään. Isossa taskussa oleva 'seinätasku' tms. on aivan käyttökelvoton. Koska väliseinässä ei ole mitään ryhtiä ja tuon seinustan kangas on tosi pehmeää, on tuonne taskuun minkään tavaran laittaminen ihan kamalaa. Lisäksi vetoketju on mielestäni pieni ja heppoinen. Muuten repun vetoketjut ovat kyllä sopivan isohampaisia ja ei ole ollut mitään ongelmaa.

Jos juomarakko on käytössä ja tarvitset mukaan läppärin, jotain tärkeitä papereita esim. missiomääräykset ja vielä tavarat joilla pärjää suurimmassa hädässä sen 24h omillaan, on tuo yhden päätaskun täyttäminen ja käyttäminen kriisi jo itsessään.

Reppua on siis todella miellyttävä kantaa. Tätä on kannettu ylös vuoria, hiostavissa metsissä ja urbaaneissa ympäristöissä. Kertaakaan ei ole tullut olo, että hyi helkkari en tykkää. Bonuksena on irrotettava lantiovyö, jonka myös saa järkevästi kiinnitettyä repun ympärille. Tämä helpottaa mm. käsimatkatavarana kuljettamista. Juomarakko on loistava ja sen tasku toimii hyvänä kakkostaskuna. Jos tässä repussa olisi vastaava 'taskusto' kuin Mil-Tecin partiorepussa. Eli kaksi taskua Iso ja syvä sekä Iso ja kapea sekä hieman ryhtiä runkoon, voisi repun ja minun liitto kestää, kunnes jompikumpi hajoaa. Nyt kyllä katselen jo muita sillä silmällä.

Laatu repussa on kyllä ihan ok ja varmasti tuon hintansa arvoinen. Tosin itse en maksaisi juuri em. syistä repusta yhtään enempää. Nyt mukana tulevan juomarakon kanssa, jonka hinta on itsessään varmaan sen 30-40€, on repun hinta itsessään näillä ominaisuuksilla aika rajoilla.

Kannettavuus on aivan 5/5. Taskujen kanssa räpeltäminen 2/5, ehkä 3/5.

Koska en voi valita vaihtoehtoa "osta jos tykkäät" niin laitan kuitenkin suosittelen.
3
2
Report abuse
Please report this product review if for example:
Review is wildly obscene or completely irrelevant.
Reviewer has not actually used the product he is reviewing.
If you strongly disagree with this review, please press "I disagree" button above.
Thank you!
Cancel
Log in and write a review.