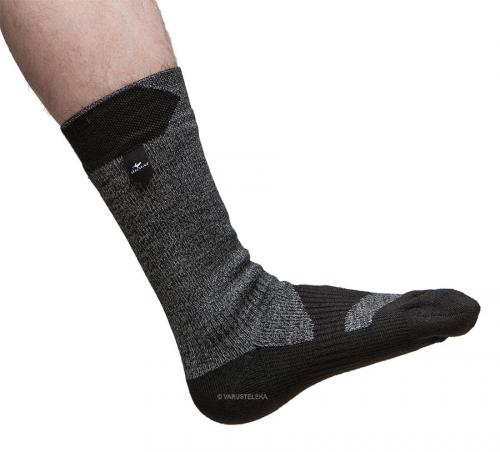 SealSkinz Walking Thin Mid Socks
Price 29.95 EUR 49.99 EUR including VAT
Trouble with the metric system? Try our converter: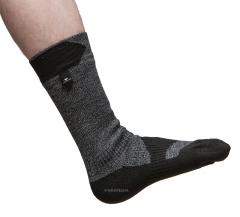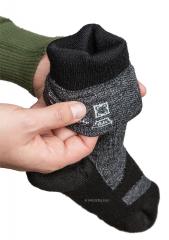 Like with any part of clothing, it's only sensible to separate different layers for footwear too. These offer the waterproof, breathable membrane in sock form. In short, with SealSkinz socks you can turn any ol' boot or piss skater into waterproof footwear. Properly made, well tested, tried and true, SealSkinz is a brand you can trust!
This is the lightweight model fit for general use.
Essentially a light bootie, with the waterproof membrane hidden between a (mulesing free) Merino wool inner layer and an articificial fiber outer layer. The membrane on these is called StretchDry, and like the smartest ones probably picked up from the name, does indeed stretch, but not as much as your regular socks of course. These take just a bit of time to get used to, but once you get over it, feel just like any socks. As these are made by professionals for real use, the seams are non-chafing type and all that.
Materials, from top to bottom:
Outer shell: 62% polypropylene, 29% nylon, 9% elastane
Membrane: Waterproof, breathable StretchDry membrane
Inner lining: 36% Merino wool, 36% acrylic, 18% polyester, 5% elastane
Despite the name, SealSkinz doesn't use seal skin in their products!
Does the membrane really work?
In short, yes, surprisingly well. You have to remember, no membrane breathes like, say, porous wool, but that's why this one is lined with it. In addition, you can wear a liner sock to wick moisture away from the skin even better. With this combo your feet will remain at least very much drier in nasty conditions than without a membrane. In addition, boots, socks and liners dry much quicker separately compared to your standard GTX boot which in the worst case you can't even get to dry properly without a flamethrower, should it get all wet. Moreover, if the sock gets damaged, you just buy a new one (much cheaper than a new GTX boot). This leads us to the next point.
Service life, use and care
No membrane lasts forever. These will also eventually give up the ghost, however they should provide you a very good run for your money, provided you take care of them too. Caring is actually very simple: always check your boot for loose stones and other muck before sticking your SealSkinzed foot in, and do keep your toenails in check.
If you have to wash, do it in 30 degrees celsius with wool cycle, inside out. Hang dry.
SealSkinz provides a 12 month warranty for these, and that's probably playing it safe. Of course the service life depends on the amount of use. On dry conditions you probably don't need to wear these at all, saving their service life for the literal rainy day - we have SealSkinz socks in this company that are still OK after many years of "regular" use.
Size info
Picking a suitable size is pretty straightforward - check your shoe size and pick one that looks similar. These do stretch and form a bit in use.
Here are the sizes with the comparable UK & US sizes:
EU 36-38 / UK 3-5 / US 4-6
EU 39-42 / UK 6-8 / US 7-9
EU 43-46 / UK 9-11 / US 10-12
EU 47-49 / UK 12-14 / US 13-15
Made by SealSkinz
The British company SealSkinz is a well-known manufacturer famous for its wateproof socks and gloves, which have taken many a cynic by surprise, including us. By investing in SealSkinz you are purchasing proper kit made for real use. Made in Europe.
These might also interest you
Log in and write a review.