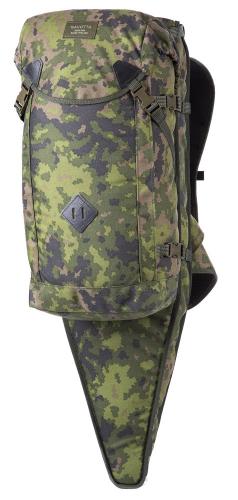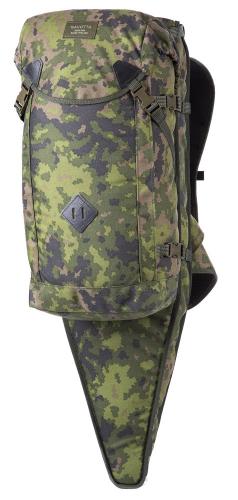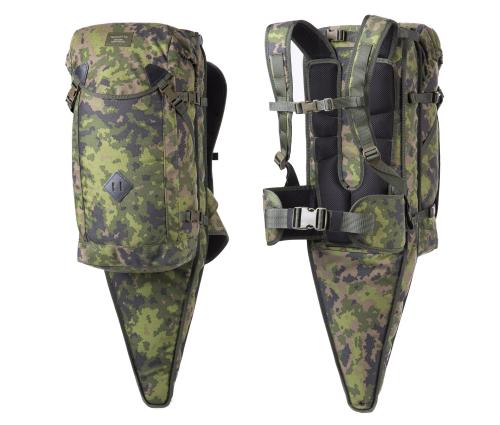 The shoulder straps and hip belt are rather wide and low-profile to work with long firearms.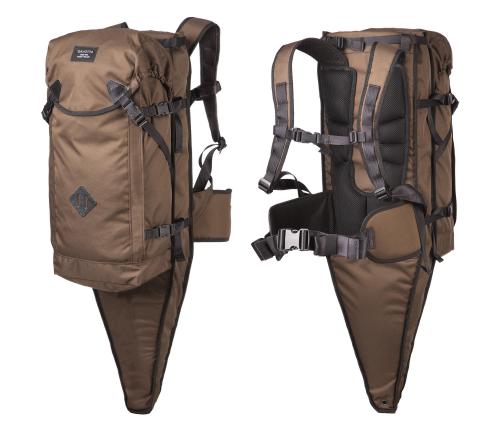 The shoulder straps and hip belt are rather wide and low-profile to work with long firearms.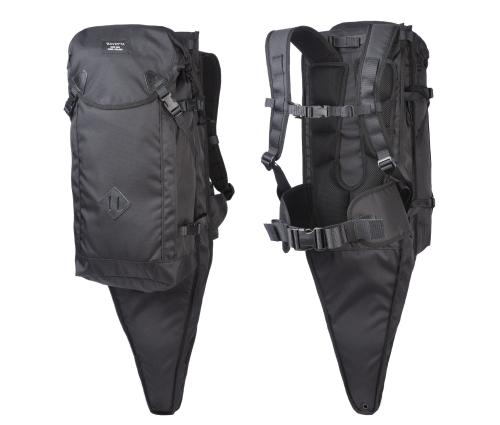 The shoulder straps and hip belt are rather wide and low-profile to work with long firearms.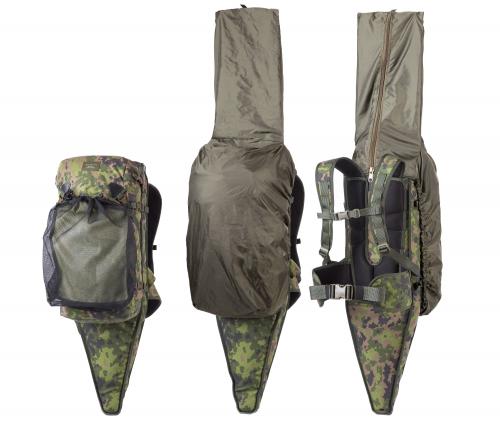 Comes with a removable mesh game bag and rain cover for the rifle and backpack.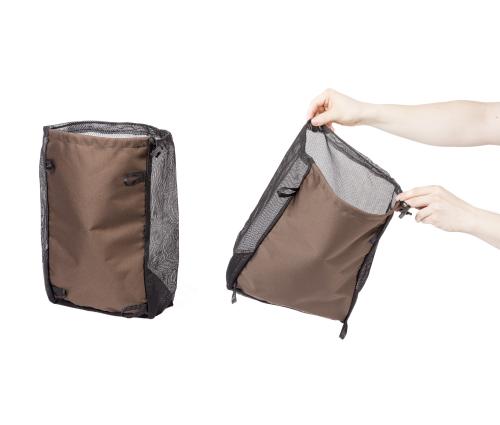 Comes with a separate game bag that can be attached outside the pack.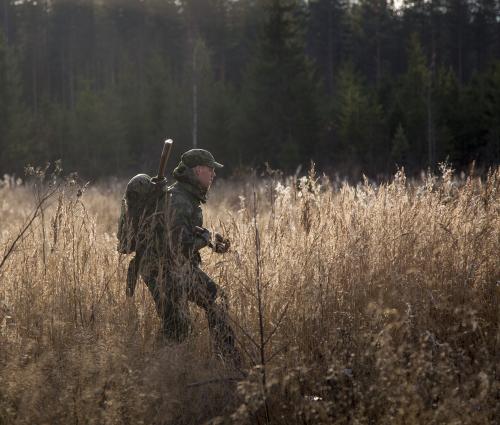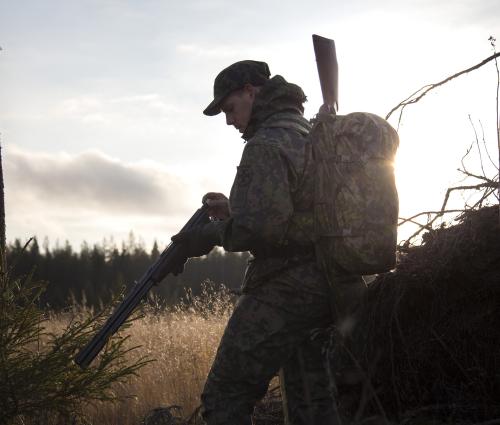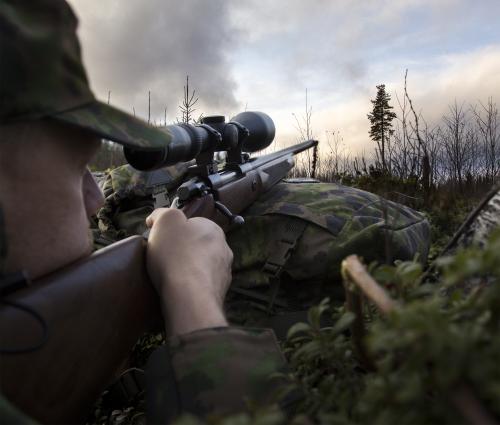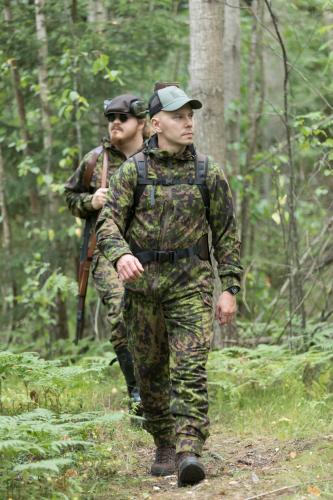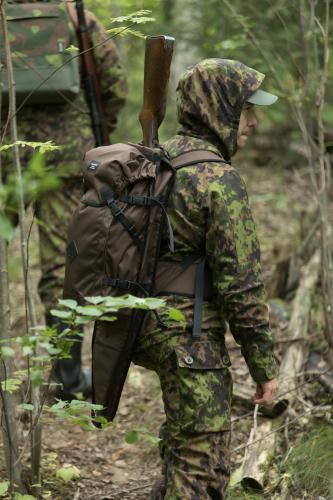 Savotta
Savotta Torrakko 2.5
Price 149.99 USD 159.99 USD
excluding sales tax
A simple, comfortable, and functional rifle backpack from Savotta.
Loading products...
Trouble with the metric system? Try our converter: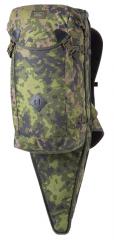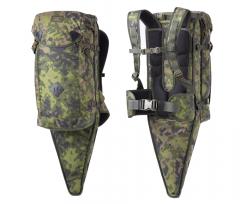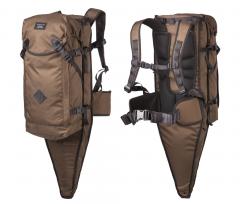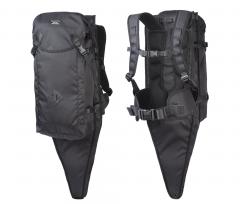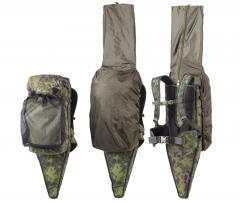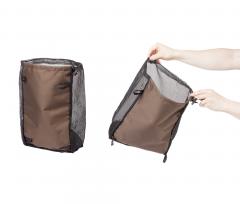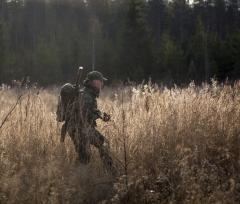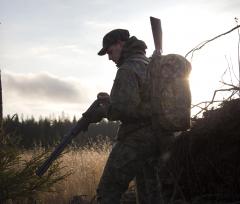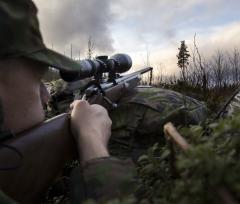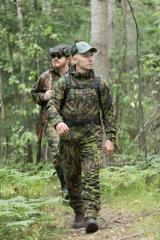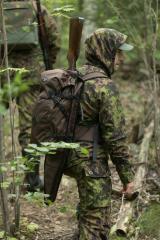 A simple, comfortable, and functional rifle backpack from Savotta.
Savotta are good buddies of us and they have done a stellar job with their own copy, so we saw no need to reinvent the wheel. What they tell you about this product is something we second. We just added some imperial measurements to help our American friends. So here's from Karstula with love:
A rifle backpack for a hunter that also meets the requirements for the transport of a firearm thanks to a new rain cover. It works both while hunting and on the way there. The robust and padded rifle compartment can accommodate a rifle with a larger scope as well. The whole package can be tightened sturdily with the compression straps of the bag, making carrying a firearm both comfortable and safe in any terrain.
The slim design of Torrakko facilitates moving around in off-road conditions. The thinly padded shoulder straps make shooting while the backpack is on your back easy. The streamlined package has been designed to be as practical as possible. Torrakko has no extra protruding or entangling parts.
Compartments
The bag (dimensions approximately 45 x 25 x 15 cm or 18" x 10" x 6") is closed by tightening the drawstring opening which is covered with a protective flap that is secured with buckled straps. The main compartment opens also with two zippers spanning the full length of the sides. If these are opened, the entire back of the backpack opens up, making all contents of the backpack very conveniently accessible. The bag can be tightened into a snug package by using the compression straps on the sides.
There is a flat, zippered mesh pocket (dimensions approximately 20 x 20 cm or 8" x 8") inside the flap where the game pouch of Torrakko is kept by default. The pocket is also ideal for other small items.
The bottom of the backpack has a flat pocket that closes with Velcro (dimensions approximately 12 x 20 cm or 5" x 8") where the rain cover of Torrakko is kept by default.
The game pouch (dimensions approximately 35 x 35 cm or 14" x 14") is a bag made of netted fabric with an opening that can be tightened using a drawstring. The game pouch is attached to the back of the backpack with four strap loops which are attached to the compression straps of the backpack.
The rifle compartment of Torrakko (dimensions approximately 85 x 25 x 9 cm or 33" x 10" x 4") is located between the bag and your back. It is open at the top and tapers towards the bottom for the barrel. The rifle can be secured tightly for carrying by using the compression straps of the backpack.
The new rain cover covers the entire backpack and also the butt of the firearm which would otherwise remain exposed from the rifle compartment (total length about 110 cm or 43"). The rain cover is fastened around the firearm with a zipper and a buckle. So with the rain cover in place, Torrakko is a legal firearm carrying case also in public places as well as in the car. You will no longer have to transport your firearm in a separate bag from which it is then transferred into a backpack. Your rifle can ride from home into the forest, during hunting, and back again inside Torrakko.
Note! In the "old model" the rain cover is also M05-camouflaged and the material is slightly more coarse.
Other attachment points
Extra supplies that would not otherwise fit inside the backpack can be tied conveniently to the buckled compression straps on the sides. Rain capes and break clothing, for example, travel with you conveniently and readily available on the sides of the backpack.
Carrying system
The back, shoulder straps, and hip belt of the rifle-carrying device are all lightly padded. There is plenty of room for adjustment in both the shoulder straps and the hip belt. The back of the backpack has been reinforced with an internal plastic sheet. The padding pillows galore on the back make carrying comfortable.
Technical specifications
External dimensions: height 45 cm, width 35 cm, depth 30 cm
Capacity: 30 l
Weight: 1.65 kg / 3.6 lbs
Materials: Polyester (M05: 500D Foxdura), polyester straps and plastic buckles
Warranty and guarantee
The product has a 2-year guarantee against material and manufacturing defects.
This product is partly manufactured in our factory in Estonia, however, more than 50 % of its work is made in Finland.
Here's a product video, spoken in Finnish with English subtitles.
Kierto Circular Economy
Return this product used but clean and unbroken, and you'll receive half of the product's original price as Varusteleka credits. Service is available only in Finland. Only Registered users can make Kierto returns. See more information about Kierto.
Made by Finn-Savotta Oy
Founded in 1955, Savotta is known for its simplistic and extremely rugged, Nordic designs. For decades, Savotta has been the go-to supplier of outdoor gear and equipment for individual outdoor people as well as various aid groups and defence forces, most notably of course the FDF.
ISO 9001:2015, AQAP 2110 Ed D, Facility Security Clearance
ISO 14001: 2015 Environmental certificate
NATO CAGE: A444G
Savotta makes a large share of their products, all of their tents, ruck frames, and all non-sewing work in Karstula, Finland, where all of the design and development takes place. Large production runs are distributed to Savotta's second factory in Estonia, which is tooled for sewing only, and Poland. The product label has the exact country of manufacture and the quality is always guaranteed.
All products: Savotta
Recommendations
Loading products...
Reviews
You have already submitted a review. You can edit your text by clicking on it. You can filter the reviews by clicking on the elements of the summary.
Log in and write a review. You can filter the reviews by clicking on the elements of the summary.
Remove filter
Suomi
(3)
English
(2)
I would recommend for a friend
Stanley G.

29.04.2020

⚠ Unverified purchase
I would recommend for a friend
Joseph G.

27.05.2020

Verified purchase
I bought two of these, one for me and one for my wife. These are not heavy duty packs. They are day packs and have enough volume to hold what you will need for several hours or a day. Keep the pack lightly loaded and you will have a comfortable and hands free way to transport your long gun from one place to another. Keep in mind that your rifle will not be readily accessible while in the pack. One of the advantages of these packs is that the triangular portion can be folded up into the pack and it will look like a regular back pack that you would see anybody carrying. In this way you could covertly carry a small carbine with a folding or telescopic stock.
4
0
I would not recommend to a friend
Marko V.

08.09.2020

Verified purchase
Yleensä savotan tuotteisiin on voinut luottaa. Tämä on kuitenkin huti. Vähänkin tukevarakenteisemmalla kantajalla lantiovyö jää kylkiluiden päälle. Omaan selkään ei löytynyt sopivaa säätöä vaikka mitä teki. Itse repun kun saa mukavalle kohtaa selkää, on lantiovyö melkein kainaloissa. Sitten kun asettelee lantiovyön oikealle kohtaa, on itse reppu liian alhaalla ja aseen piippu hakkaa reisien takaosaa. Ainoa järkevä vaihtoehto kantamiseen on vetää lantiovyö kiinni, laittaa reppu selkään ja toivoa ettei lantiovyö paina selkää liikaa.
Ensimmäistä kertaa elämässäni harkitsen vahvasti savotta tuotteen palauttamista myyjälle. 170€ hintaan kuuluisi saada jotain parempaa.
4
1
I would recommend for a friend
Henri K.

26.11.2020

Verified purchase
Ihan hyvä reppu joskin aavistuksen pieni. Hädintuskin vetää päiväreissun tarpeita. Ylimääräisen villapaidan kun laittaa reppuun se vie puolet tavaratilasta. Siksipä askartelin tähän MOLLE-paneelin tuomaan lisää sekä kantokapasiteettiä että lokerointia.

Pros:
- Tosi hyvät ohuet olkaviilekkeet eivät tule tielle nopeissakaan tilanteissa. Tämä selässä on pudotettu jopa jaloista pompannut lehtokurppa.
- Ominaisuuksiin nähden halpa. Jokainen voi verrata esimerkiksi Eberlestockin reppuihin.
- Kestävän oloinen. Tosin vasta yhden syksyn käyttökokemuksella.
- MOLLE paneelin sai modattua reppuun pelkästään lisäämällä Tee se itse tarvikkeita. Ompelua yms. peruuttamatonta ei tarvinnut tehdä, joten reppu säilyy palautuskelpoisena.

Cons:
- Oikein selkään säädettynä repun aselokeron kärki käy kiinni pohkeisiin vaikeassa maastossa rämpiessä.
- Pienehkö tilavuus. Kesäkeleillä kun ei tarvitse lisävaatetusta kantaa niin tämä on varsin riittävä.
- Kantokahvan puuttuminen. Onneksi tämänkin saa askarreltua helposti ilman pysyviä muutoksia.
- Lantiovyö ei pysy kireänä. Pakko lisätä ylimääräiset lukitukset vyölle.
2
0
I would recommend for a friend
Mikko P.

24.09.2021

Verified purchase
Ensituntuma hyvä, omalle ruumiinrakenteelle(175cm/77kg) juuri passeli. Nihkeästi taskuja vakiona, sisäpuolen nauhakujiin istui onneksi täydellisesti
Brittien Virtus MTP ensiaputasku :-)
0
0