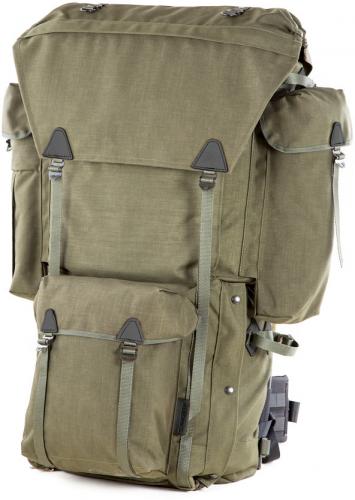 Savotta LJK rucksack
Price 386.99 USD excluding VAT
Trouble with the metric system? Try our converter: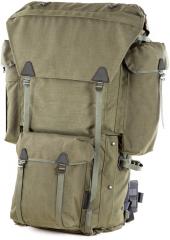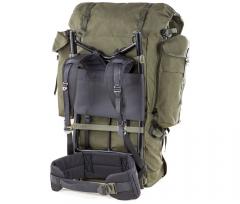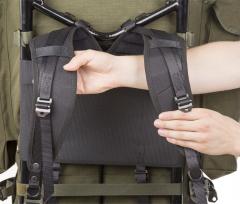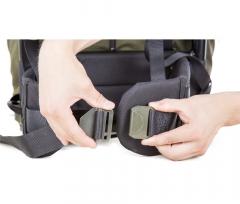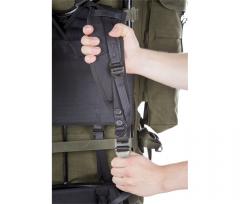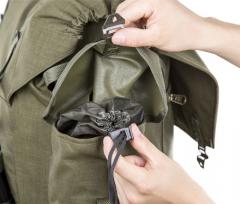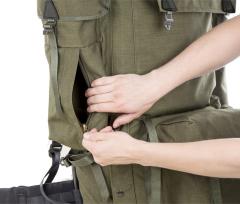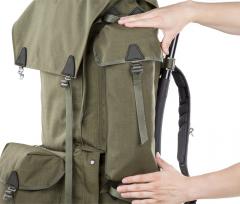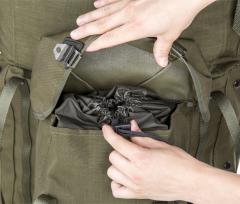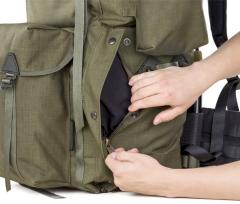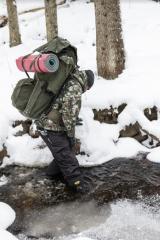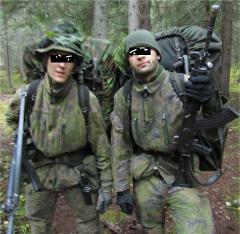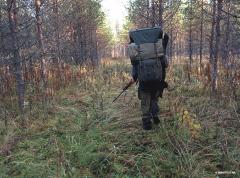 The LJK was designed by Finn-Savotta and the Finnish Defence Forces parachute school and entered service in the early 80's. Since then this robust external frame pack has served both the Finnish military and civilian hikers.
The LJK (Paratrooper) rucksack is made for rough use, not for a stroll downtown. After all, it must be able to survive a para drop and all that comes afterwards, in both summer and freezing winter. This includes the possibility that, if shit hits the fan, this thing is going to hit the ground at terminal velocity. This ruck can be used on skis and has practically no plastic in it - everything that's meant to take the strain is metal, DUR-aluminum and Cordura.
Features
Compartments and straps
The main compartment is divided into two parts: the upper and lower. The upper one is accessed normally from the top, the lower from the sides through zippers & snaps.
One larger compartment on the outer face of the lower main compartment, operated with two metal buckles.
A zippered flat outer compartment, which is normally covered by the flap when the ruck is carried.
One of the side pouches is divided into two compartments, the other is not. Both side pouches are fixed to the pack only by their sides, so you can stuff skis or tools behind them.
Equipment straps below and on top of the side pouches for secure fit.
The flap is covered with metal attachment rings, on top and bottom. Additionally, it has a flat compartment inside.
Unlike the pictures show, the closure strap reinforcements are now black rubber material again, not tan leather.
Other features
Padded and adjustable shoulder straps.
A very sturdy waistbelt, with a strong metal buckle. The belt is black, unlike in some of our photos.
Volume 80 litres.
Included is a warranty tag and an instruction pamphlet, both in Finnish. If you have any questions regarding these, just ask. The whole ordeal should be pretty straightforward, though. Although the warranty covers only domestic customers, if you somehow manage to break this, contact us and we'll sort it out in a way that satisfies everyone.
Made by Finn-Savotta Oy
Founded in 1955 Finn-Savotta, or just Savotta, is known for their simplistic and extremely rugged designs. For decades Savotta has been the go-to supplier of hiking gear for the Finnish civilian market and combat gear and tents for the defence forces.
Today Savotta operates two factories, one in Karstula, Finland, where they make all their tents and metal components and one in Estonia where they do about 50% of their sewing.
Reviews
You have already submitted a review. You can edit your text by clicking on it.
Log in and write a review.
Remove filter
I would recommend for a friend
Valtteri W.

18.02.2017
Heikko kohta tuossa on alataskun vetoketjut jotka menevät rikki noin kymmenen vuoden varusmieskäytön jälkeen. toinen heikko kohta on metalliset soljet jotka kuluneena alkavat luistamaan. Tälläistä alkaa ilmaantumaan n 15 vuoden käytön jälkeen.
41
3
I would recommend for a friend
Arttu U.

13.12.2017
Jämäkkä ja laadukas kotimaassa tehty rinkka, joka normaalissa retkeily- ja vaelluskäytössä kestänee vuosikymmeniä. Tähän nähden hinta ei ole paha. Tämmöinen oli aikoinaan palvelusaikoina ja ostin samanlaisen itselle.
5
0
I would recommend for a friend
Joonatan J.

16.03.2018 (Edited 16.03.2018)
I would recommend for a friend
Joonas S.

26.04.2018
Kauaa oli rinkan hommaaminen mielessä, muttei opiskelijalla oikein varat ollu riittoisat. Vaan kävipä onni että käytettynä sain suht edullisesti tämän rinkan itselleni.

Paketin saavuttua olin järkyttyä sen pienestä koosta. Kelmuun kääritystä rinkasta ei erottunut oikeastaan kuin putkirunko. Vedin 14km kelmua pois rinkan päältä ja viimein pitelin kädessäni upeaa LJK rinkkaa.

Vaikka kyseessä oli tosiaan käytetty yksilö, ei sitä oikeastaan huomannut. Nämähän on tehty kestämään. Rupesin ahtamaan tavaraa "pieneen" rinkkaani. Ensin teltta sujahti sisään. Makuualusta. Makuupussi. Kilokaupalla vaatetta. Trangia. Olin ihan hämilläni kun huomasin kuinka korkealle ylemmän lokeron saa paisumaan. Siis VAU.

Kaapillinen tavaraa ylemmässä lokerossa suljin läpän remmeillä. Eikä tiukkaa tehnyt ollenkaan. Sitten huomasin että hittolainen, tässähän on vielä pari sivutaskua ja alalokero!

Loputki taskut, kolot, tunnelit ja muut tavaraa täyteen ahdattuani kokeilin rinkan painoa. 32kg näytti puntari. Harvemmin vaarivainaan 906:seen tämmöstä määrää oon laittanu. Nostin rinkan selkääni.

Hämmästyin. Tunsin testosteronin virtaavan hurjana läpi vasemman kiveksen tuntiessani tämän miehisyyden kantaessani painavaa rinkkaa, joka ei kuitenkaan tuntunut painavalta!

Säädöt LJK:ssa voi laittaa niin huipusti niin monesta paikasta niin että rinkka ei voi tuntua kuin mukavalta. Kalamiehenä aina vaeltamaan lähtiessä on Ká Lüsto on aina vähän laajempi kuin perusjanttereilla. Putkirinkkoissahan on huippuu se, kuinka kaiken saa sidottua hyvin kaikkeen.

Vaeltamaan en oo vielä kerennyt tämä selässä, mutta vappuna kutsuu rautuvedet. Tuleepa testattua tämän hiihto-ominaisuudet.

Elinikäinen kumppani. Ei nalkuta, ei suutu jos oot pitkiä aikoja näkemättä. Tässä sulle aito friend with benefits.
11
0
I would recommend for a friend
Jesse K.

30.04.2018
Klassikko. Kestää aikaa paremmin kuin kantajansa. Ei hajoavia (muovi)osia. Rinkkani reppupussi on muovitettua nylonia siltä ajalta kun tätä ei vielä Cordurasta valmistettu.
Vaikka kantajalla alkaa jo viineinen väri näkyä päässä vetelee LJK eräreissut vieläkin täysin moitteettomasti. Omalla yksilölläni on jo ikää 15v ja kilometrejä takana muutama tuhat kolmella mantereella tundralta tropiikkiin.
Suurin taakka jota omalla yksilölläni on tulllut liikuteltua oli 38kg eli 25kg sisällä +13kg kamina remmeillä reppuun kiinnitettynä ja hyvin kulki.
3
1