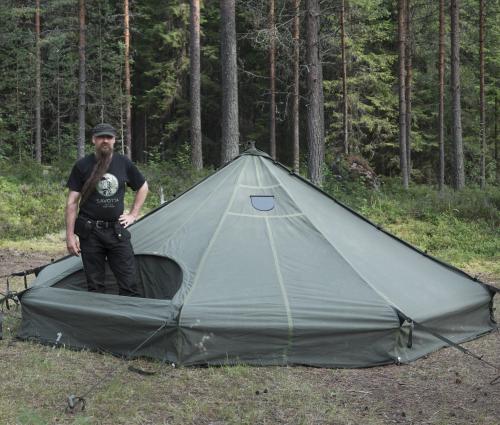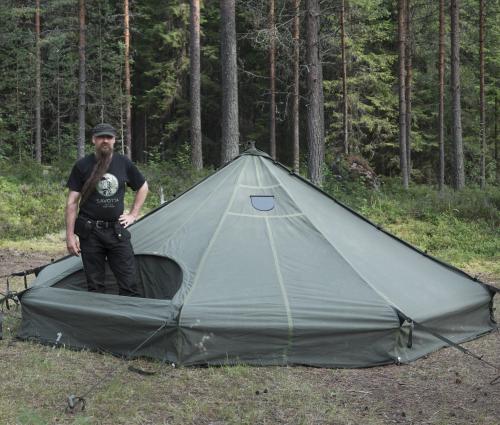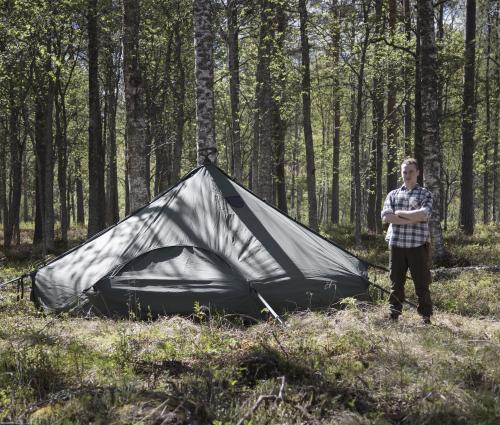 Hawu 8 Rear half as a stand-alone shelter.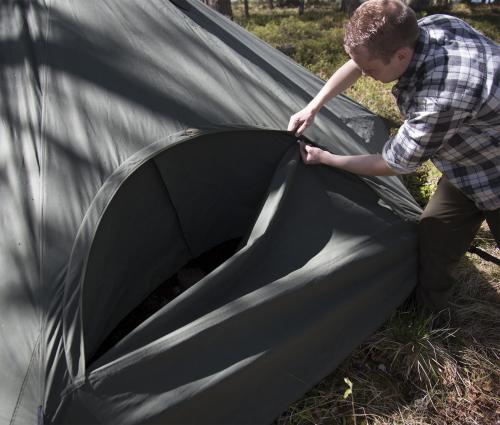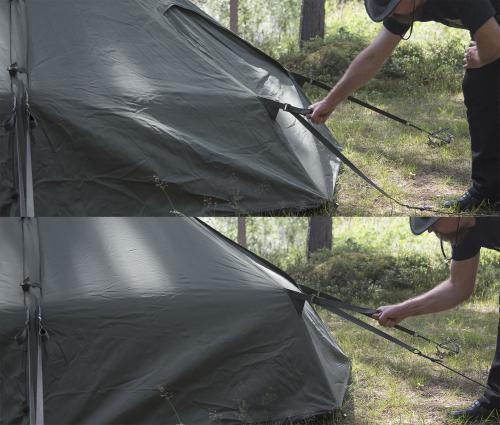 Corner line quick adjustment.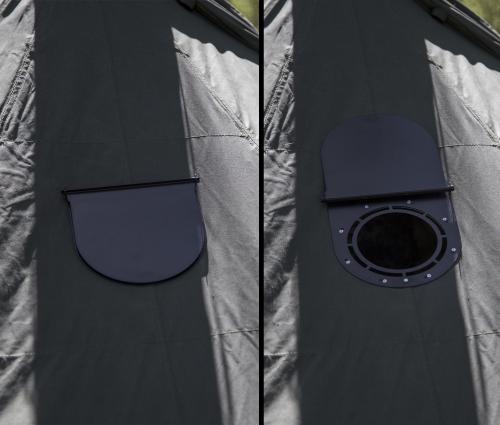 The "Pöröpelti", nickname for the stove pipe cover.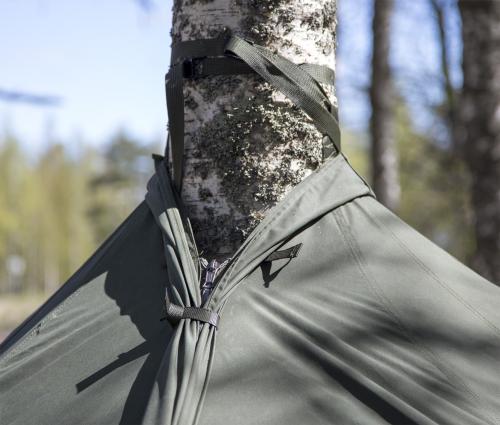 Hawu pitched around a tree.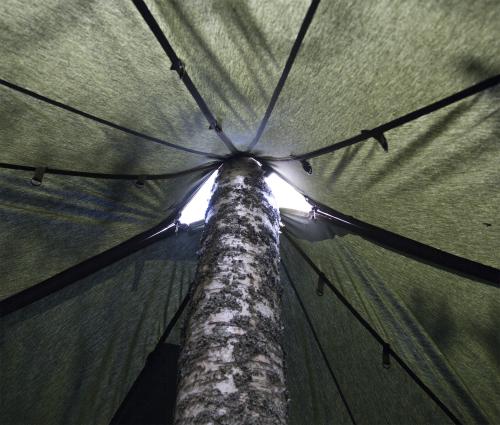 Hawu pitched around a tree.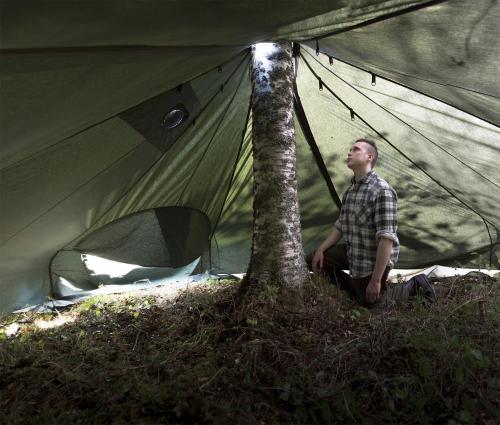 Hawu pitched around a tree.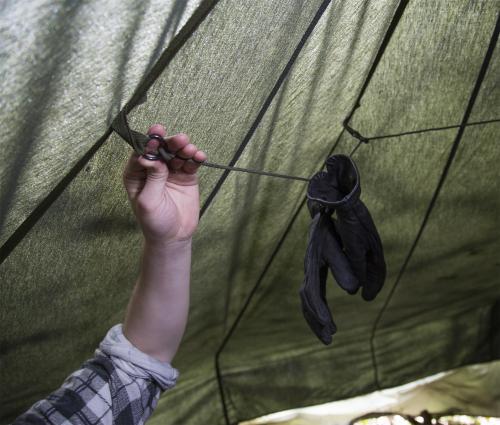 Attachment points for lines to hang wet clothing out to dry.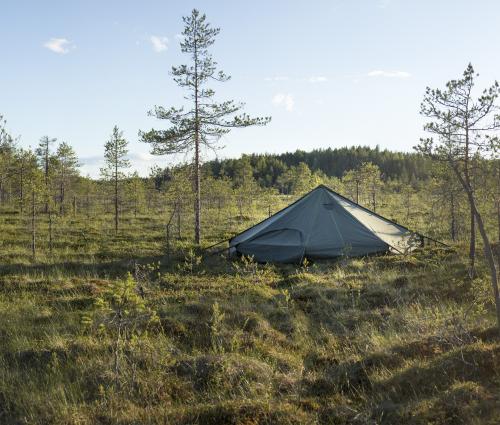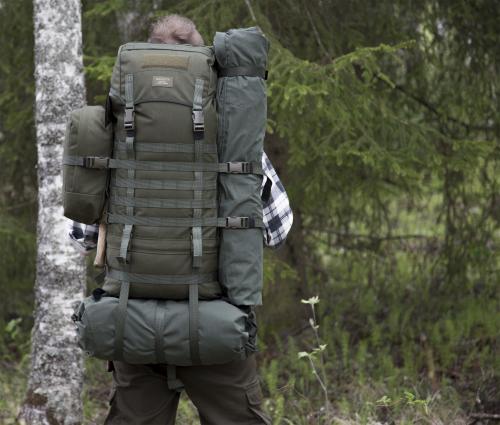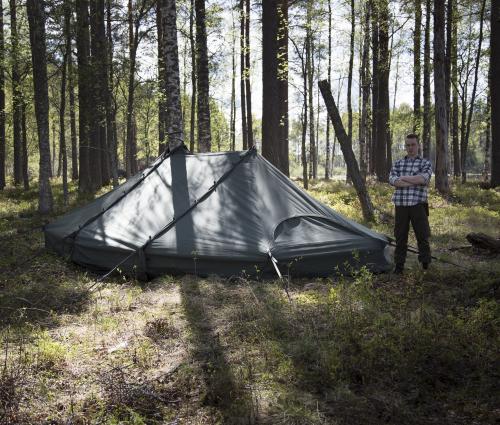 Hawu 8 extended with the additional "Mid section". This adds room for four more people.
Savotta
Savotta Hawu 8 tent
Price 1683.99 USD
excluding sales tax
The Hawu is a Proper Good™ Finnish tent, we even dare call it a rather innovative design. At first it might look a lot like the old Finnish military issue "Sissi tent", but the truth is much more wonderful. Compared to older designs the Hawu is much easier to transport, faster to pitch and superbly multi-functional. This is an unrivaled match of good old Nordic military tent design and genius modern modularity and function, really something we as Finns can be proud off.
Unfortunately we can't ship this item to your country. We're terribly sorry!
Trouble with the metric system? Try our converter: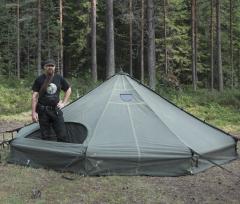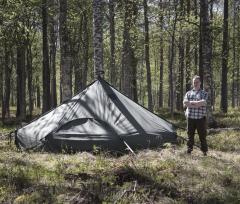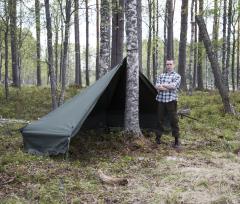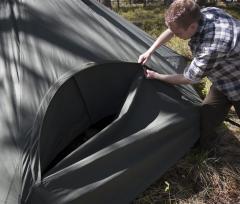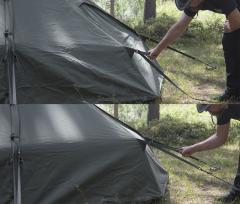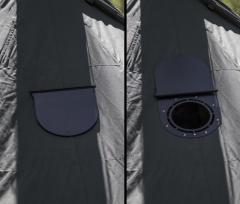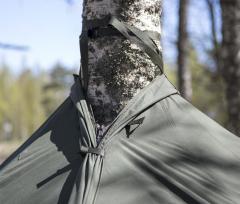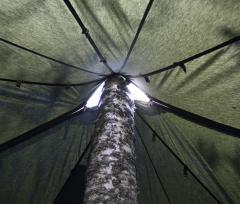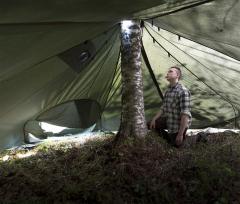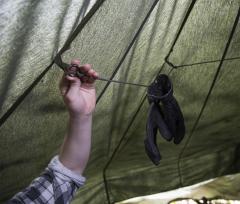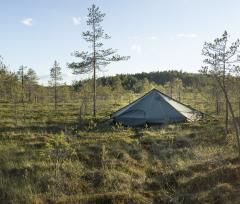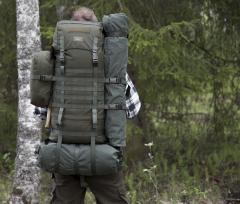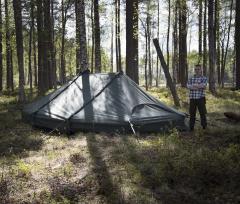 The Hawu is a Proper Good™ Finnish tent, we even dare call it a rather innovative design. At first it might look a lot like the old Finnish military issue "Sissi tent", but the truth is much more wonderful. Compared to older designs the Hawu is much easier to transport, faster to pitch and superbly multi-functional. This is an unrivaled match of good old Nordic military tent design and genius modern modularity and function, really something we as Finns can be proud off.
Due to the manufacturer's concern of litigation risk, we can't ship these items to the US or Canada.
This complete Hawu 8 tent package includes the "Door half" and "Rear half"! These are the pieces required for a complete Hawu 8 tent setup.
The Hawu 8, designed to accommodate 5-8 persons, represents a completely new way of designing portable group shelters. Aside from the usual center pole the Hawu can also be pitched around a tree trunk or hung from a branch, no corner poles are ever needed. One half of a Hawu tent can be used on its own as a tarp. The Hawu is compatible with wood-burning stoves. The Hawu is designed to survive and help you survive extreme conditions in both military and civilian outdoors use.
Hawu 8 technical specs
Designed for 5-8 persons (12 with the additional midsection).
Floor area: 13 m2
Floor diameter: 400 cm / 157"
Height: 160 – 180 cm / 5' 3" - 5' 11"

Weight
Door half: 6 kg / 13.2 lbs.
Rear half: 5 kg / 11 lbs.
Midsection: 4.5 kg / 9.9 lbs. (sold separately)

Material:breathable, rainproof, mildew resistant and fire retardant specialty fabric.
Components
Door half: which as the name implies features the door. This half also has the port for a stove pipe. Comes with a military utility strap for packing. Weight 6 kg / 13.2 lbs.
Rear half: this is a solid piece of fabric without any openings. Comes with a carabiner and military utility strap for packing and pitching around a tree. Weight 5 kg / 11 lbs.
Midsection (sold separately): an additional accessory that increases the space of the tent to accommodate more people. The Hawu 4 + midsection offers room for six people. The midsection comes with a military utility strap for packing. Weight 4,5 kg / 9.9 lbs.
Design and pitching
Extra care has been put into making the Hawu tent as easy to pitch and as multi-functional as possible. The tent is made up of two halves of which each can be used as a stand-alone "loue" style tarp. The two halves are attached to each other using zippers, the zippers are covered by a rolled storm flap which is secured by webbing tabs. When combined the two halves form a tent which can be pitched in three different ways:
As usual with a central pole.
Around a tree, the tree functions as a central pole. The rear half comes with a military utility strap and strong carabiner for attachment around a tree trunk.
Hung from a branch or any other point (telephone wires will work, but are not recommended).
Corner poles are not needed, the corner lines are pulled tight using specialty buckles, this design makes the tent "float" in perfect shape. Pitching is extremely easy and quick, even solo! Due to its special design, the Hawu tent can be purchased in parts. For the basic tent setup, you need the Door half and Rear half. Depending on how you want to pitch it you will also need a central pole and/or pegs. These can of course be made from pieces of wood out in the field but the easiest way is purchasing ready-made, purpose-built pegs and poles.
Comfort and adaptability
The complete Hawu tent provides shelter from bad weather and harsh conditions. However, even here in Finland, it sometimes happens that the sun shines and birds sing. During such anomalous weather, you can adjust and adapt the Hawu to suit the situation, you can fold it open just a bit for a nice view or open it up completely and just keep the rear half as a windshield. And when the weather gets really bad you can close all the hatches and add a wood-burning stove and drying lines for wet clothes. For these, the Hawu has a stovepipe port and tie-down points ready and waiting. When you need more space you can add the Midsection which increases interior space to accommodate even more people
Safety and terrain
If you really want to get lost with the Hawu it´s easy: just pitch it around a lush tree and you won´t be spotted even from helicopters. In case a bear comes knocking or you throw a jacket on the stove and it catches fire don't worry: the side zippers function as extremely fast emergency exits. The tent halves attach so that you can just push your way out through the joint in a hurry. You don´t have to fear the tent itself catching fire though, the Hawu is made from a fire retardant fabric. Don´t go fooling around though, you can burn a hole through the fabric if you really try and that is not covered by our warranty. The fire retardant fabric extinguishes itself as soon as it´s removed from direct contact with an open flame.
The Hawu story

The origins of the Hawu tents date back to 1993 when Pasi Yliriusku (current CEO of Hawu Pro Oy) and his associates began to develop a new outdoor tent design. Since then these sworn outdoorsmen have developed, tested, and improved the Hawu tent to perfection. The Hawu tents development process is a true labor of love, great amounts of care, and love have been poured into the process over the years.

In the autumn of 2016 Finn-Savotta OY and Hawu Pro Oy signed a partnership agreement, the Hawu tent design was finalized for serial production in co-operation with Savotta's designers and the original Hawu design and development team. Materials were ordered and the experienced tentmakers of Savotta started sewing the first production run of Hawu tents. The first batch was completed and released for sale in the autumn of 2017. Now every self-respecting hiker can be a part of the Hawu story!

Innovations

Since the design of the Hawu tents took a lot of time it also gave birth to a number of unique innovations. Ideas are best when they are simple but clever. The most important factors in the design process were utility and reliability; these would not be sacrificed for any complicated wonders and gimmicks. When examining a Hawu tent, you get a feeling that everything is just how it should be.

Material: The best possible fabric was sought after for a long time. In the end, a suitable specialty fabric was found that met all criteria. The fabric is waterproof enough but also breathable, it is also fire retardant and mildew resistant. The fabric is made from four different fibers of which two are naturally fire retardant, this makes the fabric inherently fire retardant which means it does not need any chemical treatments. One of the fibers is cellulose, which expands when wet thus sealing the fabric. The fabric feels nice to the touch, and the weight is reasonable.

Top loop + carabiner: The attachment system that secures the tip of the tent is made up from two webbing loops. This simple detail allows the Hawu to be pitched using a usual center pole, attached around a tree or hung from its tip.

Corner lines: The seams of the tent end in the corners to which quick tension buckles are attached. The shape of the corner and the tension buckles make the Hawu very quick and easy to pitch. The Hawu doesn´t need any corner poles or support rods, the tension of the corners keep it in perfect shape. The exact shape and angle of the corner pieces and the design of the tension buckles have been tuned to perfection through trial and error to make them as secure and functional as possible.

Ventilation: The tip of the tent features excess fabric, which can be used to cover up the top completely when pitched using a center pole. The tip can also be left completely open or open on just one side depending on wind direction. This way the ventilation and evaporation of moisture can be controlled depending on the circumstances. When using a stove for warming the tent it is recommended to keep the tip open to allow the warm air to transport moisture out.

Stove compatibility: A stove can be used to warm up the tent and keep moisture at bay, all Hawu tents feature a stovepipe port. During extended outings in extremely cold weather, a stove is not just a luxury, it´s a very important tool that makes it possible to dry out wet gear, rest well and just overall keep you going.

Entrance: The zippered entrance is curved which makes opening it a breeze even with just one hand. The zipper is heavy-duty and reliable. The door flap folds down and does not interfere with the action of the zipper. If you need extra grip for use with gloves on, just add a piece of cord to the zipper puller. The entrance is designed so that you step down into the tent, unlike in other similar tents where you must crawl through snow and wet moss to get inside.

Heat shield: The interior of the entrance feature a hanging piece of fabric that keep the heat trapped inside when the "door" is opened.

Tent joint: The two-part design make the Hawu unique. As the tent is made up of two separate pieces, the weight can be divided among carriers for transport. When you get to your campsite just combine the halves and pitch the tent. If extra accommodation is needed you can add the extra midsection that adds 50% of space to the original tent. The pieces attach to each other using strong zippers and storm flaps. The rolled storm flaps form a secure and weatherproof seam which is secured using a webbing tab system designed by Savotta and Hawu.

Emergency exit The joint of the tent parts is done so that when you need to you can just push your way out. The non-locking zipper and the webbing tabs just pop open when mass meets matter. If you´re not in a dire hurry we recommend using the zipper with normal care, the emergency exit feature is just that: an EMERGENCY exit.
Accessories (sold separately)
Pegs:
For one half: 5 line pegs + 5 corner pegs..
For complete tent: 8 line pegs + 8 corner pegs.
For expanded tent w/ mid section: 10 line pegs + 10 corner pegs.
Center pole: Hawu center pole. a three part telescopic aluminium pole.
Stove: Hawu tents are compatible with the standard Savotta stove and the lighter and more effective Savotta Hawu stove and its roll pipe.
Ground sheet: The SA-10 ground sheet works with Hawu tents.
Warranty
This product has a two-year warranty against defects in materials, manufacturing, and workmanship.
Made by Finn-Savotta Oy
Founded in 1955, Savotta is known for its simplistic and extremely rugged, Nordic designs. For decades, Savotta has been the go-to supplier of outdoor gear and equipment for individual outdoor people as well as various aid groups and defence forces, most notably of course the FDF.
ISO 9001:2015, AQAP 2110 Ed D, Facility Security Clearance
ISO 14001: 2015 Environmental certificate
NATO CAGE: A444G
Savotta makes a large share of their products, all of their tents, ruck frames, and all non-sewing work in Karstula, Finland, where all of the design and development takes place. Large production runs are distributed to Savotta's second factory in Estonia, which is tooled for sewing only, and Poland. The product label has the exact country of manufacture and the quality is always guaranteed.
All products: Savotta
Recommendations
Loading products...
Reviews
You have already submitted a review. You can edit your text by clicking on it. You can filter the reviews by clicking on the elements of the summary.
Log in and write a review. You can filter the reviews by clicking on the elements of the summary.