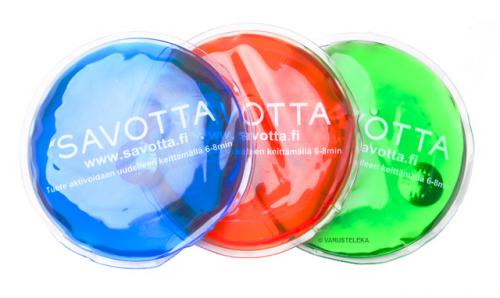 Savotta Hand warmer, reusable, 3 pcs
Price 8.99 USD excluding VAT
Flat Rate Shipping to USA $9.99
Sold 42 pcs in the last two weeks
In stock 191 pcs.
Trouble with the metric system? Try our converter: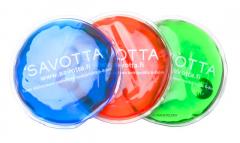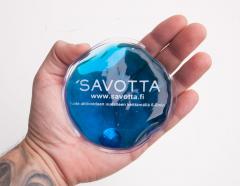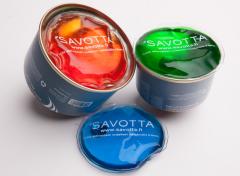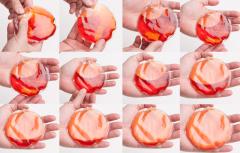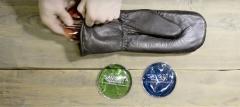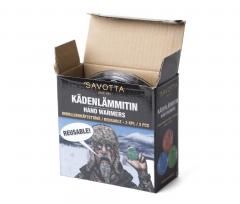 A real "must have" for anybody who needs to be out in the cold! One of these palm sized pillows can keep your fingers warm for an hour even in freezing cold temperatures. As a little bonus these are shaped to fit under gas bottles of outdoor cookers.
Instructions
Simple: pop the little metal thingy inside the pillow and the liquid will start to crystallize and heat up. The hand warmer will stay at about 50 degrees celcius for approx. an hour.
To "recharge" the warmer simply keep it in boiling water until the crystals "melt", the warmer is now ready to be re-activated! No-one seems to know how many times these can be used, but we are quite certain you don't have to buy a new set ever.
Made by Finn-Savotta
Probably made in China, to Finnish specs.
Reviews
You have already submitted a review. You can edit your text by clicking on it.
Log in and write a review.
Remove filter
Suomi
(8)
English
(3)
I would recommend for a friend
juha s.

24.02.2017
Maailman parhaita lämmittimiä, ladattavissa jopa kaasutrangialla kenttäoloissa. Mahtuu rukkaseen ja kulmattomana tuntuu kivalta käytettynäkin.
5
1
I would not recommend to a friend
Rami M.

08.03.2017
Yksi kolmesta jäi omasta pakastani lähinnä sääliä innoittavan taskulämpöiseksi, loput lämmittivät kohtuullisesti. Voi olla että kävi maanantait, mutta tosiaan itselle sattuivat epätasalaatuiset. Tähän hintaan vähän sääli.
0
1
I would not recommend to a friend
Thomas L.

10.08.2017 (Edited 27.12.2017)
Very disappointed in these. Not nearly warm enough for mild winter conditions. Will try and boil them and see if they work better next time. Nice colours, I hope my kids don't mistake them for candy. Nice that they fit under a gas bottle. If they had worked better, they would have been a great addition to my kit.
0
5
I would recommend for a friend
Ron B.

14.10.2017 (Edited 27.12.2017)
These warmers are great. I have had them for over a year; they still work fine after dozens of uses. No failures. They work well for the designed purpose. The warmers generate a good amount of heat when activated and stay hot for quite a while. Being able to recharge the warmer with boiling water is more convenient than having to carry separate fuel. A nice extra feature of the warmers is as a science demonstration. When activated, the warmers are an excellent 'hands on' example of an exothermic reaction; an example that gets kids attention. I will be buying more as gifts for science teachers. Good value.
1
1
I would recommend for a friend
Pablo V.

20.12.2017
They are cool to look at, but they reach their maximum temperatura when you pop them, and then start to lose heat. It stops adding anything of use after 20-25 minutes (tested waiting for the bus at -1 degrees C). But then, that's enough time to give you a little comfort in between tasks in camp.
1
1
I would recommend for a friend
Antti P.

07.01.2018
Olen käyttänyt näitä dronen akkujen pitämiseen huoneenlämpöisenä talvella lennättämisen aikana. Kymmenien uudelleenaktivointien jälkeen toimivat edelleen kuin uudet. Hyviä kapineita, mutta kannattaa ostaa kerralla enemmän, niin ei tarvitse alvariinsa olla keittelemässä.
1
0
I would recommend for a friend
Kalle H.

04.10.2018
Tasalaatuisuus heikkoa. Lämmön vahvuus- ja kestätaso heittelivät. Kuitenkin hyvä ja lämmittää makuupussia hyvin.
0
1
I would recommend for a friend
Alex S.

14.11.2018
3/6 omistani alkoi satunnaisesti vuotamaan tätä nestettä ympäri reppua sekä keittiön pöytiä.
Intissä täysin turhia mutta ehkä tänä talvena mikäli jäljelläolevat vielä toimivat voisi antaa uuden mahdollisuuden
1
1
I would recommend for a friend
Kari K.

18.02.2019
Käikki kolme tsekattu ja toimivat - uudelleenkeittelyaika lyhenee pari minsaa, ku kaadoin päälle vedenkeittimestä 100°C vettä suoran koko kolmikon päälle... Lämpöä tulee sen aikaa kun tulee - turha siitä on niuhottaa. Vaan saa ne nakit tai reidet suliksi ainakin puolituntiseksi...
0
0
I would not recommend to a friend
Joonas U.

24.07.2019
Omistamani kädenlämmittimet menettivät huomattavan paljon tehoansa ensimmäisen uudelleenlämmityksen jälkeen, joten eivät jättäneet kovin hyvää kuvaa tuotteesta.
0
0
I would not recommend to a friend
Anna M.

06.12.2019
Plussaa uudelleenkäytettävyyden ideologiasta. Miinusta lämmityslämmöstä, lämmityskestosta ja siitä, että kun nämä ovatkin aktivoituneet itsestään repussa kuljetuksen aikana, niistä ei pahemmin ole enää iloa kun on tarve käsillä - epäkäytännöllistä jos pitää alkaa näitä johonkin rasiaan pakkaamaan kun muuten menisivät pieneen tilaan. Yhdyn aiempaan kommenttiin siitä, että ei hyödyllinen valinta inttiin.
0
0