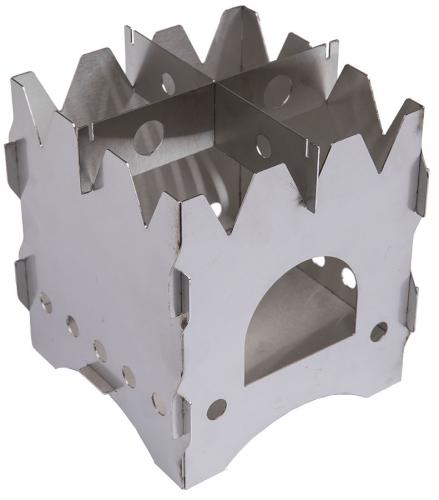 Särmä Wood Stove, laser cut
Price 18.99 USD excluding VAT
Flat Rate Shipping to USA $9.99
100 % recommends
Sold 63 pcs in the last two weeks
In stock 103 pcs. Also available in our walk-in store.
Trouble with the metric system? Try our converter: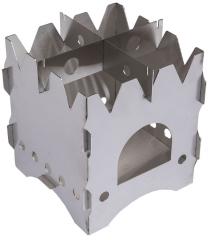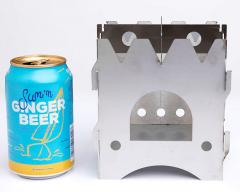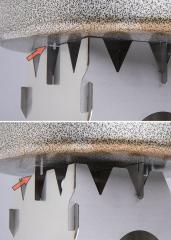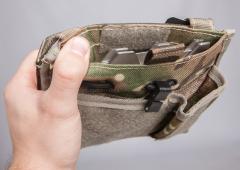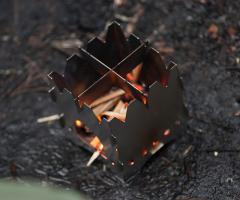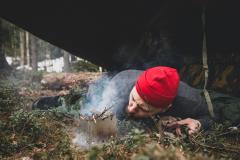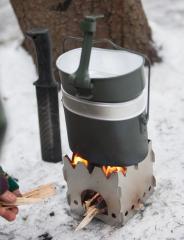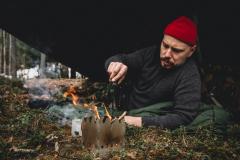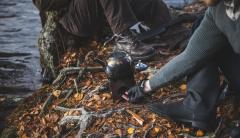 A wood burning hobo stove of very very very Finnish design! This might not be the prettiest, lightest or handiest stove out there but it works, packs relatively small and is modestly priced and of course 100 % made in Finland.
Do not order this to the US. These are not approved for sale there, you could get into trouble.
Design seven sheet steel parts that come together as a stove, laser cut them in form. Wrap them in plastic and sell. That's what we are selling here. No fancy stuff. Works with any size cup or pot and is very stable.
Weight about 500 grams, measurements about 13,5 x 13,5 x 14 cm. The (stainless) steel is about 0,9 mm thick, very strong.
Official instructions of use
1. Remove plastics (also the ones attached to the steel).
2. Assemble the stove.
We go by the official guidelines of the manufacturer: "if you can't assemble this, you probably can't start a fire either"
As a little specialty you can flip the cross bars on the top around for adjusting the airflow under the pot sitting on the stove.
Please note: these are laser cut and the edges aren't smoothed out. This presents a challenge to any pouch you might want to carry this - some Admin pouches work pretty well!
Made in EU
Made by HTLaser in Finland, EU.
Särmä products are covered by a 12-month warranty against defects in materials and workmanship. For further information please read our detailed warranty guide.
Do not order this to the US. These are not approved for sale there, you could get into trouble.
Varusteleka Särmä
Särmä is our own brand of clothing and equipment. When you buy Särmä you get purpose-built stuff at a decent price, something that will fill it's intended role well and not cost you an arm and a leg!
Särmä products are covered by a 12-month warranty against defects in materials and workmanship. For further information please read our detailed warranty guide.
Reviews
You have already submitted a review. You can edit your text by clicking on it.
Log in and write a review.
Remove filter
Suomi
(21)
English
(15)
I would recommend for a friend
Mikko T.

20.07.2016 (Edited 03.05.2017)
Tänään tuli ja eiku testaamaan.Parilla kourallisella kuusen alaoksia paloi tunnin.Mahtuu brittien nelikulmaisen pakin sisään,tilaa jää vielä lu-halle,sytyspaloille,tulitikuilla ym.Suosittelen...
14
8
I would recommend for a friend
Otto I.

07.08.2016 (Edited 23.05.2017)
Hoitaa homman erittäin hyvin, risut palaa hyvin ja puoli litraa vettä kiehuu hetkessä. Ihan tuota pari kourallista risuja = tunti paloaikaa en allekirjoita, koska melko tiheään tahtiin tuohon sai lapata poltettavaa. Kuitenkin kaikin puolin kätevä kapistus joka menee pieneen tilaan.
24
4
I would recommend for a friend
Petteri K.

17.08.2016 (Edited 29.03.2017)
Tuli testattua metsässä. Kattilallinen oli pakaste jähmeää lohta, pakaste vihanneksia ja kermaa yms. Eli ison satsin tein keittoa. Olin todella yllättynyt kuinka vähän noin 20min keiton keittämiseen tarvitsi risuja/oksia. Ehdottomasti lähtee metsään mukaan useamminkin! En ole muita risukeittimiä testaillut ikinä joten en osaa vertailla, mutta hinta/toimivuus tässä vehkeessä kohdallaan :)
Ostin keittimelle Retki merkkisen karttalaukun joka oli tosi passelin kokoinen kuljetus laukku. 12,90€ (CM)
15
4
I would recommend for a friend
Hannu P.

30.08.2016 (Edited 08.05.2017)
Hiekkapesulla tuotteesta saa ihan puhtaan. Säilytyspussukka ei niin nopeasti likaannu. Muutaman hiekkapesun jälkeen ovat terävät pellinreunat tylsyneet sopivasti, eikä kuljetuspussi hajoa.

Hiekkapesun jälkeen pitää laite koekoota, ettei joku osa jää hiekkarannalle uimareita haavoittamaan. Kuljetuspussiin voi kirjoittaa "7 osaa".
14
25
I would recommend for a friend
Jaakko M.

17.10.2016 (Edited 29.11.2016)
Pieni, näppärä, halpa. Muutaman kerran nyt ollut reissussa mukana. Verrokkina Wild Wood Gas MkII ja Kelly Kettle. Sekä WWG että Kelly ovat huomattavasti tehokkaampia, mutta Särmä menee paljon pienempään tilaan. Yleiseen tulusteluun ei myöskään niin ahne kuin edellä mainitut, eli tikkua ei tarvitse aivan jatkuvalla syötöllä olla lisäämässä. Isohkosta palopesästä johtuen tehoja keittimestä saa kuitenkin kohtalaisesti irti.

Täydellinen keitin tilanteisiin, jossa ei keittelyn tarve ole aivan selvä. Polttoainetta saa ympäristöstä, keitin on nopea kasata ja pienen kokonsa vuoksi on helppo ottaa matkaan. Jos taas väkeä on enemmän, matka pitkä tai olosuhteet ovat haastavat, pakkaan mukaan toisen keittimen. Sinällään kyllä lunastaa oman paikkansa paremmin kuin hyvin.
17
5
I would recommend for a friend
Joni L.

09.01.2017 (Edited 22.03.2017)
Halpa, menee pieneen tilaan, keittää veden paaljon nopeammin kuin trangia, kunhan puu vaan on kuivaa. Jos ei halua upottaa miljuunaa risukeittimeen, niin tää on hintalaatusuhteeltaan ihan omaa luokkaansa.
11
6
I would recommend for a friend
Marko M.

17.01.2017
Kotimainen!
35
5
I would recommend for a friend
Otso L.

14.02.2017
Kotimainen ja varsin toimiva keitin. Kokoaminen nopeeta ja keittää hyvin. Kannattaa pakata tietty kevyet työhanskat noen leviämisen välttämiseksi, mutta sehän kuuluu avotuliruokailuun aina. Pelti tarpeeksi paksua, eikä ole pahemmin vääntyillyt lämmittelyistä.
15
3
I would recommend for a friend
Joseph B.

14.03.2017
Excellent piece of kit. Easy to carry, easy to assemble and keep a fire going.
Tested it with beech, mimosa, and citrus wood. Kept it going and going and in the end there wasn't the slightest warp in the steel.
Very easy to dismantle and pack away.
Very, very happy with it.
33
6
I would recommend for a friend
Justin N.

04.04.2017
Great little stove easily holds a 2 L pot well made.
12
5
I would recommend for a friend
Pablo V.

09.06.2017
I would recommend for a friend
Ignacio N.

17.06.2017 (Edited 01.12.2017)
Fantastic. Fantastic. I mean..... Fantastic. Efficient, smart.... great.
Burns fast because it gets hot fast, easy to carry.... Fantastic. And I have used it in January, on snow in Norway. I think that's a fair test.
18
5
I would recommend for a friend
Janne S.

21.06.2017
Ensivaikutelma vekottimesta positiivinen: Laitoin 1,5l vettä kiehumisaikatestiin ihan normipakilla sään ollessa tuulinen sekä maan ollessa aavistuksen kostea sadekuuron jäljiltä. Kipinäraudalla tuohimupena tulille ja parisenkymmenen minuutin päästä voilà! Eipä se kaasukeitinkään tuon nopeampaa olisi kiehauttanut samoissa olosuhteissa... Valppaana saa kyllä olla, sekä risuja kannattaa hakea heti kerralla tarpeeksi kun meinaa keitin syö niitä aika hyvällä tahdilla. Tämä keitin lähtee takuulla seuraavalle vaellukselle mukaan!
7
7
I would recommend for a friend
Jan D.

11.08.2017
I would recommend for a friend
Dan T.

02.09.2017 (Edited 28.12.2017)
This stove is great. Sturdy and reliable and packs into a small space. A no regret purchase, this stove is wonderful. I prefer it to my FireBox stove.
14
5
I would recommend for a friend
PettuLeipä

09.09.2017
Huomattavasti parempikäyttöinen kuin sellainen lieriönmallinen: Helppo laittaa puita lisää, tukevampi, pienempään tilaan menevä, kotimainen...
Pärjää sateellakin ja pakkasella, kunhan vaan on kuiva tuohituppo takataskussa.
Hyvin pärjäsi tällä viikon UKK-puistossa vaikka satoi kohtalaisesti.
9
4
I would recommend for a friend
mobi

26.10.2017
Brilliant bit of kit. Packs down nicely. Will hold any size pot. Burns efficiently (once you get it going!) And because it makes a nice handful of white wood ash you can clean ya pots after cooking in them.
10
4
I would recommend for a friend
Juho E.

29.10.2017
Itse omistan Savotta Happy Stoven, (joka on ihan kuin tämä mutta tässä se naama on alaspäin) sama tuote silti aika pitkältään ja ekan käyttökerran jälkeen (vesisateessa) voin sanoa että kyllä se toimii ihan hyvin.
6
2
I would recommend for a friend
Ville K.

07.11.2017
Erinomainen valinta keittimeksi moottoripyörä reissulle, toimii hyvin myös trangian polttimen kanssa.
6
3
I would recommend for a friend
Sami K.

19.11.2017
Omistan sekä tämän että Wild Woodgas Stoven. Siihen verrattuna tämä menee huomattavasti pienempään tilaan ja on helppo sujauttaa reppuun; tämä on myös kaikin puolin tukevampi. Tämä ei kuitenkaan ole yhtä tehokas - siinä missä Woodgas Stove polttaa puun aika pitkälti kokonaan hienoksi tuhkaksi, tämän pohjalle jää isoja kekäleitä - luultavasti siksi, ettei pohjassa ole ilmareikiä, jolloin se keskelle jäävä puu ei saa tarpeeksi ilmaa palaakseen läpikotaisin. Tätä voisi tietysti koittaa viritellä poraamalla pohjaan muutamia ilmareikiä - se tosin taitaisi tehdä tästä lakimielessä avotulen; mutta toisaalta, ilmanottoaukoista ja syöttöaukosta tippuu muutenkin maahan kipinöitä ja pieniä kekäleitä, joten tätä pitäisi muutenkin ajatella ihan avotulena eikä suljettuna retkikeittimenä. Kulkee joka tapauksessa mukana useammin kuin Woodgas Stove pakkautuvuutensa, yksinkertaisuutensa ja tukevuutensa ansiosta.
8
3
I would recommend for a friend
Otso R.

16.03.2018
Tänään tuli testattua ja kaikin puolin loistava vekotin.
5
1
I would recommend for a friend
Luis M.

25.03.2018 (Edited 25.03.2018)
The stove works great. I'm very happy with it. It burns hot and efficient. It leaves no mess. It's easy to pack. And it heats my food. It makes me happy. You should get one too.
16
2
I would recommend for a friend
Mason P.

07.04.2018
A bit heavy, but super efficient and doesn't take up any room. Neat!
8
0
I would recommend for a friend
Marko P.

28.06.2018
Vuoden nyt ollut käytössä, joten uskaltaa jo arvostella. 5/5

Samaa hehkuttelua kuin aikaisemmillakin hehkuttelijoilla, mutta haluan vielä semmosen sanoa, että todella hyvä korvike nuotiolle, varsinkin jos yksinään liikkeellä.

Vähän tuhdimpaa klapia syöttöpuuksi, niin ei ihan joka hetki tarvitse pikkurisua lisäillä. Useamman tunnin iltaistuskelua tullut reissuilla tämän kanssa harrastettua, ja nykyisin melkeenpä mielummin laitan nuotion risukeittimeen oikean nuotion sijasta.
7
0
I would recommend for a friend
Pasi K.

01.07.2018
Reilun vuoden ollut käytössä, toimii hienosti kesät, talvet.
3
0
I would recommend for a friend
Tommi T.

19.08.2018
Loistokampe! Vasta vuosi ostamisen jälkeen testasin ensimmäisen kerran, ja voi pojat, että mies on ollut tyhmä, eikä ole käyttänyt tätä aiemmin. Tulevan syksyn metsästysreissuilla tulee kulkemaan mukana risukeitin tykötarpeineen, eikä enää tarvitse miettiä onko kahvi termospullossa lämpöistä vai ei. Puuta kannattaa tehdä alkuun tarpeeksi, eikä liian täyteen kannata pesää tunkea, varsinkin jos käyttää hiukankin kosteampaa puuta.
6
0
I would recommend for a friend
Vilho T.

14.10.2018
Särmän risukeittimen Mark 2 käytössä (syöttöaukko sentin ylempänä).
HUOM! Se niksi, että polttaa pöllin neljää vartin osaa kuori vastakkain, on täydellinen. Ei tarvii keräillä risuja pimeässä! kun meni lähtö myöhään) ja loppuunpalaminen vie ainakin puoli tuntia (oli muuten koivuhalkoa tässä tapauksessa). Mahtuu noin 8 senttinen pätkä helposti vielä ritilän alle. Yhtään mitään en lisäillyt tuleen alun jälkeen, vain siirtelin paremmin kasaan hehkuvia osia. Loppuhiilloksella olisi makkarankin paistanut ritilän päällä helposti tai mukuloiden kanssa vaahtokarkit. Piti kahvit juotuaan suorastaan odotella, että hiilet palais pois jotta pääsis lähteen, kun alkoi olla pimeää.

Niin ja keitin kahvit, about 8 desiä vettä alumiinipannussa, enkä ehtinyt edes alkaa fiilistellä skutsia ja tähtitaivasta, kun vesi jo kiehui, prkle. Reilusti alle 10 minuuttia, ehkä jopa 5 min kun jäi ajanottoa ajatellen fataalisti kelloa katsomatta (lokaloimun lämpö oli 14 astetta vielä tosin).
Nuotiopaikalla jos polttelee niin kippaa hiillokset pois ja värkki jäähtyy äkkiä kantokuntoon. Eikun menoks. Hyvät iltakahvit jopa liian ripeästi.

Maksaa aika vähän ja 10 € taskun kanssa saman verran kuin Savotan malli. Toimii kuin häkä. Ei kai eroa toisen firman iloiseen versioon. Paitsi että merkittävästi paksumpaa peltiä eli Särmä kestää paremmin (?).

Jotta arvio olisi hyvä, pitäisi osata sanoa jotain negatiivistakin, kai.
Isolle porukalle tämä ei mitään keittele. Vaikka perheelle (2 aik.+ 3 lasta) kokkaaminen on suorituskyvyn rajoilla ja ehkä tuolla puolen, ainakin jos pelkillä random risuilla poltellaan. Ehkä makkarat saa paistettua. Tai talvella nuotionalun kehitettyä tässä(!). Yhden tai kahden hengen keittelyihin varmin, ylimääräiset saavat mahdollisesti haaleaa sapuskaa.
8
1
I would recommend for a friend
Justin F.

07.11.2018 (Edited 07.11.2018)
It's very easy to pack, and simple to assemble, as the description says. I would advise putting the face plate on last when building, & removing it first when disassembling, to avoid a struggle.
5
0
I would recommend for a friend
Marco M.

11.12.2018
Yli vuoden omistaneena, ainut parannus mitä tekisin, nostaisin 1-1,5cm ylemmäs tuota syöttöaukkoa. Helpottaisi hieman kun ylempää saa vanhojen purujen päälle ladottua tavaraa.
2
0
I would recommend for a friend
Henry H.

22.03.2019
Surprisingly hefty. I can confirm it does weight about a pound, it's just some weird Newtonian magic that makes it feel like it weighs a lot more than my bivvy bag even though the scales say that there is very little difference. I had an Osprey admin pouch laying about and it fits perfectly inside there. I was very suprised by how well it all fits together and how cleanly cut and smooth the edges were—I was half expecting to need to wear gloves when assembling it, so it's far better than the Chinesium contraption my mate bought off Amazon for a similar price, assembling which is like trying to make a house of cards out of razor blades. If there is room for improvement it would be the floor of the device which is a solid plate. Some small holes for airflow in and ashfall out would be nice, but that's nothing I can't do myself.
2
0
I would recommend for a friend
Ari K.

10.05.2019
Tällä keittimellä pääset lähes nuotiotunnelmaan ja saat nokiset näpit. Yksinkertainen ja kestävä hökötys. Polttoainetta ei tarvitse kuljettaa mukana mutta kannattaa, ainakin sytykkeiden verran. Muuten voi sateisella säällä risujen polttaminen käydä työlääksi. Metsässä kun puuliiterin kuivat halot (risut) eivät aina ole saatavilla.

Yhden tähden miinustan viimeistelemättömistä särmistä, jotka voivat aiheuttaa haavereita tai rikkoa esim. säilytyspussin. Myös se säilytyspussi (vrt. Savotta) olisi vakiona kiva. Brittiläistä Admin-taskua kaupataan myymälässä risukeittimen vieressä. Kyllähän keitin sinnekin menee mutta tasku on pelkän keittimen säilytykseen turhan kökkö, varsinkin jos molle-kiinnitykselle ei ole tarvetta. Hinta näillä optioilla pompahtaisi mutta itse olisin sen valmis maksamaan.
3
0
I would recommend for a friend
Bjornar M.

16.06.2019
Ripped the plastic off and commenced bbq'ing chicken and brewed a cup of tea for dessert.
Great value for the money!
1
0
I would recommend for a friend
Roberto

07.07.2019
Excellent. Large enough to barbecue 5 standard size swedish hotdogs at a time. Buy two if you have a large family and are in hurry to keep their pieholes full and quiet. Use the kids to gather fuel for you, they are more than happy to feed the "cute" stove.
3
0
I would recommend for a friend
Juuso L.

15.08.2019
Toimii kuten piitääkin
1
0
I would recommend for a friend
Russell K.

25.09.2019 (Edited 25.09.2019)
I love this stove. Even tho it said it was bad to buy from the U.S. I ordered it anyway....took 3 weeks to get thru U.S. customs(morons!!!) It is well worth the wait. Might be a bit heavier or not as fancy as the U.S. made products but for the price it works excellant for me. No warping, nice air flow and it channels the heat very well. I took another chance and ordered 2 more along with a Sarma OD green poncho.....only took 4 days to pass customs lol. I use a Survival Resources mini half grill on top when cooking food and carry it in a Survival Resources mini half grill oil cloth pouch
3
0
I would recommend for a friend
Micha -.

17.02.2020
Very efficient little stove, sturdy, steady and quick to assemble. I had a little doubt on the airing, it's just perfect.
A mini grill grid is a real improvement, for appropriate sized BBQ or little cups: Varusteleka don't wait too much to offer your own...
Turns in a pretty gold colour after a while, makes you seem rich.
Besides, it can be used for a pretty legit Playmobil castle, just let it cooling down.
0
0