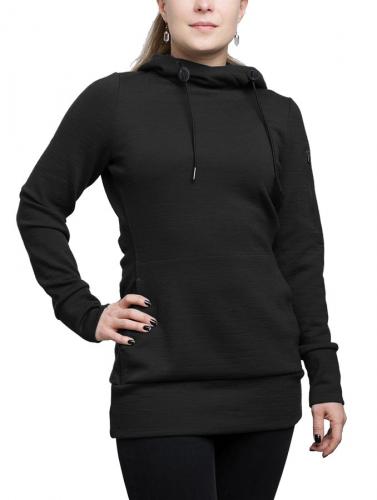 Särmä Women's Merino Wool Hoodie
Price 110.99 USD excluding VAT
Flat Rate Shipping to USA $9.99
95 % recommends
Sold 17 pcs in the last two weeks
Loading products...
Trouble with the metric system? Try our converter: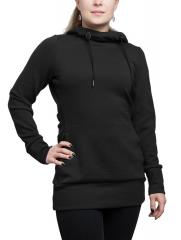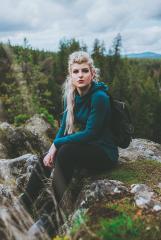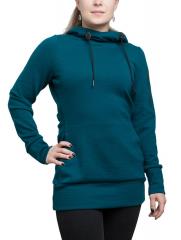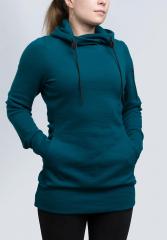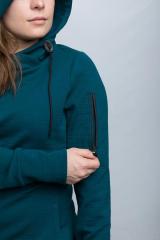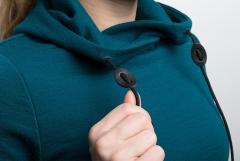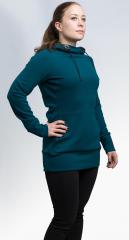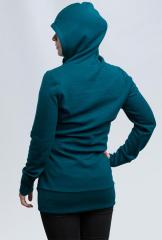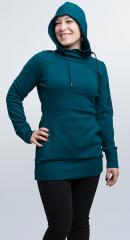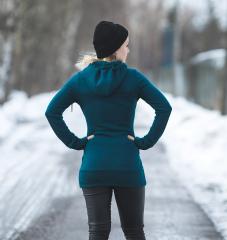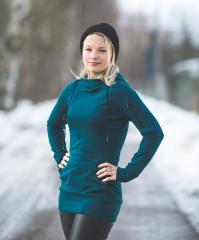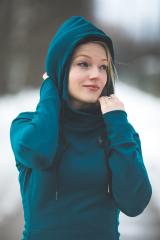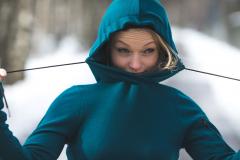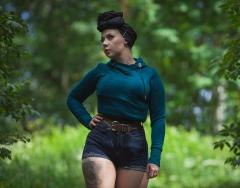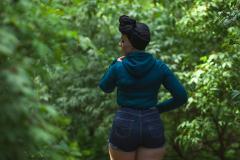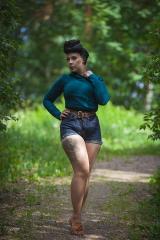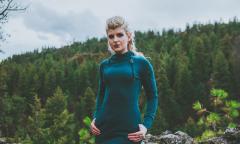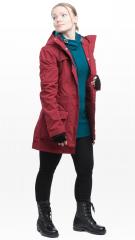 Särmä merino hoodie is our single biggest money maker, which is no wonder, as it really is superb. It's good for women too - pretty much all our female employees have at least one - but here's something specifically tailored for female body and style.
This is a super comfortable, good looking piece of clothing, which works in the outdoors thanks to the material. Merino wool defies belief - it's breathable, warms when it's cold but doesn't get uncomfortable when you go indoors.
New cut and other notable points
The most important thing - the size table and the cut is specifically made for women
Compared to a regular hoodie, this is a lot roomier and lacks the zipper closure. It's also a bit longer, one could consider this as tunic length, even.
The hood has drawstrings. The collar most definitely doesn't chafe, but it still offer some protection from wind.
To make this less manly man carry-it-all operator garment, there are only two pockets - a double-sided hand warming pocket and a zippered pocket on the sleeve for your phone - because when you buy women's trousers anywhere but from us, there's never a pocket big enough for a phone.
Amazing merino wool
The fabric is 78 % merino wool (mulesing-free), 19 % viscose and 2 % elastane. The viscose content makes a world of difference compared to 100 % wool in terms of durability, but when it comes to the good qualities of merino - warmth, odour resistance etc, you won't notice it.
All our merino wool products are mulesing-free!
Size info
Listed easy sizes are followed by European average height (160-170 cm) women's standard size numbers. In the chart below you'll find key measurements, taken from the garment itself laid flat. Multiply by two to know the circumference. Note that the material is stretchy and when washed correctly, Merino wool doesn't really shrink from the size it is when new.
The listed hem width is measured at the lowest edge. The hem fold (ribb) is 2 cm wider at the top so it's contoured to the waist curve and doesn't creep up. Centre back length is measured from the lower back edge of the hood to hem.
| Size | Chest width | Waist width | Hem width | Sleeve length | Centre back length |
| --- | --- | --- | --- | --- | --- |
| X-Small | 42 cm | 33,5 cm | 42,5 cm | 63 cm | 72 cm |
| Small | 46 cm | 38 cm | 46,5 cm | 63,5 cm | 73 cm |
| Medium | 50 cm | 41,5 cm | 50,5 cm | 64 cm | 74 cm |
| Large | 54 cm | 45,5 cm | 54,5 cm | 64,5 cm | 75 cm |
| X-Large | 59 cm | 49,5 cm | 59,5 cm | 64,5 cm | 76 cm |
| 2X-Large | 65 cm | 56,5 cm | 64 cm | 65 cm | 77 cm |
Varusteleka Särmä
Särmä is our own brand of clothing and equipment. When you buy Särmä you get purpose-built stuff at a decent price, something that will fill its intended role well and not cost you an arm and a leg!
Särmä products are covered by a 12-month warranty against defects in materials and workmanship. For further information please read our detailed warranty guide.
Made in Lithuania, EU.
Reviews
You have already submitted a review. You can edit your text by clicking on it.
Log in and write a review.
Remove filter
Suomi
(11)
English
(8)
I would recommend for a friend
Annika I.

16.03.2018
Uh ja ah,yhtä hyvä huppari kuin vetoketjuversiokin. Tästä uudesta koko S oli sopiva ja vetoketjuversiosta XS. Ei tarvitse naisenakaan ostaa enää paljon muualta vaatetta kuin lekasta ja nämä kelpaa työvaatteeksikin toimistoon. Velcrolapun kun vielä ompelen hihaan kiinni niin saa "arvomerkit" arvoisensa paikan.
7
2
I would recommend for a friend
Emmi J.

17.03.2018 (Edited 23.05.2019)
- Ei raavi kaulaa kun ei ole vetoketjua, toisin kuin miesten versio ylös asti suljettuna. Pitää kaulan lämpimänä muttei purista.
- Hihataskuun mahtui yli 5-tuumainen puhelin koteloaan myöten, 6/5
- Aivan mielettömän hyvä leikkaus, hivelee muotoja. Huppari on kapeampi vyötäröltä, leveämpi lantiolta ja toi iso resori hihoissa ja helmassa on ++++++. Joku kerrankin tajuaa, minkä muotoisia naiset on!!
- Vaikka S on nafti ja vartalonmyötäinen itselleni, huppari on silti uskomattoman mukava. Saumat ei tunnu, vaate on lämmin ja mukava iholla
- Näyttää niin perkeleen hyvältä
- Kiitos aivan helvetisti tästä vaatteesta

Olisin kaivannut hihoihin peukkureikiä, mutta eipähän kulu hihat töissä puhki niin helposti tällai.

Tilasin molemmat värit kun en osannut valita niiden väliltä. Kivoja molemmat.
Tätä jos saisi vaikka Oxbloodina tai oliivinvihreänä, ostaisin niitäkin.

Uusi suosikkihupparini! Taitaa toi miesten merinoversio jäädä useammin kaappiin tästä lähtien ;)
18
3
I would recommend for a friend
Lasse H.

18.03.2018
I would recommend for a friend
Elina K.

20.03.2018
Nerokasta! Mahtava vaate, ja leikkaus ja mitoitus on todellakin juuri niin kuin pitääkin!
Lempivaatteeksi välittömästi. Sinivihreä on lempparivärejäni, mutta Oxbloodina ostaisin minäkin myös.
4
2
I would recommend for a friend
Taru T.

21.03.2018
Lyhyesti: IHANA!

Vähän pidemmästi: Täydellinen leikkaus. Istuu hyvin ja on tarpeeksi siisti töihin. Sinivihreä väri on kaunis, vaikka sitä tilatessa hieman puntaroin.
Vetoketjullisesta minulla on xs, joka on hieman iso varsinkin hartioista. Tästä otin myös xs:n ja se on ehkä vähän tiukka, mutta kangas kyllä joustaa eikä paita ole kuitenkaaan mikään makkarankuori.
Taidan tilata myös mustana.
4
2
I would recommend for a friend
Thorsten H.

24.03.2018
Awesome quality. The teal is very vibrant and the fit is great. My wife loves it.
4
1
I would recommend for a friend
Robert T.

09.04.2018 (Edited 17.04.2018)
I got this for my wife for her birthday and she loves it. The teal is heavily saturated looking and the merino wool is warm, breathable, and comfortable.





My wife loves the cut of this hoodie. According to her it makes her look and feel very feminine.



I meant 5 stars. For some reason I can't edit or delete my star rating.
2
1
I would recommend for a friend
Pol D.

17.04.2018
Got one for my wife's upcoming birthday...She raided the parcel taking hold of it's contense, tested the hoodie....and demanded that I order another one ?!!! Had to trick Her into giving it to me so I could hide it from Her ....to give to Her for Her birthday *sighs shaking His head*...women... .
5
2
I would recommend for a friend
Maija M.

01.05.2018
Melkein toivoin hinnan takua, että olisi ollut huono malli, mutta olikin päällä tosi hyvän näköinen! Vaikuttaa laadukkaalta ja on lämmin. Väri enemmänkin vihreä, kuvat hieman hämää. Yksi tähti lähtee pois leikkauksesta, itselläni huppari kinnaa taaksepäin ja alkaa puristaa kaulasta. Saa siis olla vähän päästä kiskomassa takaisin paikoilleen.
3
2
I would recommend for a friend
Kati Y.

08.05.2018
Hyvä, kiva, jes! Ihan mahtavaa että kerrankin hupparissa on jotain muotoleikkauksiakin. Sitten vielä jos tän sais vaikka keltasena. Tai punasena. Pidemmän ajan käyttökokemukset vielä uupuu, mutta tulen takaisin valittamaan jos räjähtää atomeiksi tai venähtää muodottomaksi.
11
2
I would recommend for a friend
Gareth B.

14.05.2018
Got the teal version as a present for my wife, yes, that's right, she didn't want any surplus army trousers!??!?!? Anyway, she loved the colour, the material, and the fit is perfect for her. I can't say much about it's effectiveness outdoors in the snow as it's spring here in the UK and she's only worn it around the house, looking happy, but it feels like a good weight! 10/10
1
0
I would recommend for a friend
Ingrid-Silvia E.

17.09.2018
I would not recommend to a friend
Sonja R.

28.02.2019 (Edited 28.02.2019)
Tätä hupparia olin odottanut ilmestyväksi siitä päivästä asti, kun ensimmäiset julkaisutiedot siitä tipahtelivat Varustelekan syötteeseen Facebookin puolella, ja laitoin tilauksen menemään sinä päivänä kun paidat saapuivat Varustelekalle. Pettymykseni oli valtaisa, kun vihdoin ja viimein paketti saapui postitse ja paita oli jotain aivan muuta mitä kuvailutiedoissa oli vielä alkuun ollut.

Itselläni on atooppinen iho, joten vain villapaidat jotka ovat hienoa kuitua tai joissa on pehmeä sisus, sopivat käyttööni. Sen takia olin innoissani kun alkuperäisissä julkaisuissa luvattiin paidan olevan pehmeä sisältä, ja olevan funktionaalinen kuten miesten versio.

Paita päällä liikkuminen oli kumminkin parhaimmillaankin epämiellyttävää, ja vaikka otin yhden koon normaalia isomman hupparin, se tuntui päällä todella tiukalta aivan vääristä kohdista. Vähän enemmän fyysistä työtä tekevälle en voi hupparia suositella. Ainoa positiivinen puoli on värivaihtoehdot but that's about it. Jos olet yhtään leveämmät hartiat omaava nainen, jonka pitää pystyä liikkumaan, tämä ei ole siihen soveltuva huppari.

Jostain syystä miesten hupparin materiaali ei itselläni aiheuttanut samanlaisia ihoreaktioita, joten en aivan ymmärrä miten naisten version kangas tuntui niin karhealta ihoa vasten.
3
10
I would recommend for a friend
Farasha E.

12.03.2019
This is very flattering, comfortable, and the materials are really nice.
0
0
I would recommend for a friend
Ronja V.

01.04.2019
Ihana tuote! Tekstiilin laatu vaikuttaisi olevan hyvä, istuvuus loistava ja sinivihreä väri kaunis. Omasta mielestäni tämä vartalonmyötäinen leikkaus on erityisen hyvä siksi, että käytän manuaalipyörätuolia eli istun kaiken aikaa. Huppari ei laskostu vyötärön alueella miksikään epämääräiseksi kasaksi, vaan näyttää hyvältä myös minun päälläni.
4
1
I would recommend for a friend
Robert S.

01.04.2019
I got this as a Christmas present and my wife absolutely loves it. The quality is amazing, the teal color is very nice, and it is very warm. The sizing charts were really helpful and I just compared the measurements to one of her current shirts and it fit perfectly. I used DHL shipping to the USA and it was hard to believe how quickly it was delivered in just 3 days.
0
0
I would recommend for a friend
Marika P.

02.08.2019
Materiaali on paksua ja mukavan oloista. Sinivihreä väri on aivan huippu! Saisimmepa vielä meille naisille huputtoman, normaalipituisen pitkähihaisen paidan ja tietenkin merinoa. Se kävisi hyvin syksyn viiletessä töihin pyöräilessä ja koiran kävelytys reissuilla.
1
0
I would recommend for a friend
Petra P.

24.08.2019 (Edited 24.08.2019)
Ehdottoman 6/5 tuote. Huppari on äärimmäisen mukava päällä, ihanaa kun huppari istuu hyvin eikä nouse helmasta! Huppari on myös todella lämmin erityisesti kolealla ilmalla. Aluksi kaipailin ehkä vähän peukunreikiä resoreihin, mutta ilmankin pärjää varsin hyvin. Taskuista todella iso plussa, kengurutasku on todella fiksusti muotoiltu käsien lämmittämistä ajatellen. Huppari ei raavi eikä kiristä, ainoastaan hihoja käärisessä joutuu vähän miettimään käärimistekniikkaa, koska muutoin hupparin resori saattaa alkaa kiristää käsivarressa.

Pakko se on kai tilata toinenkin erivärisenä. Saisiko valikoimaan myös punaisen version? :)
0
0
I would recommend for a friend
Felicia H.

18.12.2019
Just got mine arriving in the post less than an hour ago, honestly loving it, comfy, nice and soft, the Teal has a great colour.
Can't wait for it to start getting cooler here in Australia so I can wear it out for drinks looking awesome and yet being warmer than the other girls.
0
0