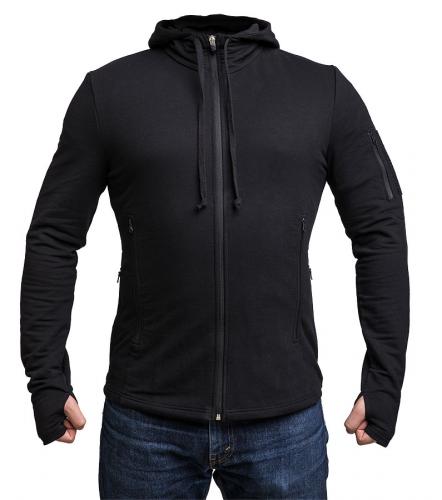 Särmä viscose hoodie, black
Price 27.99 USD 55.99 USD excluding VAT
Loading products...
Trouble with the metric system? Try our converter: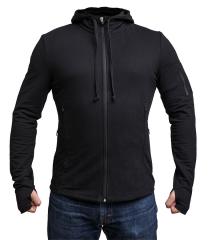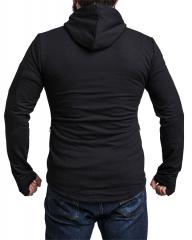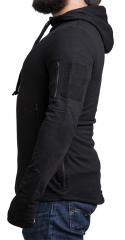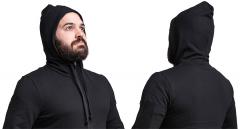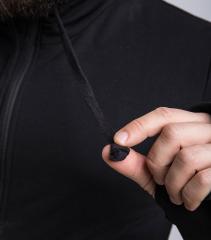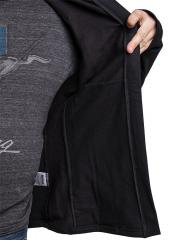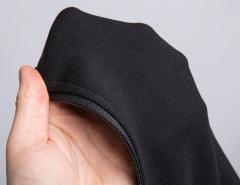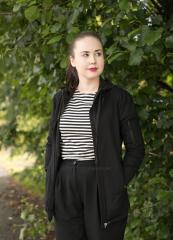 We already made a superior hoodie out of Merino wool, but that stuff is expensive. For the plebs is available this cheaper option which retains the superb cut and features and while not as fancy as the woollen one, still works like that to a degree - at less than half the price! If you just need a damn well designed hoodie for casual use, this is the ticket.
Form and cut
Slim fit, with long hem. Quality zipper on the front, with a flap on the backside to prevent it from making contact with the skin if you're not wearing anything under this. The collar is so high when zipped up that you really don't need a scarf of neck tube or whatever. The hood has drawcord tightening and is suitably roomy, but not overly so - it works as an underlayer when worn with a helmet during cold weather. Thumbholes on the sleeve cuffs, of course. Reinforced against wear, and can be rolled up if not needed.
Pockets
Sort of five pockets, all are roomy. Two hand warmer pockets (volume about one wine bottle each) and a kangaroo pocket on the back, which can be accessed from either side, good place for storing gloves, hats and other accessories. On the left sleeve you'll find a zippered pocket, roomy enough for any smart phone (Iphone 6 Plus, Oneplus One tai Samsung Note 2/3/4 etc.). Hell, you could probably fit a standard set of groceries in the pockets. The pocket lining is cotton fabric.
As is customary these days, the sleeve pocket is covered with velcro. This means you can slap on a patch of your choice (smart people put a reflector tab on it!).
The fabric
330 g/m2 blend: 42% cotton, 27% viscose, 26% polyester, 5% elastane. The percentage of elastane makes the fabric - you guessed it - just a tad elastic, allowing for free movement.
This blend still retains some of wool's nice features, like transferring moisture away from the skin, not being super nasty when wet and drying surprisingly quickly. All in all it's quite suitable for common use and still better than a full cotton fabric usually found on hoodies. Moreover, the inside face is terry style, i.e. very comfy.
Wash in 40 degrees Celsius. Hang dry.
Size info
Sizes in the dropdown box according to recommended user's height and chest circumference in centimetres. However the material is very forgiving - this should fit taller people too. If unsure, you can always pick a size larger for longer sleeves, at the cost of form fit of course. If you are a girl, we recommend taking the chest measurement below the boobs. Normal size women usually are well off with size X-Small.
Just in case we have provided the actual measurements of the garments for each size, see the chart below. Please bear in mind that the fabric still is very forgiving despite the given measurements!
| Size | Chest circumference | Sleeve length | Back length (from the base of the hood) | Front length (from the base of the hood) |
| --- | --- | --- | --- | --- |
| X-Small Regular | 89 | 70 | 72 | 60 |
| Small Regular | 97 | 71 | 73 | 61 |
| Medium Regular | 105 | 72 | 74 | 62 |
| Large Regular | 113 | 73 | 75 | 63 |
| X-Large Regular | 121 | 74 | 76 | 64 |
| 2X-Large Regular | 131 | 75 | 77 | 65 |
| 3X-Large Regular | 143 | 76 | 78 | 66 |
| Medium Long | 105 | 76 | 78 | 66 |
| Large Long | 113 | 77 | 79 | 67 |
Made in Lithuania.
Employee's comments
I don't really care about hoodies for some strange personal reasons. Once upon a time our company sent a delegation to Germany and I was a part of it. Dress code demanded the fabled Merino hoodie for our people, so naturally I tried to save a buck for the company and secretly picked the viscose hoodie, even a "B quality" one.

Now I'll set my cold hatred for these things aside for the moment and look at the garment as what it is. Well, it's a very practical piece of clothing. You got a load of good, closed pockets and the cut is nice. Didn't use the hood though, it makes you look like a junkie, but in an emergency it could have its uses. Viscose is actually completely adequate material for basic bumming around business and you tend to watch after it less than the expensive Merino wool too. If you like hoodies, I would recommend this, it's way better than the regular department store offerings and works nicely as an extra layer too if the weather gets chilly, keep it in your pack or something.

And the "B quality" is really a pretty strong word here, because in reality these are just fine. Save ten bucks, get one of these!


Henri L.


Varusteleka Särmä
Särmä is our own brand of clothing and equipment. When you buy Särmä you get purpose-built stuff at a decent price, something that will fill it's intended role well and not cost you an arm and a leg!
Särmä products are covered by a 12-month warranty against defects in materials and workmanship. For further information please read our detailed warranty guide.
Recommendations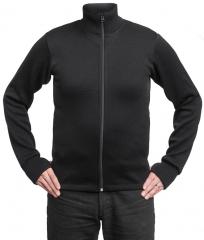 Särmä Merino Wool Sweater w/ Zip, Black
119.99 USD
Viewed together.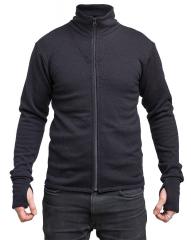 Särmä Merino Wool terry jacket, black
110.99 USD
Viewed together.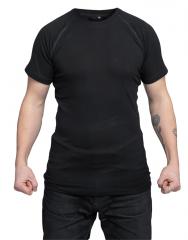 Särmä T-shirt, black
22.99 USD
Sometimes purchased with.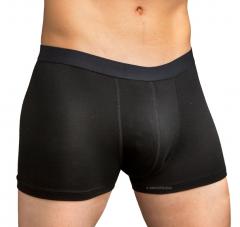 Särmä viscose boxers, black
9.99 USD
Might be of interest.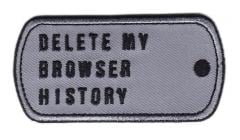 Särmä Delete My Browser History morale patch
4.99 USD
Might be of interest.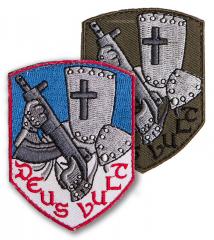 Särmä DEUS VULT morale patch
4.99 USD
Might be of interest.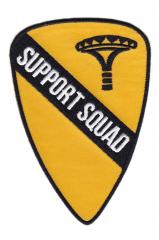 Särmä Support Squad "Cavalry" morale patch
4.99 USD
Might be of interest.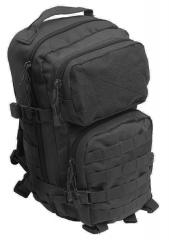 Särmä Assault Pack
32.99 USD
Might be of interest.
Särmä No Step On Snek morale patch
4.99 USD
Might be of interest.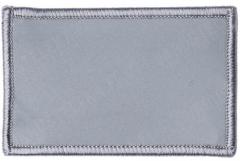 Särmä reflective patch, 80 x 50 mm
4.99 USD
Buy also.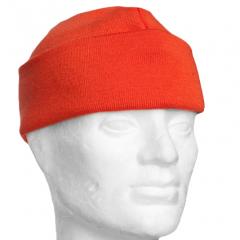 Särmä Commando Cap, Merino Wool
18.99 USD
Buy also.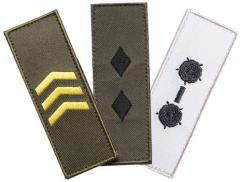 Särmä TST Finnish M05 rank insignia
4.99 USD
Might be of interest.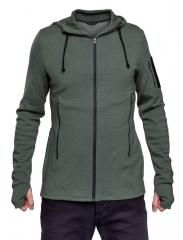 Särmä Merino Wool Hoodie
119.99 USD
Similar product.
Reviews
You have already submitted a review. You can edit your text by clicking on it.
Log in and write a review.
Remove filter
Suomi
(13)
English
(2)
I would recommend for a friend
Antti L.

07.10.2016 (Edited 29.11.2016)
Tää rokkaa, mahtava vaate.
Omaan mieleen huppu on hieman liian pieni, tosin Nazgûl-tyylinen ratkaisu ei kaikkia viehätä
5
0
I would recommend for a friend
Mikko U.

15.10.2016 (Edited 29.11.2016)
Ostin ittelleni lähinnä duunihuppariks, ja on toiminu siinä kyllä aivan älyttömän hyvin. Nopeasti kavunnu meikäläisen jokapaikan ykköshuppariksi. Sopii mihin tahansa tilaisuuteen. Ehkä seuraavissa Linnan juhlissa tää on jollain päällä? Taskuihin voi kätkeä vaikka ja mitä ja istuu päälle erittäin mukavasti.

Pari kehuvaa sanaa kerroin perheelle tästä ja nyt meillä kaikilla on tämmöset.

Ja koska aina pitää olla vähän negatiivinen niin sanotaan että nauhat ovat ehkä vähän liian pitkät omaan makuun. Vähän solmin piuhoja uudelleen jolla tuli jopa ehkä vähän siistimmän näkönenkin!
2
0
I would recommend for a friend
Jari N.

11.11.2016 (Edited 29.11.2016)
Tuli ostettua tämä kun en kokenut merinovillaversiolle tarvetta ja hintakin on kohtuullinen. Leikkaus on erittäin hyvä, ehkä jopa paras ikinä, pitkäselkäinen kun olen. Ainoa miinuspuoli on huppu, joka on mallia tonttu ja siten jopa hieman nolo. Mieluusti näkisin tästä 2.0 version jossa hupussa ei olisi säästelty kangasta.
8
0
I would recommend for a friend
Jere V.

08.12.2016 (Edited 12.04.2017)
Hyvä huppari mut taskupussien teko puuvillasta oli kyllä really poor move, itellä tuli toiselta puolelta avaimet läpi varmaan alle kuukaudessa. Yksi tapa kiertää tämä on tietty, että älä laita sinne taskuihin mitään terävää tai sitten käytä niitä hupparin sisätaskuja, koska niissä on tuplakangas sentään. Tai siis kaksi kerrosta sitä samaa puuvillakangasta kuitenkin. Sit kans en tiedä mitä on ajateltu kun se tasku siihen vasempaan hihaan on tehty, koska vaikka se onkin pieni niin olisihan siihen kiva käsi saada sisään. Voin kuitenki suositella tuotetta kuhan ottaa nämä seikat huomioon, koska kaikki muu hupparissa vaikuttaa onnistuneen hyvin.
3
4
I would recommend for a friend
Harri H.

23.01.2017
En nyt muista ostinko kakkoslaatua vai en, mutta malli mahtava, materiaali ei kovin mahtava. Täytyy tilata se merinovillainen.
0
0
I would recommend for a friend
Kurt J.

05.06.2017 (Edited 27.06.2017)
UPDATE: Lost my keys because a line of stitching has left a hole in the pocket. Wouldn't mind so much if I had bought 'B' grade.

Dammit, I thought it would make me look like the guy in the photo. It doesn't.
Great item of clothing though, not too hot, not too cold, and you can indeed fit many bottles in the pockets.
1
0
I would recommend for a friend
Sini H.

25.08.2017
I would recommend for a friend
Stefan K.

19.10.2017
Owned one of these for a year and wore it regularly. So far no major wear. The slim fit is nice and comfortable especially in colder weather but the downside is that the sleeves are rather tight and my arms aren't that large even if I wish they were. A little strange considering other varusteleka products tend to have extremely roomy sleeves. Maybe an extra inch of material for the sleeves when you guys update this?
But other than that minor complaint, it's fantastic.
2
0
I would recommend for a friend
Sakari S.

15.01.2018
En ymmärrä mitä tämä kakkoslaatu on, hyvä pusero.
Mukava päällä ja siistin näköinen, hihoissa olevat peukalonreijät on parasta, miksi näitä ei ole joka vaatteessa?

Hihassa olevan taskun vetoketju on ihan paska, tästä kun vetää auki niin hiha tulee mukana ja ketju pysyy tiukasti kiinni. Oma käyttöarvonsa varmaan löytyy ja ehkä käytössä herkistyy. Galaxy S8 mahtuu taskuun hyvin.
Etuvetskarin vedin on jäykkä, jää tyhmästi törröttämään jos ei paina sitä alas. Kulunee sekin käytössä väljemmäksi.

Malli on todellakin slim fit, jos on yhtään kaljamahaa niin tämä vaate ei anna sitä anteeksi. Onpahan motivaatiota reenata kesää varten.
Kokoa isompana tällainen ohuesta kankaasta tehty huppari olisi varmaan tyhmän näköinen.

Kakkoslaatua tai ei, 40€ tuskin uutena parempaakaan saat. Hyvä ostos.
2
0
I would recommend for a friend
perttu p.

21.02.2018
Tilasin sellaisen B version. Hyvä tuote, kokokin osui M/178 cm/74 kg. Huppu on kyllä pieni mutta ei sitä tule juuri käytettyä.
Rahalle melko tanakasti vastinetta.
5
0
I would not recommend to a friend
Jenni T.

14.05.2018
Ostin hupparin miehelleni lahjaksi. Muuten vaikutti todella hyvältä, mutta slim fit ei koskenutkaan hupparin helmaa. Siihen olisi mahtunut vähän leveämpikin synnyttäjän lantio. Ainakaan tämä kappele ei sen takia näyttänyt hyvältä päällä vaan lähti palautukseen.
5
1
I would recommend for a friend
Tuomas K.

18.05.2018 (Edited 22.05.2018)
Perushuppari.

Kiitämme: pitkää selkäosaa, korkeaa kaulusta, kestävän oloista kangasta, toimivia peukalonreikiä, pitkiä hihoja, siistejä saumoja, vetoketjuun sotkeutumatonta tuuliläppää.

Moitimme: huonosti eteen ja ylös myötäävää leikkausta, hihojen kiristymistä olkavarsien ympärille toimistotyössä.

Nolla pistettä: tyydyttävä lämmönsäätely, pieni huppu, koko käden otteen vaativat taskujen vetoketjujen vetimet, vain mustana.

Suosittelen sellaiseen liikkumakäyttöön, jossa ei tarvitse nostella käsiä, en suosittele istumakäyttöön ja nosteluun.
0
0
I would recommend for a friend
Antti R.

02.07.2018
X-largeihin tarvisi myös long-mallit. Muuten sopiva paita mutta pituudet loppuu kesken.
0
0
I would recommend for a friend
Kalle-Valtteri V.

09.07.2018
Ostin, kun halvalla sain. Otin vieläpä kokoa pienemmän saatavuuden vuoksi, näytän nyt teinisatanistilta mutta ei haittaa. Materiaali tuntuu mukavalta, taskuja (hyvänkokoisia vieläpä) on oikein mainio määrä. Istuvuus on jees, olen 180cm pitkä 85cm rinnanympäryksellä. Tälläselle pakkasenraiskaamalle pulkannarulle meni X-Small- koko näppärästi. Vielä kunhan virahtaa käytössä ni sit taitaakin olla todella bueno.
0
0
I would not recommend to a friend
N.N.

03.08.2018
Ei kummonen, turhaa hypetystä.
6
1