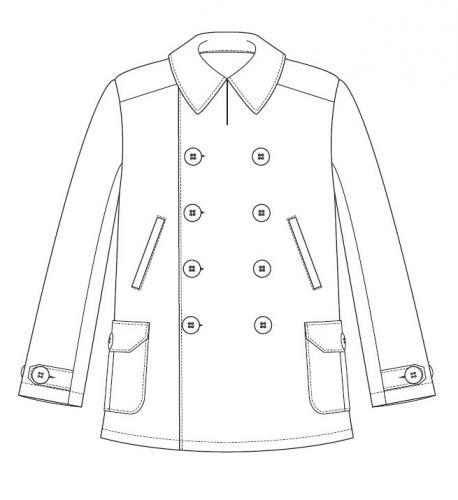 Särmä Ventile jacket
Price 273.99 USD excluding VAT
Flat Rate Shipping to USA $9.99
Loading products...
Trouble with the metric system? Try our converter: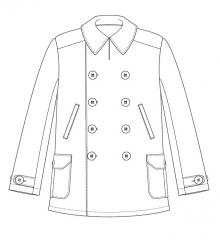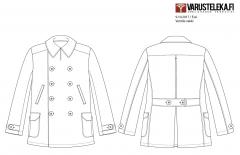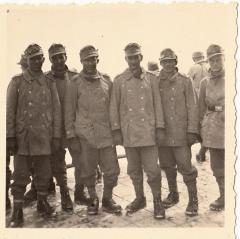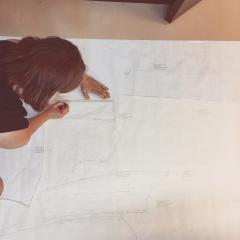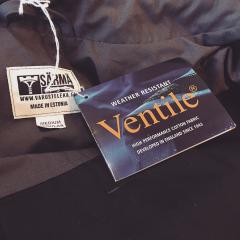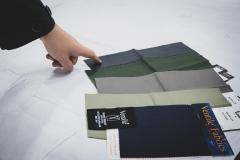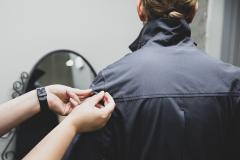 Ventile! Ever heard of that? It's the classic high quality, expensive water resistant cotton fabric, and we're going to make a coat out of it. Something that's practical, classic in style and good for general wear.
Ventile fabric
Ventile is thin, dense cotton made of long strands, originating from the UK. The idea is the same as with flax fabric fire hoses; the fibres swell when wet so the fabric "closes" and doesn't let water through. Ventile was used for fire hoses, but they found better ways to use it, as one would expect - for example, the wartime RAF aircrew uniforms were made of Ventile and apparently still sees limited use in various instances.
Again, this is not a miracle fabric. It works as a very windproof, quite waterproof and quite breathable top layer, a perfect material for uncertain weather.
Great Britain meets Germany meets Varusteleka
The next thing, of course, was to decide what kind of jacket we should put together. After some headbanging and thought-filled moments, we took up a German 40's Windjacke, a very gentlemanly double-breasted coat meant for mountain troopers. We did not opt to copy it 1:1, merely to take a lot of inspiration from it, but keep the main original features there. For some guidance and thoughts, we asked our employees and customers about different styles and went back to the dark development chamber.
Most of the following features should be in the final product:
Ventile fabric with thin cotton lining
Slightly generous cut
Double breasted
Large collar - can be worn open or flipped up and buttoned shut
Possibly a removeable hood
Handwarmer pockets on the front, flat hem pockets
Adjustable cuffs
Adjustable half-belt on the back (if you aren't satisfied, remove the buttons and sew them on a different spot )
Bellowed back
So, there we have a coat fit for three-season use around these parts, a great top layer for uncertain and chilly weather. Thanks to its original design features, this coat will work in outdoor use pretty good as well.
Will likely be made in Estonia.
The development process has been a rocky road, and we'd like to tell you about all this, as the people should know.
The great development journal
The will to make a Ventile jacket was there. We did found a representative from the UK and sent them a query.
January 2017
We've got mail! From the envelope we dug out samples and made lined them up, picking a nice 200 g/m2 100% cotton "L24".
At this point the general shape of the jacket began to form.
Spring 2017
Not much time for this project, but we did order a reproduction of the Gebirgsjäger Windjacke from Hikishop, China, just to get a feel of what's it about.
After months of waiting we received the sample. What a disappointing load of crap, but we got some data for various design issues. Horrible sizing too. We decided to take a little timeout because we really wanted to make this good and proper. And we had to have it made in Europe.
August-September 2017
The actual design starts. Sketches, size chart, details... got everything. Contacted a number of factories in Lithuania, Finland and Estonia.
September-October 2017
After the mandatory summer holiday season we finally had some time to move on with this project. After all, the thing should be ready by the fall of 2018! We drew up some sketches of slightly different designs & colours and held a little poll again on Facebook and within the company. One customer proposed a separate hood, which wasn't a bad idea at all.
Colourwise the most popular choices seemed to be "Earth" (greenish gray), "Taupe" (Gray) and "Cinnamon" (khaki brown). We ordered some larger samples in 220 gram "5771 Gabardine". At the same time we made some pretty good blueprints for the factory.
October 2017
Blueprints & factory instructions ready to be sent on. This took about six days, about 15 hours of total work only in this matter.
What the hell, are we being conned?
As said before, Ventile should be pure cotton without treatments or extras and should work by natural swelling once it gets wet. Well, we took a closer look at the fabric specs; these had DWR treatment on them! This treatment is worked on the fabric to make it waterproof and less prone to soiling. Okay, but this is not the idea of Ventile?
After all was said and done, we found only a handful of so-called original Ventile fabrics, which had "more ecological" paraffine treatment on them. Well, this should still have no treatments. Moreover, our contact was forwarded to Switzerland at Stotz & Co. AG where they make the fabric, or at least do the marketing and selling business.
End of 2017 - early 2018
Finding a local factory to make garments is very hard since the Finnish clothing industry died some decades ago. We'll probably settle for a European one.
Recommendations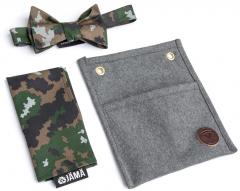 Jämä Bow Tie & Handkerchief set
45.99 USD
Often viewed together.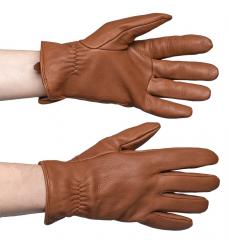 Mutka deerskin gloves, brown
36.99 USD
Often viewed together.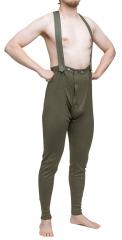 Swedish long johns, wool, surplus
13.99 USD
Often viewed together.
Reviews
You have already submitted a review. You can edit your text by clicking on it.
Log in and write a review.
Remove filter
Suomi
(1)
English
(1)
I would recommend for a friend
Juan N.

05.05.2019 (Edited 05.05.2019)
Talk to Country Innovations in the UK . They have Ventile products and somehow have a source.

Their double Ventile Ranger jacket is VVV good but expensive, but great for Canada's winters. They do not have a single ventile jacket which would be awesome for spring and autumn.

Also if you know of anyone who still has a stock of the single Ventile SAS smock ( over the head style ) may be of help.

A jacket like the british CS95 or maybe US M65 at a good price would be something I would buy and recommend.

Anyone who is reading this I cannot tell you how incredilel Ventile is : comfortable, windproof, breatheable and hard wearing.
I came across your site due to your sponsorship of Desert Brutality - many thanks.
1
0
I would recommend for a friend
Riku P.

08.05.2019
Voin kyllä varauksetta suositella Ventileä materiaalina. Siinä vaiheessa kun löysin ko. matskusta tehdyt takit, lähtivät kaikki kalvokamppeet polttoroskiin/UFF:iin ja eevilbayhin. Siis kaikki. Eikä paluuta ole. Ventile hengittää todella paljon paremmin kuin yksikään kalvotakki, pitää vettä yllättävän hyvin, pitää tuulen täydellisesti, ei kahise eikä ole kipinäherkkää. Hyttyset eivät myöskään pysty pistämään kankaan läpi, koska se on niin tiivistä. Ventile ei myöskään kulu, tukkeudu tai repeile samaan tyyliin kuin kalvomatskut. Perspektiiviksi sanottakoon, että kalvokamppeista on maastokokemusta n. 25v ajalta kolmelta mantereelta plus muutamalta saarelta. Huolto helppoa: pestään Nikwaxin Tech Washilla (ja ainoastaan tällä, ei mitään OMOja sun muita!) ja kerran/pari vuoteen laitetaan heti perään koneeseen pyörimään Nikwaxin Cotton Proofin kera. Se on siinä.

Tuurihaukkana onnistuin viime vuonna löytämään Graalin maljan, eli käyttämättömän SASS:in valmistaman Ventile smokin, vieläpä täydellisesti omaa kokoani. Elikkäs tämä, mutta parilla ekstralla:
https://www.lightfighter.net/topic/sass-sas-smock Näitä ei saa enää millään eikä mistään. Todella loistava kampe millä tahansa kelillä, kesän kuumia lukuun ottamatta. Tuplakangasta huppu ja hartiat sekä kyynärpäät ja taskuja "riittävästi".
0
0