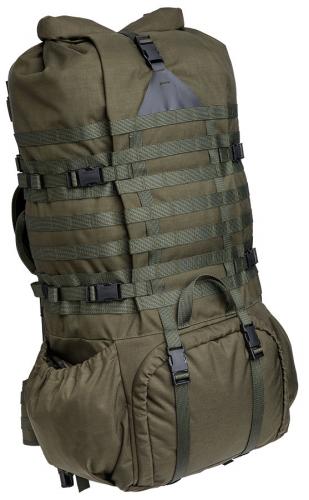 Särmä TST RP80 recon pack
Price 489.99 EUR including VAT
Trouble with the metric system? Try our converter: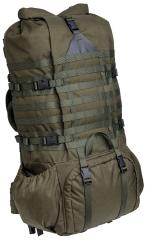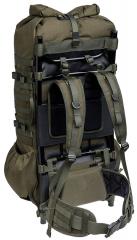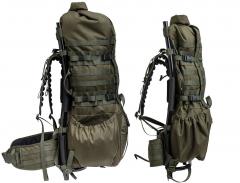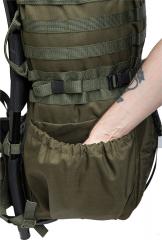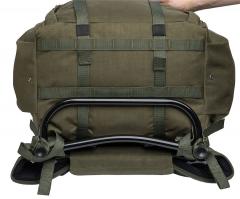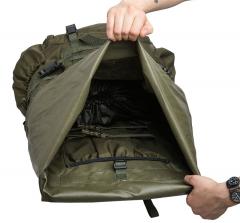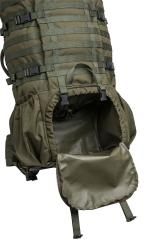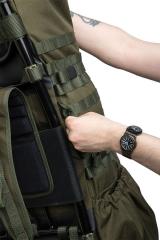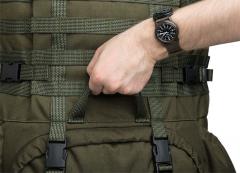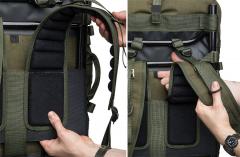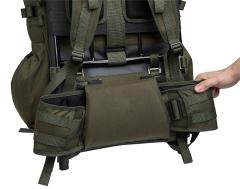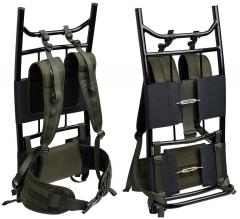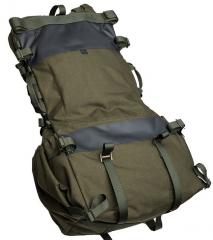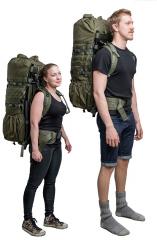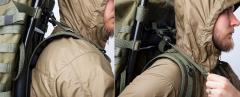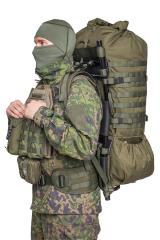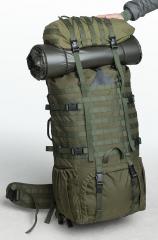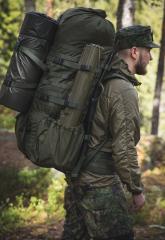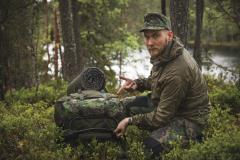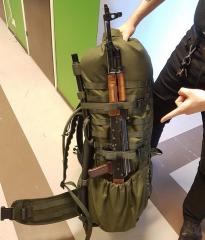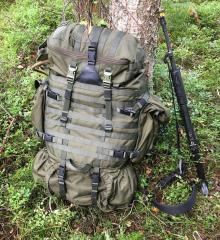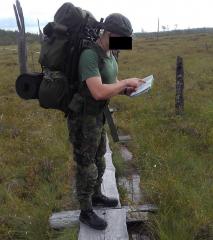 The RP80 is a large, top and bottom loading sustainment pack that carriers enough gear to keep you going for weeks. Although streamlined and straightforward the pack design offers almost endless possibilities for modular scaling and optimizing. Extra effort has been put into making the carry system as solid and comfortable as possible.
Assembly and height adjustment

The RP80 is delivered unassembled. Assembling the pack and adjusting the height is your first challenge before taking your new pack into service. Understanding the construction, assembly and height adjustment of the pack are all equally important, so assemble and adjust with thought and care! Here are detailed instructions for RP80 pack assembly and adjustment.
Volume 20/80 l (compressed/full).
Total weight 3700 g (bag 1700 g, carry system 2000 g of which the frame 740 g).
Adjustable carry system for user heights 160-200 cm.
Top loader with bottom zipper access, optional space divider inside.
Vertical design allows unrestricted arm movement when skiing.
PALS webbing for attaching pouches and gear.
MILSPEC materials, 1000D Cordura and DUR-aluminium.
Made in Finland and Estonia.
We designed the RP80 to meet a number of clear objectives: be straightforward and reliable, highly scalable and modular and the carrying system should outperform the current competition. Like most other Särmä TST gear the RP80 was made in cooperation with Finn-Savotta Oy, Finlands leading manufacturer of hiking and military gear, the materials used and construction of the RP80 are 100% Finnish MILSPEC.
Designed to meet the specific needs of especially Nordic and Arctic users, this requires large backpacks to be tall and slim, not short and wide as most European and American designs. A vertical design keeps the weight closer and above your center of gravity and spine. Most importantly it allows for unrestricted arm and elbow movement when skiing.
The pack bag
Max. dimensions 85 x 37 x 25 cm + bottom corner pouches.
Total volume 80 liters.
Drawcord divider inside, top compartment height 60 cm, bottom compartment height 25 cm.
Roll top closure with added security/compression strap.
Zippered bottom flap with two security/compression straps.
Two large baggy bottom corner pouches. Volume approx. 2,5 liters per pouch.
Two compression/tie down straps on each side.
Hydration bladder compartment inside.
Two horizontal tie down straps inside against the back.
Carry handles on the sides and lower back.
Uninterrupted PALS matrix goes around the whole upper half of the bag.
Two vertical attachment point straps along the back.
Carrying system
DUR-aluminium frame
The frame was designed especially for the RP80 rucksack, we didn´t simply take some outdated design and recycle it. Compared to the decades old Finnish military issue frames this one has a bottom shelf, wider and taller overall dimensions and two parallel vertical reinforcement rods on both sides of the center instead of a single centered one.
Maybe the most valuable feature of the RP80 carrying system is the adjustable back length. The system can be adjusted to fit users from 160 up to 200 cm tall.
Shoulder harness
Just like the frame we didn´t want to go the easy way with the shoulder harness either, these were designed from scratch. The end result is superior comfort in comparison to the old Finnish military issue systems.
The padding is thermal moulded and stitched onto 1000D Cordura on top of which all the straps etc. are bartacked. What really sets this design apart from the old Finnish military issue harnesses is the big pads against the back which really make a great difference compared to just a flat length of wide webbing.
The rucksacks back length and overall fit is adjusted by lowering or lifting the attachment height of the shoulder harness. The straps that run from the top of the shoulder harness to the frame are used to adjust balance on the go, by loosening the straps the pack hangs further away from your body and the weight is transferred onto the hips. By tightening the straps the pack moves closer to your body and more weight is put on the shoulders.
Hip belt
And once more, also the hip belt was designed from scratch instead of just copying some ancient Finnish military design. The hip belt is thoroughly padded and topped with PALS webbing for pouch attachment. The big lower back pillow can be opened up for the hip belt to be tucked away when you dont want to use it. The construction is overall really strongly padded and rigid.
Modular and configurable

Overall volume and many other features of the rucksack are easily modified according to user specific needs:

Tie-down straps: by running a couple of utility straps through the vertical attachment points on the back you can easily tie a sleeping mat or similar bundles to the far back of the pack.
Side pouches: add a few XL utility pouches for extra pack volume and added organizing options.
Hip belt: attach a bunch of pouches here for easy access to critical gear.
Daypack lid: a quick-detach top lid which transforms into a small daypack, possibly the smartest way of integrating a daypack into your sustainment load. Take a look at our illustrated tutorial on the subject: Särmä TST backpack use as daypack lids
Cargo panel: such as the Särmä TST Modular Beavertail a very simple and versatile addition which allows you to attach and compress all kinds of extra gear on the outside of the main pack.
Finnish MILSPEC materials
Made of the same materials and hardware (1000D Cordura, webbing, ITW Nexus buckles etc.) that are used in the production of the Finnish military M05 combat equipment. High quality, totally NIR compliant and all that, naturally.
Varusteleka Särmä TST
Särmä TST is our own family of specialized military gear. All Särmä TST stuff is made in co-operation with Finnish military manufacturers, the most important thing for us is high quality MILSPEC grade materials and construction. This is kit that you can trust to really take a beating!
Made in Finland/Estonia
These are made by Finn-Savotta Oy, our subcontractor for all Särmä TST field gear and the single largest manufacturer of military gear in Finland. The design work is naturally done in Finland, materials are prepared and shipped to Finn-Savottas Estonian factory where the gear is sewn, then it´s shipped to Finland for quality control. The shoulder harness padding and the welded aluminium frame are made in Finland.
These might also interest you
Product reviews
0
0.5-1
1.5-2
2.5-3
3.5-4
4.5-5
Score distribution
5

/

5
I would recommend for a friend
Johan R.

05.08.2017
Very good external frame pack. Frame and carrying system remind me of my now retired Norröna-pack, only more refined and sturdier. And a little lighter too because of modern materials for hipbelt and shoulderstraps. I also like the modular concept and that the pack is not littered with molle/pals all over the place. Just enough to get the job done.

...Ok, if I were to criticise something, I do believe that the pack bag would work also with a little less molle/pals for me personally...

But all things considered, this is a very good pack and it will be a keeper :).
Bravo!

Ps: There really is no need for a sternum strap. Maybe I'll add one when I begin to use the pack for winter touring with a sled...
38
6
Report abuse
Please report this product review if for example:
Review is wildly obscene or completely irrelevant.
Reviewer has not actually used the product he is reviewing.
If you strongly disagree with this review, please press "I disagree" button above.
Thank you!
Cancel
5

/

5
I would recommend for a friend
Cristian L.

02.03.2018
I don´t need to say much more than this pack it´s one of the best!!!
4
0
Report abuse
Please report this product review if for example:
Review is wildly obscene or completely irrelevant.
Reviewer has not actually used the product he is reviewing.
If you strongly disagree with this review, please press "I disagree" button above.
Thank you!
Cancel
5

/

5
I would recommend for a friend
James Z.

04.06.2018
I've now had one for 6 months, and in that time had a week-long trek over some of the hilliest hills that I could find, and have formed a decent impression of the pack. First off, it's heavy, you can see that right above in the description so it's no secret. If you put the time in adjusting it, though, it will be comfortable and the load does feel very close to your back. Back ventilation is good, my trekking mate used a Berghaus MMPS Crusader and was considerably wetter after each stretch. The hip belt, also, is fantastic. I liked Mystery Ranch a lot for their hip bet design, and the RP80 seems to have captured a lot of the "cinched in" design, where the top of the belt sits tighter above your hips and the rest moulds around them, just without making a big song and dance about it. I switched out the buckle for a Bergbuckle out of preference, and to shorten the belt a bit because apparently the length is for manlier men than I (I'm a 31 inch waist, or a 30 inch before payday), but it still fits fine. I set off with 33.3kg and my trekking mate roughly the same, and after 15-20km a day you do feel the weight of it, because that's just physics. The main gripes were about the soles of our feet, though; and the adjustability of the RP80 meant that I could un-sling a shoulder strap to get some relief on the move, or switch between weight on the hips and shoulders to share the wear. My friend's Crusader worked amicably, but there were occasional admiring glances at my waist belt for it's shape and comfort. Having a sternum strap was not missed.



Pros:
- Waist belt, shape and modularity: I put a pouch on one side and shock cord matrix on the other and had all my treasures to hand easily without hampering my arms.

- Roll top: It's simple, it's sturdy, I don't think I'll be going willingly back to draw-cord.

- Frame: Comfortable, surprisingly light of it's own and with that shelf built in that really made the deal. I've yet to take full advantage of it, but I like knowing that it's there.

- Compression straps: Although inconvenient for putting side pouches on, when you come to terms with the fact that you could probably do without them, they do the job of pulling the pack in and putting that weight nearest your back very well.

- Durability: It's a 1000D cordura sack, what can go wrong? I've thrown the pack unceremoniously down on rocks more than I'm proud of, and the frame scuffs but doesn't dent. The black rubberised material is used sensibly in high wear places, and the overall feel of stitching and buckles is that they will outlast your meat-sack body through any wear and tear.



Cons:
- The stitching on the Molle loops of the main body left some pin-prick daylight coming through in places. Obviously it's not a dry bag, I fixed it with some vinyl spot-repair glue; worth remembering that roll-top does not equal water stop.


- No top carry handle. I used a paracord bracelet to make one by attaching it to the frame because bushcraft and stuff. You do notice it's absence when donning/doffing, and the side handles only help when moving the pack around. Look at the Jääkäri XL and their solution; it's nothing to cry about, but maybe Sarma could make an add on in future, or just tell my fingers to grow callouses and stop whining.


- Really, this is just a pro of the Jääkäri XL, but I really like their removable waist belt and the RP80 doesn't have this. I know, I'm clutching at straws here, but there it is.



Overall, it's a bag for life. I would still buy it over anything else for a similar, or even greater price and that includes the Jääkäri XL - it is cheaper, simpler and has that frame shelf, and I like the Molle placement and the back padding more. You'll notice it still gets 5 stars, because none of the above cons matter when the pack is on and doing it's work. I won't lie, there were times on the trek when I cursed the weight of the bag and pined for some ultralight pillowsack to ease the blows to my feet; but really what I had was a bag I didn't need to worry about treating kindly, that I could fill with all the comforts I could carry without worry and that I knew would sit on me as comfortably as 30kg can. See how my gripes were more down to insoles than bag, and you'll know Sarma have made something very special here. If you are in an occupation where you don't have the comfort of deciding how much or little to carry; like to trek out, set up camp and live from there, or want something scalable from 20-85 plus litres that will last long enough for your grandchildren to fight over in the inheritance, then consider this bag.
4
0
Report abuse
Please report this product review if for example:
Review is wildly obscene or completely irrelevant.
Reviewer has not actually used the product he is reviewing.
If you strongly disagree with this review, please press "I disagree" button above.
Thank you!
Cancel
Log in and write a review.