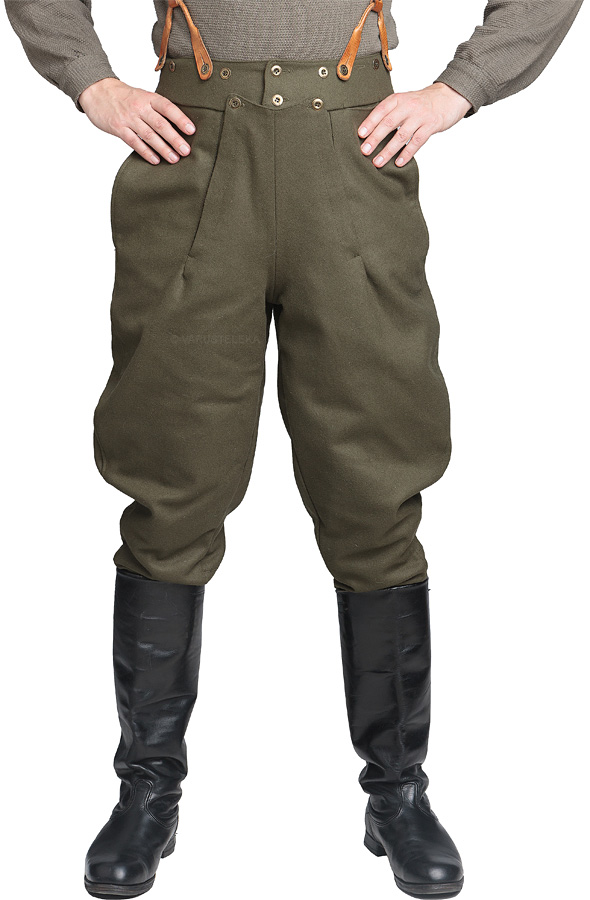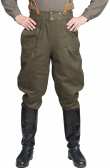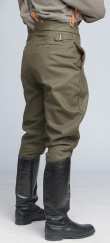 Price 196.99 USD. In stock 0 pcs.
Saatavana käytettynä!
Trouble with the metric system? Try our converter:
These might also interest you
A serious reproduction of the model 1927 breeches as used by the Finnish Suojeluskunta (White Guard) personnel. A notably stylish cut, quality wool and surprisingly comfortable!
A bit of history
Suojeluskunta was the sort-of-a-civil-guard of Finland from 1918 to 1944 - it provided military training and a volunteer reserve for the army. The Allied commission banned the organization after the peace with Soviet Union in 1944. Although officially nonpolitical, Suojeluskunta had a strong heritage of the victorious white side of the Finnish civil war and had a definite right-wing touch in it.
Basically during the times before the Second World War the regular Finnish army and the Suojeluskunta organization both used the model 1927 uniform. However in the army the uniform was changed to the more plain gray model of 1936, while the Suojeluskunta personnel still retained the M27 getup, which was in many cases made personally for each man by a local tailor while the army uniforms were sort of mass-produced. During the Winter War they still wore the M27 uniforms, but by the time of the Continuation War these were more or less completely replaced by official army issue kit.
We modeled our reproduction trousers after a real deal pair on display in a museum in Tampere. With the original uniforms used by the White Guard, there were minor differences from uniform to uniform (tailor made, remember?), but this is a good general model.
Please note the braces and boots are not included with the breeches.
Cut and details
A traditional high waist, ever higher on the back.
An intricate flap style fly, certainly a relic from the past. However doing your business requires opening only a few buttons.
Two regular slash pockets, a watch pocket and a back pocket.
Buttons for braces, no belt loops. The waist is adjustable with tabs of the sides.
Adjustable cotton straps on the leg cuffs.
Made of proper wool fabric
80% wool and 20% polyamide, the partial lining is 100% cotton. The polyamide is there only to provide strength to the wool - these will probably serve longer than originals. However the blend works just as it should, i.e. it's essentially wool by all accounts.
For cleaning, usually just airing the garment out will be enough. For visible stains brushing should do the trick. If you really have to wash, do it with care using gentle wool cycle.
Size info
In the dropdown box, sizes are shown according to user's recommeded height, then waist circumference in centimetres. The leg is short because these are meant to be worn with boots. Measure your waist just below the navel.
Below the true measurements of each size, these are measured directly from the garments:
| Koko | Vyötärönympärys | Lahkeen ympärys polven kohdalta | Lahkeen sisäsauma |
| --- | --- | --- | --- |
| Small Regular | 78 | 42 | 75 |
| Medium Regular | 88 | 43,4 | 75 |
| Large Regular | 98 | 44,8 | 75 |
| X-Large Regular | 108 | 46,2 | 75 |
| 2X-Large Regular | 120 | 48 | 75 |
| 3X-Large Regular | 135 | 50 | 75 |
| 4X-Large Regular | 150 | 52 | 75 |
| Medium Long | 88 | 43,4 | 78 |
| Large Long | 98 | 44,8 | 78 |
Varusteleka Särmä
Särmä is our own brand of clothing and equipment. When you're buying Särmä you're getting purpose built stuff at a decent price, something that will fill it's intended role well and not cost you an arm and a leg!
Made in Estonia.
Note: this might well be a one-off lot. IF we get more, it'll take at least a year.
Log in and write a review.