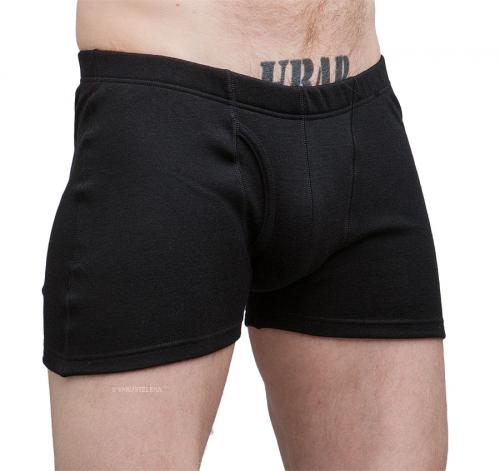 Särmä Merino Wool Boxers, Black
Price 13.99 USD 27.99 USD excluding VAT
Flat Rate Shipping to USA $9.99
Sold 3 pcs in the last two weeks
Loading products...
Trouble with the metric system? Try our converter: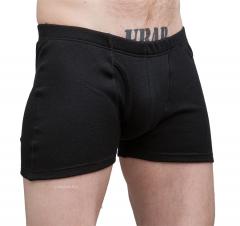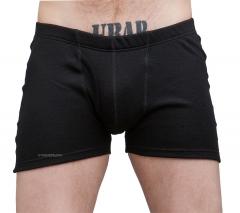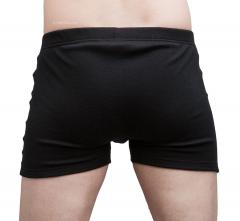 We set out to make Merino boxers, because why not: it allows sweat to pass through without soaking, is naturally resistant to stains and odours, and is just right in terms of insulation in most environments. These are a piece of garment you will love to wear all year around - including summer.
Clearance sale! If you want really good merino boxers with a relaxed fit, now is your chance. The sizes and fit were more loose than we thought: read more below.
Flat seams and a simple fly, which is too rare nowadays.
Material and care
Made from 250 g/m2 100 % mulesing free merino wool, which is finer compared to regular wool and insulates a little bit better per g/m2, and doesn't feel coarse against the skin.
Wash in 40 degrees Celsius, wool program. We recommend detergents specially made for wool. Washing these is not necessary as often as with cotton or synthetics, because wool is naturally resistant to soiling, however being what they are, it's probably wise to wash them regularly.
Size info
Sizing as usual, you'll also find a recommended waist circumference in centimetres. The material is very stretchy and the fit is slack, so the thighs have lots of room. One size smaller is still a safe bet without being tight at all.
Made by ourselves: Särmä
Särmä is our own brand of clothing and equipment. When you're buying Särmä you're getting purpose built stuff at a decent price, something that will fill it's intended role well and not cost you an arm and a leg!
Särmä products are covered by a 12-month warranty against defects in materials and workmanship. For further information please read our detailed warranty guide.
Manufactured in Lithuania.
Reviews
You have already submitted a review. You can edit your text by clicking on it.
Log in and write a review.
Remove filter
Suomi
(9)
English
(6)
I would recommend for a friend
Martti M.

22.11.2016 (Edited 28.11.2016)
Aivan loistavaa! Merinovillaisten alusvaatteiden ja sukkien ansiosta mökkeillessä ei enää ole jatkuva soija, vaan olo pysyy raikkaana, kuivana ja lämpimänä marraskuussakin.
2
6
I would not recommend to a friend
Matias K.

22.12.2016 (Edited 27.12.2016)
Perkeleen kuumat, ei nää jalassa voi ku maata. Lahkeet on vieläki löysät, vaikka reidet vaan kasvaa. Kuka helvetti muuten keksi madaltaa vyötäröä vielä lisää? Normaalilla perseellä varustettuna nää on joko puolessa välissä persposkia tai persvaossa ja sulautuneina palleihin järkyttävän paineen kera. Nää ois voinu tehdä kunnolla ja hyvin, mikä meni vikaan?
10
3
I would not recommend to a friend
Kalle P.

16.01.2017 (Edited 19.01.2017)
Näissä on muuten, kuten nähtävästi Lekan muissakin omissa (alus-) vaatteissa, omaksuttu amerikkalaiset hyvän mielen koot. Referenssinä olen 190cm/120kg askartelija, ja tottunut ostamaan yleensä 2-3XL kokoisia vaatteita, paitsi Yhdysvalloissa, ja näissä XL on sopiva, ellei vielä vähän väljähkö.

Haluaisin kovin tykätä näistä, mutta keskeinen positiivinen puoli on, että ovat Lekan oma tuote, sikäli kun sillä on merkitystä. Noin periaatteessa ainekset on kunnossa, mutta kangas on aika vetkulaa joten eivät oikein istu jämäkästi. Vyötärönauha on myös kapea ja vetkula ja lisäksi, koska se on kääritty itse housukankaaseen, se on paksu ja helposti muljaa vyön alla ikävästi. Toisekseen kangas on aika paksua ja turhankin ilmavaa ainakin sisälle ja/tai ympärvuotiseen käyttöön. Kannattaisi ottaa ruumiinavaukseen Icebreakerin 150g/nm merinobokserit ja Tommy Johnin viskoosi boxer briefit. Icebreakerin merino on vähän tiiviimpää ja kovempaa kangasta, mutta sikäli se kestää käyttöä todella hyvin ollakseen puhdasta merinoa. Lisäksi näissä molemmissa esimerkeissä on mukavuus ja jämäkkä mutta puristamaton istuvuus kohdalleen. TJ:ltä erityisesti kannattaa kurkkia etuhalkion rakennetta, mitä tuskin on saatu patentoitua ainakaan kansainvälisesti.
6
1
I would not recommend to a friend
Ville L.

27.03.2017
Todella lämpimät! Vyötärö omaan makuun aivan liian matalalla ja lahkeet löysät.
4
2
I would not recommend to a friend
Joonas Y.

28.08.2017
Kestää käytössä n. 3kk jonka jälkeen kiveksien seudulle ilmestyy reikiä. Itsellä kolmannet bokserit jo menossa ja alkaa käydä lompakon päälle.

Positiivisena sanottava, että onhan nää muuten parhaat bokserit ikinä. Ennätys 2 viikkoa jalassa putkeen ja ei hajuhaittoja.
0
2
I would not recommend to a friend
Risto S.

25.09.2017
"...Kunnolla istuvat merinobokserit, jotka on mukavat arjessa ja toimivat liikkuessa..." Kaikki tuo on pelkkää valetta. Nämä ovat niin surkeat kuin surkeat yleensä voivat olla. Ihan niinkuin nykyisin kaikki alushousut ovat tehdyt joillekin omituisen muotoisille ihmisille, niin ovat nämäkin. Selkäpuolelta vyötärö jää paljon alemmaksi kuin edestä eikä näitä kyllä voi pitää päällään ollenkaan. Lisäksi kokonumerointi on taas kerran pahasti pielessä, olisi pitänyt ostaa ainakin yhtä,ellei kahta kokoa pienemmät. Pitkissä vastaavissa alushousuissa vastaava koko on juuri sopiva. Sovitin näitä ilman allaolevaa vaatetta, joten en voi palauttaakaan, joten seuraava toimenpide on pestä ne kuumalla vedellä ja runsaalla pesuaineella ja yrittää saada ne huopumaan ja katsoa josko ne senjälkeen olisivat vaikka emännälle sopivan kokoiset. Mallille ei vaan voi mitään. En tule koskaan enää ostamaan tällaisia.
3
2
I would recommend for a friend
Juho P.

20.10.2017
I would not recommend to a friend
Viktor S.

10.11.2017 (Edited 11.11.2017)
The cut feels a bit wrong, the elastic waistband doesnt do its job properly and it just feel to loose. I doubt downsize will solve the problem. Excess fabric on legs, but"missing" fabric over arse. Merinowool is nice quality though..
2
2
I would recommend for a friend
Tapani H.

26.11.2017
Kohtalainen. Istuvat minun kroppaani hyvin, mutta kangas on tosiaan aika paksua. Hiostaa jo nyt syystalvella. Kyllä nämä kuitenkin puuvillaiset pieksevät jos leikkaus (≈leveät reidet) sattuu sopimaan.
0
0
I would recommend for a friend
Rune H.

17.12.2017
These are quite loose-fitting, as has been pointed out by other reviewers. I think downsizing would be a prudent move, I normally use a Size Medium, but sometimes a Small fits me better (I use size 32 jeans). So if you, like me, sometimes tend to fall between two sizes, choose the smaller one. Other than that, these boxers are quite comfortable, and it's not a big deal for me leastways, that they are a bit largish. If the sizing had been more spot-on, I would have given them 5 stars.
0
0
I would not recommend to a friend
Mauno V.

07.04.2018
Vyötärö näissä on ihan mahdottoman matalalla. Itsellä lähestulkoon vehje vilkkuu jos asettelen nämä niin etteivät kassit murskaannu. Jos ylöspäin vetää niin uppoavat ikävästi persvakoon samalla murskaten yllämainitut kassit. En tiedä mille antiloopin ja hunajamehiläisen risteytymälle malli on suunniteltu, mutta ei ainakaan normaalille miehelle.
0
0
I would recommend for a friend
Mason P.

07.04.2018
Sizing for me was good, a bit larger than I am used to but comfortable. The best material boxers you will ever buy in your life.
0
0
I would recommend for a friend
Sebastian W.

12.04.2018
Picked those up at half-price. Size is indeed a bit loose, but incredibly soft and comfortable, and the thing just keep being soft and smelling clean for several days (Third day in right now, we'll see how long it lasts before it requires washing). Great buy (especially at the half-price) and nice for travelling as you can afford to pack only a third or a quarter of the number of underwear you'd normally buy.
0
0
I would recommend for a friend
rj m.

12.04.2018
I've just ordered more of these before they are gone.

Made with a heavier weight fabric than that used by many of the well-known merino brands, and well made to boot; these are as comfortable as, and should last longer than, the competition (the tunnelled elastic waist also means that they are more easily repairable, if the elastic were to fail). Sizing seems correct.

If you have not yet tried merino and have been put off by the prices often charged, then I would certainly recommend these - doubly so at the sale price.
0
0
I would recommend for a friend
Kailen G.

28.04.2018
Man, these are comfy, like REALLY comfy. Love them!
0
0