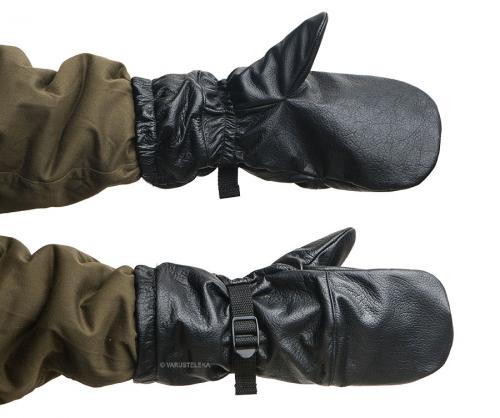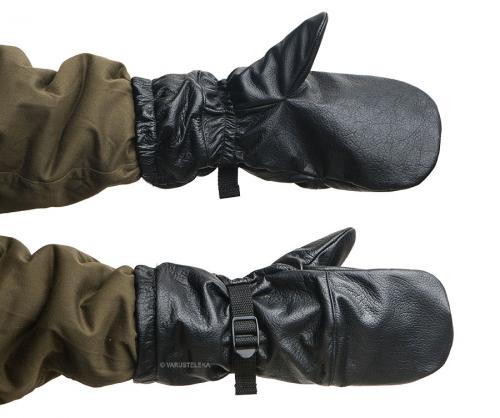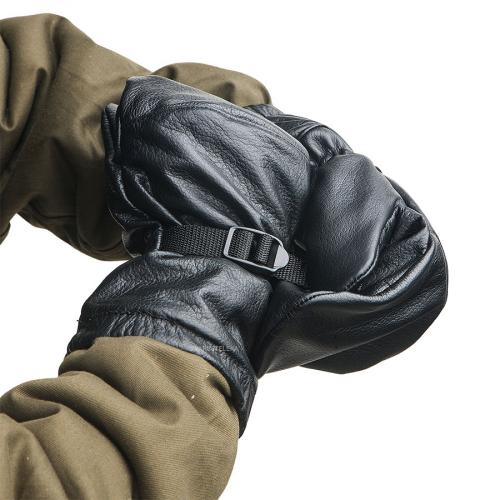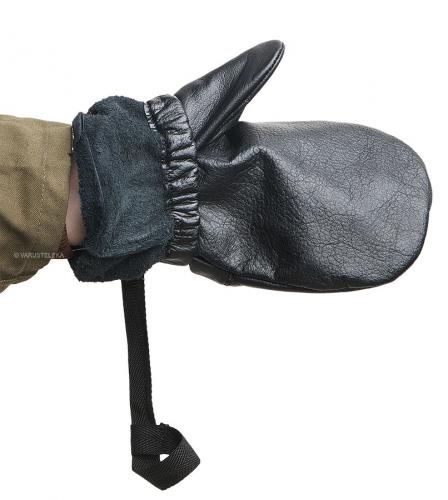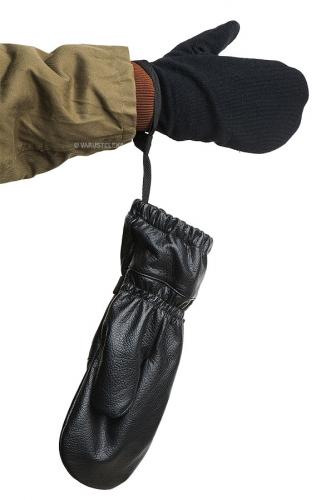 Särmä leather mittens
Price 51.99 USD 61.99 USD excluding VAT
Proper good leather shell mittens, loosely based on the Finnish army "no can do" gloves. These work as the top layer, you can wear anything under them depending on the circumstances. Seriously good quality mittens, made right here in Finland.
This product has used and returned variations. Used are washed and unbroken. Heavily used are also washed but might be missing buttons, have tears, main zipper can be broken etc. Read more about Kierto.
Trouble with the metric system? Try our converter: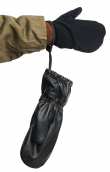 Proper good leather shell mittens, loosely based on the Finnish army "no can do" gloves. These work as the top layer, you can wear anything under them depending on the circumstances. Seriously good quality mittens, made right here in Finland.
Simple design with useful details such as elastics on the mouth and wrist, adjustment straps and hanging loops which tighten around the wrists when the gloves are dropped. Totally unlined, these are just a leather shell. Sized roomy enough to fit any gloves or mittens inside. An added benefit along the modularity is the faster drying time.
Made of yak skin, which comes from abroad but processed in Finland. The buckles are ITW Nexus (won't pop, crackle and snap in freezing temps) and workmanship excellent overall - we didn't cut corners with these.
One size fits all.
Made in Finland!
Varusteleka Särmä
Särmä is our own brand of clothing and equipment. When you buy Särmä you get purpose-built stuff at a decent price, something that will fill it's intended role well and not cost you an arm and a leg!
Särmä products are covered by a 12-month warranty against defects in materials and workmanship. For further information please read our detailed warranty guide.
Recommendations
Loading products...
Reviews
You have already submitted a review. You can edit your text by clicking on it.
Log in and write a review.
Remove filter
I would not recommend to a friend
Janne K.

16.09.2016 (Edited 29.11.2016)
Luulin ensin, että Varustelekan tuotekehitys olisi viimeinkin vastannut hartaimpiin rukouksiini kun toitte Särmä nahkakintaat myyntiin. Mutta kuinkas kävikään...

Rakastuin intissä ollessani PV:n nahkakintaisiin ja jäin niitä syvästi kaipaamaan kotiutuessani. Yritin etsiä samanlaisia kaikkialta, mutta mistään ei saanut kokonaan nahasta valmistettuja kintaita.

Varusteleka syyttää kovasti aina PV:n Materiaalilaitoksen Huonontamisosastoa varusteiden pilaamisesta, mutta nyt te onnistuitte tekemään tismalleen saman asian! Ja vieläpä niin yksinkertaisella varusteella kuin nahkakinnas!

Ensi vilkaisulla kintaanne vaikuttaa pätevältä, jopa pienellä parannuksella (rannelenkki) olevalta versiolta PV:n noukkareihin nähden. Kauheus paljastuu heti, kun kintaan vetää käteen. Kinnas on suoraan sanottuna täysin epäonnistunut.

Varsi on käsittämättömän lyhyt ja sitäkin kapeampi! Minulla on käytössäni Suunnon X-lander kello ja hädin tuskin saan laitettua kintaan käteeni. Mitä ihmettä?! Mitenkä sen muka pitäisi mahtua talvella käteen, kun alla on alushanska, villatumppu, takin ja aluspaitojen hihat?

Miksi varteen on laitettu kiinteä kuminauhakiristys? Eihän siinä ole päätä eikä häntää. Paljon leveämpi varren suu ja siihen säädettävä kiristys, kuten PV:n kintaissa, olisi ollut parempi ratkaisu.

Ja se lyhyys! Minkä takia varresta on tehty niin lyhyt? Nyt se päättyy noin viisi senttiä peukalon tyvestä, kun PV:n kinnas menee puoliväliin kyynärvartta. Tämä onkin kaikin mahdollisin puolin parempi ratkaisu.

Rannelenkkikin vaikutti aluksi hyvältä, mutta hihnan pitäisi olla vielä pidempi. Edelleen jos päällä olisi aluspaidat ja takki, niin tuskin rannelenkkiä pystyisi kunnolla käyttämään. Ellei sitä pujottelisi täysin ihoa vasten.

Työn jälki on kieltämättä laadukkaan oloista, mutta kintaan pienuutta jokaisessa suhteessa en vain pysty käsittämään. Kokeilin suhteellisen ohutta villatumppua laittaa käsineen sisälle. Kyllähän se sinne jotenkin meni, muttei puhettakaan että sinne olisi vielä saanut alushansikasta tai kinnasta mahtumaan hihan päälle.

Ensimmäistä kertaa Varusteleka on tuottanut minulle pettymyksen ja vieläpä valtavan pettymyksen. Syytätte ahkerasti PV:tä varusteiden kummallisista ominaisuuksista, mutta sitten itse tunaroitte ehkä yksinkertaisimman asian mitä M05 -vaatetusjärjestelmässä on. Vieläpä jokaisella mahdollisella tavalla, millä nahkakintaasta pystyy tekemään huonon.

En oikeastaan pysty kuvittelemaan miten kukaan pystyisi käyttämään noin puuttellisia kintaita. Kyllähän joku kaupunkihipsteri, jolla on lyijykynän paksuinen ranne, noita pystyy käyttämään urbaanissa ympäristössä kesällä. Mutta ei teidän kintaistanne kyllä ole mitenkään vaativaan talviretkeilyyn.

ÄLKÄÄ OSTAKO NÄITÄ, ellette halua tuhlata rahojanne kelvottiin kintaisiin. Tuo antamani puoli pistettäkin on liikaa näistä, mutta järjestelmä ei anna antaa nollaa.
29
19
I would recommend for a friend
Timo V.

27.11.2016 (Edited 29.11.2016)
Ostin nämä hiihtokintaiksi umpihankihiihtoon koville pakkasille, samoilla hanskoilla voi sitten tehdä puutyöt tulilla. Eikä lumi tartu, toisin kuin tavallisiin paksuihin villakintaisiin, rukkasten alla käytän siis Särmän merinokintaita. Toistaiseksi olen tyytyväinen. Riiputushihna voisi olla hieman pidempi, mutta toisaalta arvostan sitä, etteivät roiku maassa asti nenää kaivaessa. Pitkät narut ovat aina tiellä muutenkin. Peukalo on ehkä mikroskoopisesti hieman liian kapea, mutta kämmen/sormiosa juuri sopiva. Nahka venyy varmasti. Olen iso mies ja käteni ovat keskiarvoa hieman isommat. Aktiiviseen (rauhalliseen) toimintaan pidän näitä hyvinä, mutta varsinaiseen kylmässä värjöttelyyn itselläni on oikeat topparukkaset. Niiden alle saan sitten vaikka sormikkaat laitettua.

Kellon (Garmin 225) tai hihansuiden kanssa ei ole ollut ongelmia. Rukkaset menevät mukavasti sekä pakkaspuvun, että anorakin hihan sisään. En olisi ostanut näitä jos kyse olisi ollut jostain patakintaista, Käyttörukkasten tulee mahtua taskuun. Oma mielipiteeni on, että hanskan varsi menee takin alle, ei päinvastoin.

Toiseen arvosteluun viitaten totean: Jos huomaat tilanneesi itsellesi sopimattoman tuotteen, sen voi aina pulauttaa...
18
3
I would not recommend to a friend
Matti H.

09.08.2019