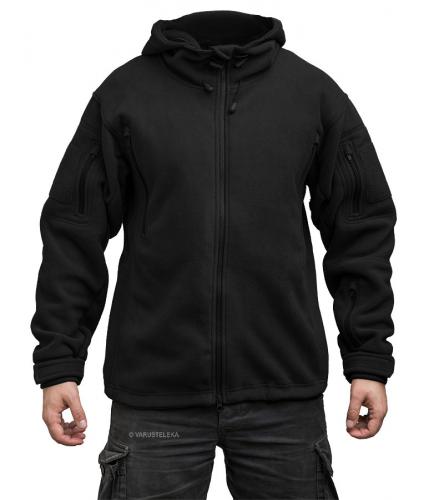 Särmä hooded Fleece jacket
Price 9.99 USD 55.99 USD excluding VAT
Loading products...
Trouble with the metric system? Try our converter: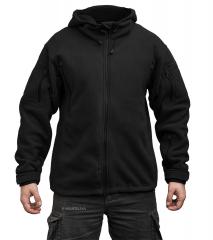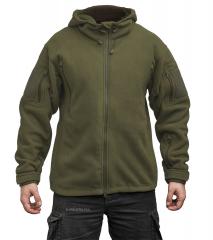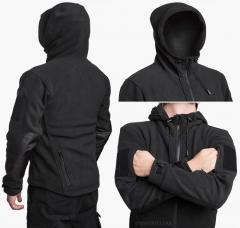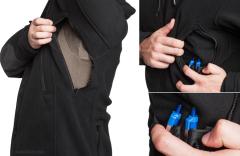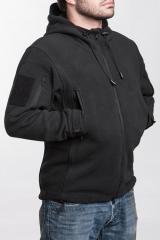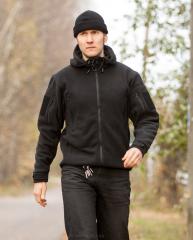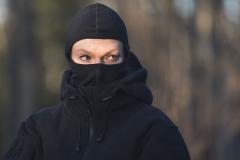 Our very own fleece jacket! We've sold so many different tactical fleece jackets over the years that we believe we have gotten a good understanding of what people want. So, we put all the good features together in one neat package and made this! A modern, nicely fitting and a very functional piece of warm clothing for just about any use.
The problem with good, mid-price tactical fleece jackets is that the manufacturers have never been able to keep up with our sales. So we decided that this winter our shelves would not stand empty with no fleeces to sell, what we did was make our own! Since these come straight from our subcontractor who sews them we don't have to pay any middlemen their cut, making the end result better in terms of price and quality! That is a good thing.
Cut
Active cut that offers unrestrained movement, we also made these a bit better fitted than most so you don't look like a sack of potatoes.
Two-way zipper with storm flap behind it.
Drawcord hem and velcro cuffs.
Hood with elastic drawcords.
Chest pockets with compartments for small trinkets inside.
Both sleeves have zippered pockets on the upper arms. There's a small inlet inside the left pocket for headphone wire so it doesn't have to hang on the outside.
The left sleeve has a small zippered pocket on the wrist.
A pocket on the lower back is accessible from both sides, great to stuff your gloves and such in.
Two-way ventilation zippers under the arms.
Reinforced hem and elbows.
Velcro on the sleeves (9 x 11 cm) for attaching reflector tabs or national insignia and all that. Or all your silly Morale Monkey patches and whatever.
Velcro on the sleeves (3.5" x 4.3") for attaching reflector tabs or national insignia and all that. Or all your silly Morale Monkey patches and whatever.
Updates from the old model
The hem drawcord attachment is more secure.
Inlet for headphone cables in the left arm pocket.
Sizing
These are made according to our own size charts. The simple Yankee style letters are followed by explanations, these are the recommended user measurements, height and chest. Below the actual sleeve length from the shoulder seam, chest circumference from the widest point and back length from the collar seam to the hem:
| Size | Chest | Sleeve | Back length |
| --- | --- | --- | --- |
| X-Small Regular | 96 cm | 60 cm | 66 cm |
| Small Regular | 104 cm | 64 cm | 70 cm |
| Medium Regular | 112 cm | 64 cm | 74 cm |
| Large Regular | 120 cm | 64 cm | 77 cm |
| X-Large Regular | 128 cm | 64 cm | 80 cm |
| 2X-Large Regular | 136 cm | 64 cm | 84 cm |
| Medium Long | 112 cm | 68 cm | 78 cm |
| Large Long | 120 cm | 68 cm | 81 cm |
| X-Large Long | 128 cm | 68 cm | 84 cm |
| Size | Chest | Sleeve | Back length |
| --- | --- | --- | --- |
| X-Small Regular | 38" | 24" | 26" |
| Small Regular | 41" | 25" | 28" |
| Medium Regular | 44" | 25" | 29" |
| Large Regular | 47" | 25" | 30" |
| X-Large Regular | 50" | 25" | 32" |
| 2X-Large Regular | 54" | 25" | 33" |
| Medium Long | 44" | 27" | 31" |
| Large Long | 47" | 27" | 32" |
| X-Large Long | 50" | 27" | 33" |
Model's height: 173 cm
Model's height: 5' 8"
His chest measurement: 102 cm
His chest measurement: 40"
Jacket size: Small Regular
Materials
100% Polyester fleece and100% polyester reinforcement fabrics. YKK quality zippers. Wash (if needed) in 40 degrees celcius. Fabric weight is 380 g/m2.
Varusteleka Särmä
Särmä is our own brand of clothing and equipment. When you buy Särmä you get purpose-built stuff at a decent price, something that will fill its intended role well and not cost you an arm and a leg!
Särmä products are covered by a 12-month warranty against defects in materials and workmanship. For further information please read our detailed warranty guide.
Made in China
Recommendations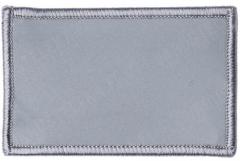 Särmä reflective patch, 80 x 50 mm
4.99 USD
Sometimes purchased with.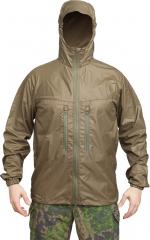 Särmä TST L3 Wind jacket
55.99 - 73.99 USD 73.99 USD
Similar product.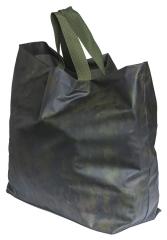 Jämä M05 tote bag
4.99 USD
Sometimes purchased with.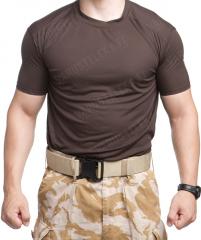 British Undergarment, Body Armour, surplus
7.99 USD
Sometimes purchased with.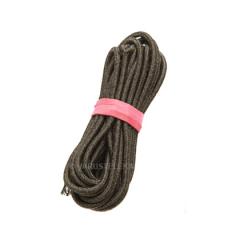 Bungee cord, by the metre, olive drab
1.99 USD
Sometimes purchased with.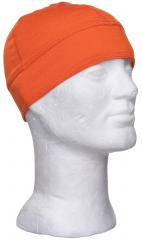 Särmä TST L1 Merino Wool Beanie
13.99 USD
Sometimes purchased with.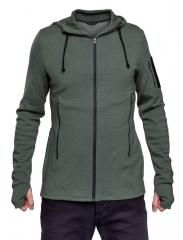 Särmä Merino Wool Hoodie
119.99 USD
Might be of interest.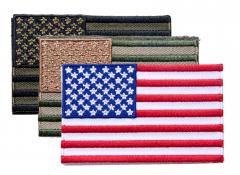 Särmä TST US Flag Patch, 77 x 47 mm
4.99 USD
Might be of interest.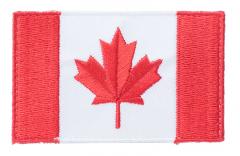 Särmä TST Canadian flag patch, 77 x 47 mm
4.99 USD
Might be of interest.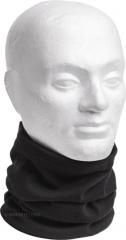 Särmä neck tube, merino wool, black
18.99 USD
Might be of interest.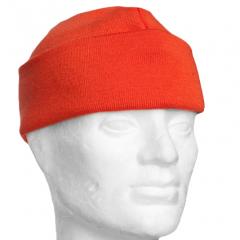 Särmä Commando Cap, Merino Wool
18.99 USD
Buy also.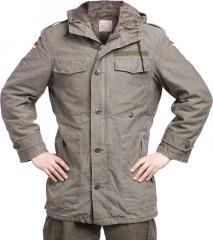 BW parka, olive drab, surplus
55.99 USD
Might be of interest.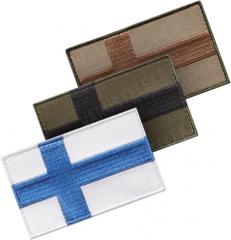 Särmä TST Finnish flag patch, 77 x 47 mm,
4.99 USD
Might be of interest.
Reviews
You have already submitted a review. You can edit your text by clicking on it.
Log in and write a review.
Remove filter
Suomi
(10)
English
(20)
I would not recommend to a friend
lauri s.

27.09.2016 (Edited 29.11.2016)
Vanhempi malli oli. Aloitin ratkomalla kaikki tarrapohjat, mille olen kovin allerginen, poies. (Yleensäkin voisi näissä varustelesan tuotteissa miettiä onko niitä tarrapohjia joka koloon tungettava). Ranteen velcro oli epäilyttävän oloisesti ommeltu, mutta niistä ei mitään ongelmia koitunut. Toisaalta säädin ne ehkä kerran paikalleen. Hienoa että hihoissa ei ollut niitä peukkureikiä. Helma oli hyvä, riitti valuvan perseeni suojaamaan esim pyöräillessä. Selän tasku oli aavistuksen turha, mutta ainakin pyöräillessä hyvä. Joskus kadonneet hanskat sieltä löysin jälkikäteen. Taskut olivat älyttömät, käytän mielelläni taskuja käsien lämmittelyyn ja rintakorkeudella asento on hankala. Kuinka moni käyttäjä valitsee tämän takin alemmat taskut peittävän varusteesn kanssa käytettäväksi? Sanoisin että sotilasmuotoilua väärässä paikassa. Hupun remmit hyppivät kujistaan miten sattuu, huppu on valtava (kypärälle? Kuka käyttää tämän kanssa?). Myös kaulus oli hankala.
Materiaali on ohutta mutta painavaa verrattuna esim britti 95- fleeceen jossa arvelisin olevan myös parempi kosteuden siirto. Ei myöskään pakkaudu kovin pieneen tilaan. Mielestäni kuitenkin juuri fleecen keveys suhteessa lämmöneritävyyteen on nimenomaan syy valita fleece materiaaliksi (+huokeampi hinta). Toisaalta hinta huomioiden materiaali on ymmärrettävä ja perus taajamatallauksessa sopiva (jolloin myös em tasku-, tarrapohja- ja huppuratkaisut ovat turhia).

Käytin takkia noin vuoden, sitten kyllästyin em pikkuvikoihin. Sinänsä ryhdikäs perusfleece jonka mallisia on tuntunut vaikea löytyvän. Olen tyytyväisempi kevyempään malliin, jossa tosin peukkureijät ovat minulle turhat ja huonosti sijoitettu (vetää hihan kierteelle).

Noh, makukysymyksiä suuri osa.
10
22
I would recommend for a friend
Dimitri R.

06.11.2016 (Edited 29.11.2016)
Hyvä, ryhdikäs, ehkä kuitenkin hieman kankea fleece. Olen omistanut kyseisen kledjun (vanha malli) about vuoden.
Tämän alle mahtuu helposti pitkähihainen aluspaita, oman valinnan mukaan puuvillacollege tai kevyt villapaita, joiden jälkeen fleecetakki viimeistelee kerrospukeutumisen niin, että -10 asteessa tarkenee vielä hyvin. Muotonsa ja mallinsa takia tämä päällä voi harrastaa liikuntaa. Perse ei jää paljaaksi kurkotellessakaan (esim. puunoksiin, pyörän ohjaustankoon tai avannon ylle). Olen itse pieni mies, 160/56, mutta takki ei tunnu liian isolta tai pitkältä, edes hihoista, joka on tässä kokoluokassa ihan hemmetin harvinaista. Takki näyttää suljettunakin ryhdikkäältä, vetoketju ei tee pussia vatsan päälle.

En yleensä pidä velcrosta, mutta takin hihansuun kiinnityksissä ne ovat erinomaista laatua ja hoitavat työnsä. Tuuli ei pääse hihasta sisään ja velcro pysyy kiinni.
Velcro-pohjia on ympäri takkia. Ne ja lukuisat vetoketjut yhdessä tekee ajoittain takista kankean tuntuisen. Mikään "vaatteiden comfort food" tämä siis ei ole, vaikka kangas itsessään onkin ihanan tiheää ja pehmeää, kuin lapsuuden lempinalle. Käytännössä velcro-pohjat eivät ole tuntumaa lukuun ottamatta kylläkään haitanneet, päin vastoin. Kiinnittämällä niihin heijastimia säästyn pukeutumasta heijastinliiviin, joka blokkaisi kaikki tarpeelliset taskut.

Vetoketjuja on myös runsaasti. Kainaloissa ihmettelin niitä - ei kai kukaan tuollaisia oikeasti tarvitse? Kävipä syksyllä ilmi, että tarvitsee. Ainakin sellaiset yksilöt, jotka välillä äityvät ylipukeutumaan. Olin laittanut takin alle liian paksua paitaa, ja tuli kävellessä hiki, jolloin avasin tuuletusaukot. Toimi. Varmaan hyvä lisävaruste sellaisille tyypeille, jotka touhuavat vaikka metsällä juttuja vaihtelevalla intensiteetillä. Että välillä mennään kovaa ja tulee kuuma, ja sitten himmataan ja tulee kylmä. Siihen ihan jees lisä.
Hihataskut - ei valittamista. Tarpeelliset, kyllä. Hyvät, kyllä. Takatasku takin helmassa? Toimii itselleni hanskataskuna, kun muut taskut on jo täynnä. Myös käsiä voi tässä osastossa lämmitellä kun seisoa jäpittää väijyssä, mutta ei halua näyttää sluibailijalta. Takin päävetoketju menee erikoiseen fleece-onkaloon piiloon kauluksen kohdalla, mielestäni tässä olisi vielä parantamisen varaa. Tasku on liian pieni ja hassun muotoinen, yleensä ärsyttää osumalla partaan. Pitäisikö tähän nyt laittaa se velcro-läppä mielummin? Tehdä vetoketjulle onkalon sijasta peite? Vetoketjuista vielä sen verran, että näihin olisi hyvä saada SORMILENKIT. Sellaiset kuminauhat, joissa on kovamuovinen paikka sormelle. Aukeaisi sitten nämä mokomat myös hanskat kädessä 10x helpommin.

Huppua voisi vielä miettiä. Kiritysnauhat on tarpeettoman pitkät ja ne karkailee koloistaan teille tietämättömille. Tosin näistä koloista ne saa myös pujotettua takin sisään, jolloin ne ei haittaa menoa yhtään. Hupun "lippa" on mielestäni turha, kuten kaikissa hupuissa. Haluan kuristaa sen, joka keksi tehdä huppuihin tämän turhan, typerän näköisen, tarpeettoman kasvaimen. Sateella fleece ei ensinäkään kestä vettä niin suurta määrää, että lippaa tarvitsisi, ja toisekseen jos sataa ihan saatanasti ja lippaa tarvitsisi, niin se on se ensimmäinen kohta, joka kerää muotonsa vuoksi kaiken veden, ja lärppyy sitten silmillä raskaana veden painosta. Järkeä? Ei. Tämä sama ilmiö on käynyt jokaisen omistamani lippahupullisen takin kanssa, ja inhoan niitä syvästi. Kunnollinen huppu suojaa koko naamaa saman verran koko matkalta, ja on niin syvä, että tulee kokonaisuutena 3-4cm kasvojen yli. Kiristettäessä se siis myös suojaa koko naamaa, ei tämä nyt niin vaikeaa voi olla. Hupussa on kuitenkin hyöty siinä, että kun laittaa pikkupakkasella kaulahuivin takin ulkopuolelle hupun ali, toimii huppu mukavana lisäsuojana tuulta ja lunta vastaan myös ollessaan alhaalla. Pienempikin koko vain riittäisi.
Takki on mielestäni kokonaisuutena mukavan kevyt, mutta kokoontaitettavuus on kyllä vetoketjujen ja velcrojen takia kärsinyt ihan huomattavasti. Silti kyllä tätä kantaa vaikka kätösessä mukana.

Taskujen paikasta on jengi täällä nipissyt. Naisten suhteen ymmärrän ettei rintatasku ole otollisin vaihtoehto. Toisaalta jos tarvitsee isoja tarvaroita/paljon tavaraa mukaan, niin 1) reisitaskuhousut, 2) lähetin olkalaukku. Niille, jotka valittaa, koska eivät saa käsiä taskuihin: 1) Kädet pois taskuista ja 2) ostakaa hanskat.
Kokonaisuutena asteikolla 1-10 annan fleecelle arvosanaksi 9.5, jonka se on erinomaisesti ansainnut. Tähän omalla kohdalla vaikuttaa eniten ennen kaikkea vaatteen yleisilme, kestävyys, istuvuus ja lämpimyys.
11
4
I would recommend for a friend
Michael B.

Varusteleka employee

21.11.2016 (Edited 29.11.2016)
I would recommend for a friend
Juho R.

08.12.2016 (Edited 22.12.2016)
Paras fleece takki koskaan! Huikea leikkaus, loistava huppu, kestävät vetoketjut, käytännölliset taskut! Ollut käytössä jo useamman vuoden lähes joka pakkaspäivänä. Ainoastaan rintataskussa oleva kynätasku ja niskassa oleva naulakkolenkki repeyty aika äkkiä.
5
1
I would recommend for a friend
Julius N.

01.01.2017 (Edited 03.01.2017)
Hyvä, lämmin ja siisteimmän näköinen fleece mitä tiedän. Kivasti käteviä taskuja, ja velcrot hihoissa on hauska lisä. Koot tuntuu olevan aika reiluja. Oon 177 pitkä reilun metrin rinnanympäryksellä, ja käytän yleensä L-kokoja, mutta mediumi oli mulle sopivampi tässä tapauksessa. Hihojen suut on aika paksut, joten istuvamman päällystakin hihat käy hieman ahtaaksi.
3
1
I would recommend for a friend
Aku R.

17.01.2017
Kohta vuodenpäivät palvellut eikä mitään moittimista erittäin mieluinen takki, joka ajaa asiansa niin työtakkina kuin vapaa-ajallakin.
1
0
I would recommend for a friend
Dan V.

26.01.2017
Ihan aluksi todettakoon että tuote on hintansa ja laatunsa puolesta saakelin hyvä.
Se mihin kukin sitä tarvitsee määritteleekin sitten toimiiko täydellisesti vaiko välttävästi.
Itselläni valitettavasti menee noiden välimaastoon, tosin osaksi täysin omista syistä.

Taskujen yläsijainti häiritsee minua, mutta en käytäkkään tuotetta repun kanssa jolloin sijainti on varmasti kultaa.
Ja suurin syy tähän on oma kankeuteni! :D
Lämmin tämä on, ja takkina myyty vaikka huppariksi ostin, eli ihan omaa syytä seuraavat miinukset;
-Kankea, velcrot ja toppaukset tuovat takille sopivaa jämäkkyyttä.
-ranne velcrot itselle turhat, hankaloittaa yhtä hupparin suurinta etua eli hihojen käärimistä. (edelleenkin täysin oma syy kun takin ostin huppariksi)
-Päivittäiskäyttöön en keksi selkätaskulle käyttöä, joskus ehkä, joten sen määrittelen miinukseksi omaan käyttöön.

Plussana koko oli erittäin löysä, monet hupparit tulee meikän ottaa 2xl kokona, tässä riitti xl reg.
Edelleen hihat hankala, mutta silti mahdollista, vetää ylös.
Ja materiaali tuntuu oikein hyvältä, sanoisinko pornahtavan pehmeältä iholla.

Summa summarum, takkina varmasti hyvä kuiviin välivuodenaikoihin(ihan kuin sellaisia päiviä täällä pohjolassa olisi).
Hupparina menee jos pääsee yli jäykkyydestä.
Tuntuu hyvältä päällä , mikä tärkeintä.
Taskujen turhuus/riittävyys on käyttötarpeesta riippuvainen, itselläni ne menee 80% nappiin päivittäiskäytössä.
Laadussa en huomannut puutteita, tosin parin päivän kokemuksella vasta

Lisähuomiona suosittelen huomioimaan kummassa rintataskussa pitää puhelinta autossa, kuskina ollessa oikeassa taskussa puhelin saattaa jäädä turvavyön alle joka riski, eli pidä siinä taskussa jossa se ei asetu vyön alle.

Ja netin ihmeellisestä maailmasta löytyy vetoketjunvetimiä, helpottavat rintataskujen käyttöä jos olet yhtä kankea kuin minä.
2
0
I would recommend for a friend
eric r.

08.05.2017 (Edited 09.05.2017)
....very nice jacket, well made, quality zippers, includes a wind flap behind the main zipper and nylon material along the hem. The sleeve zipper pockets are big and can easily fit a large cell phone (mine is 6.0 x 3.0 x 0.4" / 152.5 x 77.2 x 10.9 mm). The jacket material is thick and hood fits well. Having the front pockets up high works well. With the detailed dimensions provided in the description, I ordered a size smaller and it fit perfectly.
4
0
I would recommend for a friend
Ignacio N.

21.05.2017
I have had all kind of fancy expensive brands like Arc´teryx, Norrøna... This one is by far the most versatile and heavy duty fleece I have had. I don´t give it a 5 just because I´m pissed they didn´t have the S long.
10
1
I would recommend for a friend
sonja p.

12.10.2017
I would recommend for a friend
Duncan B.

27.10.2017
The best fleece on the market, practical, well made and looks cool, a very well thought out garment, what more can you ask for?
7
0
I would recommend for a friend
Troy

23.11.2017
I've been using this fleece in place of some of the other ones that I have from different companies because I live in a locality that gets very wet, and none of them have hoods. overall, this jacket is a winner. Fleece is pretty heavy duty and comfortable, and does a good job of keeping me dry in our rainy season. Cut is good, although a prefer a little bit more of a relaxed fit than I got across the chest with this one.

If you live in a place that allows firearm carry, or have an occupation where you may work plainclothes, I would be remiss to point out that the pen pockets in the chest pockets are perfectly sized for a double stack 9mm magazine, and do a reasonable job of not printing.

My three complains is that I miss handwarmer pockets on the front of the jacket, the main zipper is kind of a pain to get started, and finally the cuffs. Im surprised a velcro adjustment was used instead of a "fast-fit" style elastic cuff, the cuffs either feel a little baggy or I have a bunch of extra material hanging off from the adjustment.
2
1
I would recommend for a friend
Frank S.

13.12.2017
Good tight weave, enormous hood that will keep your head warm. I do agree with Troy H. on the lack of handwarmer lower pockets - they would have been more useful than the large back pocket (unless you are a cyclist I guess, in which case this is probably the perfect fleece as there is nothing to stop you from leaning into your bike handles and you can get to your gloves or whatever in your lower back...). Indeed one would expect elastic cuffs but this is more done as an outer jacket (again, cycling) and then being able to velcro the cuffs really tight against the wind may be useful. For anyone wearing this also under a windproof shell or raincoat, the cuffs are a bit thick.
The fleece is warm outdoors and not too hot or sweaty once you get inside. Finishing is good, I found no faults. the cut is indeed a bit less 'sack of potatoes' than many other fleeces out there. Two-way zippers are always a bit more fiddly, but then they are rare on fleece jackets and they do improve mobility. Again a sign that this thing is designed as an outer layer for mostly dry weather or light drizzle - or dry sunny winter weater with freezing temperatures, after all it's Finnish. And again, a cyclist may like the two-way zipper to provide more freedom for pumping legs...
It does fit under a Särma windproof smock of the same basic size if neccessary (I have both, in XL Regular and the smock goes on top if the fleece is worn over something fairly thin like a cotton shirt or thermal underlayer).
The coyote colour is a bit darker than it seems on the web page - it goes more toward mud brown than sand. Ik won't look dirty very quickly if you are bumming outside. Better slap on a few reflectors or armbands though in the hunting season as this colour makes you look like something to shoot at.
2
0
I would recommend for a friend
Otto B.

04.01.2018 (Edited 04.01.2018)
Best fleece jacket ever.

The material is nice and thick, and makes the jacket warm enough for use in autumn and spring as a outer layer by itself. It takes a lot of rain to soak this thing - you won't even notice light rain at all. It fits nicely under a Särmä Windproof Smock, and under a Gorka 3 jacket of the same general size.

The hood is nice and roomy. You can easily wear other headwear underneath.

The hood and collar on the jacket protects the neck against wind, even when the hood is worn down. I like that a lot.

The pockets are spot on in regards to placement and size. The back pocket is perfect for gloves and a beanie. Or a small IFAK and handcuffs. It is accessible from both sides.



The cuffs are a bit big, and I hope the velcro adjustment is replaced by something else if a new version of the jacket ever comes out. Because I'm getting more of these!
2
0
I would recommend for a friend
Matt M.

03.02.2018 (Edited 06.02.2018)
Great deal! Would feel super warm and fuzzy if it was made in Finland or Estonia but the price is awesome. Fit is perfect using your guide. Really like the bit of a longer tail on the back. Chest pockets and lower back/kidney pocket should be good for handwarmers when in hunting stand or ice fishing. Or for storing a loaf of Pulla back there.

Good work Varusteleka!

Update:
Wore this under the Särmä TST M05 cold weather parka yesterday. Was 5° F . Great combination of jackets. One tweek I might sugest is that the chest pocket zippers be placed near the center line so thay easier to access with pack on. I also found my self looking for pockets down low in the usual area like a hoodie sweatshirt would have. But, these are tiny nuances. The jackets tight weave and fit are amazing!
5
0
I would recommend for a friend
Stuart W.

15.02.2018 (Edited 29.03.2018)
UPDATE: Bought 5 more of these. DO NOT USE DHL. Package delayed and then went missing. Exorbitant customs/duties which they applied an incorrect amount on invoice. Even with corrections, I'm paying 50% extra on my purchase. Highly disappointing outcome for paying twice the shipping rate. Never had this issue with the regular Finnish/Canadian post. Lesson learned.

REPEAT - DO NOT USE DHL.

Use the regular post and be patient.

*Not a criticism of Varusteleka.

ORIG REVIEW:
"The" Fleece. Shame they're getting rid of this item. I saw this first on Survival Russia on YouTube. I'm 6'2 and 250+. I ordered the 2xl and it fits perfectly over a merino long sleeve and keeps me warm in -15 to -20C easily if you're working outside. Zipper is a little small and finicky, but suck it in (tight), suck it up. The hood is huge (almost pilot helmet big - good), pockets are plentiful, little coin pocket in the chest pockets for change, monocle, or illicit drugs. I should really buy a 2nd.
7
0
I would recommend for a friend
Oisin F.

17.02.2018
Great fleece, especially for the price. Good quality material and very comfortable. My only real gripe is how much I miss having pockets on the hems to quickly stuff things into. Not to say the other pockets aren't good, its just a habit with me. The top sleeve pockets are great for holding phones and other stuff.
I havent really worn it in really wet weather but its dried well after being caught in a couple of quick heavy showers of rain.
Definitely worth it for the price
3
0
I would recommend for a friend
Vesa V.

20.02.2018
Erittäin hyvä välikelin fleece ulkokäyttöön. Ei tule helposti kuuma ja kylmäkin pysyy kerrospukeutumisella poissa. Jämäkän tuntuinen olematta tönkkö ja musta on hyvin katu-uskottava väri. Etupuolen taskut olisin kuitenkin laittanut alemmas perinteisempään kohtaan vaikka kuinka haittaisi lannevyön käyttöä reppua kannettaessa.
3
0
I would recommend for a friend
Harri-Veikko H.

05.03.2018
I would recommend for a friend
David F.

16.03.2018 (Edited 01.05.2018)
This is nice! Very dense/thick and the nicest fleece material I ever owned. I did not expect much for $30, but the quality is there!



Consider sizing down, at 6'1" (186cm) and 175 pounds (80 kilos) the large long was huge in the arms and all over. A medium long still had large diameter sleeves, but fit better overall. I almost think a small regular would fit me fine. I am not willing to buy a third to find out. As a American I always wear L or XL and find a lot of items with too short of sleeves. Not these! Other than not having front slash pockets nor inside pockets, this is extremely nice for the money, just size accordingly. Unless your over 185 cm and spend all your time eating beef and in the gym, get a medium at the largest.

I think this is best used as a under layer or if you have HUGE arms you can use it as you like.
4
0
I would recommend for a friend
Antti J.

17.03.2018 (Edited 17.03.2018)
Hyvällä tavalla jämäkän oloinen lämmin fleece jonka kainalotuuletusaukot helpottavat kovasti jos päivän aikana täytyy siirtyä ulkotiloista sisätiloihin ja takaisin koko ajan niinkuin mun töissä.



Ongelmia tuovat paksut hihansuut jotka tekevät kerrospukeutumisen vaikeaksi sekä älyvapaa taskujen sijoittelu. En tiedä jos jonkun elämäntapapyöräilijän mielestä on saatanan kivaa laittaa käsienpitotaskujen sijaan vetoketjutaskut tissien päälle (samoin kuin turha "karttatasku" ristiselän päälle) mutta normaalia käyttäjää tuollainen vaan vituttaa.


Ja kenen helvetin mielestä lipalla varustettu huppu on hyvä idea. Niin nolon näköine ettei sitä voi julkisella paikalla käyttää eikä käytännöllinenkään.
Silti loppupeleissä todella laadukas tuote, laadun tuntee ensi kosketuksesta.
4
1
I would recommend for a friend
Frederik M.

18.03.2018 (Edited 18.04.2018)
Not having any lower pockets other than the one on the back is a small annoyance but everything else is A-OK!


I went with a regular size but if you want something that is a bit longer, don't hesistate to go with that.
2
1
I would recommend for a friend
Mason P.

07.04.2018
Great quality and looks good! The problem was that the arms are so large, you have a lot of slack around your shoulders. Not a problem if you are Arnold Schwarzenegger, but if you have normalish arms then look out!
3
0
I would recommend for a friend
rj m.

12.04.2018
At the current (reduced) price this fleece is a steal.

I have had a fleece from another European brand (that shall remain nameless) that was of similar design/cut, which I liked, but made from markedly inferior materials, which was disappointing.

This fleece from Varusteleka is made from a higher grade of fleece than I was expecting (it is quite dense and does a good job at blocking the wind, although it is not windproof) and is well built. Others have noted that the cuffs are slightly bulky, which is true, but the advantage is that you can open them up for ventilation or cinch them down for warmth. The lack of lower front pockets is not noticed when wearing a rucksack (as you couldn't access them anyhow) and, at least for me, I have no problems accessing the chest level pockets.

The only thing that you may wish to add are zip-pulls: Varusteleka sell some, or make your own from cordage.
3
0
I would recommend for a friend
Richard A.

03.05.2018
Hi, for the money, this has to be one of the best mid-weight fleeces on the market! Very well-designed and put-together with an excellent hood for those windy days, a two-way front zip and under-arm vents. All very clever and well-thought-out. A great companion for the rather changeable conditions in the English Lake District (sorry, my American friends - you'll have to visit to see how pretty it is over here!). My only small gripe (like others) is those strange, high-up front pockets. I keep feeling for ones that are lower down, but they're not there. Would have given this item 5 stars, otherwise, but 4.5 because of the weird pockets. Still really good though...!
0
0
I would recommend for a friend
Yannick V.

28.05.2018
This is a nice and comfortable jacket. good solid construction and proper thick fleece material.
I could live in this if i had to!
0
0
I would recommend for a friend
Aleksei K.

20.06.2018
I would recommend for a friend
jake h.

26.08.2018
Feels and looks great. Enough pockets for anything I've needed yet. A little wierd at first not having regular pockets for my hands and the zipper is on the left side both took a little to get used to but still my favorite jacket I've had. Only problem I'm having is that it's still summer and I can't wear it as much as I'd like to.
0
0
I would recommend for a friend
Joakim R.

20.01.2019
I use this jacket as a stand alone, and as a "liner" in conjunction with my Gorka BARS jacket, it's a perfect match.
The only negative was that the shock cord on the hem of the jacket came loose after some time of use, but that
was fixed with a saftey pin.
0
0
I would recommend for a friend
Volker K.

12.10.2016 (Edited 29.11.2016)
Good quality and good cut. I am 1,84m tall and size M fits very well. And no, you don't look like if you were wearing a sack
10
0