Product added to cart
X
Recommendations
Show all Recommendations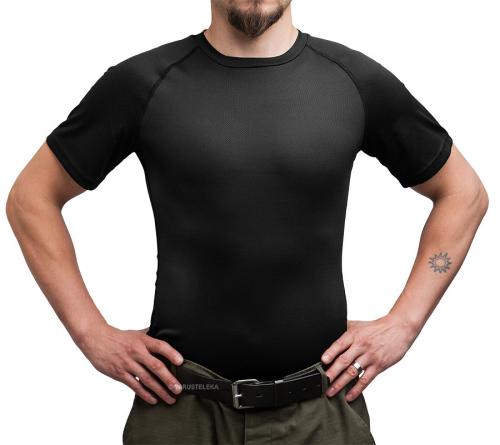 Särmä Coolmax T-shirt
Price 9.99 USD 18.99 USD excluding VAT
Loading products...
Trouble with the metric system? Try our converter: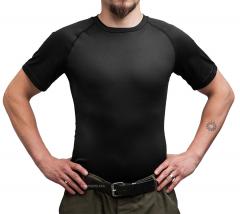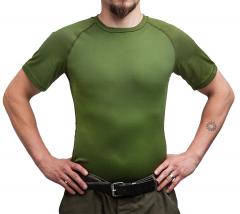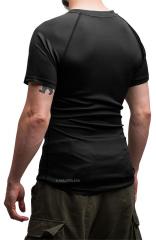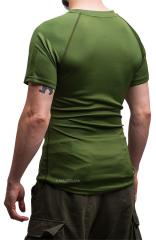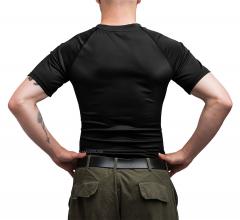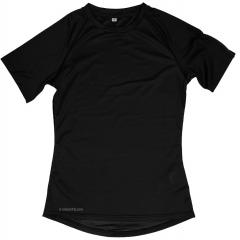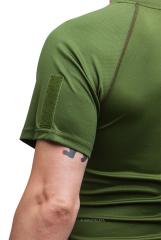 Coolmax is a brand name many people know and trust, a leading manufacturer of moisture wicking fabrics for active sportswear. Our Coolmax T-shirt is made for all those times when you need something better than just an old cotton tee, a comfortable tight fitting cut, raglan sleeves and a great hem lenght makes it perfect for sports, hiking or just everyday wear in warm weather.
Active fit: snug and comfortable.
Raglan sleeves: no chafing seams on the top of the shoulders adds comfort when carrying rucksacks.
Flatlock seams: no thick folds that could cause discomfort.
Long hem: the hem is longer at the back to keep it safely tucked in when moving about.
Coolmax: 100% polyester fabric, excellent moisture wicking capabilities.
The fit is what most makers would call "active", quite tight fitting to reduce the chance of uncomfortable bunching up and folds. The raglan sleeves offer great movement and the fact that there is no seam on top of the shoulder makes this shirt great when carrying backpacks. The generously long hem is even longer at the back, a neat detail that means your shirt will stay tucked in when bending over.
Roughly speaking there are two kinds of T-shirts in the world: your normal cotton shirts for everyday and leisure wear and then there are the fancier moisture wicking types for active use. The moisture wicking types can further be divided into natural fibres (merino wool for example) and man made stuff, such as Coolmax. Merino wool is honestly the top of the line, but man made fibres such as Coolmax are great for many uses and far cheaper. Where natural fibres excell at odour management, natural flame retardancy and simple comfort in extreme use Coolmax and the like are not far behind. Coolmax is quick drying and far more comfortable when wet than 100% cotton, but lacks some of the superior qualities of merino wool. Coolmax is really a great choice for sports or hiking, where you need something that really performs but you don´t need it to take you to Hell and back.
Moisture wicking Coolmax fabric
These are made using genuine Coolmax brand polyester fabric, a well known and trusted name that means you know what you pay for. This mes-like fabric is smooth and dense on the inside and has a 3D net like structure on the outside, this works wonders when it comes to absorbing and transferring moisture away from the skin.
100% polyester, wash in 40 degrees (Celcius).
Sizing
The measurements in brackets are the recommended user chest circumference and height in centimeters. Very simple. These are snug fitting and the Coolmax fabric does not stretch too much, so by picking your size you will get a true, snug fit . Pick a size larger if a bit more loose fit is required. For those looking for hard data, here's a chart with the actual measurements of the shirts themselves (in centimeters):
| Size | Chest | Waist | Back length | Front length |
| --- | --- | --- | --- | --- |
| X-Small | 78 | 62 | 70 | 58 |
| Small | 86 | 72 | 71,5 | 59,5 |
| Medium | 94 | 82 | 73 | 61 |
| Large | 102 | 92 | 74,5 | 62,5 |
| X-Large | 110 | 102 | 76 | 64 |
| 2X-Large | 120 | 114 | 77,5 | 65,5 |
| 3X-Large | 132 | 128 | 79 | 63 |
| 4X-Large | 144 | 141 | 80,5 | 68,5 |
| Size | Chest circumference | Waist circumference | Back length | Front length |
| --- | --- | --- | --- | --- |
| X-Small | 31" | 24" | 27.5" | 23" |
| Small | 34" | 28" | 28" | 23.5" |
| Medium | 37" | 32" | 28.5" | 24" |
| Large | 40" | 36" | 29.5" | 24.5"" |
| X-Large | 43" | 40" | 30" | 25" |
| 2X-Large | 47" | 45" | 30.5" | 26" |
| 3X-Large | 52" | 50" | 31" | 26.5" |
| 4X-Large | 57" | 56" | 31.5" | 27" |
Our model is 175 / 96 cm and wearing a size M shirt.
Our model is 5' 9" / 38" and wearing a size M shirt.
Varusteleka Särmä
Särmä is our own brand of clothing and equipment. When you buy Särmä you get purpose-built stuff at a decent price, something that will fill its intended role well and not cost you an arm and a leg!
Särmä products are covered by a 12-month warranty against defects in materials and workmanship. For further information please read our detailed warranty guide.
Made in Lithuania.
Reviews
You have already submitted a review. You can edit your text by clicking on it.
Log in and write a review.
Remove filter
Suomi
(7)
English
(4)
I would recommend for a friend
Juri S.

22.12.2016 (Edited 14.05.2018)
Särmä coolmax t-paita on hyväntuntuinen, sopivan napakka päällä ja vaikuttaa laadukkaalta. Itselleni tilasin Large koon paidan, vaikkakin kokosysteemi löytyy, niin t-paita oli lyhyempi kuin osasin odottaa. Saisi olla hivenen pitempi. Itselläni ei pysy helma housis jos hiemankin nostaa käsiä vaikka muutoin sopiva.
10
2
I would recommend for a friend
Ville T.

30.05.2017 (Edited 30.05.2017)
En ymmärrä miksi kuvauksessa lukee, että paidassa on pitkä helma, koska näin ei todellakaan ole. Helma on todella lyhyt. Tämän sanottuani paita on muuten erinomainen. Käytin yhtä paitaa noin viikon ajan yötä päivää keskikuormittavassa rasituksessa (eli myös hikoilin siihen) ja paita pysyi sekä puhtaan tuntuisena että hajuisena. Paita tuntuu miellyttävältä ja nimensä mukaisesti toimii etenkin kuumalla kelillä erinomaisesti.
3
2
I would recommend for a friend
Aleksi K.

15.06.2017
Tiedätkö sen tunteen kun pyöräilet talvella töihin, kouluun tai vastaavaan ja astuttuasi sisälle valtava jälkihiki puskee päälle? Minäkin tiesin ennen, sen takia ostin Särmä Coolmax paidan. Nyt nuo ajat ovat vain surullinen muisto. Oikeasti siis todella hyvä paita jos pyöräilee etenkin talvella, tukala jälkihiki ei jää paitaan muhimaan vaan haituu paremmin pois kuin normaalista t-paidasta. Helma kuitenkaan ei ole pitkä kuten luvattiin mutta kyllä se riittää.
2
3
I would recommend for a friend
Marko L.

24.07.2017
Hyvän oloinen paita, mitä nyt viikon intensiivisen testin perusteella voi sanoa. Selkäosa on minusta juuri hyvän pituinen. Ei nykymuodin mukainen kinttana vaan juuri niin pitkä että ei kokoajan paljasta selkää.
1
1
I would recommend for a friend
Aleksi H.

11.09.2017
Hinta-laatusuhde erittäin hyvä. Paita vihreänä lähes majuriturvallinen.

Koko on todellakin tyköistuva, tämä kannattaa huomioida kokoa miettiessä.
0
1
I would recommend for a friend
Tony F.

27.04.2018
Normally, the folks at Varusteleka are accurate when indicating size and fit. Someone dropped the ball here. I ordered two XL tees and well, they were more like medium. They were the smallest XL I had ever seen—something that would've fit me in grade 7. Quality is 100%!! No problem there.
4
2
I would recommend for a friend
Anders T.

16.05.2018
I have bought five of these and I couldnt be happier with them. They are as good as those big name brands and at a much "nicer" price.
Others have compined about the sizes. That they are on the small side.This is not my experience. A very nice shirt that I can recomend without reservation.
0
3
I would recommend for a friend
Luke H.

20.06.2018
Excellent stuff! It's worth noting these are pretty tight, so if you want a looser fit you should probably pick a size up.
1
3
I would recommend for a friend
Luke H.

20.06.2018
Excellent stuff! It's worth noting these are pretty tight, so if you want a looser fit you should probably pick a size up.
0
3
I would not recommend to a friend
N.N.

10.07.2018
Helma lyhyt. Kangas aivan yliherkkää, tarttuu kiinni kaikkeen karheaan ja sen jälkeen on aika karun näköinen. Verrattuna brittien ylijäämäpaitoihin nämä särmä-tekeleet ovat hinta/laatu-suhteeltaan aivan surkeita. Coolmax paitoja on ollut monia, mutta nämä nyt on rimanalitus. Onneksi ovat poistomynnissä.
6
2
I would recommend for a friend
Survival G.

25.07.2018 (Edited 25.07.2018)
One of the best sport-shirts i've ever used.

If you want to read how i layer my clothing, check out my blog (still under construction, reviews may follow )
https://geartomountaineer.blogspot.com/2018/01/clothing.html
0
1
I would recommend for a friend
Max K.

07.11.2018
Muuten hyvä paita, ei hiosta. Ainoa miinus on että voisi olla jonkin verran pidempi.
0
0