Santrax 500 cp pressure lantern, matte surface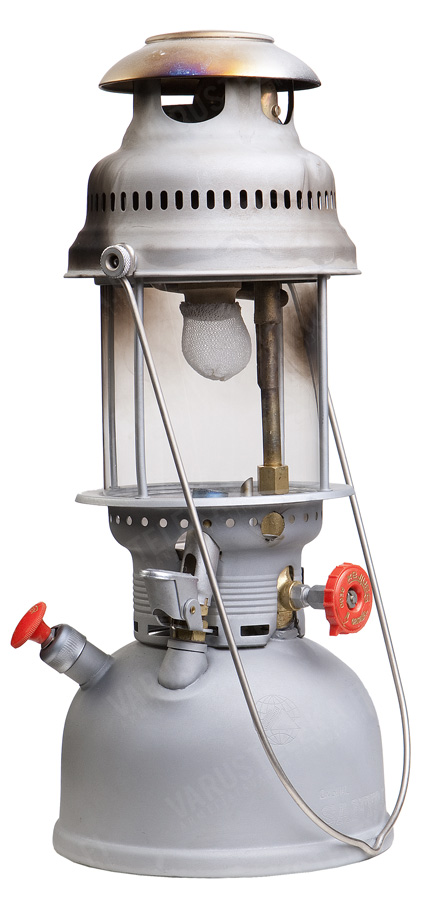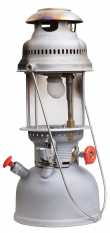 Trouble with the metric system? Try our converter:
Just about the manliest way to produce lots of light without electricity. These have been around from the 1930's. This model has a slightly better finish and a matte "army" surface coating.
Pressure lanterns burn pressurized paraffin with a very bright flame. Very very bright, 500 cp equals to a 400 W light bulb. The lantern also produces lots of heat, so as an additional bonus, wrong usage of this is a good way to burn down houses etc. So, if you have any doubts of your skills, go outside first before igniting anything.
Santrax is a Chinese company that produces many, if not most, modern lanterns - branded with fancy European names reminiscent of the old days when there still was Western production of these. However, they all come from the same factory. The in-house brand products are a bit better finished than some of the unbranded stuff. This model is a copy of the old German one with a paraffin preheater.
500 cp power
Running time about 8 h
Height 40 cm
Weight 2 kg
Preheat with either alcohol or with the built-in blowtorch
Fuel tank capacity 1 l
This lantern is 100% compatible with Petromax 500 cp lantern / Petromax 829.
With the lantern you get one burner mantle, one funnel, alcohol filler cup and a toolset consisting of multitool, needle, needle opener and nozzle cleaner tool.
Factory new.
Log in and write a review.