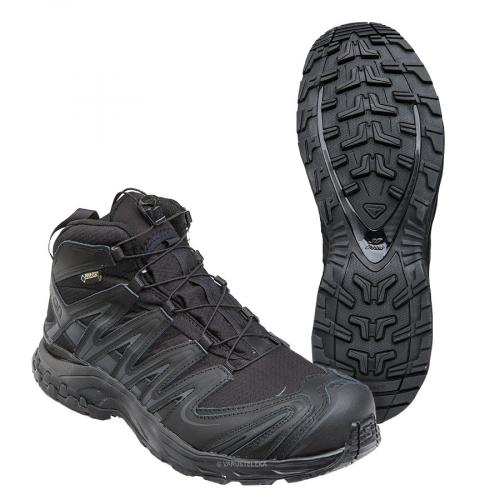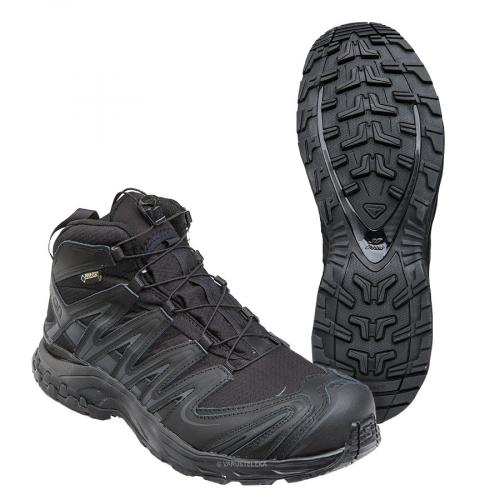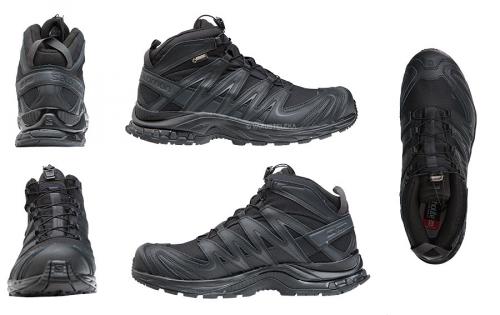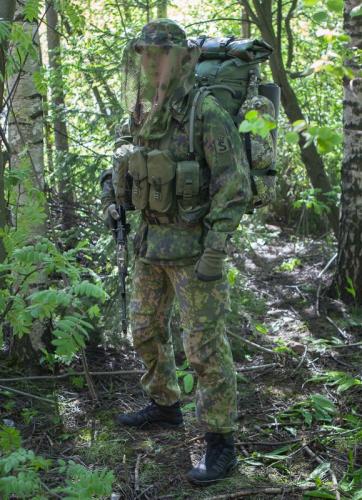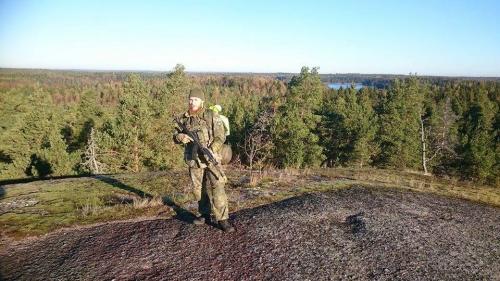 Salomon XA Pro 3D MID GTX Forces Gen 2, black
Price 133.99 USD 174.99 USD excluding VAT
Tactical offroad sneakers with subdued colour scheme. Means these have a superb fit & comfort and provide enough protection, while the black colour means these pass for military use. Lined with waterproof Gore-Tex.
Loading products...
Trouble with the metric system? Try our converter: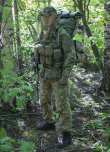 Tactical offroad sneakers with subdued colour scheme. Means these have a superb fit & comfort and provide enough protection, while the black colour means these pass for military use. Lined with waterproof Gore-Tex.
Known for sports & offroad shoes, Salomon has nowadays ventured to military territory too. As one could imagine, the footwear they make is a mix of military requirements and sport shoe features. This certainly isn't a bad thing - here's a pair GTX lined off-road running shoes with some protection.
Features
Because we live in the 2000's, the features & materials have all sorts of flashy names ending with ® and ™. However here's a down-to-earth rundown of the boot:
Non-marking sole with a very intricate cushion midsole and rough tread pattern.
Upper made of rubber and nylon.
Inner lined with breathable fabric.
Between the layers sits the Gore-Tex membrane.
Cushioned, porous insole.
Welcome to the future - here we don't have to tie laces. Just use the plastic slider thing to pull the laces taut and stuff them inside the little pocket on the tongue.
Weight for one shoe about 400-500 grams, depending on the size.
Size info
Sizes listed in UK size, then comparable EU size. Foot length in millimetres (Mondopoint) found in the chart below. The last width on these could be described as "regular" that fits most people, or at least should form in use.
| UK-size | EU-size | Mondopoint |
| --- | --- | --- |
| 4,5 | 37 1/3 | 236 mm |
| 5 | 38 | 241 mm |
| 5,5 | 38 2/3 | 245 mm |
| 6 | 39 1/3 | 249 mm |
| 6,5 | 40 | 253 mm |
| 7 | 40 2/3 | 258 mm |
| 7,5 | 41 1/3 | 262 mm |
| 8 | 42 | 267 mm |
| 8,5 | 42 2/3 | 271 mm |
| 9 | 43 1/3 | 276 mm |
| 9,5 | 44 | 280 mm |
| 10 | 44 2/3 | 284 mm |
| 10,5 | 45 1/3 | 289 mm |
| 11 | 46 | 293 mm |
| 11,5 | 46 2/3 | 298 mm |
| 12 | 47 1/3 | 302 mm |
| 12,5 | 48 | 307 mm |
| 13,5 | 49 1/3 | 315 mm |
| 14,5 | 50 2/3 | 324 mm |
Below is the official measuring guide for Salomon footwear.
Tools:

Use a shoe box or a wall with a 90° angle.
Find a sheet of paper or a sheet of cardboard, a ruler and a pen.

What should you do next?

Make sure that you are wearing the same socks that you would normally wear with this type of boot.
Wearing these socks, stand on the sheet of paper and place the outside of your foot against the wall or place your foot in the shoe box with your heel wedged firmly against the back.
Then use your pen and ruler to draw a line just in front of your big toe.
Measure the distance between the wall or the side of the shoe box and the line that you have just drawn.
Find this measurement in millimetres in the drop-down box. If you fall between sizes, pick the larger one.
Being what they are, these work best with single socks.
Made by Salomon
Made in Vietnam, but with some pretty tough specs.
Salomon gives a 2-year warranty for their products.
Recommendations
Loading products...
Reviews
You have already submitted a review. You can edit your text by clicking on it.
Log in and write a review.
Remove filter
I would recommend for a friend
Antti S.

08.06.2016 (Edited 09.06.2016)
+Super hyvät kengät jalassa!
+Antaa lisää speediä +25% (kevyet, matalavartiset, mutta tukee tosi hyvin)
+Ihan loistavat pohjalliset tulee mukana. Ollaan käytetty muissakin kengissä.
+Hyvä grippi pohjassa talvella ja kesällä. (Pohja ei kovetu, kuten useissa haixeissa yms.) Pitävyys todettu märillä kallioilla oikeen hyväksi.

-Vähän ehkä kehno hengittävyys kun kenkä on sidottuna kireälle. (Jos vertaa esim Haix ja Lowa valmistajan kalvokenkiin)
-Kalvo kesti aika tarkkaan vuoden sotaamista ja arkiulkoilua (tähän mennessä 3:ssa jalkineessa mennyt rikki n. vuoden sisään) Kahden vuoden kovan käytön jälkeen sukat näkyy jo pohjan ja kengän välistä läpi :(
-roskia taino lähinä neulasia ja muita semmosia pääsee kenkään helposti / talvella lumi = märkä kenkä = kylmä jalka. (Säärystimet auttaa vähän kyllä)

Jos etsit kenkää siviilikäyttöön esim metsäkävelyille, haravointiin, pihaleikkeihin ja töihin niin aivan loistava jalkine. Nopea laittaa jalkaan, eikä tarvitse edes kiristää nauhoja, jotka ovat tässä jalkineessa aivan sairaan nopeet ja mustat. Jos taas etsit pitkäikäistä sotajalkinetta niin mielestämme salomonin 3d malli ei ole markkinoiden paras vaihtoehto. SA-Int touhuihin kenkä on toki super hyvä siksi, että se on super nopea laittaa jalkaan. Pääset siis poteroon alta aikayksikön kun muut hälytyksen tullessa pähäkäilevät nauhojensa kanssa. Kengän isoveli 4D malli voisi olla ehkä pitkäikäisempi ja toimia ympäri vuoden paremmin? Toivottavasti pääsemme niitä vielä joskus ulkoiluttamaan.

Arvosana: Hyvä kenkä sikses. Ei paskemp ostos vaik meniki rik.

-VKJ:n jengi.
5
0
I would recommend for a friend
Joel L.

17.06.2016 (Edited 07.05.2020)
Äärimmäisen mukavat kengät jalassa. Jouduin ottamaan tavallista isommat kengät, kun jostain syystä kärki tuntuu aika kapealta. Hengittää riittävästi, kalvo kestää märkää aluskasvillisuutta, muttei upottamista. Nauhat ovat kätevät käyttää, mutta vähän rimpulat (ja mekaaniset osat voivat aina hajota vrt. tavalliset nauhat). Pohjat tuntuvat kuluvan kaikissa Salomoneissa melko nopeasti, mutta vielä ei ole pitoa haitannut.
0
0
I would recommend for a friend
Arto P.

16.10.2016 (Edited 29.11.2016)
Ei täältä ostettu ("valitettavasti" omistan tavanomaiset valkoisilla somisteilla korostetut mustat), mutta nämä ovat parhaita koskaan omistamiani kenkiä. Sopivat joka käyttöön: arkikävelyyn, metsässä tarpomiseen ja jopa hätävarana lenkkeilyyn ei-hifistelijälle. Suosittelen lämpimästi; jämäkät ja tukevat, mutta rullaavat hyvin ja sietävät hyvin märkää keliä. Kertaakaan en ole näillä myöskään liukastunut, millään kelillä (ja pohjoisimmassa Suomessa on aika jäätäviä kelejä).
1
0
I would recommend for a friend
Antti P.

30.03.2017
Pitihän ne saada taktiset Salomonit, jos kerran SOF käyttää.
Lesti sopii erittäin hyvin omaan jalkaan, hieman kapeampi kantapään puolelta ja leveämpi varpaiden kohdalta. Kooksi valitsin 44 kun normaalisti kenkä on jotain 43 ja 44 väliltä.
Pikanauhat ovat hieman rimpulan tuntuiset, mutta käytössä en keksi oikein pahaa sanottavaa. Ne saa kiristettyä nopeasti, pysyvät hyvin säädöissä ja lisäkiitosta siitä, että nauhan päät saa kielessä olevaan taskuun piiloon.
Ainoa miinus tulee erittäin jäykästä pohjasta. Keväisillä jäätiköillä kengät ovat todella liukkaat. Päkiän kohdalta pohja taittuu jonkun verran, mutta erityisesti korkeahko ja jäykkä kanta on todella liukas jäällä. Kunhan maasto sulaa ongelmia tuskin esiintyy.
Pitää, kuten olettaa sopii, vettä ja kieli on samaa rakennetta muun kengän kanssa, eli ei hörppää vettä senkään kautta.
Kaiken kaikkiaan hyvä kenkä, kun valitsee reittinsä niin, että ei tarvitse paljoa liukastella jäätiköillä.
1
0
I would recommend for a friend
Perttu T.

30.05.2017 (Edited 22.10.2017)
Alunperin ostin gen1 ja niitä käytin tyytyväisenä pari vuotta, nyt gen2 mallit ostin keväällä ja ei ole pahaa sanottavaa näistä kengistä. Puolikas pois koska gen1 päällikangas hajosi helposti kohdasta jossa kenkä taittuu astuessa. Parhaat lenkkarit mitä olen omistanut, pitävät kaatosateessa jalat kuivina.
2
0
I would recommend for a friend
Kalle P.

28.08.2017
Summa summarum: erinomaisen mukavat jalkineet päiväretkeilyyn ja luonnossa puuhailuun, sekä patikointiin/kevyille vaelluksille. Ao. rajoitteet tunnistaen, näitä voi kyllä suositella tietyin varauksin yleistossuksi ulkoiluun ja retkeilyyn, kun käyttö ei ole kovin vaativaa ja kuluttavaa ja/tai ei odota kovin monen vuoden käyttöikää.

Kesän retkien kävelyn jälkeen havainnot ovat pääosin positiivisia. Istuvuus oli heti alussa hyvä ja mukavuus on mainio, näillä tuli käveltyä jokunen päivä myös märillä sukilla ilman (pahempia) hiertymiä. Pohjat osoittautuivat erittäin hyvin pitäväksi poluilla sekä saariston märillä kallioilla ja kivillä. Keveydestä huolimatta nämä oli sen verran tukevat, että esim. Julma-Ölkyn kierto meni rinkka selässä ihan kohtuullisesti. Nämä ovat kuitenkin varsin kevyet ja pehmeät tossut kun päälle laitetaan n. 150kg miestä ja rinkkaa, joten paria päivää pidemmille ja maastoisemmille vaelluksille suosittelen harkitsemaan järeämpiä monoja, ainakin isoille pojille ja tytöille.

Puolipitkä varsi on pääosan ajasta hyvä kompromissi, mutta tuntui ainakin Koillismaan soisissa metsissä hörppäävän vettä aika mielellään (joidenkin muiden asiakasarvion mukaan itse kalvokin saatta päästää läpi, tai ainakin päällikankaan kastuminen läpi saa aikaa vastaavan tunteen). Ja kun vuorin ja imukykyiset sienimäiset pohjalliset saa kasteltua hyvin, kenkää on turha odottaa kuivuvaksi ensimmäiseen vuorokauteen, ainakaan ihan vain teltan absidissa tai nuotion loimussa. Tähän liittyen, ylipäätään hengittävyys ei myöskään ole huippuluokkaa etenkään näin kevyeksi kengäksi. Itse asiassa kalvoton malli luultavasti on siinä mielessä parempi tuote. Kestävyyden suhteen parin-kolmen kuukauden käyttöllä ei ole ongelmia, mutta minulla on omat epäilyt myös näissä 2G malleissa, varpaiden taitokseen muodostuu sellainen ryppy, mistä kalvo mene luultavasti varsin nopeasti rikki. Kärjen kumivahvike on myös minusta väärin suunniteltu, koska kengän pintamateriaali tulee vahvikkeen päälle, mikä altistaa kulumiselle kun niitä kiviä tulee kulkiessa kuitenkin potkittua. Haixin Black Eagle -mallia en ole kuin sovittanut kaupassa, mutta kaikesta päätellen se tarjoaa jotakuinkin samat ominaisuudet/edut, mutta on kestävämpi ja tukevampi jalkine vaativaan käyttöön.
1
0
I would recommend for a friend
Antti M.

20.11.2017
Oli tarkoitus arvostella jo aiemmin, mutta parempi myöhään kuin ei milloinkaan.

Koko vuosikymmen ennen näiden ostamista tuli tallattua palloa kesät ja talvet M05-maihareilla kokoa 42. Tuplasukilla tietysti. Näille lenkkareille sitten koko-ohje antoi suositukseksi 42 2/3, joten semmoiset ostin. En ole oikein ikinä tykännyt lenkkareista juurikaan, mutta näille arvelin antaa mahdollisuuden. Lyhyesti sanottuna kannatti, pidemmin sanottuna about näin:

Kun vedin nuo ensimmäistä kertaa jalkaan, niin mieleen tuli että josko vaihtaisin pykälää isompiin. Olivat siis helvetin tiukan tuntuiset. Viimeksi uudet kengät on tehneet näin kipeää joskus viime vuosikymmenellä kun kaveri kannusti ostamaan Haix Airpowerit, eli ensimmäinen kuukausi näiden kanssa oli semmoista hissukseen lievenevää helvettiä. Nyt olen ihan tyytyväinen itseeni etten vaihtanut kokoa. Kun nämä saa sisäänajettua, on fiilis kuin jalassa olisi vain hyvin rullaavat pohjat eikä muuta. Mukavat, kevyet, ja parantavat paatuneenkin maihariuskovaisen lenkkariallergiasta pienellä yrittämisellä.

Tuon mukavuuden lisäksi isona plussana nauhasysteemi, jolle aluksi naureskelin. En naureskele enää. Se nyt vaan toimii.

Miinuksia? En lähde ongelmiin, jotka tulevat vain noista lyhyistä varsista. Se olisi tyhmää. Mutta nuo pohjat... Kun näillä tulee kaupungilla kävellessä johonkin sisätiloihin -- rautatieasemalle, ostoskeskukseen, oikeustalolle, aborttiklinikalle, tms -- niin sen huonon puolen huomaa. Parhaimmillaan ovat maailman äänekkäimmät kengät ikinä vingahdellessaan ja kirskuessaan märkinä kovaa lattiaa vasten. Ja pahimmillaan ovat käytännössä luistimet. Ensimmäisenä sadepäivänä nämä jalassa töihin käveltyäni meinasin olla silmälläni portaissa kun en tajunnut kuinka liukkaat ovat, ja se olisi ollut sekä noloa että kivuliasta. Sama homma sitten kun syksyllä oli ensimmäiset pikkuisenkin jäiset ja lumiset kelit enkä ollut vielä ehtinyt kaivaa maihareita kaapista. Näiden pohjat jättävät siis ainakin omaan makuun aika paljon toivomisen varaa mitä tulee jää-/märkäpitoon. Eli kyseessä on ehdottomasti vain maastokäyttöön suunnitellut lenkkarit, eikä näiltä kannata odottaa mitään muuta mitä pitoon tulee.

Silti parhaat lenkkarit ikinä. Jos pohjan pidolle saisi tehtyä jotain, niin olisivat vielä paremmat.
0
0
I would recommend for a friend
Jussi A.

01.01.2018
Muutaman kuukauden käytön perusteella voi sanoa että heittämällä parhaat lenkkarit mitä on ikinä tullut hankittua.

Ainoa miinus tulee pohjista, hivenen liukkaat, ja sisätiloissa narisee niinkuin emäntä parin päivän kaljoittelun jälkeen.
1
0
I would recommend for a friend
Kimmo S.

28.04.2018
Miellyttävät kesäkeleillä. Kestää koko päivän talkootyötä nämä jalassa. Maihareissa jalat muhivat aika huolella ja loppupäivästä on paha olla. Varsi tuntuu alkuun tottumattomalle oudon jäykältä ja periksiantamattomalta, mutta siihen tottuu, eikä se tunnu aiheuttavan hiertymää.

Sitten nämä nauhat. Aloitetaan normaaleilla kengännauhoilla. Eli tavallisissa lenkkareissa nauhat tulee yleensä laiskuuttaan sidottua niin, että kengät saa jalasta nauhoja avaamatta, eli siinä menee nauhakiristyksen tärkein pointti kokonaan. Maihareissakin nauhat tulee yleensä avattua juuri sen verran, että saa kengät pois jalasta ja jalkapöydän osalta mennään aina kokolailla samoilla säädöillä, vaikka sukkien paksuus tms vaihtuisikin. Kaikkeen se kiireinen nykymaailma ajaakin. Vaan sitten on nämä kengät. Näitä ei saa jalasta, kun nauhat on vedetty kunnolla. Ja kenkä kiristyy koko matkalta yhdestä paikkaa kiristämällä. Kuinka nerokasta tämä onkaan? Parhaiten jalassa istuvat kengät nämä salomonit, koska laiska minäkin saa ne joka kerta hyvin kiinni.

Eurokoot eivät mene ihan suomikenkiin tottuneille jakeluun. Nämä ovat pienet. 42-jalkaani pitää valita 43½, niin alkaa vähän mahtumaankin. Normitapaan pitää valita niin, että isompi räpylä sujahtaa tuskitta sisään ja vähän lisäextraa tulee kapeasta kärjestä. Sovita siis huolella ja katso varsinkin, että se isompi räpylä mahtuu kunnolla. Nämä eivät anna periksi yhtään, joten liian pienillä kengillä ei tarkene.

Pohjat ovat kovia askeltaa, vaikka jokin iskunvaimennus onkin. Iskunvaimennus ei korvaa pehmeän pohjan tuntumaa. Pohjat ovat myös liukkaan tuntuiset, vaikkei hirveitä liukastumisia olekaan tapahtunut. Kuivina kopisevat askellettaessa ja kosteina narskuvat ja vinkuvat.
0
0