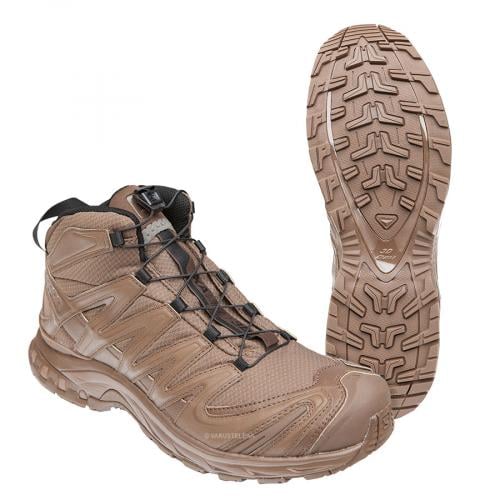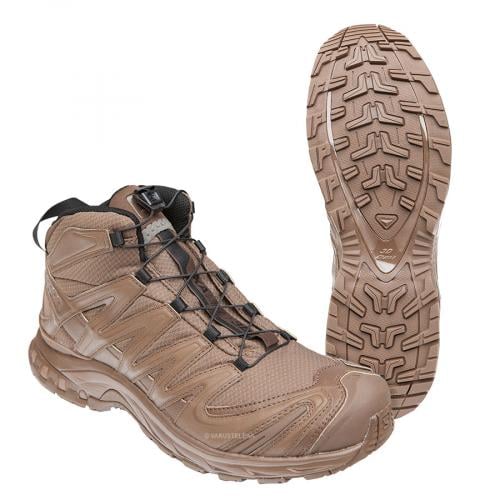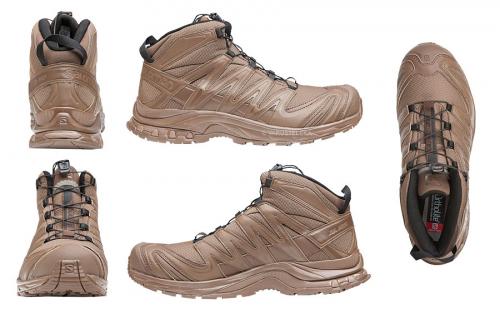 Salomon XA Pro 3D MID Forces, Burro
Price 115.99 USD 167.99 USD
excluding VAT
Tactical offroad sneakers with a subdued color scheme. This means these have a superb fit & comfort and provide enough protection, while the desert tan colour means these pass for military use. No membranes at all to guarantee the best possible breathability.
Loading products...
Trouble with the metric system? Try our converter: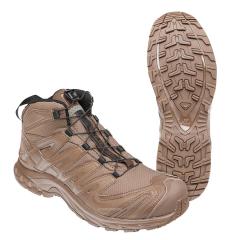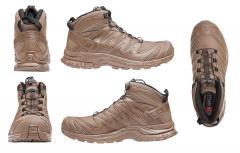 Tactical offroad sneakers with a subdued color scheme. This means these have a superb fit & comfort and provide enough protection, while the desert tan colour means these pass for military use. No membranes at all to guarantee the best possible breathability.
Known for sports & offroad shoes, Salomon has nowadays ventured to military territory too. As one could imagine, the footwear they make is a mix of military requirements and sport shoe features.
Features
Because we live in the 2000s, the features & materials have all sorts of flashy names ending with ® and ™. However, here's a down-to-earth rundown of the boot:
Non-marking sole with a very intricate cushion midsole and rough tread pattern.
Upper made of rubber and nylon.
Inner lined with breathable fabric.
Cushioned, porous insole.
Welcome to the future - here we don't have to tie laces. Just use the plastic slider thing to pull the laces taut and stuff them inside the little pocket on the tongue.
Weight for one shoe about 400-500 grams, depending on the size.
Size info
Sizes listed in UK size, followed by comparable EU size. Foot length in millimetres (Mondopoint) found in the chart below. The last width on these could be described as "regular" that fits most people, or at least should form in use.
| UK-size | EU-size | Mondopoint |
| --- | --- | --- |
| 4,5 | 37 1/3 | 236 mm |
| 5 | 38 | 241 mm |
| 5,5 | 38 2/3 | 245 mm |
| 6 | 39 1/3 | 249 mm |
| 6,5 | 40 | 253 mm |
| 7 | 40 2/3 | 258 mm |
| 7,5 | 41 1/3 | 262 mm |
| 8 | 42 | 267 mm |
| 8,5 | 42 2/3 | 271 mm |
| 9 | 43 1/3 | 276 mm |
| 9,5 | 44 | 280 mm |
| 10 | 44 2/3 | 284 mm |
| 10,5 | 45 1/3 | 289 mm |
| 11 | 46 | 293 mm |
| 11,5 | 46 2/3 | 298 mm |
| 12 | 47 1/3 | 302 mm |
| 12,5 | 48 | 307 mm |
| 13,5 | 49 1/3 | 315 mm |
| 14,5 | 50 2/3 | 324 mm |
Below is the official measuring guide for Salomon footwear.
Tools:

Use a shoe box or a wall with a 90° angle.
Find a sheet of paper or a sheet of cardboard, a ruler and a pen.

What should you do next?

Make sure that you are wearing the same socks that you would normally wear within this type of boot.
Wearing these socks, stand on the sheet of paper and place the outside of your foot against the wall or place your foot in the shoe box with your heel wedged firmly against the back.
Then use your pen and ruler to draw a line just in front of your big toe.
Measure the distance between the wall or the side of the shoe box and the line that you have just drawn.
Find this measurement in millimetres in the drop-down box. If you fall between sizes, pick the larger one.
Being what they are, these work best with single socks.
Made by Salomon
Made in Vietnam, but with some pretty tough specs.
Salomon gives a 2-year warranty for their products.
Recommendations
Loading products...
Reviews
You have already submitted a review. You can edit your text by clicking on it.
Log in and write a review.
Remove filter
I would recommend for a friend
Mikko K.

13.07.2016 (Edited 15.07.2016)
Normaalit lenkkarit ei meinaa minulle sopia, ilman kunnon tukea nilkat kipeytyy nopeasti. Maiharit ovat kuitenkin kesäkuumalle vähän liikaa niin ajattelin kokeilla näitä. Ja voi että on erinomaiset! Tukee nilkka juuri sopivasti ja on todella hyvät tallustella eikä tule helteeläkään kuuma.

Bonusta hillitystä ulkonäöstä, tarvittaessa nämä käyvät juhlakengistä vaaleiden housujen kanssa. Kun kenkäkaapissa on vain nämä ja Jalaksen maiharit muuta ei tarvitse; arki tai pyhä, vuoden ympäri.
0
0
I would recommend for a friend
Samu W.

27.12.2016 (Edited 13.07.2017)
Kevyet, mutta tukevat. Vaativat hiukan kävelyä että muokkautuvat jalkaan -ei tosin yhtä pitkää kuin nahakakengillä. Ensimmäisissä versioissa oli virhe (sauma ei kestänyt), mutta Varustelekan takuu toimi takuuajan jälkeenkin ja sai uudet.
Lesti on aika kapea, varsinkin kengän kärjessä,joten jos jalat levenee kannattaa sovittaa ennen ostoa. Kokonumerointikin on hiukan outo: Sievin maihari on allekirjoittaneella kokoa 43, nämä salomonit on 45 1/3...

Sopii kevyeksi talvikengäksikin, kunhan huomioi sen, ettei pohja pidä jäällä juuri ollenkaan.

Täydellinen kenkävalinta toiminnalliseen ampumaurheiluun!

Pikanauhoitus on loistava -pitää kireyden sopivana.

*Edit* Suosittelen varauksin.
Allekirjoittaneella hajosi takuuseen saatu pari samalla tavalla kuin ensimmäinen, eli kengän taitoskohdan sauman kangas petti. Syynä tähän vaikuttaisi asiakaspalvelun kanssa keskustelun tuloksena olevan koko eli:
Lestin kapeuden takia jouduin ottamaan huomattavasti normaalikokoa isomman koon. Tämä johtaa siihen että kenkä taipuu eri kohdasta kuin suunnittelija on asian pähkinyt ja rakenne ei vaan kestä. Lekan takuu on tässäkin tapauksesa ylivertainen, mutta omalta osaltani piti valita toisen valmistajan kenkä korvaajaksi. sääli sinänsä, sillä noita muita ominaisuuksia tulee ikävä.
3
1
I would recommend for a friend
Juha P.

16.01.2017 (Edited 31.05.2021)
Mustat tuli ostettua ja positiiviset kengät kerrassaan, pitävät jopa huonolla kelillä yllättävän hyvin, istuvat jalassa kun vain löytää oikean koon joka varmaan noin numeroa suurempi kun normaalisti. Nauhat toimii ja työkenkien perusteella voisin väittää että pitävät noin puolisen vuotta ja sitten alkaa löystymään jos ei tuotekehitystä ole tapahtunut. Hyvät kävellä, tukevat ja pohjakaan ei vääntyile maastossa kävellessä liikaa. Ostaisin toisetkin :)
3
1
I would recommend for a friend
Jari P.

01.03.2017 (Edited 31.05.2021)
Ostin Ruskeat, ns. hillityt. Käytössä tukevat kengät. Nauhojen materiaali saa kiitosta, ne eivät nimittäin ole mitään löysät vaan jäykkät, mikä helpottaa kenkien sitomista huomattavasti. Koko tuntuu hieman pieneltä jos vertaa Jalakseen, Jalas 43 = Salomon 44 johtunee varmaan hyvästä kengän pehmustamisesta. Kengille sopii kaveriksi Särmä merinosukat. Saapassukalle ja talvi keleille joudun ostaan itselleni toisetn parin, kokoa isommat.
0
1
I would recommend for a friend
Tuomas K.

21.05.2017 (Edited 31.05.2021)
Toimivat tarmokkaaseen kaupunkitarpomiseen ja poluilla liikkumiseen erinomaisesti. Vaikuttivat olevan Suomen ainoat ruskeat lenkkarit. Olisin ottanut mieluummin ruskeat nahkakengät, mutta tarjonta ei vastannut tarvetta.

Nauhat ovat ohuet ja jäykät, mikä on hyvä asia, ja ne saa vedettyä kiristimellä täydellisen sopiviksi. Piilotus kieleen iso plussa, ei tarvitse viritellä. Varvasosasto on tilava, mutta tässä tuntuu olevan mallieroja koon mukaan: koko 42 kiristi edestä ja lestistä, mutta 42 2/3 oli huomattavan tilava ja lesti täydellisen sopiva. Sievin kengissä kokoni on 41 vielä talvisukillakin.

Kenkien tuki ja pehmustus toimivat, ja pohjalla marssii ilokseen parikin tuntia. Harmikseni näihin eivät tunnu sopivan muiden valmistajien pohjalliset, joten kannattaa tykätä Ortholitestä tai katsella muut kengät. Kärkisuoja vaikuttaa toimivalta.

Jalassa kengät olivat lämpöiset, mutta varvasosastossa tuntui hengitystä olevan, ja parin tunnin lenkin jälkeen vain nilkassa oli pientä kosteutta. Melkoinen saavutus muovikengiltä! Sukat mallia https://www.varusteleka.fi/fi/product/sa-taistelijan-alussukat-m05/5041 (M05 "alussukat") ja jalat mallia kostea.

En keksi näistä muuta valitettavaa, kuin että ovat muovia. Pohjallisiinkin totuin, mutta valinnanvara olisi tervetullutta.
0
1