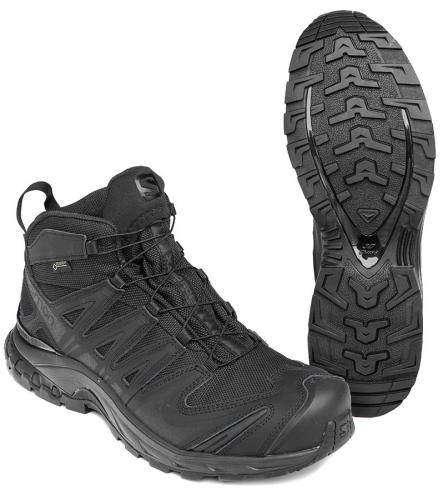 Salomon XA Forces MID GTX, black
Price 165.99 USD excluding VAT
Flat Rate Shipping to USA $9.99
83 % recommends
Sold 27 pairs in the last two weeks
Loading products...
Trouble with the metric system? Try our converter: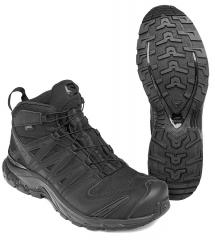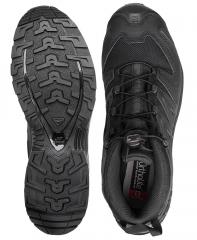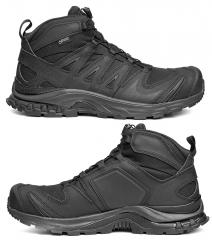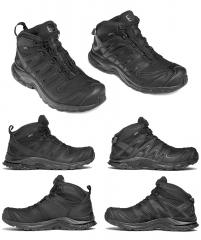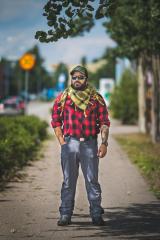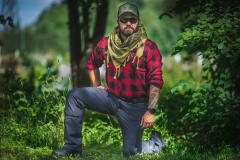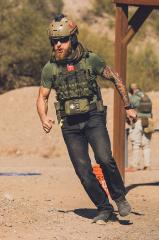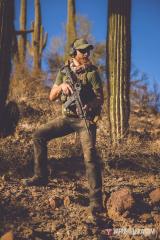 Here are the latest tactical offroad sneakers with subdued colour scheme from Salomon. These have a superb fit & comfort and provide protection, while the black colour means these are suitable for military/LE use, or anyone who doesn't like to wear a bright logo. Lined with waterproof Gore-Tex.
Features
The Salomon XA Forces are made to endure hard use where regular sneakers quickly fall apart. Materials and details have been iterated from one version to another to achieve a very high-grade shoe.
Double or triple stitching on the top of the shoe
Tough textile (as found on the 4D models)
Reinforcement pad next to the toes
Instep reinforcement for rope descents
Rope fins
Aggressive tread
Non-marking sole with a very intricate cushion midsole
Inner lined with breathable fabric
Gore-Tex membrane
Cushioned, porous insole
Salomon QuickLace for easy and even tightening
Weight for one shoe slightly below 500 grams (Size UK 8 / 42)
Size info
Sizes listed in UK size, then comparable EU size. Foot length in millimetres (Mondopoint) found in the chart below. The last width on these could be described as "regular" that fits most people, or at least should form in use.
| UK-size | EU-size | Mondopoint |
| --- | --- | --- |
| 4,5 | 37 1/3 | 236 mm |
| 5 | 38 | 241 mm |
| 5,5 | 38 2/3 | 245 mm |
| 6 | 39 1/3 | 249 mm |
| 6,5 | 40 | 253 mm |
| 7 | 40 2/3 | 258 mm |
| 7,5 | 41 1/3 | 262 mm |
| 8 | 42 | 267 mm |
| 8,5 | 42 2/3 | 271 mm |
| 9 | 43 1/3 | 276 mm |
| 9,5 | 44 | 280 mm |
| 10 | 44 2/3 | 284 mm |
| 10,5 | 45 1/3 | 289 mm |
| 11 | 46 | 293 mm |
| 11,5 | 46 2/3 | 298 mm |
| 12 | 47 1/3 | 302 mm |
| 12,5 | 48 | 307 mm |
| 13,5 | 49 1/3 | 315 mm |
| 14,5 | 50 2/3 | 324 mm |
Official measuring guide for Salomon footwear

Tools:

Use a shoe box or a wall with a 90° angle.
Find a sheet of paper or a sheet of cardboard, a ruler and a pen.

What should you do next?

Make sure that you are wearing the same socks that you would normally wear with this type of boot.
Wearing these socks, stand on the sheet of paper and place the outside of your foot against the wall or place your foot in the shoe box with your heel wedged firmly against the back.
Then use your pen and ruler to draw a line just in front of your big toe.
Measure the distance between the wall or the side of the shoe box and the line that you have just drawn.
Find this measurement in millimetres in the chart. If you fall between sizes, pick the larger one. A couple of mm extra length of a shoe doesn't hurt, but even a slightly too short shoe is bad.
Made by Salomon
Known for sports & offroad shoes, Salomon has nowadays ventured to military territory too. As one could imagine, the footwear they make is a mix of military requirements and sport shoe features.
Made in Vietnam with tough specs and QC.
Recommendations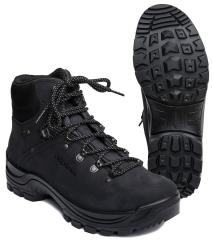 Alpina Tundra
101.99 USD
Viewed together.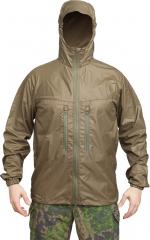 Särmä TST L3 Wind jacket
55.99 - 73.99 USD 73.99 USD
Viewed together.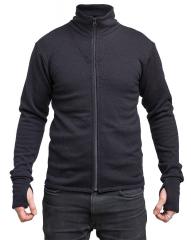 Särmä Merino Wool terry jacket, black
110.99 USD
Viewed together.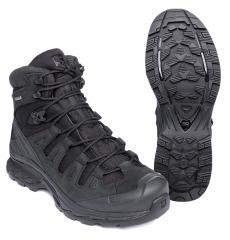 Salomon Quest 4D GTX Forces 2 EN
147.99 - 202.99 USD 183.99 - 202.99 USD
Sometimes purchased with.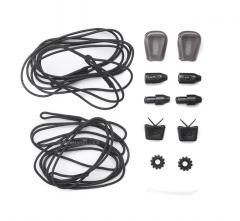 Salomon QuickLace Kit
14.99 USD
Sometimes purchased with.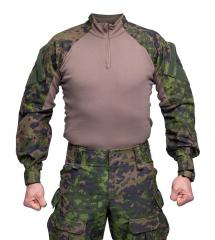 Särmä TST L4 FR Combat shirt
183.99 USD
Might be of interest.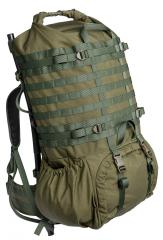 Särmä TST RP80 recon pack
459.99 USD
Might be of interest.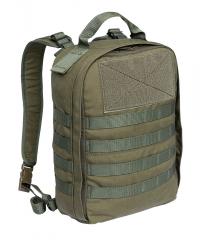 Särmä TST CP10 Mini Combat pack
113.99 - 122.99 USD
Might be of interest.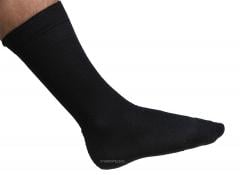 Särmä Merino Socks
9.99 USD
Might be of interest.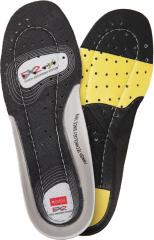 Jalas FX2 insoles
21.99 USD
Buy also.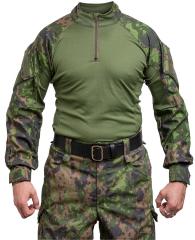 Särmä TST L4 Combat shirt
91.99 USD
Might be of interest.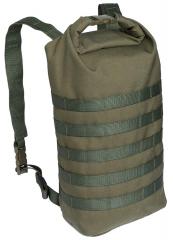 Särmä TST DP10 Roll-Top daypack
64.99 USD
Might be of interest.
Reviews
You have already submitted a review. You can edit your text by clicking on it.
Log in and write a review.
Remove filter
Suomi
(9)
English
(3)
I would recommend for a friend
Damon A.

16.01.2018 (Edited 16.01.2018)
A great, quality item but as with a lot of Solomon footwear they are quite narrow.

I would not really recommend to a friend because I don't want them looking as cool as me.
16
0
I would recommend for a friend
Roope M.

19.01.2018
I would recommend for a friend
Anders T.

16.05.2018 (Edited 16.05.2018)
Salomon has become my favorite shoe brand lately. The XA Mid GTX is my latest addition. First impression is good really good. Very comfortable and easy to lace. I replaced the insole with one from Jalas but apart from that am I quite happy. One more thing though Salomon are narrow so if you have wide hooves look somewhere else .We have a dresscode (more or less) where I work.One is "encouraged" to have black shoes and these are black. Enough said!
8
0
I would recommend for a friend
Jerker E.

29.05.2018
Comfy and lightweight. Only con is that the eyelets are very tiny if you ever want to replace the laces. People with wide feet will also encounter the lacing problem, because a solution to the narrowness of the shoes is to move the lacing up one notch (not use the lowest two eyelets).
1
0
I would recommend for a friend
Lalli P.

26.08.2018
Erittäin hyvät kengät, niin arkeen kuin urheiluun. Ainoa huono puoli on se, että pääliompeleet hajoavat nopeasti peukkuvarpaan päkiän kohdilta, mikä oli sama ongelma jo vanhemmassa mallissa.
9
5
I would recommend for a friend
Timo W.

28.10.2018
Hyvät ja huonot. Hyvät ominaisuudet, mutta itsellä huono onni ja maanantai: ekaan pariin tuli jalkapöytään pieni ja syvä viilto, goretex rikki. Toisesta parista on Akilles jänteen kohdalla oleva pehmuste repeytynyt.
1
1
I would recommend for a friend
Riku I.

05.03.2019
Kengässä on kapea lesti, jonka vuoksi parempia pohjallisia ei voi pitää. Kenkiä ei kannata sovittamatta ostaa jos jalkaterä on leveä. Itselläni kengät hiersivät ja puristivat pitkillä kävelyillä, mutta sisäänajon (n. 100km) jälkeen kengät istuvat hyvin. Erittäin tukevat ja kevyet kengät, pohja on todella kiertojäykkä. + muut ominaisuudet - kapea lesti
0
0
I would recommend for a friend
Esa S.

14.03.2019
Erittäin hyvät kengät jalassa. Toiminnallisissa lajeissa toimivammat ja pitävämmät kuin esim Haixin Air Power Pro R. Ilman Salomonin kenkien pikanauhoitusta ei enää meinää tulla toimeen.. Kannattaa ottaa 0.5 UK kokoa suuremmat kuin normaalisti. Itsellä esim Haixeissa 44/ UK9.5 ja näissä 44 2/3 / UK 10.
1
0
I would recommend for a friend
Kimmo K.

08.04.2019
Nämä ovat olleet nyt muutaman päivän sisäänajossa, joten tästä uudemmasta versiosta ei vielä voi sanoa mitään kokemuksen syvällä rintaäänellä. Aikaisempaa vastaavaa versiota ollut kuitenkin käytössä useamman vuoden ajan. Hieman puristavat vielä uutuuttaan (jostain syystä etenkin kenkien iltit painavat kehräsluita nilkoissani) , mutta luotan siihen että muovautuvat jalkoihin sopiviksi jossain saumassa...

Lesti on kapea ja sen vuoksi täytyy kengistä ottaa reilumpi koko: omiin räpylöihin (Jalaksen koko 44) otin koon 11 (46). Jään pahimmoilleen juuri koon 10,5 ja 11 väliin, mutta kokemuksesta (edelliset kenkäni) tiedän, että 10,5 on juuri liian ahdas.

Kengät ovat tukevat ja niillä on hyvä kulkea niin asfaltilla kuin maastossa. Pohjassa hieman pitävämmän tuntuinen kuvio kuin aikaisemmassa mallissa.

Hyvät popot!
1
1
I would not recommend to a friend
Leo P.

08.08.2019
Salomonin kenkiä en todellakaan enään osta! Esim tuo nauhalukitus ei pidä löystyy, joku helkkarin muovi klipsu muka pitäin nauhat kii, ei pidä!. Kantapää on rakennettu pirun monilla tikkauksilla ja ne alkavat aukeemaan, jos on matalempi salomonin kenkä kyseessä, yhet ostin ja hajoo, tehdas ei korvaa!!!!!!!!!!!!!!!!! en suosittele minkään sortin salomoneita. Eivät osaa tehä kenkiä.
Ostakaa meindlit ne kestää isältä pojalle! Salomonit näyttä hienoille mutta pian ne näyttää paskoille!
0
8
I would not recommend to a friend
Lauri L.

22.11.2019
Olin kuolannut näitä kenkiä jo pitkään ennen ostopäätöstä. Ensin tuli mittausohjeiden perusteella tilattua liian pienet, mutta siitä viisastuneena toisella yrittämällä tuli jo pituudeltaan oikeat kengät. Leveydeltään kengät tuntuvat silti vielä ahtailta, kapea lesti pitää paikkansa. Kengät ovat lenkkareiksi varsin jäykät, lähentelee enemmän vaellus- kuin lenkkikenkää. Pohja rullaa kohtuullisen hyvin kävellessä, mutta ei näillä juosta kuin nopeita pyrähdyksiä. Pohjat ovat myös kovat, eli asfaltilla äänettömästi askeltaminen vaatii intiaanimaisia hiipimistaitoja. Vielä n. kymmenen koiralenkin jälkeen kenkä ei ole muotoutunut sellaiseksi, että niitä voisi kutsua mukaviksi. Nyt jalat eivät kuitenkaan tule enää kipeiksi, kuten alussa. Jatkan sinnikkäästi toiveikkaana niiden sisäänajoa, jota selvästi vaaditaan enemmän kuin millään omistamillani kengillä koskaan.
0
0
I would recommend for a friend
Riku I.

17.01.2020 (Edited 19.01.2020)
Erinomaisen hyvät kengät. Ostin naapuriliikkeestä ilman kalvoa olevan mallin ja en voisi olla tyytyväisempi. Hyvin muotoiltu ja istuu erittäin hyvin jalkaan, myös hengittää paremmin kuin kalvollinen. Kannattaa valita melkein yhtä kokoa isompi mitä normaalisti käyttää.
0
0