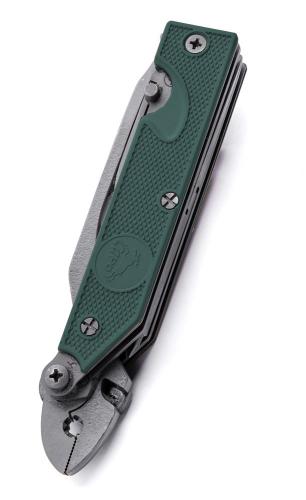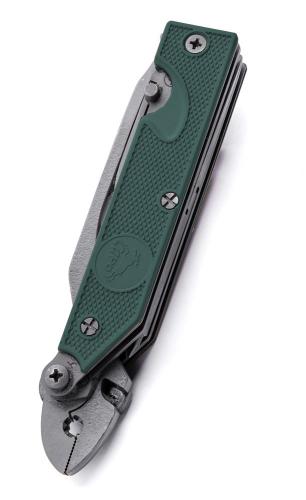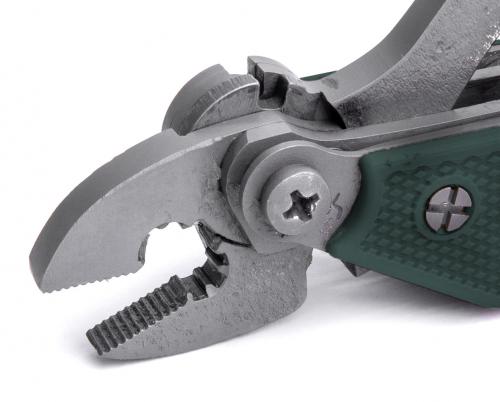 Massive and slightly clumsy pliers.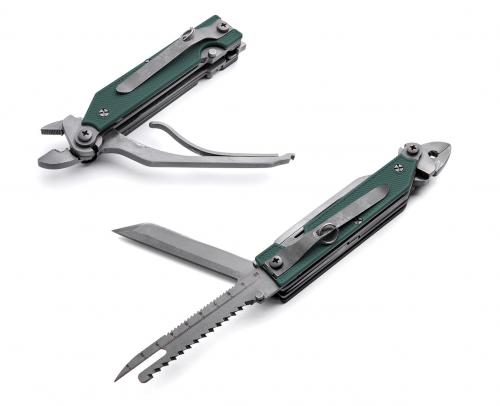 All the blades are one hand openable.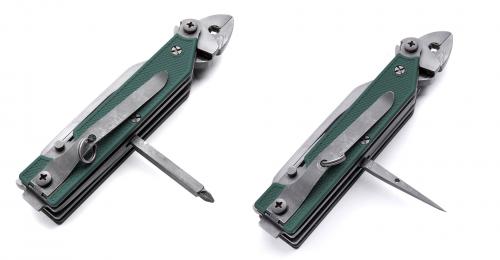 Phillips head screwdriver and punch/sewing awl.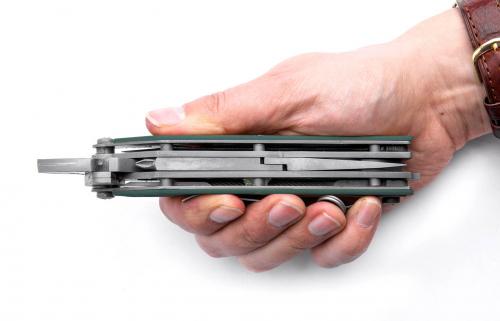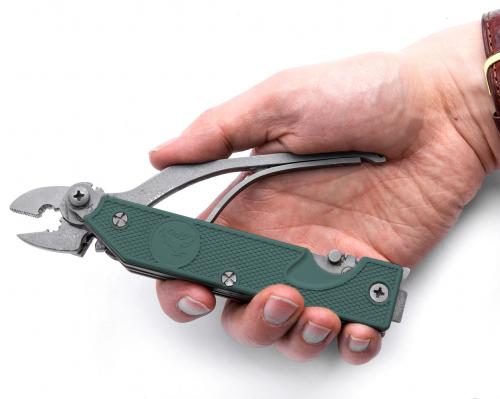 The pliers can be opened more than the picture shows.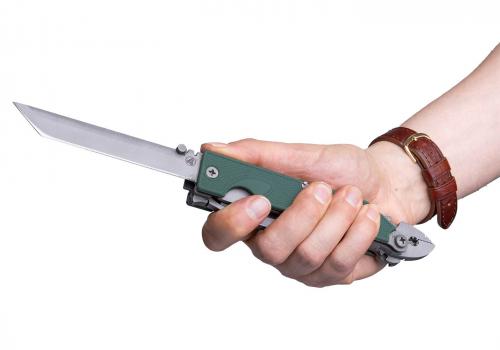 The bayonet is 11 cm long.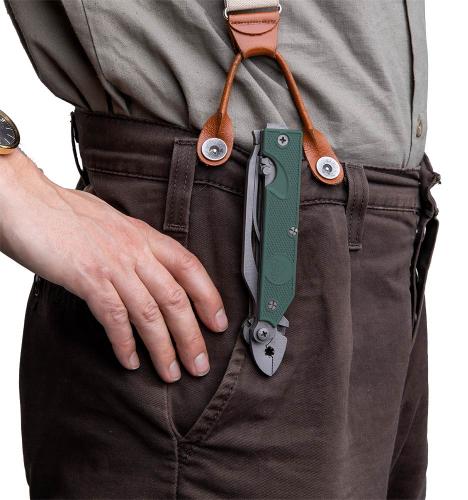 Some perspective of the sheer size of the tool.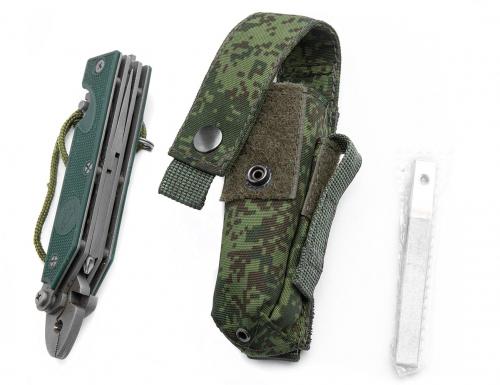 Pouch and diamond file included.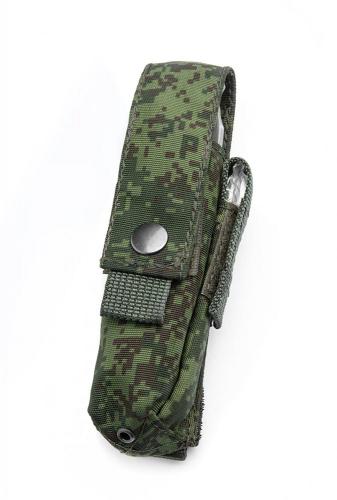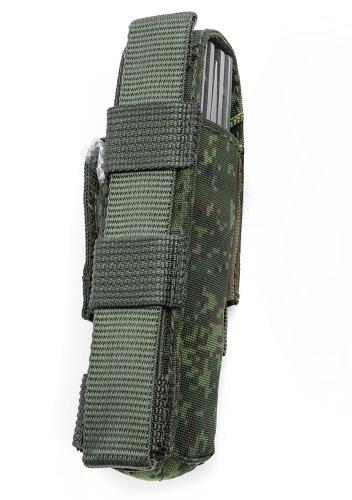 MOLLE compatible attachment on the back.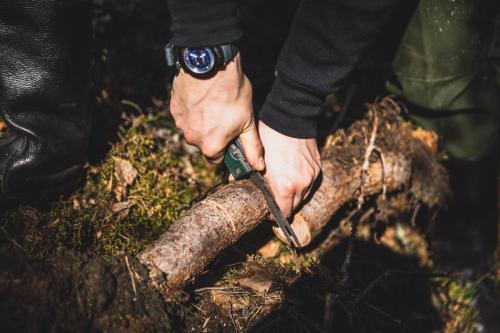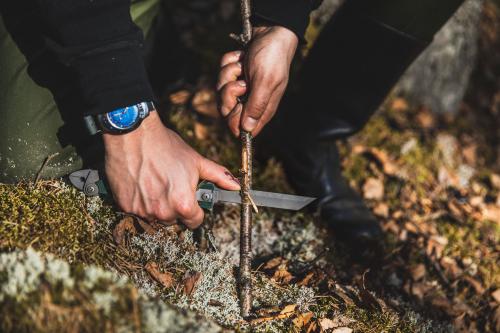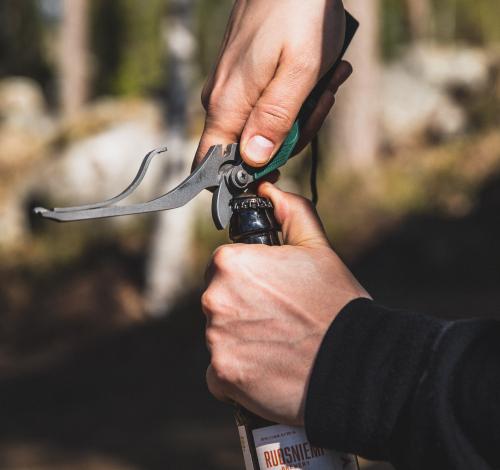 Ratnik opens up your beer bottle!
Soviet Union and Russia
Russian Ratnik 6E6 multitool, Digiflora/green, surplus
Price 119.99 USD
excluding sales tax
While Ratnik does indeed sound like some East European movie bad guy, it's actually the new Russian combat kit system. This tool, with a catchy name "6E6", is an officer-issue brick of a multitool.
This product is unlikely to be restocked and will be hidden from our website once it's out of stock.
We don't know when this product will be restocked. With surplus the restock date is unknown due to sometimes poor availability. Request restock notification and we will email you as soon as this product is available.
Trouble with the metric system? Try our converter: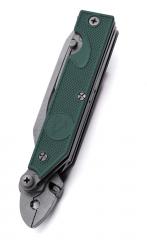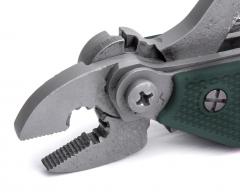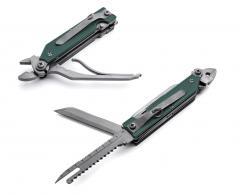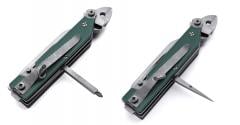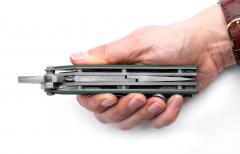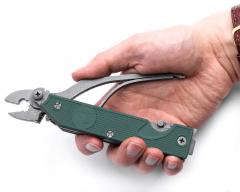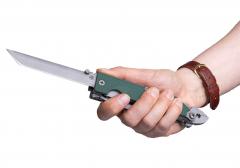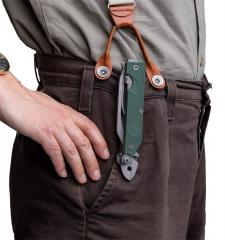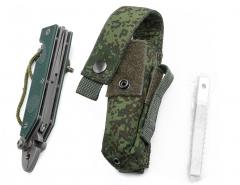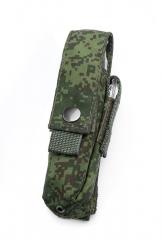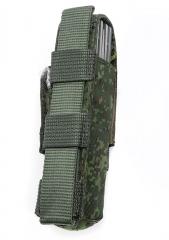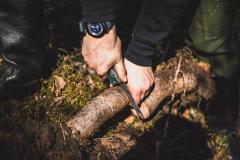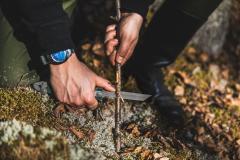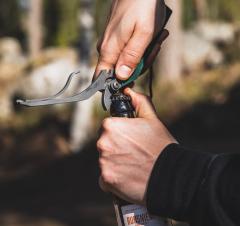 While Ratnik does indeed sound like some East European movie bad guy, it's actually the new Russian combat kit system. This tool, with a catchy name "6E6", is an officer-issue brick of a multitool.
If you think Leathermen are sturdy, we guess you got it all wrong, Ratnik 6E6 tool is to the multitool world what Ivan Drago is to boxing; the burly Russian that will pound things until they work or don't work. But unlike the good old Drago, this tool is a real thing - trust us, what you previously thought was sturdy will feel like children's toys compared to the Ratnik tool.
One actually great feature of this tool is the fact that every piece is readily available without having to open up the tool first. Moreover, the blades are one-hand operated, and in theory everything else too. The whole tool can be disassembled for maintenance.
How many ways to hammer it right?
On the front you'll find a pair of massive pliers, which also have detonator crimpers and wire cutters/peelers.
A "knife", which is essentially an 11 cm / 4.5" long Tanto bayonet. Thread cutters on the base. Locks open and is one-hand openable.
Saw/can opener/saw 2/ruler. This thing looks like it's designed by the Klingon empire. The 10 cm / 4" long ruler is apparently only meant for the interrogator to know how deep the thing is in the person being interrogated. Lockings and openings as above.
Phillips head screwdriver, (pivoted open by opening the pliers) the most common size. By material strength we suppose this works as a punch too.
An awl (pivoted open with the plier locking latch), which might be the sharpest and violent looking piece of steel created. It's also meant for sewing, so it also has a hole for the thread to go through. Sewing with this thing looks like bayonet practice.
Fire steel at the rear end. Also works for general pounding and as a large flathead screwdriver.
A metal belt clip with hanger ring. These are probably tested by a platoon of Spetsnaz grappling with them.
Also included is a MOLLE compatible pouch and a diamond file.
Dimensions and weight
Dimensions 16.5 x 3.5 x 3.2 cm / (6.5" x 1.4" x 1.2").
Weight about 400 grams / 14 oz.
Made of really strong tool steel, with anti-corrosion treatment.
Made in Russia
These tools are straight from the Russian army warehouses. They might be slightly used, but virtually as new.
Remove Russia
Our old product descriptions include ironic praise of our eastern neighbor and it used to be good fun. Does it piss you off? We understand and agree. However, we won't whitewash the old product descriptions. Instead, we have decided to stop buying Russian products. We sell what we have in stock and that's it.
All products: Soviet Union and Russia
Recommendations
Loading products...
Reviews
You have already submitted a review. You can edit your text by clicking on it. You can filter the reviews by clicking on the elements of the summary.
Log in and write a review. You can filter the reviews by clicking on the elements of the summary.
Remove filter
Suomi
(2)
English
(7)
I would recommend for a friend
George K.

21.05.2019

Verified purchase
AWESOME find! Massive! Like a chunk of steel! A truck could run over it and maybe would crack the handles.


Lots of sharp edges and points, well-covered in white grease. A SERIOUSLY rare find! Thank you, Varusteleka, for another GREAT find!
22
0
I would recommend for a friend
Roman R.

23.05.2019

⚠ Unverified purchase
"A punch, which not only is alsmost impossible to fold out, but might be the most sharpest and violent looking piece of steel created" © varusteleka
Here is a tip for you guys: just open the pliers and push the hook - the one holding the pliers hand and it will make a punch fold out. Screwdriver can also be easily opened by the pliers when you open it to maximum. Yeah, it's not an obvious way I learned from the user's guide after few broken nails. Keep your nails lads!
Quite usable item for different purposes but a bit heavy as for me. Very good as a present.
30
0
I would recommend for a friend
Johannes H.

03.01.2020

Verified purchase
The Nokia of multi tools. Probably breaks the floor when falling.
Definetly a man tool and nothing for hipsters or gym-poser. You need some serious strength to use it.

Comes with more greasy than a typical american.

Would buy it again!
18
0
I would recommend for a friend
Arian W.

19.03.2020

Verified purchase
Been using it for a while now and i have to say, this is a really good tool once you work out the "russian features"

If you are lucky you will get a perfect heavy duty edc tool for those of us who abuse their multitool. It can crush cut and break anything within reason. Stainless steel nails? No problem, 0,5mm sheet steel no problem. With some creativity you can grab drillbits with the pliers and use it as a makeshift screwdriver or dril. How to open the spike and screwdriver has already been covered in other revieuws.

The saw works great and the canopener is primitive but sharp enough to cut a fish (just use it like you would open a can but insert it in the buissness end of a fish)

The knive isnt anything special but for a multitool its great.

I have had several if these from different sellers and they dont all come in this serviceable state (russian features)

Potentially it could have any of these flaws:

It could be blunter then a drunk farmer requiring a full edge profile, luckily you get a diamond file(calling it a sharpener is calling concrete a wetstone)

The liner locks might not engage, i fix it by taking the tool apart and using the diamond file to grind down the part of the blades that engage the liner lock(dont overdo it)

The grease.... oh that grease...

I just submerge the tool in some hot water(dish washing temperature, not boiling) with dishsoap for an hour and wash it off with hot water, then apply generous amounts of WD40.

Besides these "russian features" that dont apply to all of them its a great tool with some collectors value and cool factor.

This tool is amazing at its job, wich is not on your belt in a city, its job is to cut, break, smash, crush ,saw and slice just about anything.

This tool is for those of us who feel a stabbing pain in their heart everytime they cut piece of steel with their leatherman because they fear for the safety of their expensive multitool.
12
0
I would recommend for a friend
Jett H.

19.04.2020

Verified purchase
This robust piece of kit seems to only prioritize tools that happen to be able to maim or kill if you happen to lose your weapons, a very Russian response to the Swiss army knife.
As expected, mine came in bathed in cosmoline (or equivalent), but inexplicably it still had rust spots on some of the moving surfaces, so I carefully disassembled it and gave it a thorough cleaning, and replaced the wax with gun oil.
If you have to do this I strongly recommend taking pictures of the proper placement of each and every screw and washer, there are something like 9 or 10 little pieces that can just fall off, so take it slow and do it over a container.
9
0
I would recommend for a friend
Harri K.

29.05.2020

Verified purchase
Loistava työkalu! Puuttuvan talttapään saa hiottua purkinavaajan kärjestä! Pihdeissä on itseasiassa kahdet leikkurit! Suuremmalla menee peltiä ja kai vaikka concertinaa pätkiksi, pienemmällä lankaleikkurilla katkeaa siihen mahtuva vaijeri! Vaatii vain pihtien välyksen kiristämisen ristipäämeisselillä. Ja huom! Vaijerinkatkaisuominaisuutta ei löydy juurikaan muista vastaavista työkaluista, Center Drivestä varauksin ja käsin pihtien välystä kasaan puristamalla (ja jos karbidipalat sattuvat olemaan täysin ehjät). Jos ominaisuudet riittävät, tämä on kapine joka tuo hyvän ja miehisen fiiliksen! Todellinen peniksen jatke (omani on jo kasvanut hankinnan jälkeen lähes viivoittimella mitattavia lukemia, ainakin näin silmämääräisesti tarkasteltuna), eli joka miehen unelma! Tänäänkin rankaisin asiakkaan vaijeria että rapsis vain, ja voimani tunnossa messevän työkalun uhottamana en edes veloittanut operaatiosta! Vieläkin on lämmin olo.
11
2
I would recommend for a friend
Ashish B.

02.08.2020

Verified purchase
I would recommend for a friend
Sebastiaan d.

21.02.2021

Verified purchase
I commited heresy against Varusteleka by buying one from a different vendor because it was available there. What you guys forgot to put into the description is that if you open the pliers all the way then a bottle opener is revealed. Aside from that, this beauty performs exactly as advertised.
4
0
I would recommend for a friend
Sami S.

29.07.2022

Verified purchase
- Ei surise
+ Mahtuu!
1
1